It's summertime and if you're like me, you're spending a lot of time in the backyard with friends and family! I love hosting a backyard barbecue, but there are definitely some tips and tricks I have learned over the years.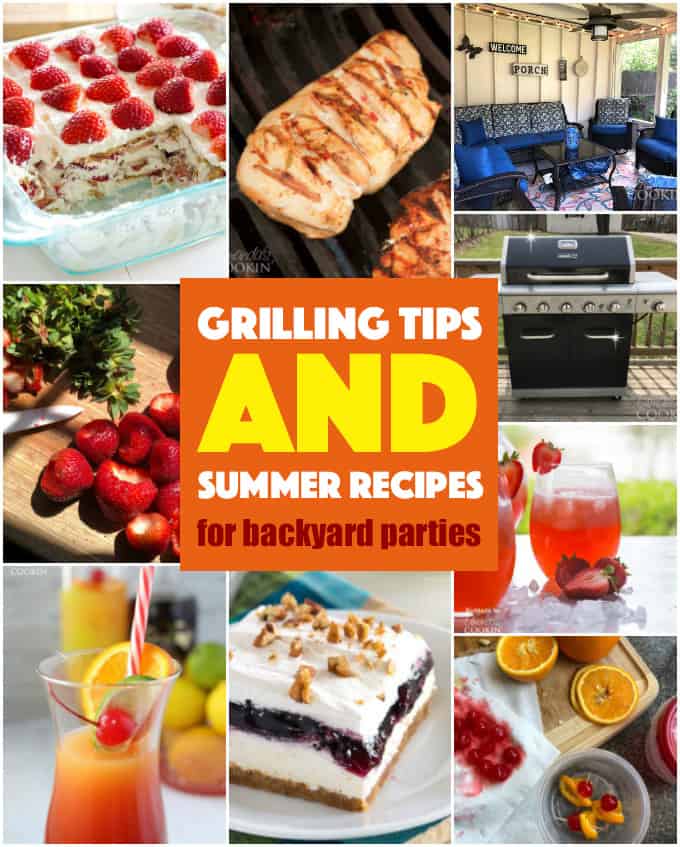 Ideas for the Best Backyard Barbecue
You've decided to host a barbecue, but you don't want to spend days planning it, or worst, spending all your time in the kitchen while everyone else is outside enjoying the fruits of your labor! I've put together some time-saving tips to help you plan and enjoy a backyard barbecue to remember.
Easy Recipes for a Backyard Barbecue
If you're spending days preparing food, you'll likely not want to host another backyard barbecue because it just feels like work! Instead of killing yourself with prep work, choose recipes are that easy to make and taste great.
We made delicious hamburgers on toasted buns, classic macaroni salad, and corn on the cob. For dessert, I made Strawberry Shortcake Trifle, but any of the desserts I've listed below would be perfect! For guests to drink, limeade from the freezer section looked great in a pitcher filled with lime slices.
DESSERT IDEAS FOR A CROWD
First of all, it's not uncommon to ask guests to bring a dish to pass. It's not rude on your part, in fact, it's often expected. I always ask guests if they will bring chips, dip, pasta, or potato salad. Most people are more than happy to contribute! This leaves more money in my budget and allows me to make delicious desserts to serve.
For my 4th of July barbecue, I chose to make two pans of my Strawberry Icebox Cake. It's easy because there's no baking involved and only requires a few ingredients.
Strawberry tips:
Be sure to purchase your strawberries two or three days ahead. I had to go to 3 different stores as 2 of them were sold out! They are very popular for summer holiday parties.
To save some time on prep, pull off the leaves and use a paring knife to cut out the top.
Rinse the berries in cold tap water and drain well.
Store the strawberries in the refrigerator upside down on paper towels covered in plastic wrap until ready to slice and use.
Check out all of my strawberry recipes!
NO-BAKE DESSERT IDEAS FOR YOUR BACKYARD PARTY:
No one wants to turn on the oven in the summer! Any of my easy desserts that have a baked graham cracker crust can be made without baking the crust. All it does is help hold the crust together better, so feel free to skip that step in the hot summer months.
2. Screen Food Covers Keep the Bugs Out
I've had my screen food covers for years and use them every summer! There's nothing more disgusting than seeing a fly land on your food. Screen food covers are inexpensive and keep all those nasty critters out of your edibles.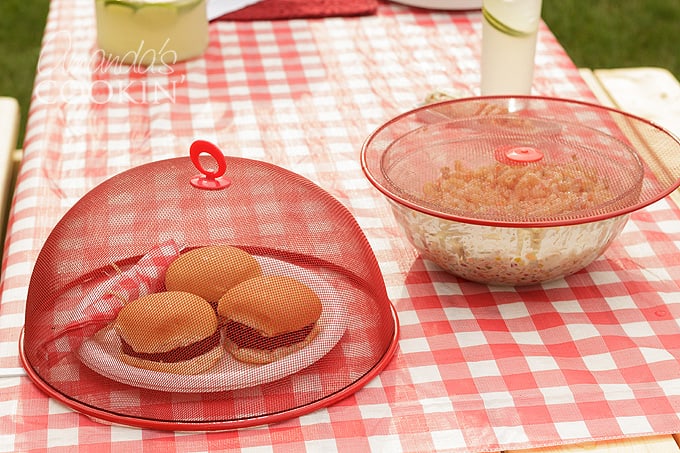 3. Make Herb Butter to Dress up Corn on the Cob
Making homemade herb butter is actually much easier than you might think! All you have to do is take a stick of butter out of the fridge and let it soften. Add your herbs and other mix-ins, then roll it up and put it back in the refrigerator to chill. I made Michael's Sun-Dried Tomato and Basil butter and it's delicious!
4. Weigh Your Ground Beef for Even Patties
Some people might consider me OCD for this, but having patties that are the same size means they'll all cook at about the same intervals, making grilling less of a guessing game. A kitchen scale is really inexpensive and you'll find yourself using it more often than you think! I keep mine in my kitchen drawer and use it regularly.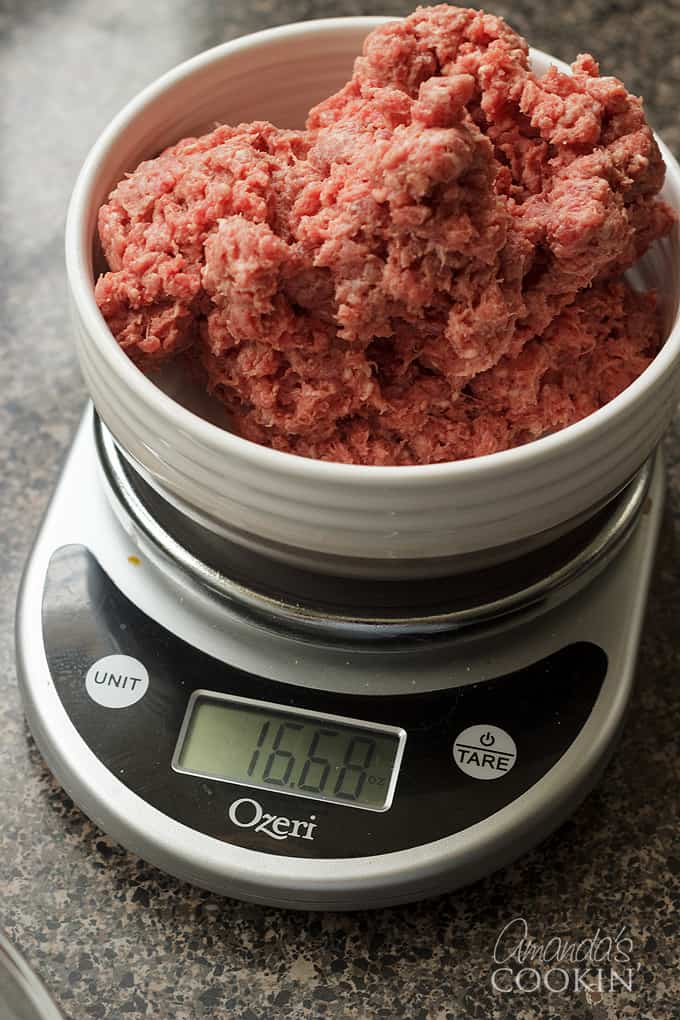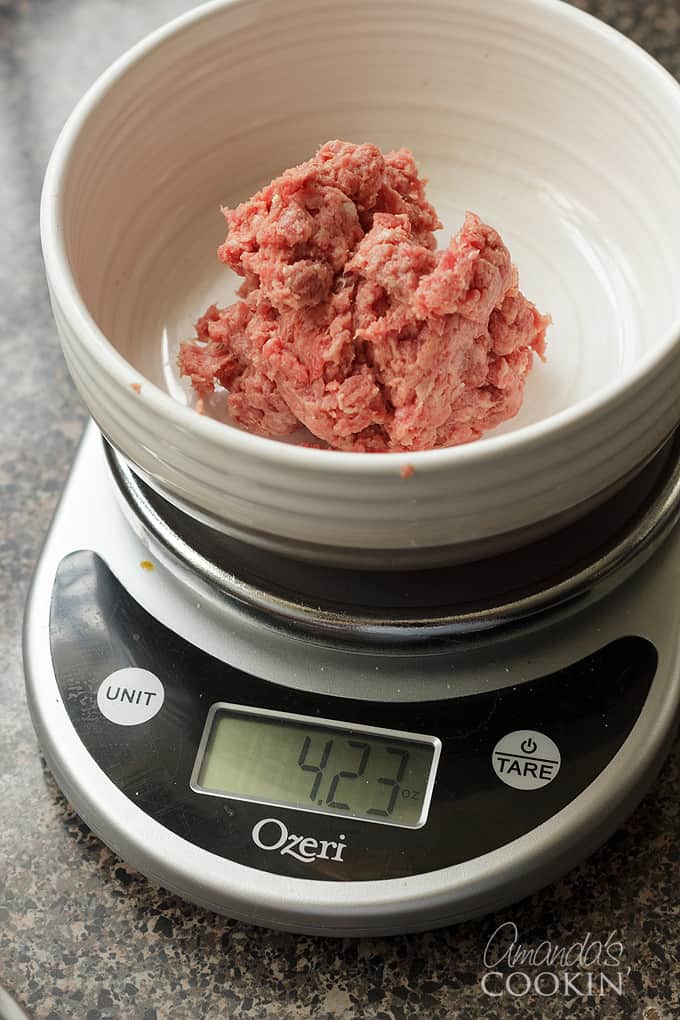 Weigh the meat and divide that number by four to get four equally sized piles.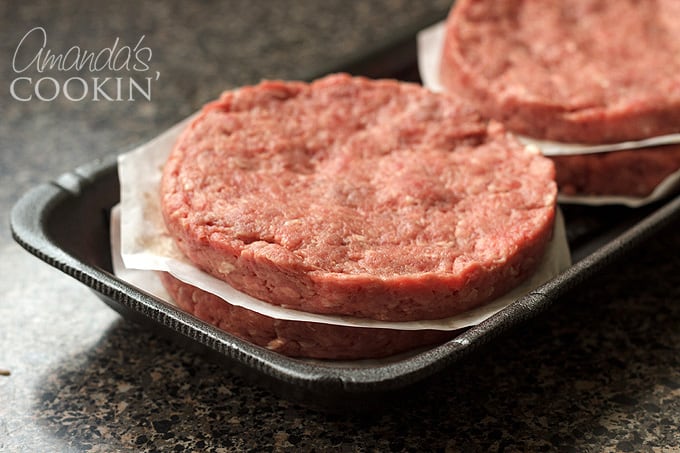 Form into patties and place on a preheated grill.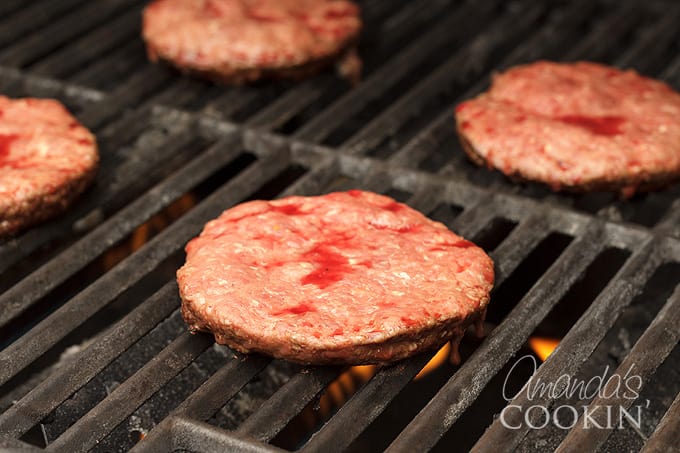 Allow patties to cook for several minutes until juice begins to form on the surface of the patty and the bottom and sides of the patty are showing signs of browning.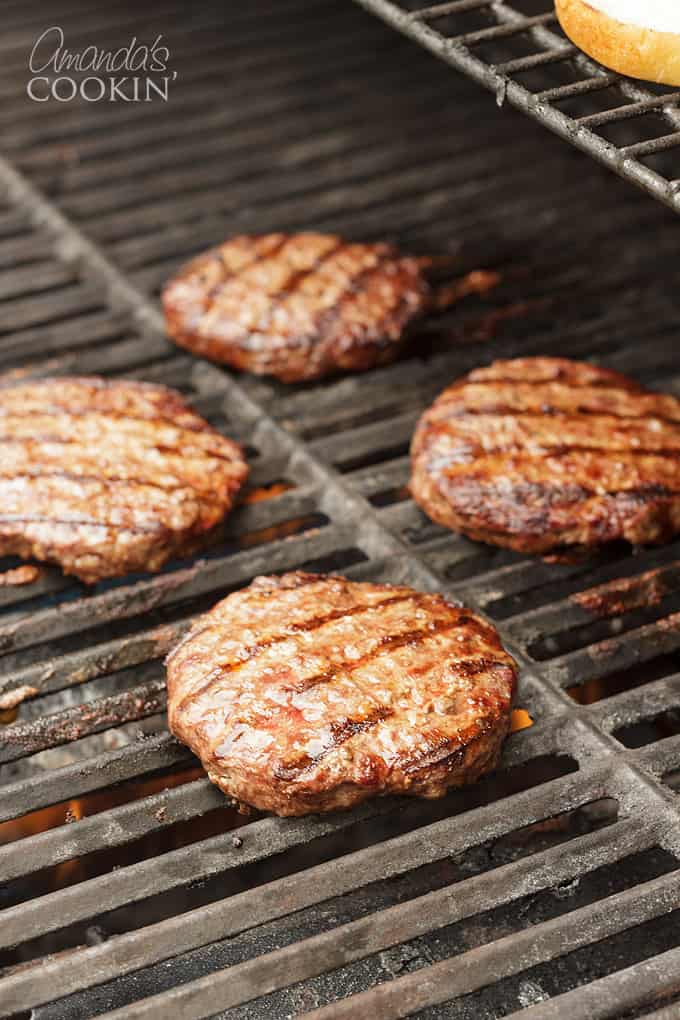 Flip the patties and continue cooking until done to your liking.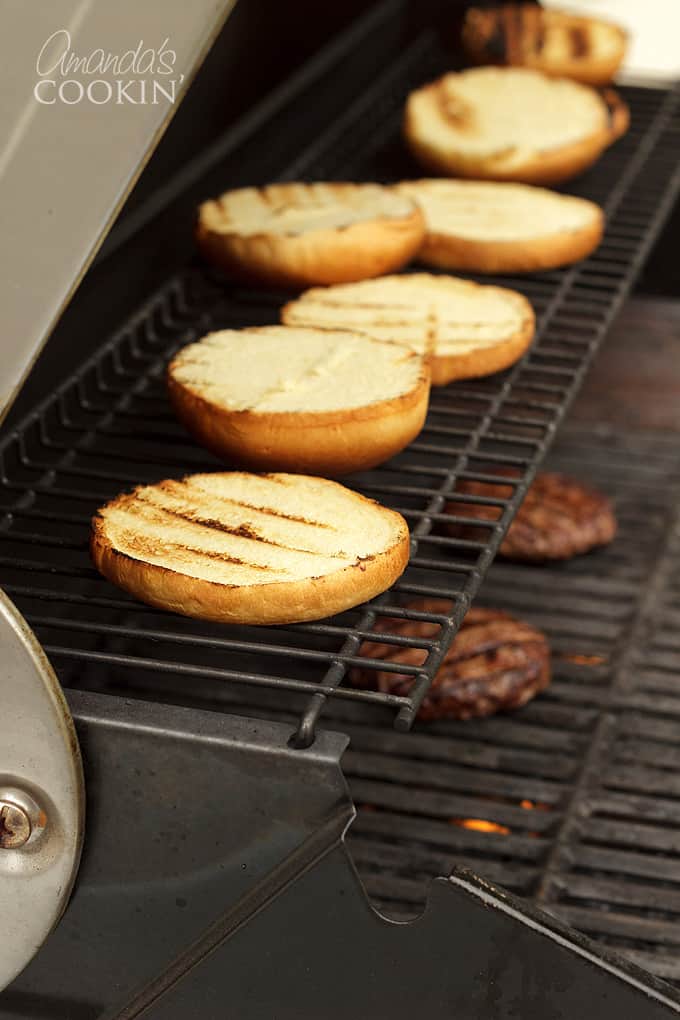 A few minutes before burgers are done, place buns on the grates to toast them. Watch carefully, they can burn quickly! When toasted, move them to the top rack and turn off the grill.
Move burgers to buns and serve with condiments like mayonnaise, ketchup, and dijon mustard, as well as popular toppings like fresh lettuce, onions, tomatoes, and pickles.
5. Dress up frozen concentrate
Since we are trying to save time I'm not going to suggest that you hand squeeze 20 lemons to make homemade lemonade for your backyard barbecue. Instead, add a can of limeade (or lemonade) to your cart and about 4 limes (or lemons). Slice three of the limes and add them to your pitcher with your prepared limeade. Cut the other limes into slices then cut those slices in half for a pretty side-of-the-glass garnish.
I have several favorite beverages I like to serve at a barbecue. I suggest having a variety but I also mention to guests that I will have a cooler with ice available if they have something specific they want to bring.
Iced tea can be as easy as purchasing it from the store, making it with cold brew tea bags, or going all out with sun tea! We also love this peach tea and make it often.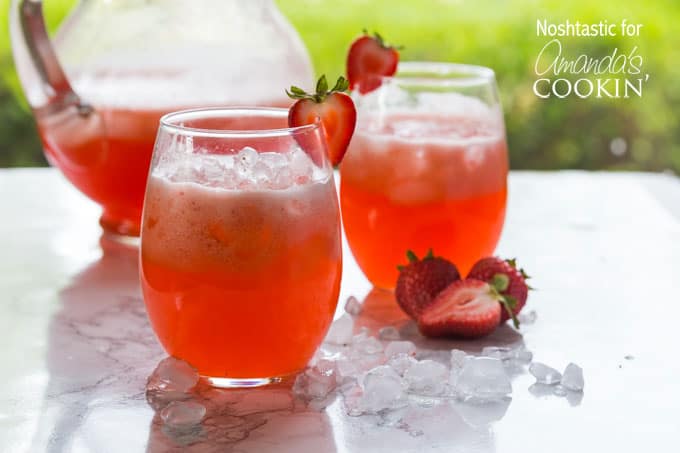 Lemonade is another go-to drink for summer. My favorite is this Strawberry Lemonade which we enjoyed on the 4th, but this Lavender Lemonade is also delicious. It doesn't take long to prepare, but I do recommend making it the day before your party so it has time to get nice and cold in the refrigerator.
If you prefer a spiked lemonade, try my Lynchburg Lemonade cocktail recipe!
Rum is synonymous with tropical summer drinks. Summer wouldn't be complete without this Rum Punch and I definitely made a couple of batches for my party.
If a slush is what you're after, you'll love this Pineapple Rum Slush, Watermelon Malibu Slush, or the classic Pina Colada. If you're going with a slush, they'll have to be made on-demand, so unless you want to play bartender all night it might not be ideal for a large crowd.
6. What to make ahead
This will, of course, depend on your menu, but as a general rule, you can make pasta salads, dips, desserts, beverages and even some summer cocktails ahead of time.
For burger toppings, tear lettuce leaves, and slice the pickles and onions ahead and store in covered containers in the refrigerator.
For sliced tomatoes, wait until the day of the party as they can turn mushy and lose their juiciness if sliced too early.
Prepare garnishes of orange slices and maraschino cherries on toothpicks ahead of time (perfect for Rum Punch above) and store them in a closed container in the refrigerator.
7. Use a Chop Wizard
Seriously, guys, this Chop Wizard is my absolute favorite kitchen gadget. I love it so much that I bought one for my daughter last Christmas. Mine has two sizes, large and small. I used the small setting to quickly dice the bell peppers, celery, and onion for my macaroni salad. Such a time-saver!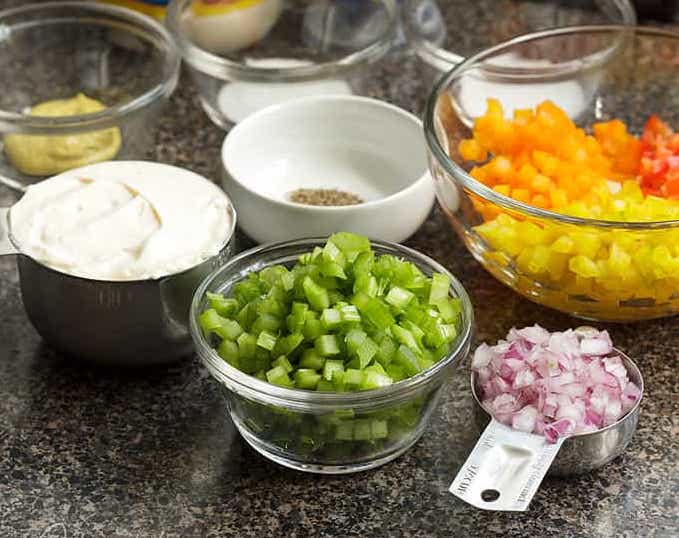 8. Get a picnic tablecloth
Not only is the red checkered look of a picnic tablecloth perfect for a barbecue, but it makes for much easier clean-up! If the tablecloth you pick up does not have clips, make sure to grab some of those as well.
9. Dress up utensils with checkerboard napkins and twine
This is so Pinterest, isn't it? It's a really simple thing to do, and you can make these as far in advance as you want. They add a really fun twist to your party or barbecue bridal shower and honestly, they make people smile! Besides, you're going to provide them with napkins and utensils anyway, they might as well be cute!
Here's what you do. Place a napkin down on the table. Stack your utensils, knife first, fork on top of that and finally the spoon. If using straws (please use paper straws like the one in my photo, plastic straws are a real problem in our oceans!) place it next to the other utensils.
Bring the right side of the napkin over the utensils. Now roll the utensils up and tie with a piece of twine. So cute!
10. Music for your Backyard Barbecue
Bring a bluetooth speaker outside and play the Real Backyard Fun Hosted By Hellman's Pandora Station. Hellmann's put together this station on Pandora with backyard barbecues in mind, and it's all yours to enjoy!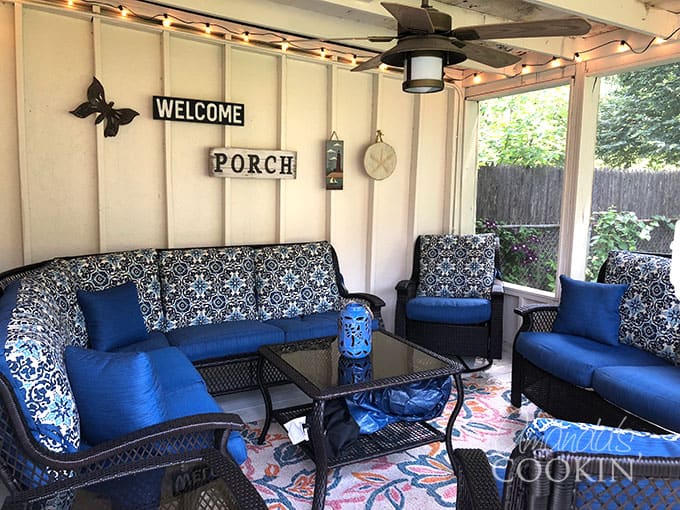 Backyard party tip – if you have a screened porch or even a screened canopy, it's a great place to put the food or your patio furniture! We spend a lot of time in my screened porch, though for my daughter's bridal shower we will move the patio furniture into the yard and put all the food tables into the porch.
11. GRILLING TIPS AND TRICKS
I've learned quite a bit about cooking on the grill over the years. There are definitely some do's and don't's when it comes to grilling, especially for a crowd! If you enjoy a good backyard party like I do, then you'll want to read these grilling tips before hosting your next barbecue.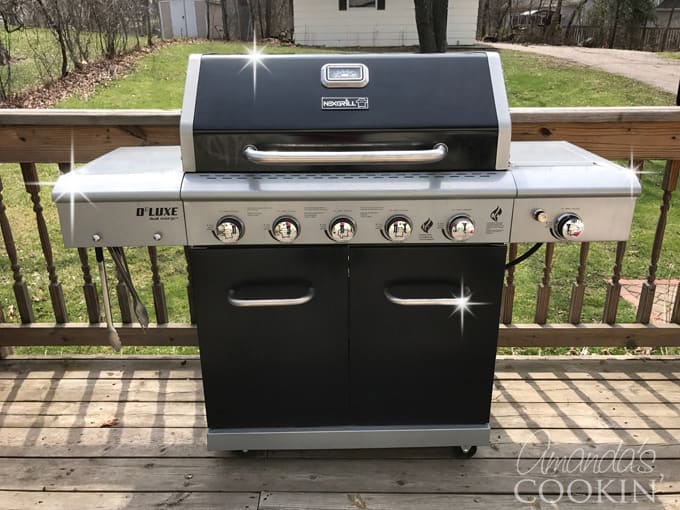 Before you fire up the grill for your backyard party, make sure you've given it a good cleaning. I give you step by step instructions with photos on how to clean your gas grill here.
DIRECT VS INDIRECT GRILL COOKING:
Direct grilling means you are cooking foods directly over the heat source, be it charcoal or gas. This works best for quick-cooking foods like thin cuts of meat—think steak, chicken breasts, and pork chops—fish filets, precooked sausage, burgers, fruit slices, and fresh vegetables. Tip: Bring proteins to room temperature before grilling.
Indirect grilling is when you place food on one side of the grill and coals or gas flame on the other. This is ideal for slow-cooking fatty cuts of meat such as whole chickens, spareribs, pork shoulders, and racks of lamb. You will usually sear the meat directly over the heat first, then move it afterward to cook it indirectly. Tip: To cook indirectly on a charcoal grill, push the coals to the sides of the grill and separate them with an aluminum pan. When you cook on the grate the drippings will fall into the pan. For gas grills, keep at least one burner turned off and cook over it.
Smoking is when you indirectly grill with wood chips, the food retains a rich, smoky flavor. Various hard, dry woods—hickory, mesquite, and cherry—impart different tastes. Add chips directly to hot coals, or encase them in an aluminum foil packet, poke holes in the top, and place under gas grill grates for the duration of cooking. Tip: Always soak wood chips in water first—it slows the burning, meaning more flavorful meat. To speed up the process, place moistened chips in a re-sealable plastic bag, freeze and use as needed.
12. Grill Recipes
Oh, there are so, so many recipes that you could make for your backyard barbecue!
I hope these tips and recipes have been helpful and that you have a great backyard barbecue! If you have any tips of your own, please share in the comments! Be sure to check out more of my summer recipes for tasty ideas.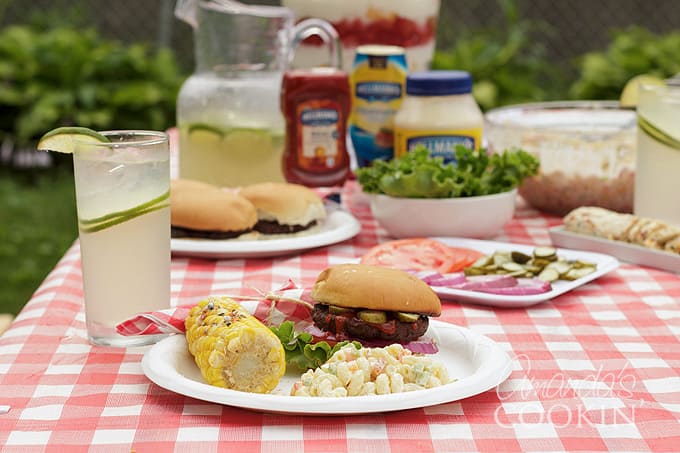 This post originally appeared here on Jul 20, 2018 but has since been updated with new tips and ideas.
I love to bake and cook and share my recipes with you! I know it's hard to remember to come back and search, so I've made it easy for you with my weekly newsletter! You can subscribe for free and I'll send you delicious recipes every week right to your email.
Amanda Davis is the entrepreneurial mom of four grown children and four step children. She and her husband, Chef Antoine, love to cook together creating recipes for this blog. Amanda also make kid's crafts and creates decorative items for her home. She is a crafting expert and guru in the kitchen and has appeared online and in print publications many times over the years. She is also a craft book author five times over and product developer as well as the owner of
FunFamilyCrafts.com
. You can find her on social media by using the buttons to the left!
Latest posts by Amanda Davis (see all)