Blueberry breakfast cake, coffee cake, blueberry buckle, whatever you want to call it, it's overflowing with fresh blueberries and absolutely delicious. As I've said before and will always say again, I love having the addition of a little sweet treat to accompany my morning coffee. It's not an everyday thing, but when I do whip up a cake, roll or bun it makes breakfast seem so much better!
PRINTABLE RECIPE IS AT THE END OF THIS POST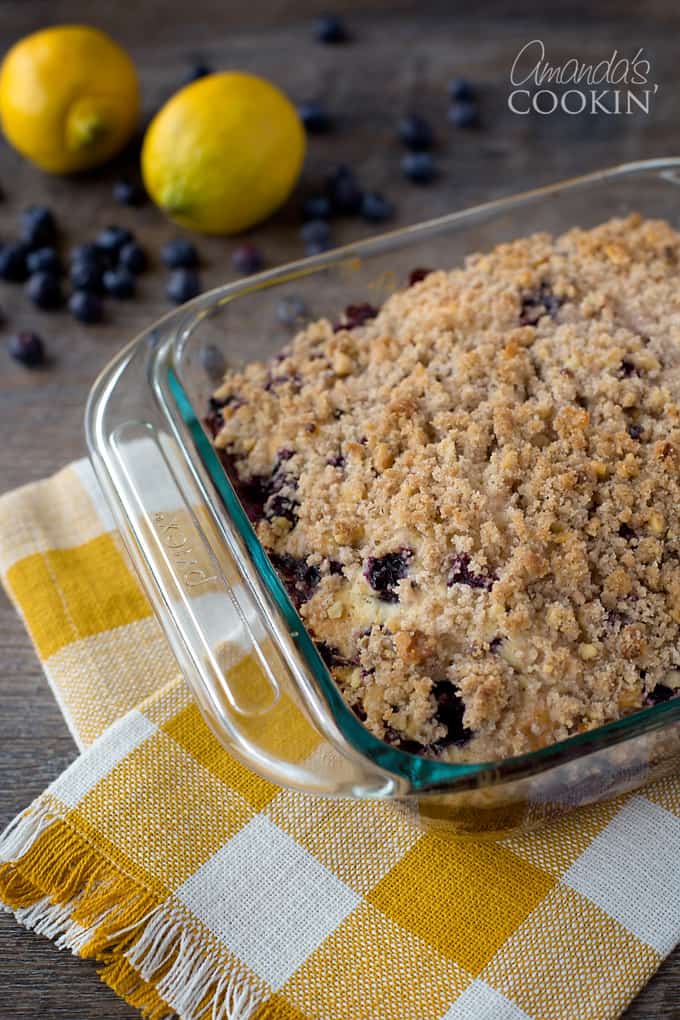 Blueberry Breakfast Cake
This recipe would be good with other fruits too, such as raspberries, sour cherries, blackberries, or cranberries in the fall. So no matter what fruit you decide on, definitely add this blueberry breakfast cake to your "to do" list!
If you decide to use cherries, add in a bit of almond extract. If using cranberries, I would add a few fall spices like nutmeg and cinnamon. If you use a tangy fruit like sour cherries or cranberries, you might want to add the glaze for added sweetness.
The crumb topping really is enough for this, but you can certainly add a pretty white drizzle on top. Either way, this coffee cake is amazing!
Important Tips Before Making Blueberry Breakfast Cake
There have been a few people that have said this recipe did not work for them. Without being in their kitchen with them, I can't say specifically what went wrong, but I can definitely offer some suggestions here. The number of people that have made this recipe with success, including myself on several occasions, far outweighs those that had trouble, so maybe we can pinpoint and address some of the things that may have caused problems.
Thick, sticky batter – this mixture of ingredients does in fact form a very thick and sticky batter. So thick that some might think the measurements were wrong and may have added more butter or milk. I actually finish mixing this batter with my hands to incorporate the last of the flour! Yes, it's that thick. Please do not be tempted to adjust the ingredients. Patience is important here, take your time and mix until done then fold in the blueberries. That may take a little persuasion as well.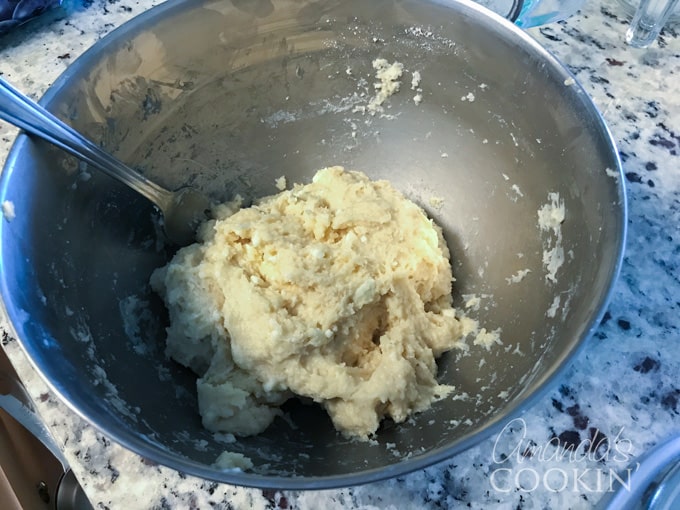 Softened butter – I think this is a common issue in the kitchen. Softened butter simply means it's not rock hard from the refrigerator and should be soft enough for your finger to cause a slight indent. Your finger should NOT sink into the butter, that's too soft. When butter gets too soft, or worse is actually melted, it changes the chemical reaction that takes place when mixed with other ingredients. My suggestion is to remove the butter from the fridge first, then measure out all of your other ingredients, preheat the oven and grease your pan. When you get to the step of adding the butter, cut it into small pieces and mix it in. Use your hands if you need to.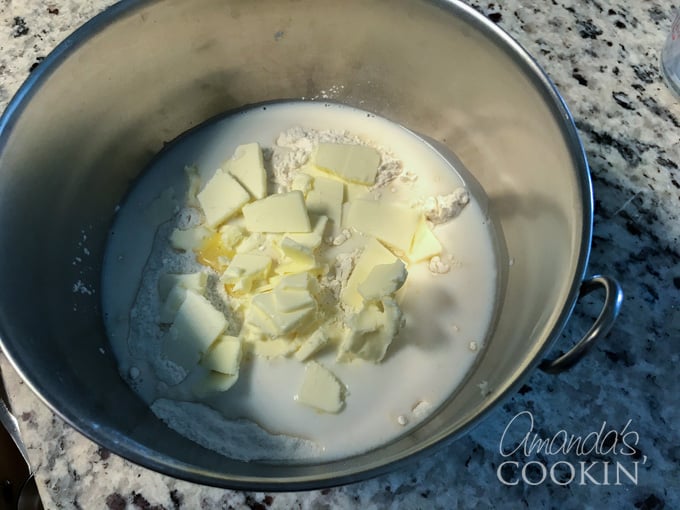 Measuring your flour – it's so important to measure flour properly using the "scoop and sweep" method. Plunging a measuring cup into a bag of flour and lifting it out in one fell swoop will give you more flour than if measuring correctly. In fact, I did a test and found that the difference for one cup of flour was half an ounce. That might not sound like a lot to you, but one properly measured cup of flour weighs approximately 4.5 ounces. Two cups of improperly measured flour will yield an extra 1/4 cup of flour. That's a considerable amount where baking is concerned, especially with a recipe like this that has such a thick batter already.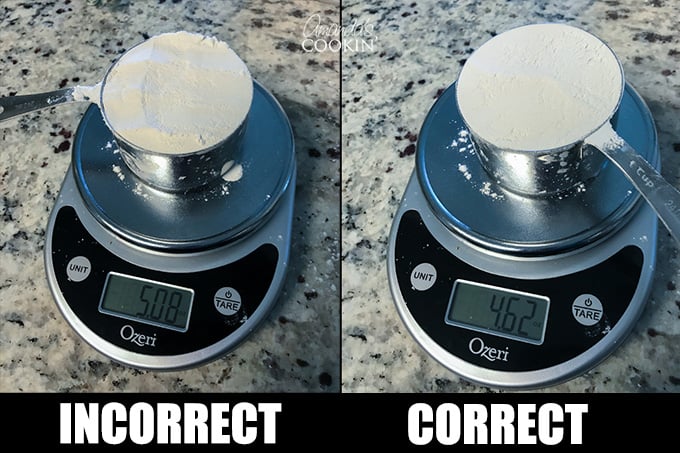 Scoop and Sweep – Place your measuring cup onto a piece of waxed paper. Stir the flour to aerate it and make it fluffy. "Scoop" flour out with a spoon and drop it into the measuring cup until the cup is overflowing. Use the flat edge of a knife or icing spatula to "sweep" the excess flour off the top leaving a perfectly level cup of flour. This is the scoop and sweep method. By the way, the waxed paper is there to catch the extra flour so you can easily put it back into the bag. If you are still unsure, here's a quick video and explanation of how to properly measure flour.
Glass vs metal pan – The photos in this post show that this cake was baked in a glass dish. The first time I made it I used a metal pan. Both will work, but glass takes longer to heat up, then when it does it gets very hot. Metal pans are more consistent and I think they are much better for baking evenly. That said, I have successfully baked this in a glass pan.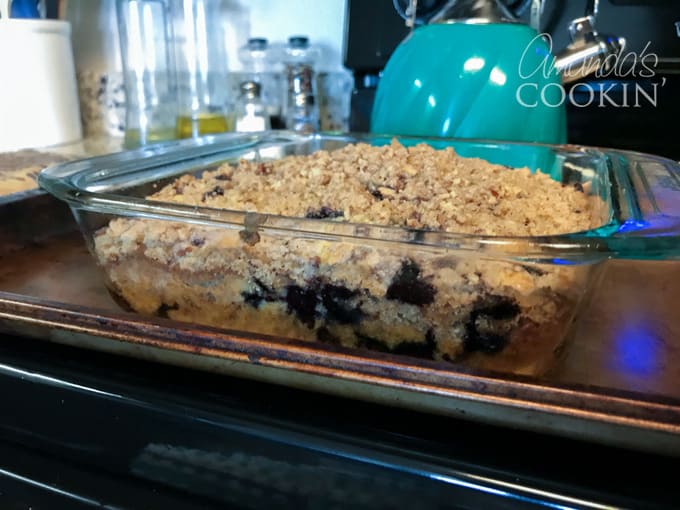 I think that covers the questions that people have had. If you have any others, please leave them in the comments so I can address them!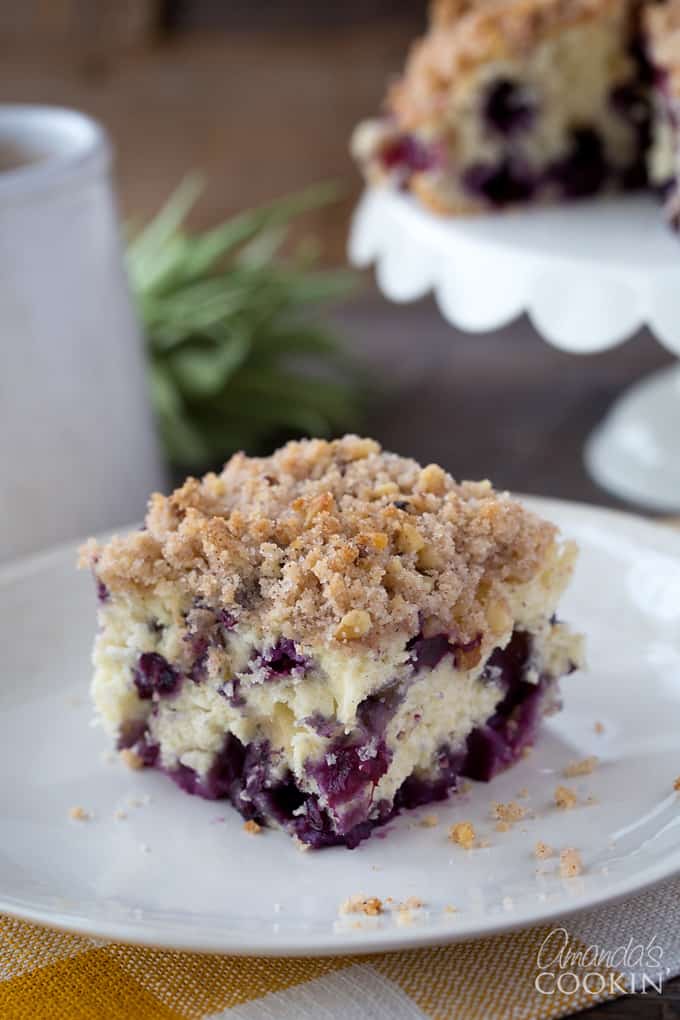 FIND THE PRINTABLE VERSION OF THIS RECIPE BELOW
Ingredients for Blueberry Breakfast Cake
2 cups all-purpose flour (approximately 9 ounces)
1/2 cup sugar
2 teaspoons baking powder
1 egg, lightly beaten
1/2 cup milk
1/4 cup butter or margarine, softened (NOT melted)
1 teaspoon grated lemon peel
2 cups fresh or frozen blueberries
For the topping:
1/3 cup sugar
1/4 cup all-purpose flour
1/4 cup finely chopped walnuts (I used ground hazelnuts I had in the freezer)
1/2 teaspoon ground cinnamon
3 tablespoons cold butter or margarine
For the glaze: (optional)
1/2 cup powdered sugar
2 tablespoons of milk (more or less to get to a drizzling consistency)
For glaze, combine the powdered sugar and milk. If too thick, add a few drops of additional milk at a time until it reaches drizzling consistency. Drizzles over the top of the cake and allow to sit until sugar solidifies.
Helpful Kitchen Tools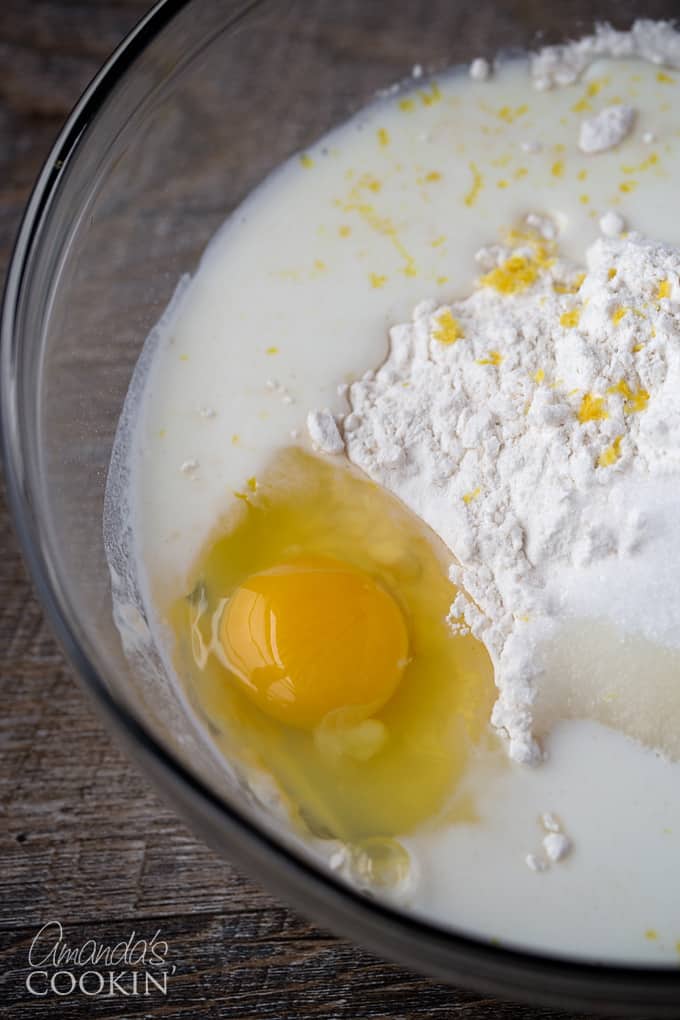 Preheat the oven to 350 F and spray or grease a 9-inch square baking pan.
In a large bowl, whisk together flour, sugar and baking powder. Cut butter into small pieces. Add egg, milk, butter and lemon peel; mix just until dry ingredients are moistened. You may need to finish mixing with your hands to get all the flour incorporated. the batter will be very thick.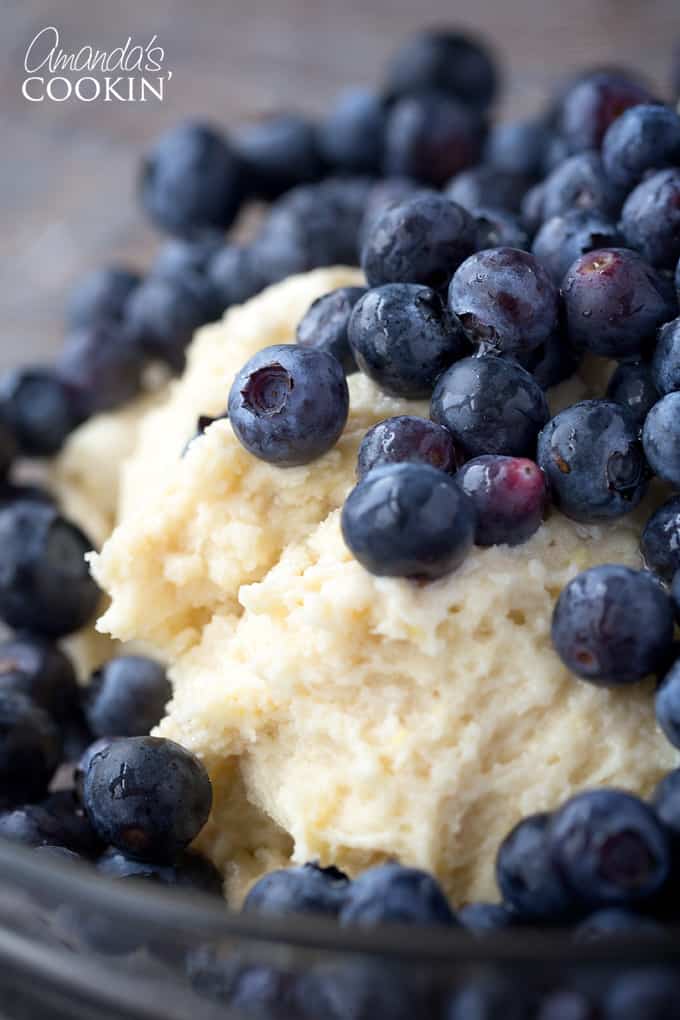 Fold in the blueberries. Because the batter is so thick, this may take a few minutes. Spread into a greased 9-in. square baking pan.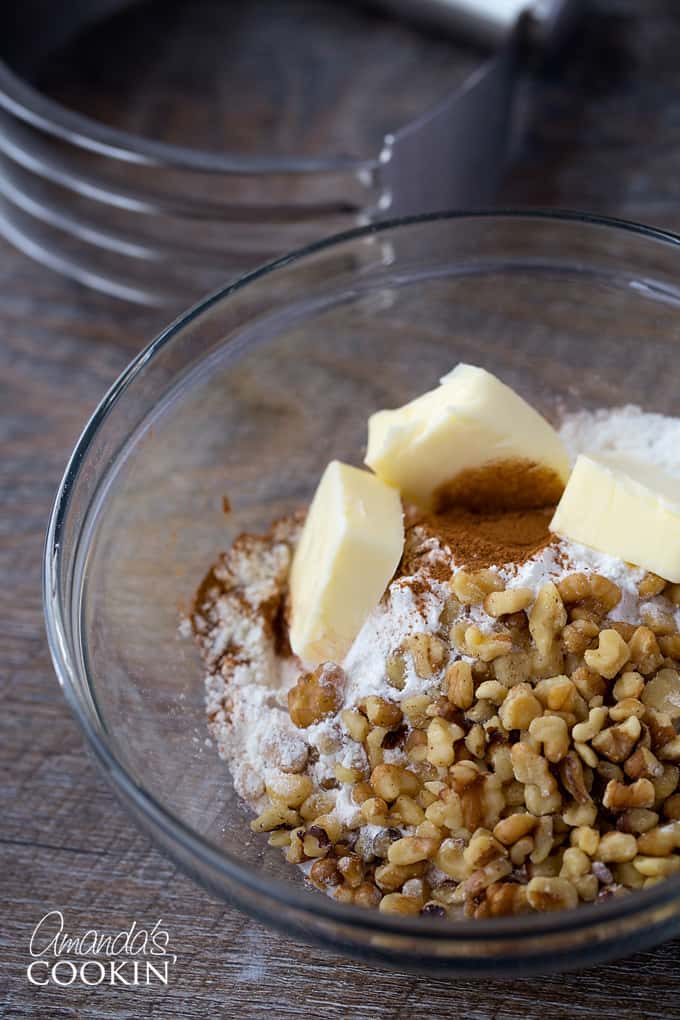 For topping, combine sugar, flour, walnuts and cinnamon in a mini food processor or bowl. Add butter and process, or cut in if doing by hand, until mixture is crumbly. I like to do this with my fingers so I can tell when it's ready by touch. Sprinkle over batter. Bake at 350 degrees F for 40-45 minutes or until cake tests done.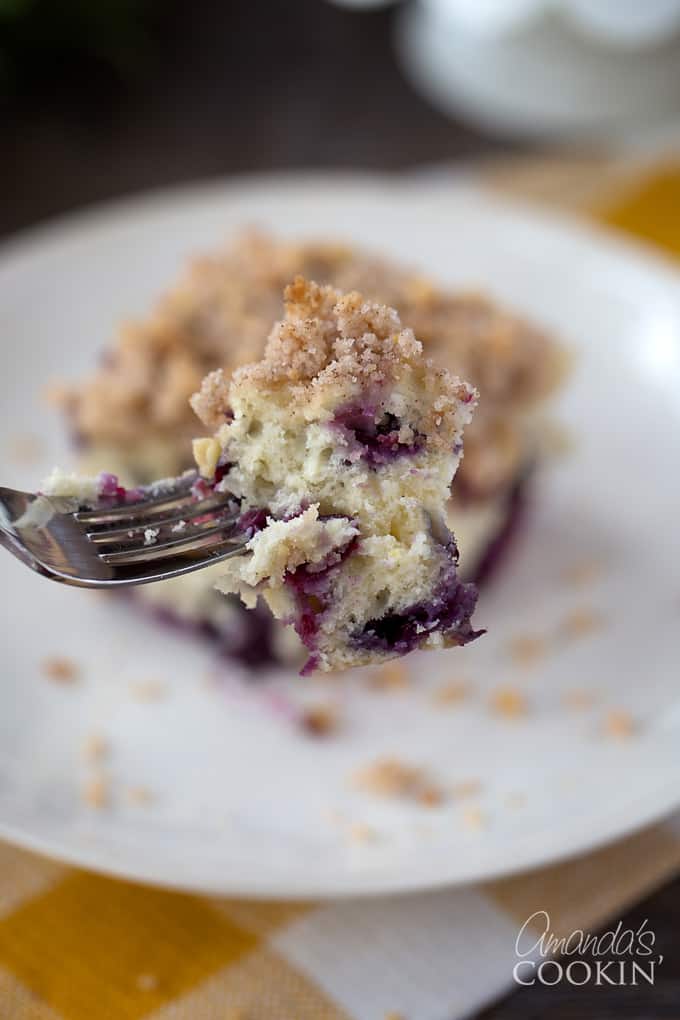 Note: I made mine the night before, covered it with foil and we enjoyed it the next morning, but this would make a great snack cake or dessert cake as well. Perfect!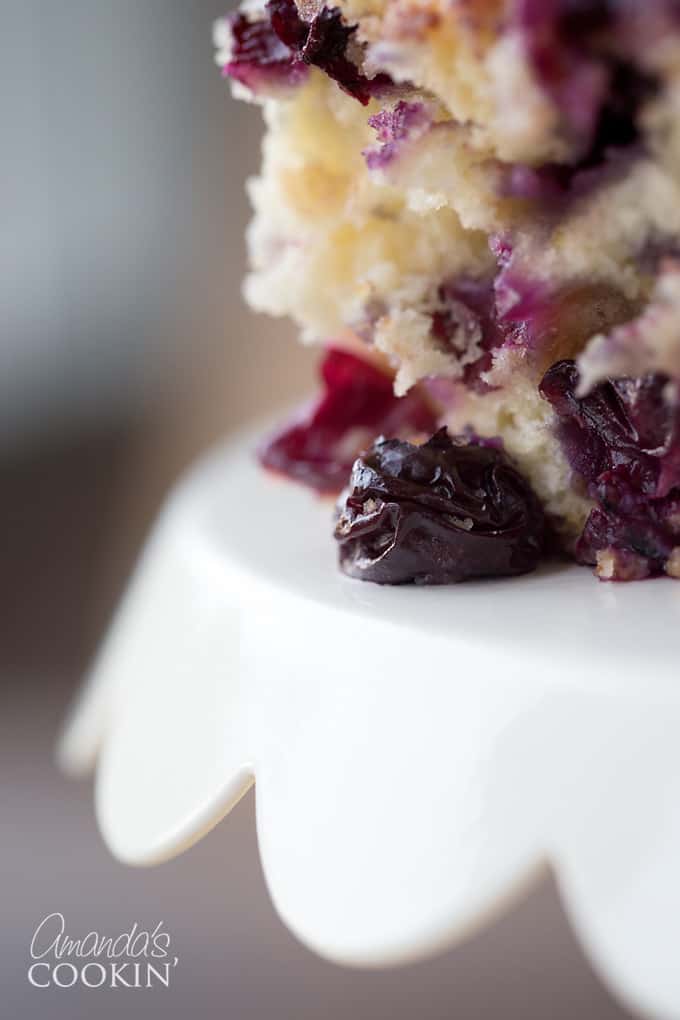 I hope you all enjoy this absolutely satisfying blueberry breakfast cake! Do you love blueberries as much as I do? If so, you may want to check out this One-Pan, No-Bake Blueberry Cheesecake, YUM! Maybe even this to die for Blueberry Cobbler, bursting at the seams with fresh blueberries! Or for other amazing fruity breakfast delights check out this Cranberry Streusel Coffee Cake, and last but certainly not least this delicious Raspberry Coffee Cake. Enjoy!
This post was originally published on this blog on Jul 23, 2010.