This Grilled Corn & Zucchini Salad with Feta is like summer in a salad. Char-grilled summer vegetables, freshly squeezed lemon, and plenty of feta cheese! This is the perfect salad for those warm sunny days approaching, just like this Summer Vegetable Pasta Salad.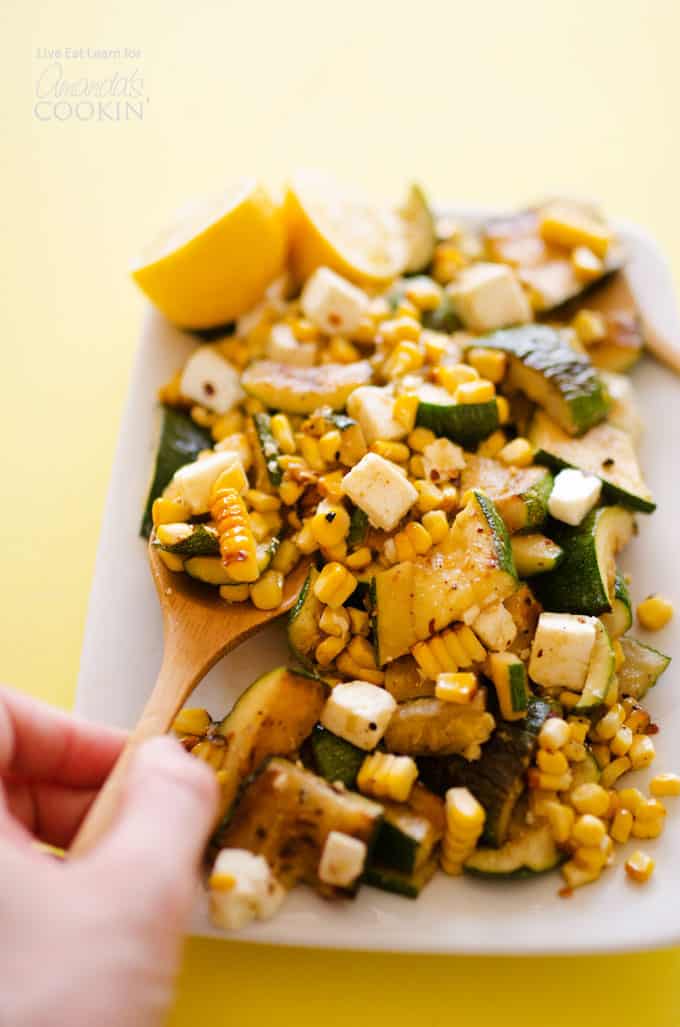 Grilled Corn & Zucchini Salad with Feta
It's safe to say that summer has reached our home, i.e. the Netherlands! The rare Dutch sun has peeked out from behind the clouds and we welcomed it in full force, with plenty of sunscreen and grilled veggies. And There is seriously no better way to enjoy summer vegetables than in the form of Grilled Corn & Zucchini Salad.
You'll basically combine olive oil with some yums (i.e. garlic, crushed red pepper, the whole shebang). You'll rub your veggies with that mixture and grill them, either on an outdoor grill or in a skillet. Then just chop it all up, toss with feta cheese, and drizzle with lemon juice. Boom, summer in a salad.
There are affiliate links in this post. That means if you buy something from that link, I will earn a small commission, but it won't cost you anything additional.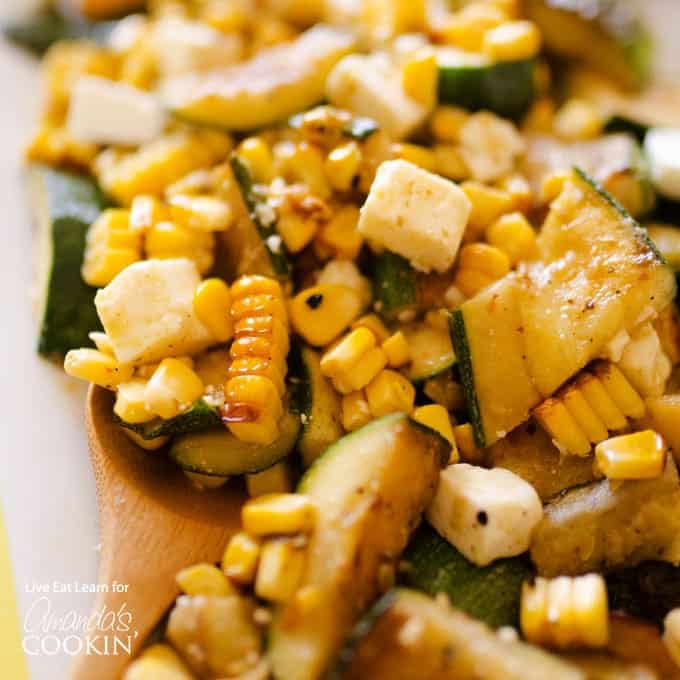 To make this Grilled Corn & Zucchini Salad you'll need:
1/2 cup olive oil
2 cloves garlic
½ tsp each salt and pepper
¼ tsp red pepper flakes
2 ears corn
3 zucchini
4 tsp lemon juice
4 oz feta cheese
Kitchen tools you may find useful:
Ever since I discovered the magic that is this grilled corn & zucchini salad a few years ago, it has been my staple summer side dish. Mostly because it's so SO delicious, but also because it's ridiculously easy to make.
Want more delicious ideas? Check out the recipes below!