This Boston Cream Poke Cake is so easy and scrumptious! Everyone will be raving over the delicious combination of yellow cake, vanilla pudding custard, and chocolate glaze. Plan to take this one-pan dessert to your next gathering! It'll certainly be a crowd favorite, just like the ever delicious Chocolate Lasagna.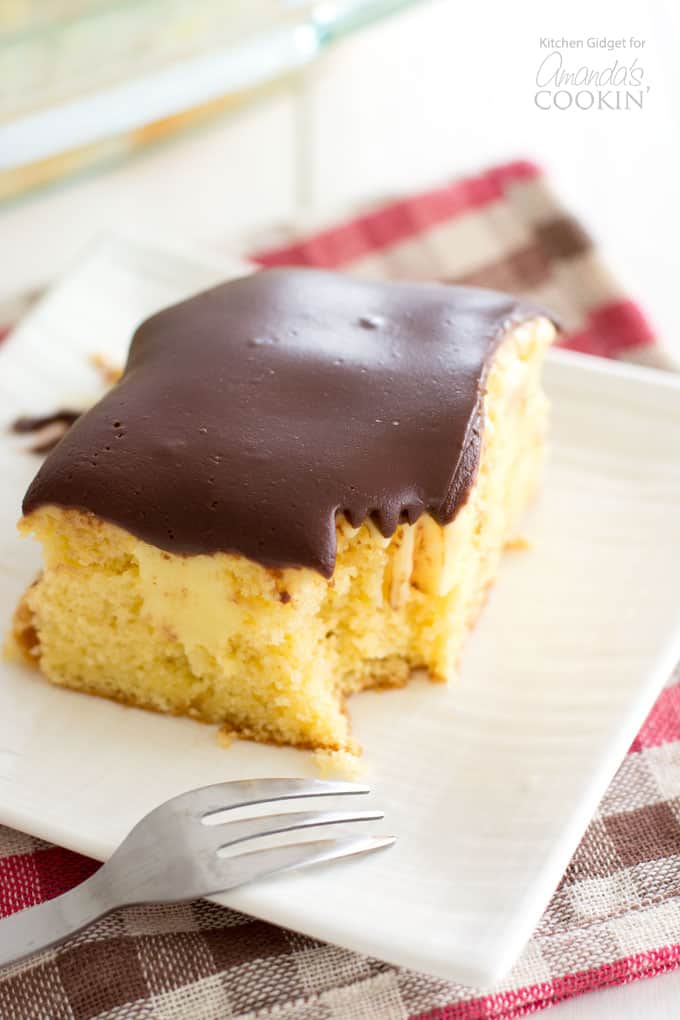 Boston Cream Poke Cake
When I was a young child I was enamored with any and all desserts containing custard. I was particularly captivated by Boston Cream Pie because it wasn't a pie at all, it was a custard filled cake. And that layer of glorious, shiny chocolate—yum!
I learned to bake at a young age, but mastering egg-based sweets like custard and Creamy Flan wouldn't come until I was older. If only I had known about this Boston Cream Poke Cake, I could have eaten it anytime the fancy struck! It's seriously that simple to cook with boxed cake mix and instant pudding.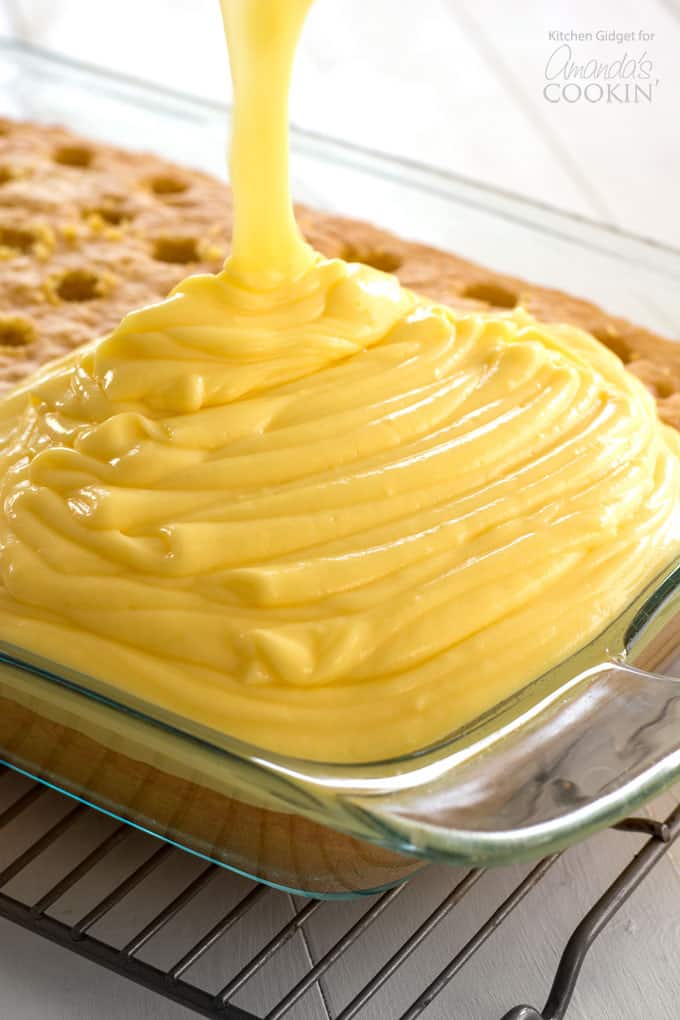 While I am now an avid baker, I'm not above using boxed mixes and hacks. If they make life easier and taste just as yummy, I'm all for it. My cute Lemon Sandwich Cookies start with a cake mix and they fly off the plate every time. If you have one component that's completely from scratch, it gives the whole thing a homemade flavor (the cookies have cream cheese frosting).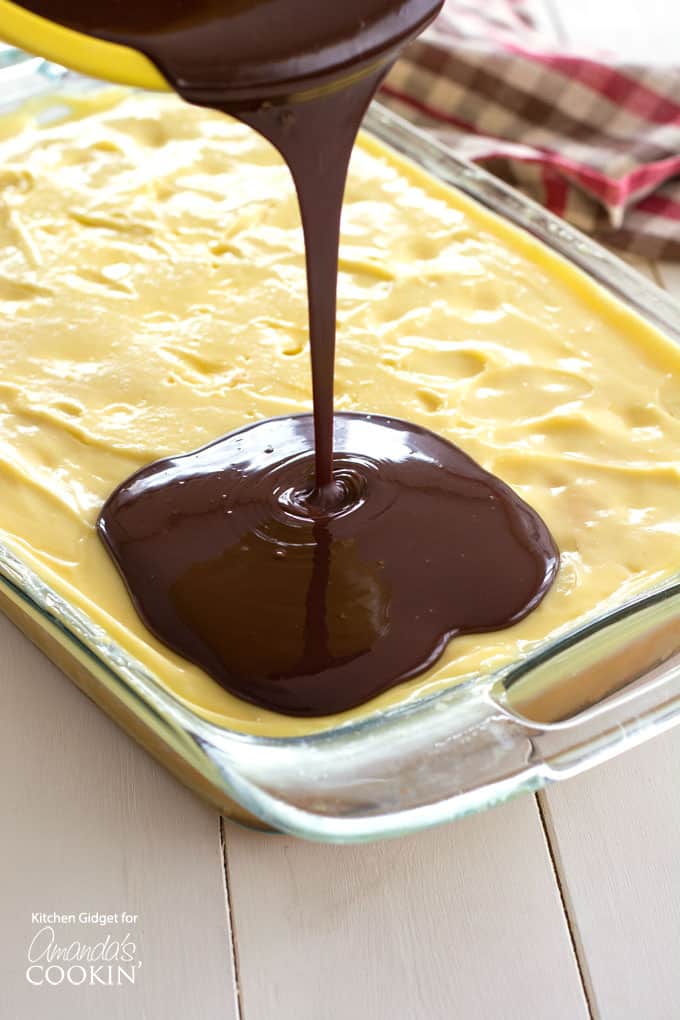 With that in mind, I decided to make the chocolate glaze from scratch since I'm a bit of a chocoholic. You could certainly use canned chocolate frosting if you want, but the chocolate ganache is simple enough that it doesn't take much more than melting a few ingredients together.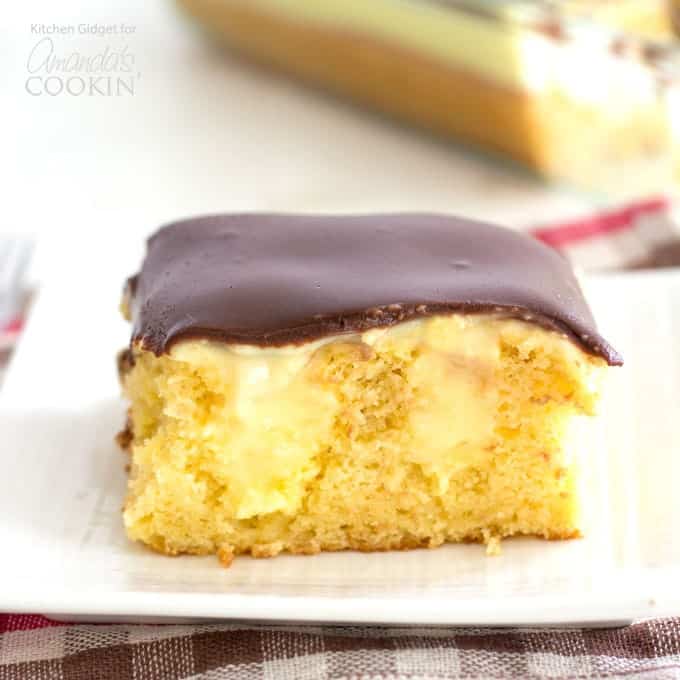 Ingredients for Boston Cream Poke Cake:
1 box yellow cake mix (plus ingredients to prepare)
2 small boxes vanilla pudding
4 cups milk
1/2 teaspoon vanilla
1 1/3 cups chocolate chips
1 cup heavy cream
1 tablespoon corn syrup
Helpful Kitchen Tools: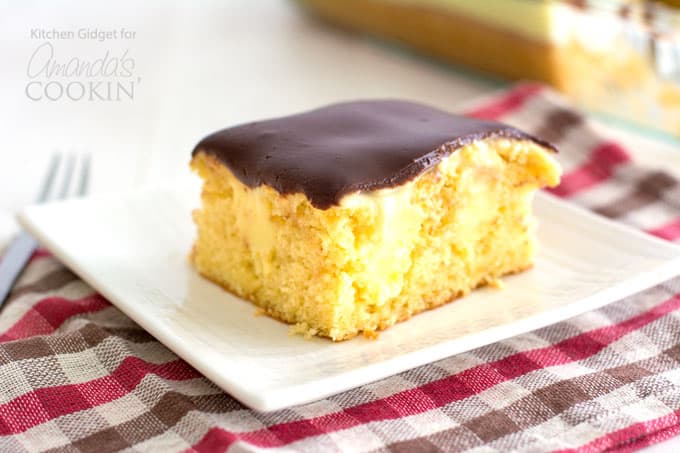 The rest of the Boston cream poke cake is equally quick and easy. Bake a cake according to the package instructions, then poke holes in it. Mix up some pudding and pour it over the cake. Do this before the pudding has completely set so the custard can drip all the way down into the pockets. It all gets topped with that chocolate glaze and then sets up in the fridge.
This Boston cream poke cake definitely tastes better if you let it sit overnight. I'm an impatient person, so I usually can't wait to dig in before something is done but trust me, the flavors come together in an amazing way. Cake, pudding, and chocolate glaze magically transform into Boston Cream Pie!
Don't you LOVE one-pan desserts? Always perfect for BBQ's, potlucks, or any gathering in general. Find more favorites below!