We love hamburgers, tacos, and chili, but new ground beef recipes are always welcome in my kitchen. This southwest ground beef casserole is a favorite!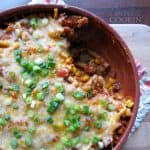 I'm always looking for great dinner ideas with ground beef. While we love hamburgers, tacos, and shepherd's pie, there's only so many times you want to serve those each month, so this ground beef casserole was a welcome addition to our rotation.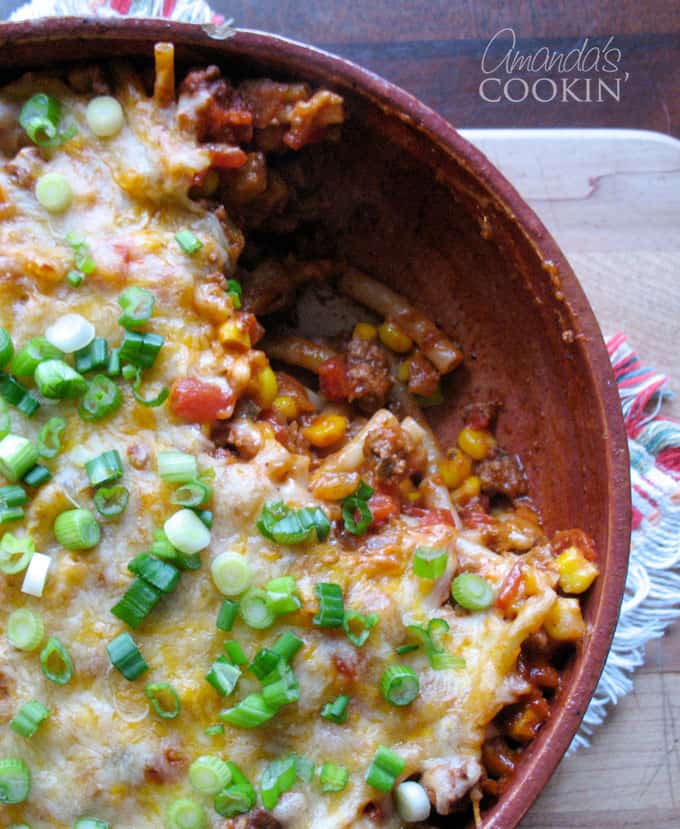 Southwest Ground Beef Casserole
When my kids were younger, getting them to try new things was often like pulling teeth. I knew I was in for the "what's that" type questions. I always tried to be very generic in my answers, the less details the better.
So I called this "southwest casserole" which is quite generic and doesn't reveal anything in the ingredient agenda. It was different than hamburger casserole I had grown up with for sure!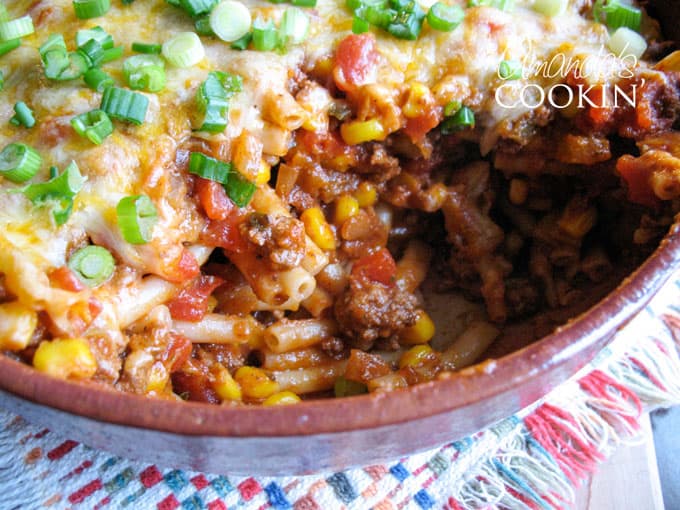 Which Pasta to Use for This Casserole
The first time I made this years ago I used a quick cooking pasta, which I don't recommend. Use regular pasta as indicated in the recipe. The quick cooking type cooks too long in this dish and tends to get a bit mushy.
You could certainly use a no-boil pasta in this casserole, I would suggest soaking them in hot water while you are prepping the recipe on the stove.
A great casserole for leftovers
This ground beef casserole is great as leftovers so it doesn't hurt to make it for a smaller family or just two people! I've made it several times and enjoyed the leftovers for lunch or another dinner. You can scoop out the finished recipe into individual serving containers, great for taking to work.
Can I freeze this casserole and bake it later?
As with any casserole containing pasta it will do fine in the freezer for up to three months. Just be sure you follow these steps:
Prepare the casserole according to the instructions in the printable version below – do not add the onions to the top as they are for garnish when you serve it.
Cool the dish completely after cooking.
Wrap tightly in plastic wrap to avoid freezer burn.
Wrap in foil then label and date it.
When ready to bake, preheat oven to 375 F and remove foil so you can take off the plastic wrap from frozen dish. Put the foil back on and bake (casserole will still be frozen) for about an hour. Check for doneness, continue for another 15 minutes if needed. If you defrosted the casserole, reheat for 35-45 minutes.
Tip: If you don't want your baking pan in the freezer for three months, after the dish has cooled completely line another baking dish with 2-3 layers of plastic wrap leaving extra hanging over the sides. Place the cooled casserole into the lined pan and freeze. Once frozen lift the dish out with the plastic wrap. Remove the plastic wrap and transfer the frozen item to a freezer safe bag. When you're ready to bake it, simply remove from the bag and place it into a baking dish.
The ingredients I prefer to use for this casserole
You can use ground beef, ground turkey or even ground chicken, depending on your flavor preferences. Other ground meats can be substituted as well such as venison or bison, making this a very versatile recipe. Ground Italian sausage mixed with ground beef or turkey would be a great flavor combination too!
I mention something called Magic Dust in the recipe below. This is a mixture I keep in my kitchen that I found in the book Peace, Love & Barbecue. I prefer it and I've provided it in the recipe below, but you can use a steak seasoning instead.
While I have listed Red Gold diced tomatoes, you don't have to use that brand. The key was that they have green chiles already added. If you can't find them, you can use a regular can of tomatoes and add a 4-ounce can of green chiles.
You can find a Mexican cheese blend already shredded at the grocery store. However if you have a preference on cheese feel free to use whatever you like. I do recommend that you have a cheddar cheese and a jack cheese in the mix.
Kitchen tools you'll find helpful
The casserole dish you see pictured in these photos was something I found at a thrift store. It's handmade pottery with a certain rustic charm. You can use a 9×9 square baking pan or a 2-quart casserole.
Make sure you use a large skillet. You'll be browning the ground meat, but then you will add several ingredients and need room to stir.
You'll also need a cutting board, a chef's knife for chopping your vegetables, your favorite spoon for stirring everything and of course some measuring cups and spoons.
If you like this Southwest Ground Beef Casserole…
I've amassed a pretty good collection of ground beef dinner ideas. Here are a few of our family's and our readers' favorites: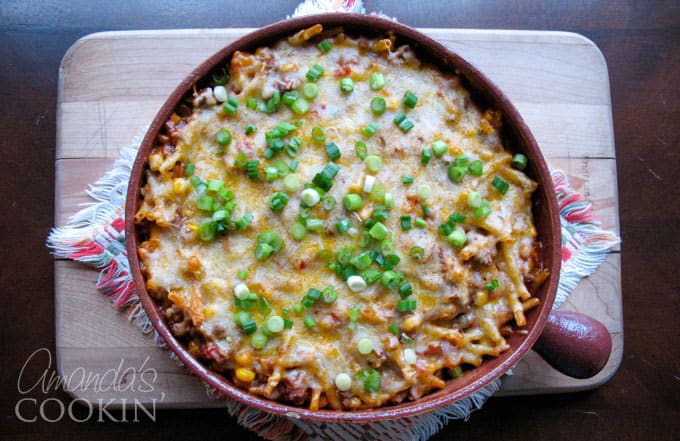 Some ground beef cookbooks I found:
A lot of bargains in here! Some are free as a Kindle version and others are only a dollar or two.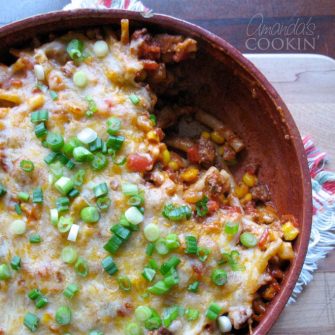 Southwest Ground Beef Casserole
We love hamburgers, tacos, and chili, but new ground beef recipes are always welcome in my kitchen. This southwest ground beef casserole is a favorite!
Print
Pin Recipe
Rate
Ingredients
1

lb

lean ground beef

1

cup

diced onion

1/2

cup

diced orange bell pepper

1/4

teaspoon

red pepper flakes

1

teaspoon

Magic Dust seasoning or Montreal Steak seasoning

16

oz.

tomato sauce

10

oz

can of Red Gold Diced Tomatoes & Green Chiles

1 1/2

tsp

dried oregano

2

tsp

chili powder

2

cups

frozen corn

2

ounces

shredded Mexican 4 Cheese blend

1 1/2

cups

dried macaroni style pasta

cooked al dente

1

cup

shredded Mexican 4 Cheese blend

sliced green onions for garnish
Magic Dust ingredients (you can use steak seasoning instead):
1/2

cup

paprika

1/4

cup

Kosher salt

finely ground

1/4

cup

sugar

2

tablespoons

mustard powder

1/4

cup

chili powder

1/4

cup

ground cumin

2

tablespoons

ground black pepper

1/4

cup

granulated

dried garlic

2

tablespoons

cayenne pepper
Instructions
Preheat oven to 325 degrees. Spray a two-quart casserole dish with cooking spray.

In large skillet brown ground beef with onions, bell pepper and red pepper flakes. Season with Magic Dust or steak seasoning.

Add the tomato sauce, diced tomatoes, oregano and chili powder and bring to a gentle boil.

Reduce heat and simmer for 15-20 minutes.

Add the frozen corn and simmer for a few more minutes. Remove from heat and stir in the 2 ounces of cheese until melted.

Gently stir in the cooked pasta.

Pour everything into prepared casserole dish and top with shredded cheese.

Bake uncovered for 20-30 minutes, or until browned and bubbly.

Garnish with green onions if desired.
To make Magic Dust:
Mix everything together and store in an airtight container. Keep some on a shaker bottle for the grill!
Video
Nutrition
Serving:
2
cups
|
Calories:
663
kcal
|
Carbohydrates:
89
g
|
Protein:
40
g
|
Fat:
19
g
|
Saturated Fat:
9
g
|
Cholesterol:
91
mg
|
Sodium:
6515
mg
|
Potassium:
1518
mg
|
Fiber:
11
g
|
Sugar:
31
g
|
Vitamin A:
7835
IU
|
Vitamin C:
39.3
mg
|
Calcium:
353
mg
|
Iron:
8.2
mg
This post was originally published on this blog on April 25, 2011
Amanda Formaro is the crafty, entrepreneurial mother of four grown children. She loves to bake, cook, make kid's crafts and create decorative items for her home. She is a crafting expert and guru in the kitchen and has appeared online and in print publications many times over the years. She is also a craft book author five times over and product developer as well as the owner of
FunFamilyCrafts.com
. You can find her on social media by using the buttons to the left!
Latest posts by Amanda Formaro (see all)