This pineapple dream dessert is one of my family's favorites. You know those desserts that seem to be at all the family gatherings? Those recipes that your grandma has been making for years? Like Pineapple Upside Down Cake or Ambrosia and Watergate Salad. This is one of those desserts.
PRINTABLE RECIPE IS AT THE END OF THIS POST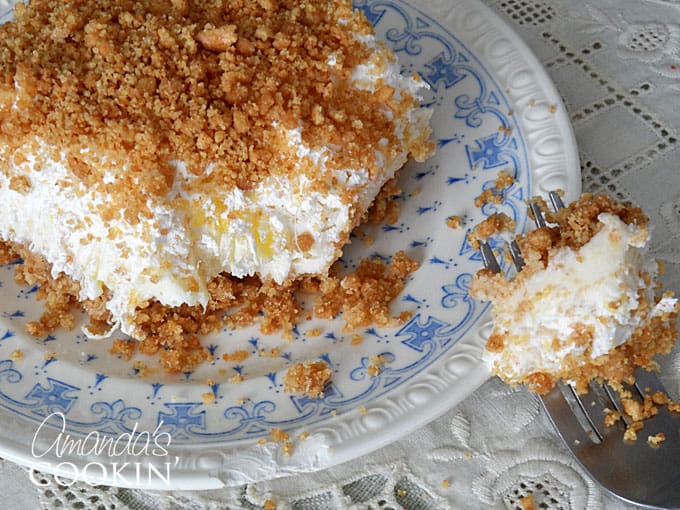 This light and fluffy pineapple cream cheese dessert can be easily transported, hence it appearing at all those family functions, and rarely has leftovers. I've had similar reactions to this Chocolate Lasagna recipe, everyone seems to love it. So the only thing you'll take home is a dish that needs washing!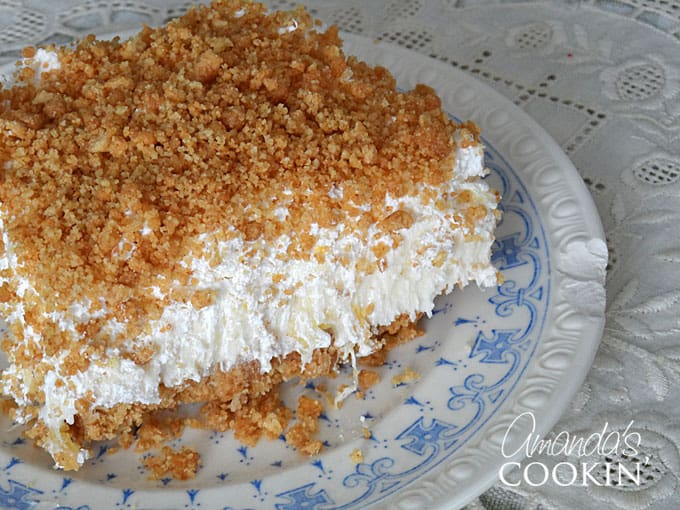 Pineapple Dream Dessert
Back in the late 60's Cool Whip entered the marketplace. It only took two years for this convenience item to become the company's best-selling item. Cool Whip has come under fire many times and the current version now contains milk and cream.
However, if you prefer, you can substitute freshly made whipped cream for the Cool Whip in this recipe. To substitute fresh whipping cream for the 8-ounce tub of Cool Whip, 1 cup of fresh whipping cream whipped is the proper substitution. HOWEVER Cool Whip has stabilizers in it that helps hold its shape while fresh whipping cream does not. There you can try this recipe for homemade stabilized whipped cream to replace the Cool Whip.
If you love the idea of this pineapple dream dessert, you'll love the strawberry version too- Strawberry Dream Dessert. You're basically replacing the pineapples for strawberries and you have yourself another ultra-delicious one-pan dessert!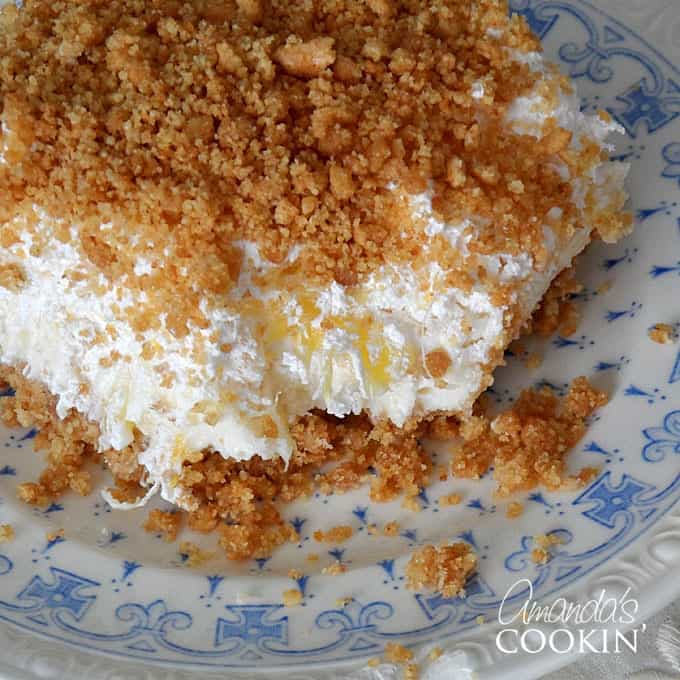 Just like this Strawberry Jello Pretzel Salad, this is a great recipe for taking to a party, holiday gathering, or a potluck. It's best to have a place to keep this delicious pineapple whipped cream dessert refrigerated until ready to serve.

Note: some links below are affiliate links. That means if you happen to buy something, a small percentage of that sale goes back into this site, which enables me to continue to bring you free recipes such as this one. So, thanks!
To make Pineapple Dream Dessert you will need:
2 1/2 cups graham crumbs (2 sleeves)
1/2 cup unsalted butter (for crust)
2 cups of powdered sugar, sifted
1/2 cup unsalted butter, softened (for filling)
4 oz cream cheese, softened
8 oz container Cool Whip
20 oz can crushed pineapple, drained well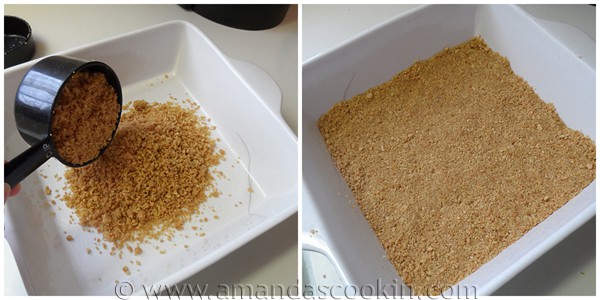 Preheat the oven to 300 F. Melt 1/2 cup butter in the microwave and let it cool. Combine the crumbs and butter, then press 2 cups of the crumb mixture firmly into an 9×9 square pan and bake for 8-10 minutes. Place on wire rack to cool.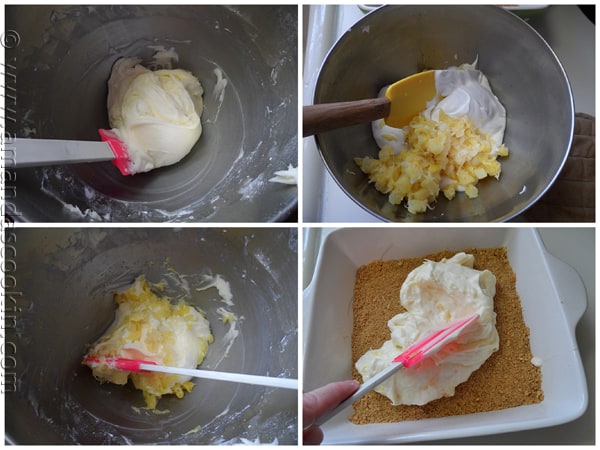 Beat the cream cheese and 1/2 cup butter together until creamy. Turn the mixer down to low and add the powdered sugar one cup at a time until incorporated. Turn up and beat well for a minute or so. Add a heaping tablespoon of the drained crushed pineapple and stir in with a rubber spatula. Spread the cream cheese and pineapple mixture over the crust.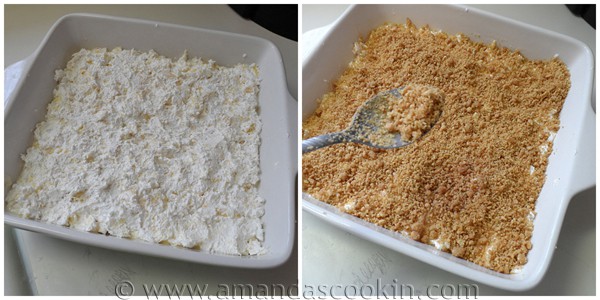 Fold the remaining pineapple into the Cool Whip and spread on top of the cream cheese mixture. Sprinkle the remaining graham cracker crumb mixture on top. Refrigerate for at least 4 hours, preferably overnight.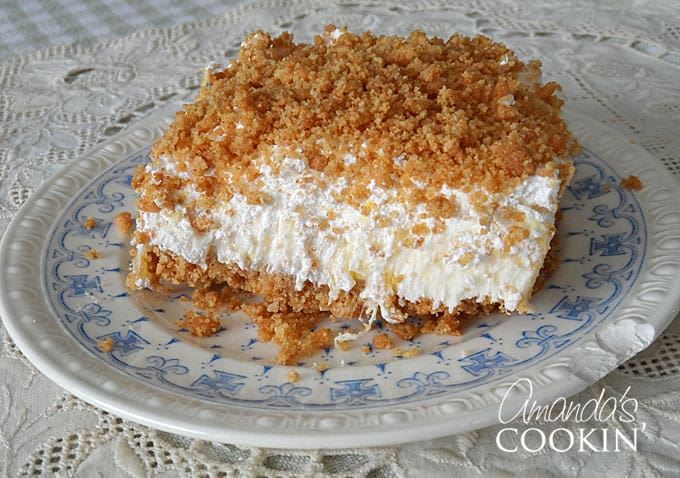 There are several favorite pineapple desserts with whipped cream.
Does your family have their own version of this dessert? How do you make it and what do you call it? These are some of the names I've heard:
Pineapple Cool Whip Dessert
Pineapple Delight
Pineapple Dream Squares
Pineapple Surprise Dessert
Pineapple Graham Cracker Dessert
Pineapple Cream Dessert
Whatever you call it, it's amazing and there are never any leftovers. It's always a favorite and someone will inevitably ask you for the recipe! So be sure to print a couple extra copies. :)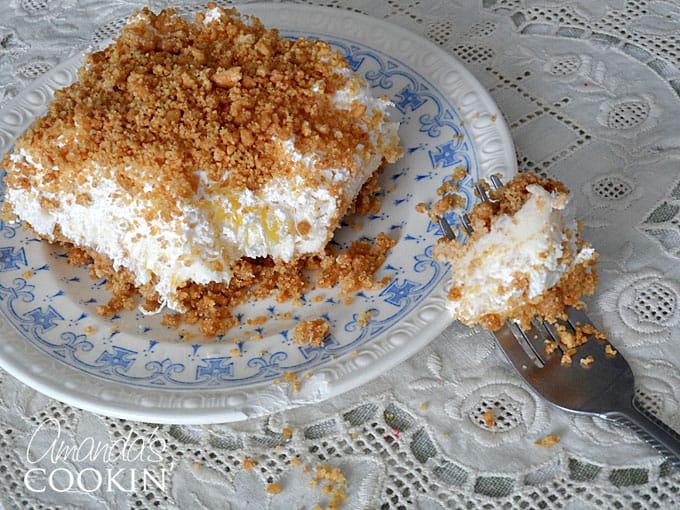 SCROLL DOWN FOR THE PRINTABLE VERSION OF THIS RECIPE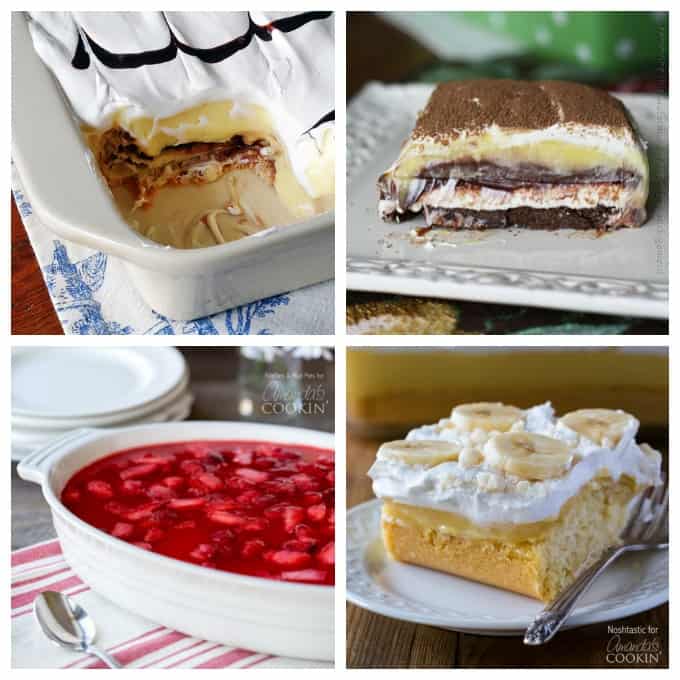 More delicious one-pan potluck dessert ideas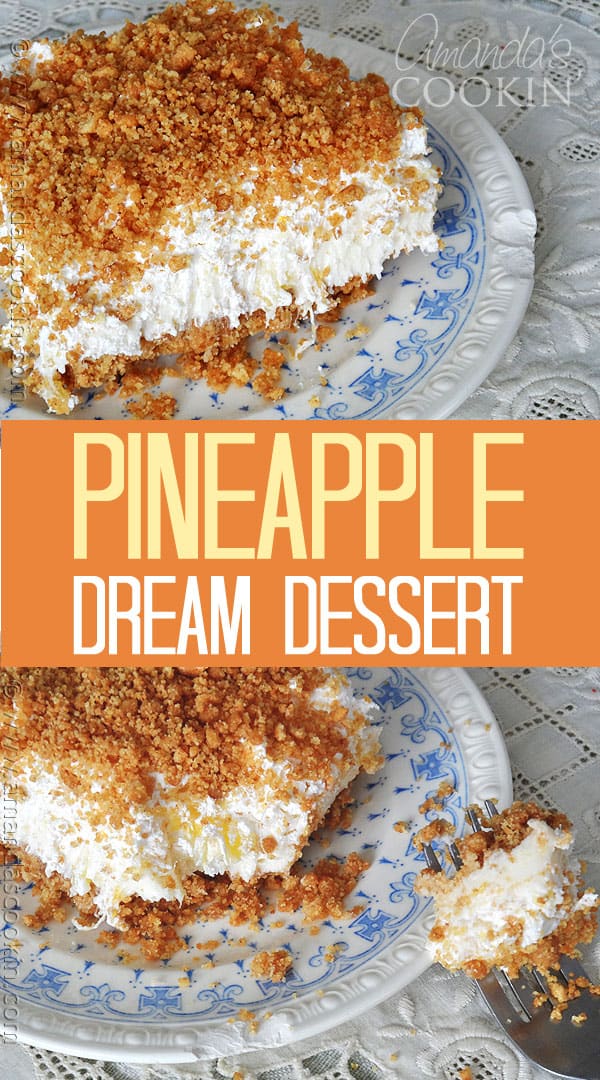 Above is a quick video showing the simple process of this delicious dessert!

This recipe was originally published here on July 9, 2013.