This creamy crockpot mac and cheese starts with uncooked macaroni. Just throw the milk, cheese and seasonings in the slow cooker for a meal everyone will love!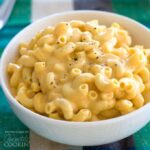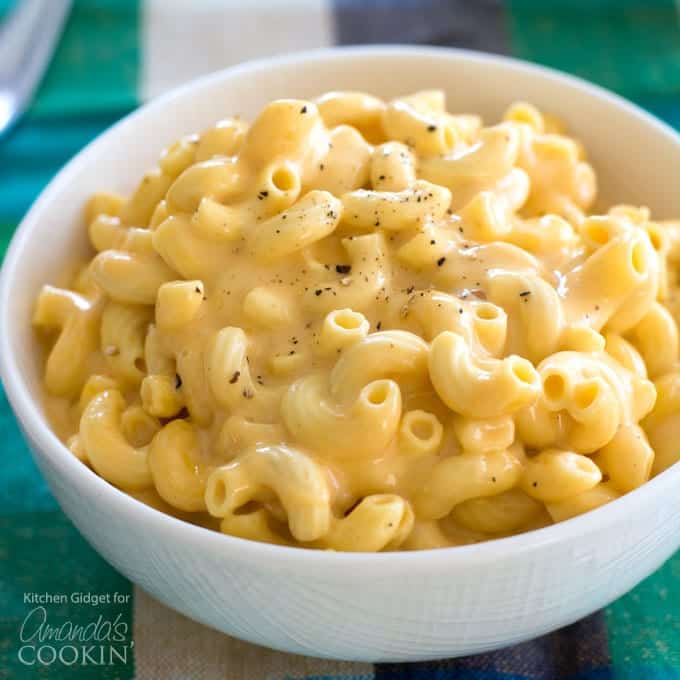 This creamy crockpot mac and cheese starts with uncooked elbow pasta; no boiling these noodles. Simply throw the milk, cheese, and seasonings in the slow cooker for a meal everyone will love!
We've also made homemade stovetop macaroni and cheese and baked macaroni and cheese, but the slow cooker is super portable and the dish won't dry out. This is a great casserole to take to a potluck or family get together.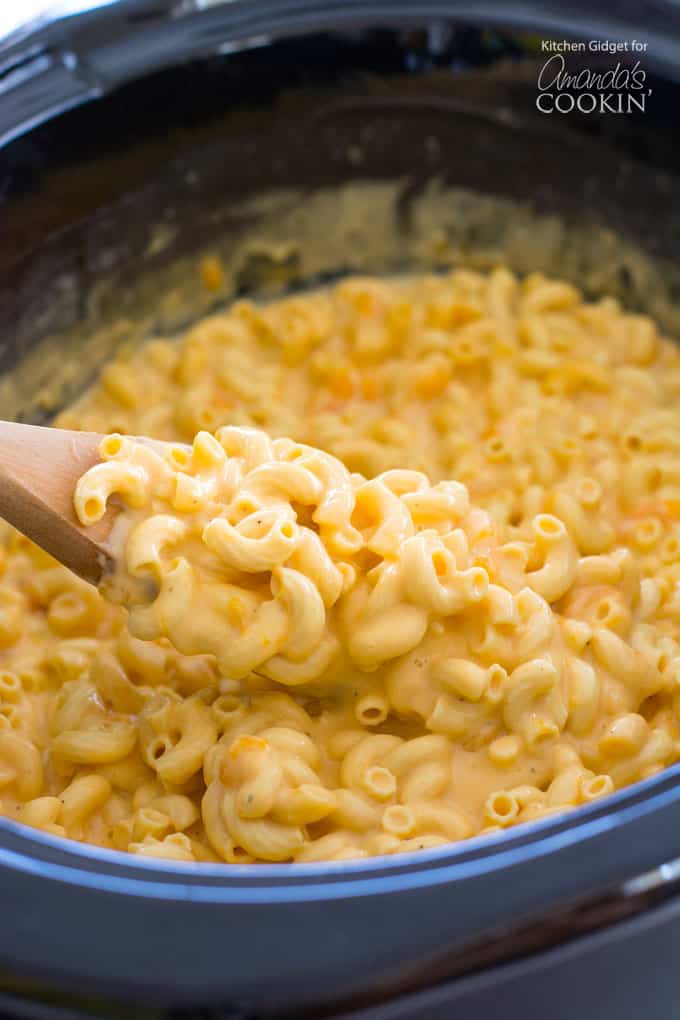 Creamy Crockpot Mac and Cheese
I love cheese. I love the variety and how it spans cultures from Italian Beef and Cheese Manicotti to Mexican Corn in a Cup. Today, I've got an American classic – creamy crockpot macaroni. Hard to believe I first had crockpot mac and cheese five years ago!
I remember it so clearly because everyone at the potluck thought it was a genius idea to throw it together, keep warm (not on the warm setting, turned off with the lid on) and transport. Everyone loves mac and cheese. Just remember that next time you need a dish to pass!
There are lots of different ways to make mac and cheese, but two of them are more popular than others. The first type is southern or baked mac and cheese, which includes eggs and is almost like a casserole. The second type is cooked on the stovetop in a béchamel sauce. There are no eggs and it is super creamy.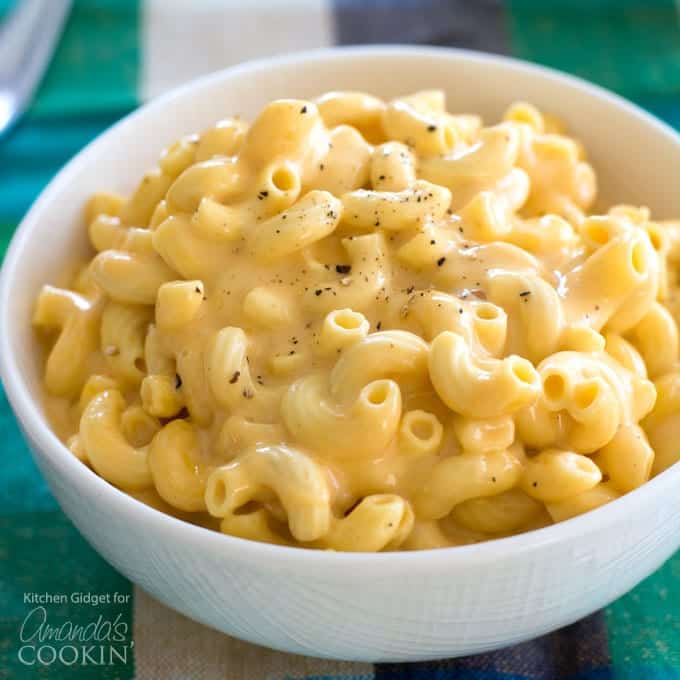 I love the slow cooker recipe I have, but it's southern–style and I wanted creamy crockpot macaroni, so I turned to the internet in search of inspiration. I also did not want to pre-boil the pasta, which a lot of recipes call for. To me, that defeated the purpose of using my slow cooker.
RELATED: This Macaroni and Cheese Casserole with Ham in Peas is a crowd pleaser and great for holiday breakfast! Our Crockpot Chicken and Dumplings soup is another huge hitter when it comes to family favorites! The best part is how easy it is to make!
Turns out that in order to get that ultra creamy texture in a crockpot, you either have to use condensed cheese soup or Velveeta cheese, neither of which appealed to me.
The next best thing is to use evaporated milk and American cheese, the kind you get from the deli counter. Barring American cheese, using a melty cheese like Monterey Jack or White American will also produce creamy results.
To this, I also added lots of sharp cheddar. This gives it that great mac and cheese flavor, but it is not the best kind of cheese for melting. For best results, buy a brick and shred it at home since the pre-shredded cheese comes coated in anti-caking agents. I use my food processor and it's done in the blink of an eye!
If you are making for the holidays
If you've never made this before, please do a dry run before the holiday! Everyone's slow cooker acts differently, so it's important to try this out first. Please read through the FAQ below as well for best results. Happy Thanksgiving and Merry Christmas!
Frequently Asked Questions
There have been quite a few questions on this recipe, please check here before asking in the comments as it may already have been answered. PLEASE READ the notes in the printed recipe.
Can I double this recipe and does it change the cooking time?
Yes, this recipe can be doubled provided you have a large enough slow cooker. The cooking time will not change.
The recipe says to use uncooked noodles, however, it also says to rinse the pasta?
Yes, rinse the uncooked pasta simply to remove any dust and foreign particles from the manufacturing plant.
I don't eat yellow cheese, what is a good white substitute?
Monterey Jack works well, as does White American and White Cheddar. A marble cheese should work as well. Sharp cheddars will give this dish the best flavor, try Vermont white sharp cheddar!
Can I make this ahead and reheat it?
We don't recommend reheating macaroni and cheese as it never tastes quite the same and there's a possibility that the macaroni will become mushy. However, if this is a deal breaker, you can reheat it – simply add some milk to loosen the thickened sauce while reheating. We recommend making it and having it ready right before you leave. Turn off the slow cooker but leave the lid on. When you arrive stir it and loosen with milk if needed.
How many servings does this make?
This serves 6-8 people. A serving size is 2 ounces of dry pasta which expands to approximately 1.5 cups with sauce when cooked.
Why was my mac and cheese gritty?
Prepackaged shredded cheese contains an anti-caking agent that can cause your final product to taste gritty. Purchase your cheese from the deli and shred it yourself.
Why was my mac and cheese mushy?
If it cooks too fast or too long it will get mushy. The biggest culprit is an older slow cooker that may cook hotter (even on low) than a newer slow cooker. Leave the lid on for one hour on low. DON'T increase the temp to High! Stir after one hour then check after 30 more minutes. Check and stir every 15 minutes after that if needed. Mine was done is 1 hour and 45 minutes.
Can I mix all of the ingredients, refrigerate overnight, and put in the crockpot a few hours prior to serving?
Yes, with the exception of the pasta. Wait until you take it out of the fridge and are turning the slow cooker on before you add the macaroni.
I'm confused by the cooking time, is it 2 hours or 3?
Actually, it's up to 3 hours. You should cook the dish on low for 1 hour, then stir it and check for doneness. After that, check it periodically (every thirty minutes or so) until it is done. The actual cooking time is completely dependent on the slow cooker you have (similar to ovens, they all cook differently), hence the "up to 3 hours" instruction.
Can I use regular milk instead of evaporated milk?
Don't use regular milk. However, you can create your own evaporated milk. To make 1 cup of evaporated milk, simmer 2 1/4 cups of regular milk down until it becomes 1 cup.
Is evaporated milk the same as condensed milk?
Condensed milk is sweetened and the two cannot be used interchangeably.
Ingredients you will need for crockpot mac and cheese:
1 pound elbow pasta
2 1/2 cups milk (whole is best)
1 can (12 oz) evaporated milk
3 cups (12 oz) shredded sharp cheddar
1 cup (4 oz) shredded American cheese (or Monterrey)
1 teaspoon salt
1/2 teaspoon black pepper
1/2 teaspoon dry ground mustard
1/4 teaspoon garlic powder
Dash of cayenne pepper (to taste)
1/4 cup butter, cubed
Helpful kitchen gadgets: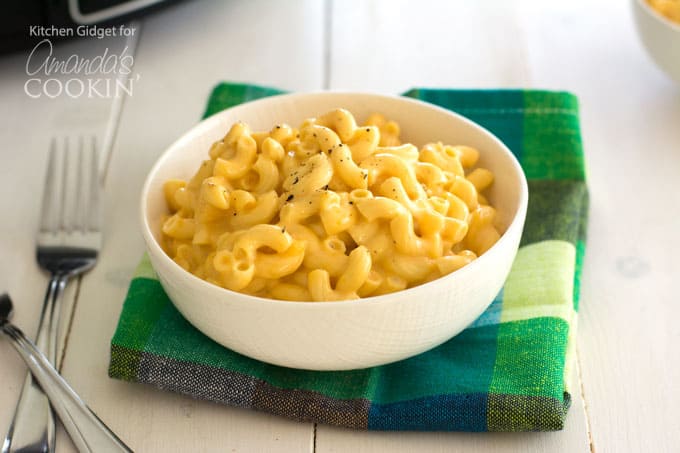 While scrolling through recipe reviews, many cooks noted that the mac and cheese was bland. I hate bland food, so I remedied this by adding mustard, garlic, and cayenne to my dish in addition to the basic salt and pepper. These can all be adjusted to your taste.
It's very important that you check the mac and cheese every so often. Pasta is not an ingredient that can cook all day or it will turn to mush. Slow cookers vary by brand and size, so keep an eye on it after the first hour.
Mine was perfectly al dente around 90 minutes in a 6-quart cooker. It's still less hands-on than babysitting a béchamel sauce on the stove or dirtying up a number of dishes!
I hope you love this crockpot mac and cheese just as much as I do!
More recipes you will love: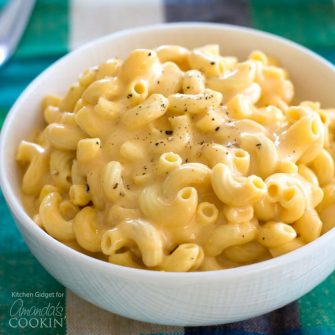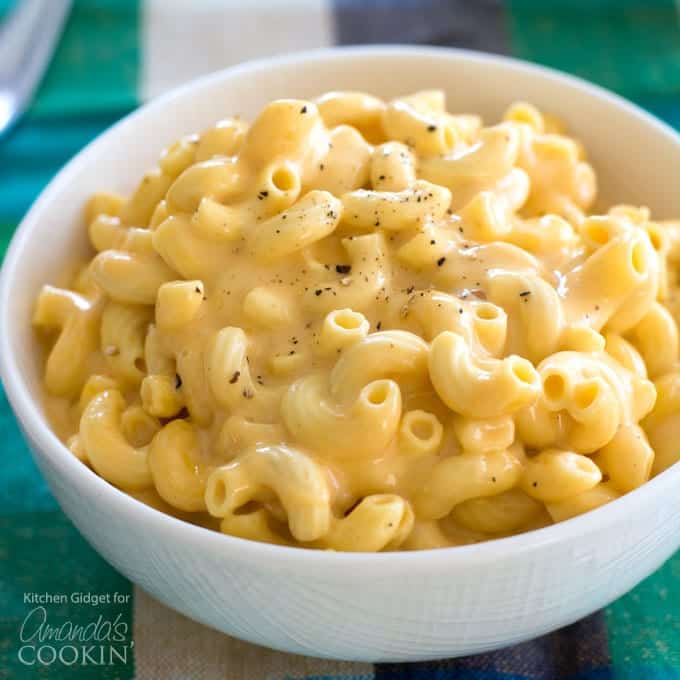 Creamy Crockpot Mac and Cheese
This creamy crockpot mac and cheese starts with uncooked macaroni. Just throw the milk, cheese and seasonings in the slow cooker for a meal everyone will love!
Print
Pin Recipe
Rate
Ingredients
1

pound

elbow pasta

uncooked (regular, not gluten free)

2 1/2

cups

milk

whole is best

12

ounces

evaporated milk

12

ounces

Sharp cheddar

3 cups shredded

4

ounces

American cheese (or Monterrey)

1 cup shredded (from the deli, not processed slices)

1

teaspoon

salt

1/2

teaspoon

black pepper

1/2

teaspoon

dry mustard

1/4

teaspoon

garlic powder

Dash of cayenne pepper

to taste

1/4

cup

butter

cubed
Instructions
Spray 6-quart slow cooker with non-stick spray.

Rinse the uncooked pasta well in cold water and drain.

Add uncooked pasta to crockpot along with milks, cheeses, salt, pepper, mustard, garlic and cayenne pepper. Stir to combine, making sure macaroni is submerged in liquid as much as possible.

Dot with cubed butter.

Cover and cook on low heat for 1 hour. Remove lid and stir. Depending on your slow cooker, your dish could be done at this point or require UP TO 1-2 more hours.

If not done, continue cooking and checking periodically (ever half hour or so).

When done, pasta will be tender and liquid will be thick and creamy.
Video
Notes
IMPORTANT - please do not use the bagged shredded cheese. It contains an anti-caking agent that can make your mac and cheese gritty. Get the cheese from the deli and shred it yourself. 
Also, every slow cooker is different. Newer slow cookers should work fine for this recipe. Cook on low for one hour without disturbing. Remove lid and stir well. Replace lid and check after 30 more minutes. DO NOT turn the heat up! You will make your macaroni mushy. 
My slow cooker is only a couple years old and my mac and cheese is done after about 1 hr and 45 minutes. 
Nutrition
Serving:
1
cup
|
Calories:
574
kcal
|
Carbohydrates:
51
g
|
Protein:
26
g
|
Fat:
29
g
|
Saturated Fat:
17
g
|
Cholesterol:
90
mg
|
Sodium:
923
mg
|
Potassium:
426
mg
|
Fiber:
1
g
|
Sugar:
10
g
|
Vitamin A:
985
IU
|
Vitamin C:
0.8
mg
|
Calcium:
672
mg
|
Iron:
1.2
mg
This post was originally published on August 21, 2017
Rebekah Garcia is the food blogger behind Kitchen Gidget. She creates recipes influenced by her Midwestern roots, Hispanic heritage and insatiable sweet tooth. When she's not cooking, you can find her at the beach with a good book. She is married to the man of her dreams and home is where the military sends them. She believes food is better when shared…unless it's the last bite!
Latest posts by Rebekah Garcia (see all)