This classic beef stroganoff recipe from scratch features tender slices of steak and savory mushrooms smothered in creamy brown gravy. Serve over egg noodles for a satisfying dinner that's ready in less than 30 minutes!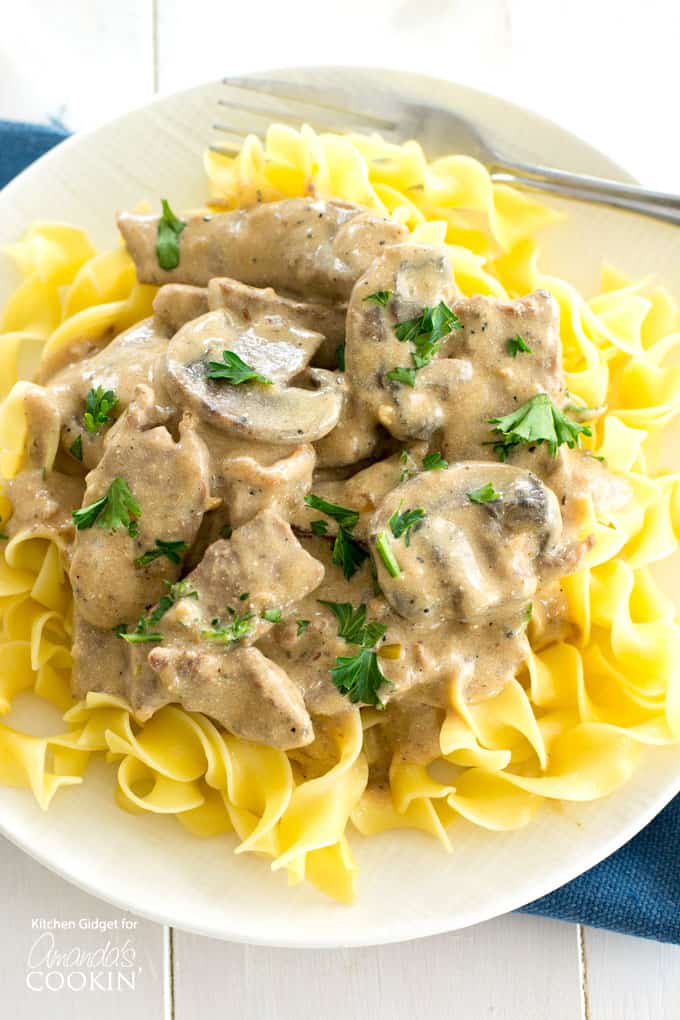 Beef Stroganoff
Growing up, I thought beef stroganoff was a wonderful treat of a meal. It's a hearty, comforting dish of beef and mushrooms in gravy.
To give it a creamy consistency, sour cream is swirled in the sauce which also gives it a little tang to balance the richness of the other ingredients. Best of all, it only takes 30 minutes to prepare.
Spending less time on dinner has been one of my New Year goals and I've had tasty success with 3-ingredient Queso Fresco Enchiladas and Ricotta Pasta with Beef!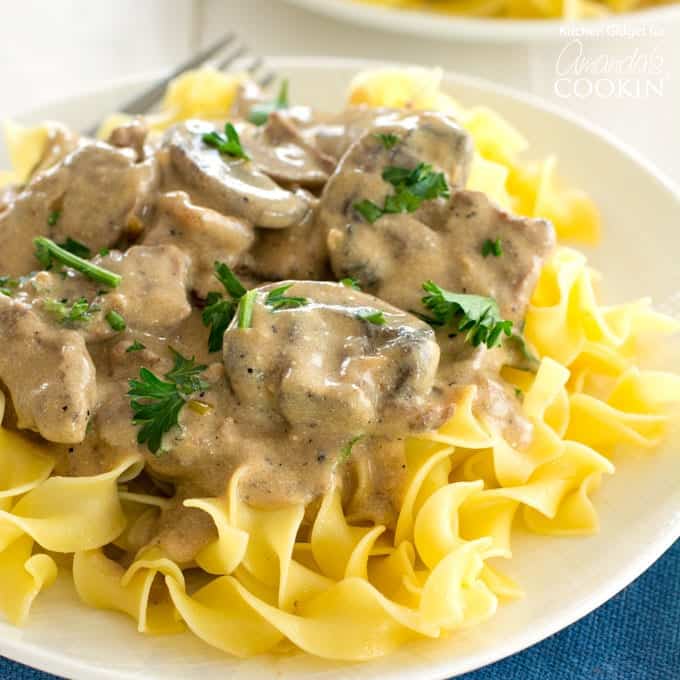 My mother frequently used ground beef to cut costs, but classic beef stroganoff is typically made with thin slices of steak. The cut of steak is your preference, but I recommend using a high-quality cut since this a quick skillet meal. Save the tougher cuts of meat for recipes that involve marinating or simmering for hours. Boneless ribeye, top sirloin or sirloin tips are good choices.
Prep the ingredients by slicing the steak into bite-sized strips. Likewise, slice the mushrooms and dice up your onion. The ingredients are cooked in batches to bring out the flavors and to ensure the beef doesn't overcook and become chewy.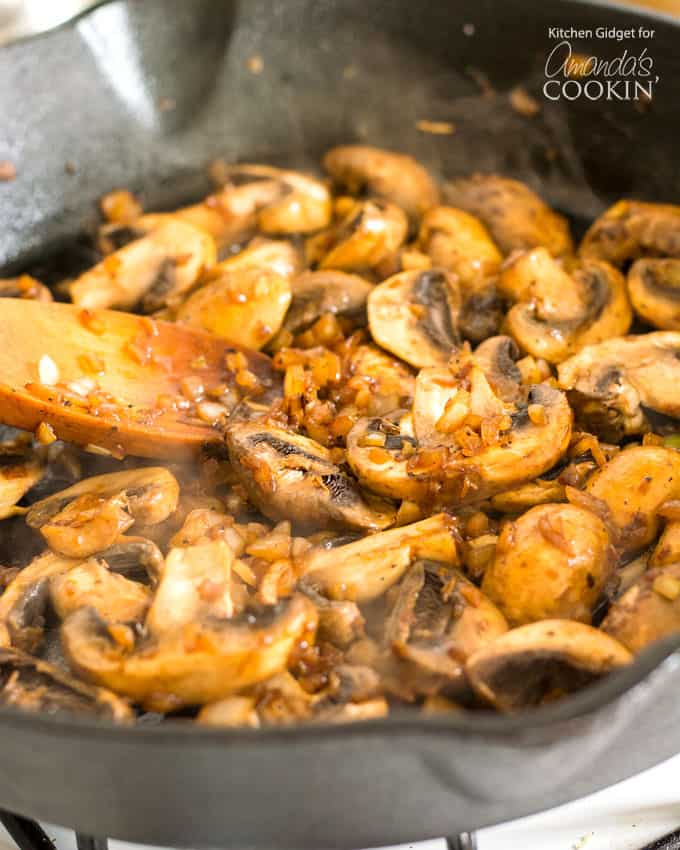 In a skillet, brown the beef in some butter (I like to use half butter, half olive oil). The steak does not need to be cooked well done since we'll be adding it back to the pan later, but it should have a really good sear on the outside. I cook it in two batches so that there's plenty of surface area.
Remove the beef from the pan and add some more butter. Brown the mushrooms and onions until soft and golden. So much flavor is happening here! Cook the garlic for a minute, then add the flour and cook another minute. Add the beef broth and simmer until thickened, then add the beef back into the pan along with the sour cream.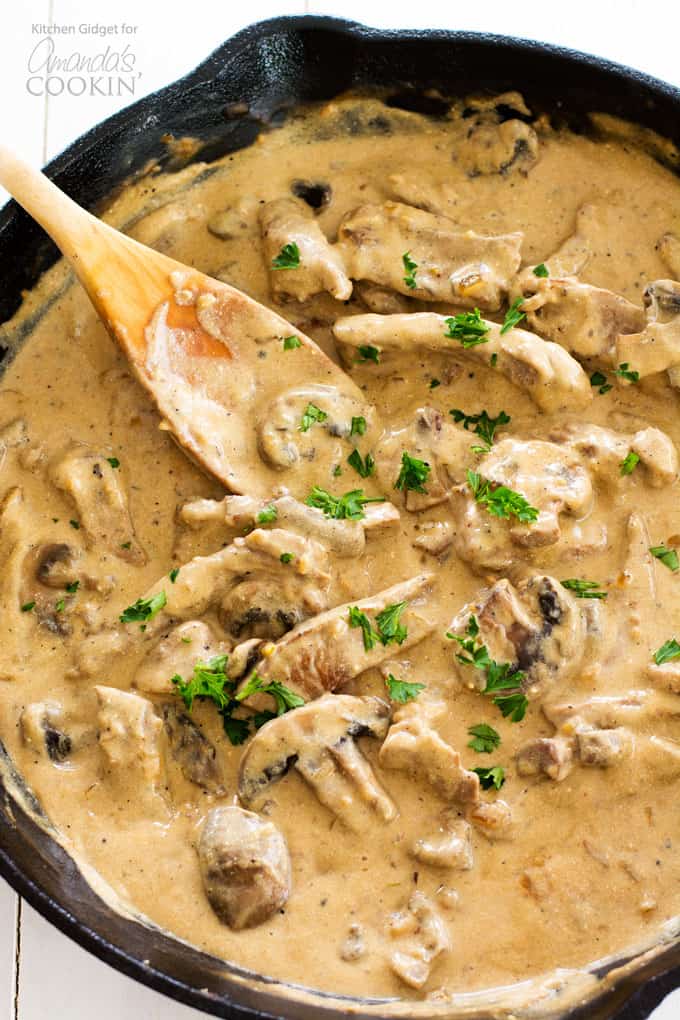 Ingredients you will need
1 1/2 pounds steak (boneless ribeye, top sirloin, etc)
4 tablespoons butter, divided
10 ounces mushrooms, sliced
1 medium onion, finely chopped
1 clove of garlic, minced
3 tablespoons all-purpose flour
1 3/4 cup beef stock or broth
2/3 cup sour cream
Salt and pepper
1 tablespoon Worcestershire sauce (optional)
1 teaspoon Dijon mustard (optional)
Parsley, for garnish
Hot buttered egg noodles or mashed potatoes, for serving
Helpful kitchen tools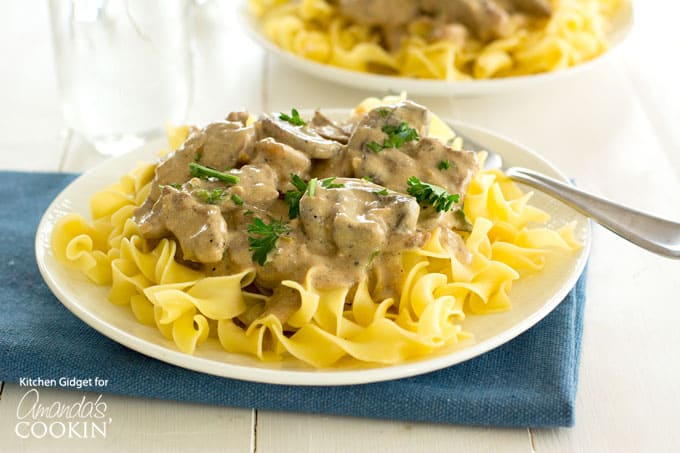 I should also note that a lot of recipes call for the addition of Worcestershire sauce or Dijon mustard. I've tried it various ways and think it tastes best without, however, the preference is yours.
Start with 1 teaspoon and adjust to taste. I love beef stroganoff served over egg noodles, but it's also tasty with mashed potatoes or rice. All you need is a simple side vegetable (steamed broccoli is our go-to veggie) and you have a complete meal!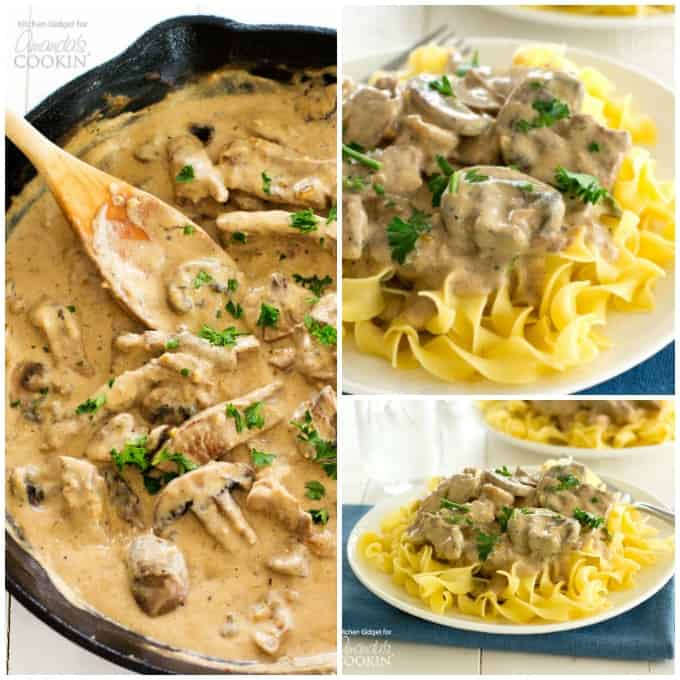 More delicious dinner ideas…