Summer wouldn't be complete without tender, juicy marinated grilled chicken and flavorful mixed vegetables threaded onto skewers and enjoyed by all. These chicken kabobs are anything but ordinary thanks to a rule-breaking marinade that takes no time at all to mix up. Summertime grilled skewers just got a whole lot more interesting.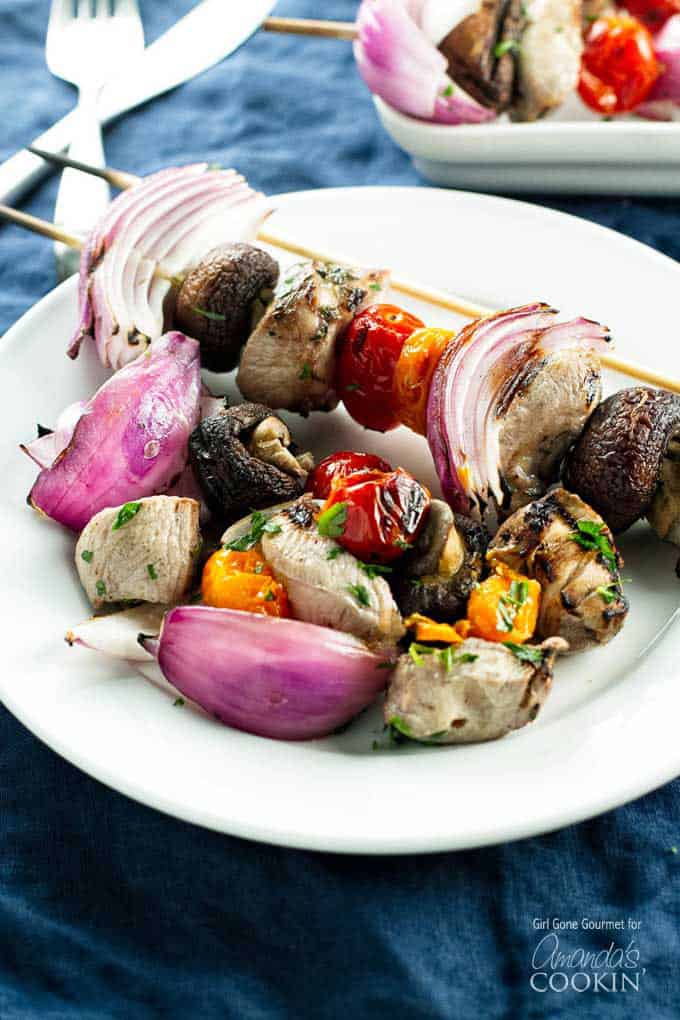 Marinated Grilled Chicken Kabobs
Some rules are just meant to be broken. In my mind, wearing white after Labor Day is totally fine, sitting too close to the TV hasn't made me go blind, and red wine isn't just meant for beef. When it comes to cooking it's easy to get stuck on "what's right" and the whole white wine with chicken and red wine with beef rule is the perfect example.
So let's break some rules, shall we?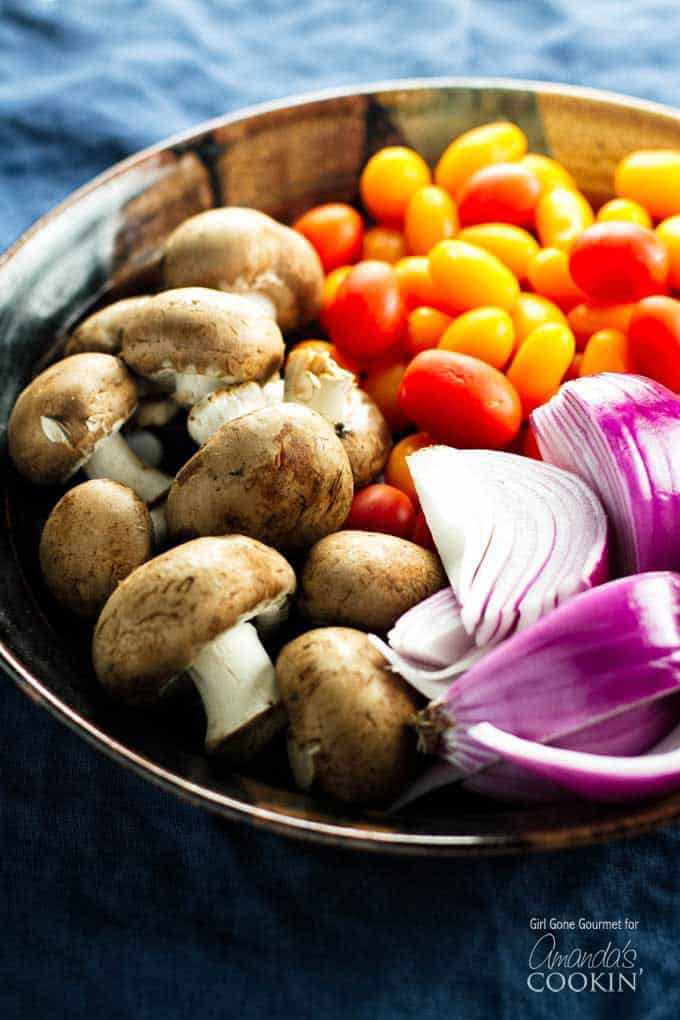 In our house, summer is synonymous with grilled kabobs – we just can't get enough of them. I love them because everything is cooked on the grill saving me from an overheated kitchen on a 95 degree day. They're also a one-stick meal with everything you need (tender chicken and vegetables) served all together making these an easy weeknight dinner or a main course for a crowd. I mean, who doesn't love food on a stick?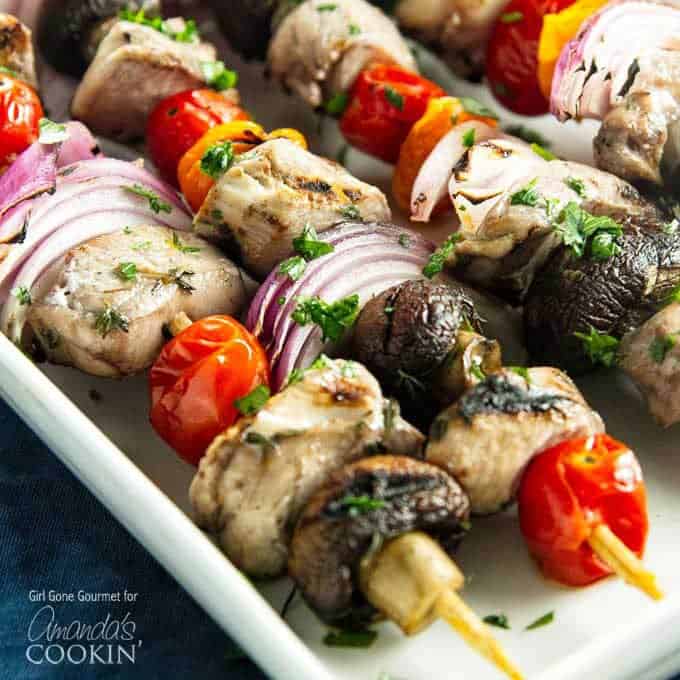 Since we eat a lot of these I like to come up with new fan-dangled marinades to keep it interesting. Tradition says to use a lovely chardonnay or pinot grigio as the base for a chicken marinade, which is fine and delicious, but also predictable. To switch things up I first closed the kitchen shades lest anyone saw what I was about to do and I mixed up a red wine marinade with a touch of honey, fresh herbs, and garlic. The chicken got a good 30-minute soak. It felt totally scandalous.
There are affiliate links in this post. That means if you buy something from that link, I will earn a small commission, but it won't cost you anything additional.
Things You'll Need
1/4 cup pinot noir
1 teaspoon fresh thyme leaves
3 tablespoons olive oil, divided
1 tablespoon honey
2 cloves of garlic, smashed
1/2 tablespoon Worcestershire sauce
1/4 teaspoon salt
1/4 teaspoon black pepper
1 pound boneless skinless chicken breasts
20 grape tomatoes
1 red onion, sliced into 8 wedges
8-10 cremini mushrooms
Things you may find helpful: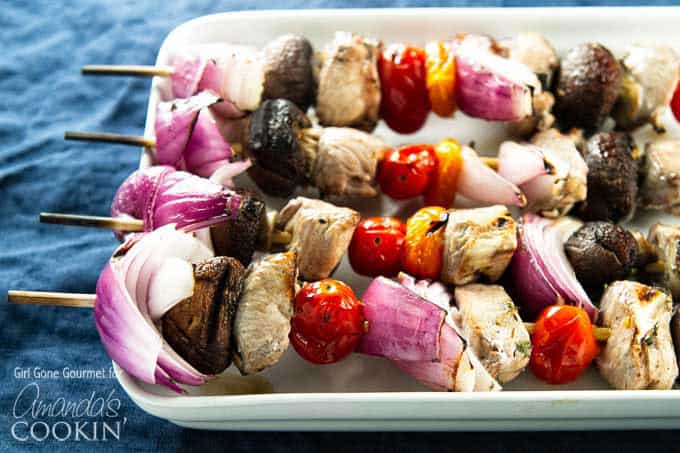 After a quick cook on the grill this marinated grilled chicken turns out tender and juicy with a hint of fruitiness thanks to the red wine. It's a surprising pop of flavor that leaves everyone wondering about the secret ingredient. Now, whether or not you share it is up to you.
So what are you waiting for, rebel? It's time to break some rules.
SCROLL DOWN FOR THE PRINTABLE VERSION OF THIS RECIPE
MORE GRILLED CHICKEN RECIPES YOU WILL LOVE:
When it comes to marinated grilled chicken, this cilantro lime chicken for the grill is one of my all time favorites.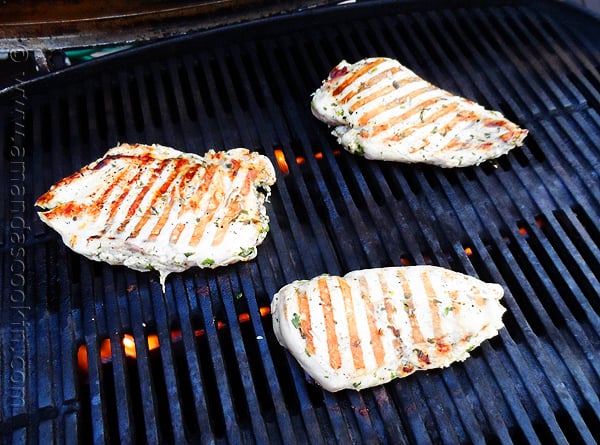 If you love cooking on the grill, you definitely should try these super simple grilled garlic lemon chicken breasts.
If you have any leftover marinated grilled chicken like I often do, this grilled chicken salad with herbed tomato vinaigrette is delicious!
Want even more free recipes? Be sure to subscribe to my newsletter for FREE recipes and craft ideas sent to your inbox every week.