Take fresh strawberries and cream to the next level with this no-bake, one-pan Strawberry Icebox Cake. Fluffy whipped cream, juicy strawberries and graham crackers are all you need to make this potluck favorite! This strawberry icebox cake is the perfect summer version to the delicious S'mores Icebox Cake!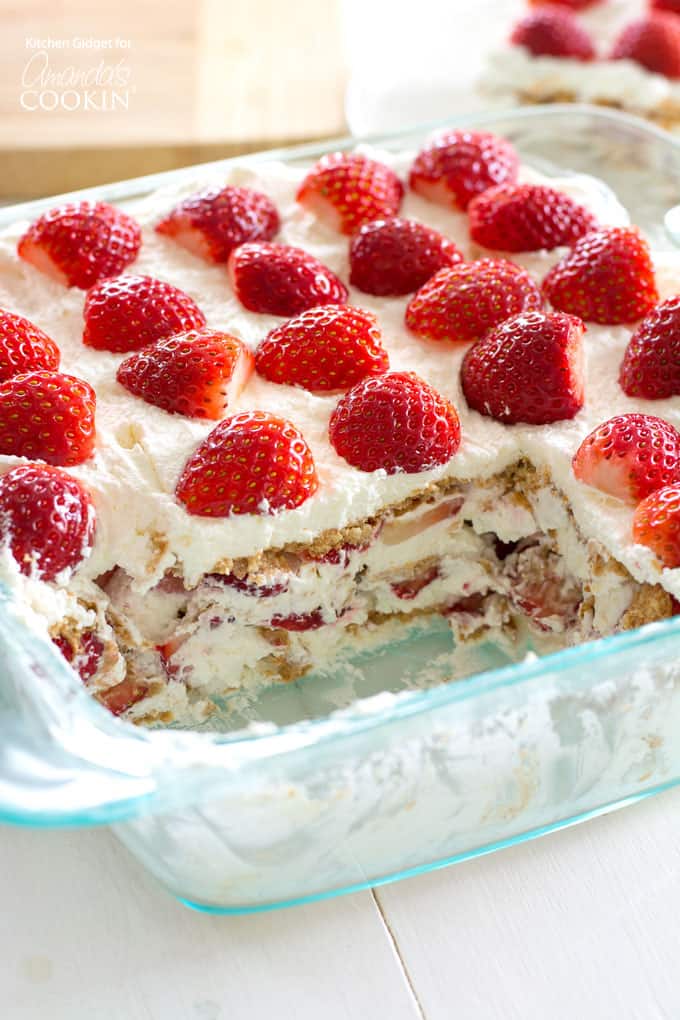 Strawberry Icebox Cake
I don't even know where to begin with how amazingly delicious and easy this Strawberry Icebox Cake is! Like seriously, where have you been all my life? Strawberries, whipped cream, and graham crackers – that's all you need to make this no-bake wonder.
The ingredients are layered together and allowed to set in the refrigerator. The graham crackers soak up some of the sweetened cream and become soft like cake. Mushy cookies may sound weird, but trust me it works!  It's sweet, light and fresh without being too sugary.
My favorite no-bake dessert is Oreo Cake, but when strawberries are in season, I go crazy for them. This would be delicious with any of your favorite berries (raspberries then blueberries are next on my list of favorites). Or even with Oreos! (check out our Oreo Icebox Cake!)
This is going to be a Spring and Summer staple for sure. Take this to your next potluck or cookout where it's sure to be a hit. I'm partial to food in glass dishes—it looks so pretty since you can see the food, especially when there are layers. And not just desserts! My layered Fiesta Bean Dip disappears in minutes every time.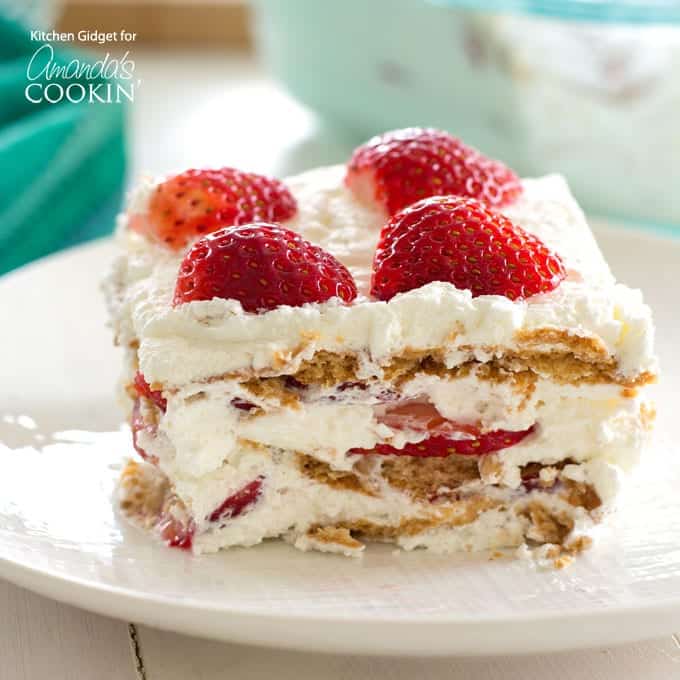 While my bowl and beaters to whip the cream are chilling in the freezer, I slice up the strawberries. It's good to have extra on hand in case you can't help eating them like me. Whip the cream until light and fluffy. This takes less than five minutes with an electric mixer. You're now ready to assemble.
Place a smear of whipped cream on the bottom of your pan, this will keep your graham crackers from slip sliding around when you try to add the next layer. So, a smear of whipped cream and then a single layer of graham crackers. You'll need to cut some of them to fit the gaps.
Next, top with a layer of whipped cream and then a layer of sliced strawberries. From there, repeat the layers ending with a layer of strawberries arranged nice and pretty. Cover with plastic wrap and refrigerate for at least four hours or overnight. The crackers will be cake-like, the strawberries will have lent their fruity sweetness to the cream and your friends and family will thank you.
There are affiliate links in this post. That means if you buy something from that link, I will earn a small commission, but it won't cost you anything additional.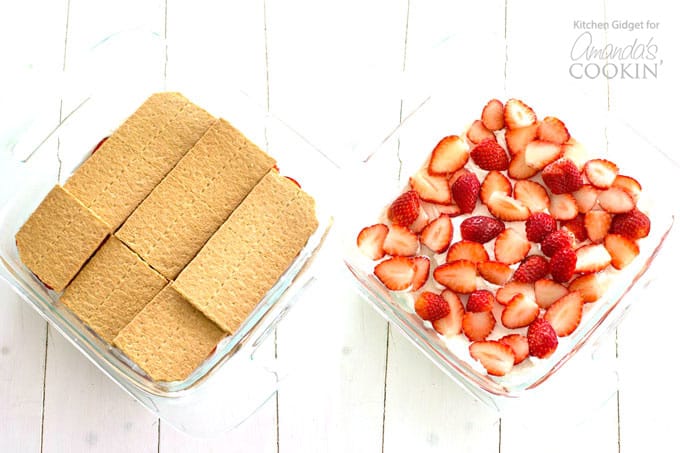 Strawberry icebox cake ingredients:
2 cups heavy cream
1/2 cup powdered sugar
1 teaspoon vanilla
1 pound strawberries, sliced
1 1/2 packs graham crackers
Helpful kitchen tools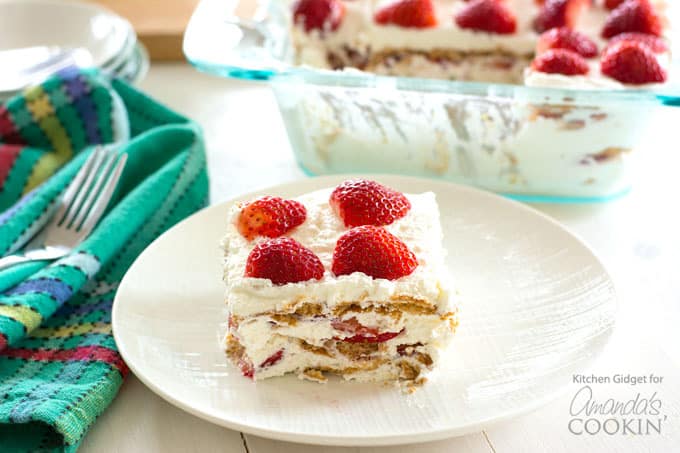 I mentioned before that this strawberry icebox cake is easy to make and it couldn't be simpler. Since there are so few ingredients, I prefer to make homemade whipped cream for the best flavor in this recipe, but you could also use cool whip. Enjoy!
Check out even more delicious one-pan dessert favorites like the ever-famous Pineapple Dream Dessert, mouth-watering Chocolate Lasagna, and the perfectly fresh Lemon Lush!
Ingredients
2 cups heavy cream
1/2 cup powdered sugar
1 teaspoon vanilla
1 pound strawberries, sliced
1 1/2 packs graham crackers
Instructions
In a stand mixer or with a hand-held mixer, beat the cream, powdered sugar and vanilla until stiff peaks form.
Place a very thin layer of cream on the bottom of a square pan. Next, add a single layer of graham crackers. Top with 1/3 of the whipped cream and smooth with a spatula. Add 1/3 of the strawberries in an even layer. Repeat layers 2 more times, ending with strawberries. Arrange the berries in a pretty pattern, if desired.
Cover with plastic wrap and refrigerate for at least 4 hours or overnight before serving.
Notes
Time provided does not include time needed to chill.
7.6.9.1
670
https://amandascookin.com/strawberry-icebox-cake/
Amanda Formaro, AmandasCookin.com
Rebekah Garcia is the food blogger behind Kitchen Gidget. She creates recipes influenced by her Midwestern roots, Hispanic heritage and insatiable sweet tooth. When she's not cooking, you can find her at the beach with a good book. She is married to the man of her dreams and home is where the military sends them. She believes food is better when shared…unless it's the last bite!
Latest posts by Rebekah Garcia (see all)