Chocolate lovers rejoice! This no-bake Chocolate Lasagna is filled with cream cheese, chocolate pudding, and chocolate chips on top of an Oreo cookie crust! if you've never tried chocolate lasagna you are in for a delicious treat!
PRINTABLE RECIPE IS AT THE END OF THIS POST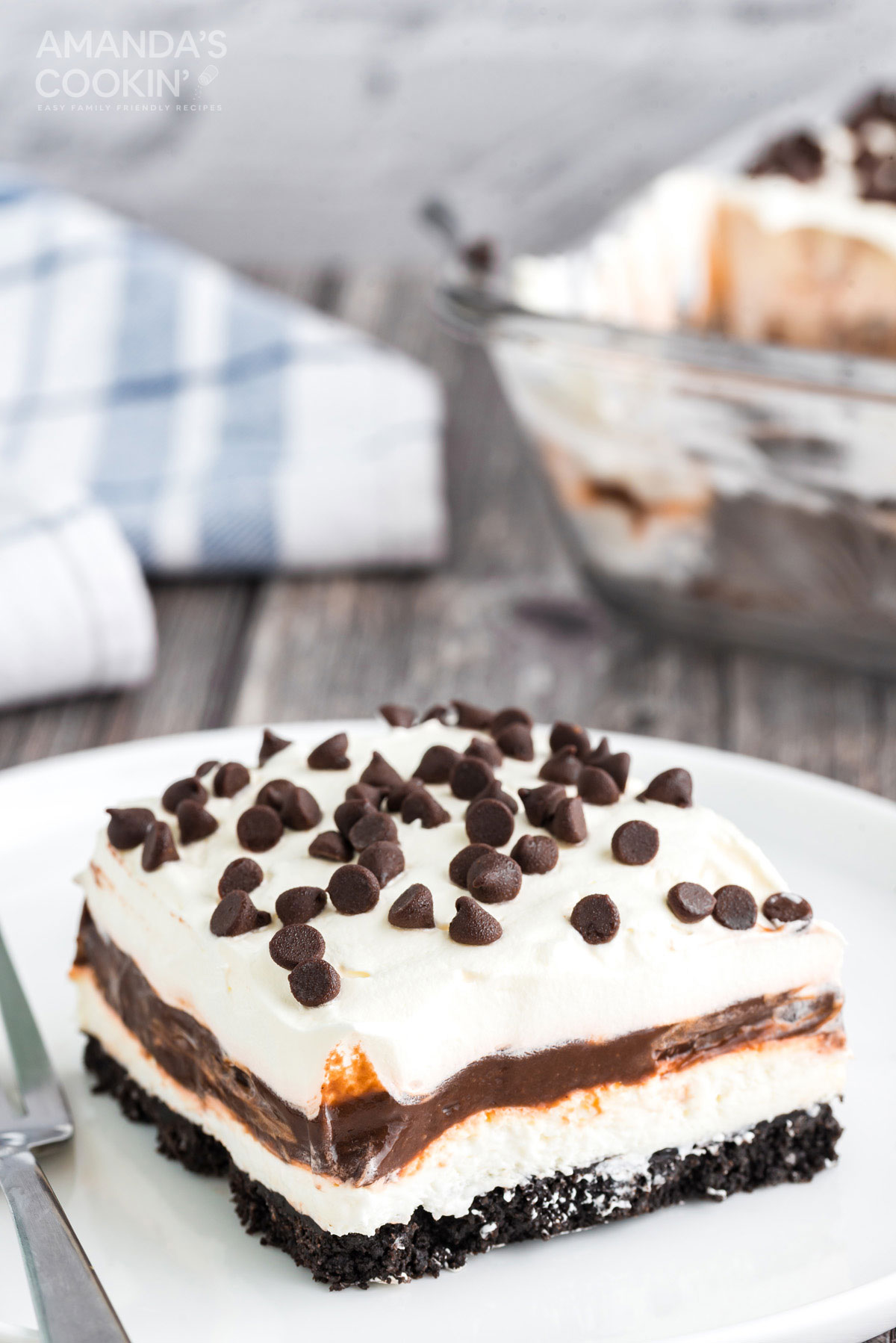 CHOCOLATE LASAGNA
For other dessert lasagna recipes check out: Chocolate Peanut Butter Lasagna, Mint Chocolate Lasagna, Lemon Lush which can also be referred to as Lemon Lasagna!
My aunt had a barbecue over the weekend and I jumped on the chance to test out this chocolate lasagna recipe. Oreos are great for no-bake recipes (see my Reese's Peanut Butter Cup Oreo Bon Bons) and with all the flavors coming out lately, you could really switch up the direction of this no-bake dessert. But, gimme all the chocolate.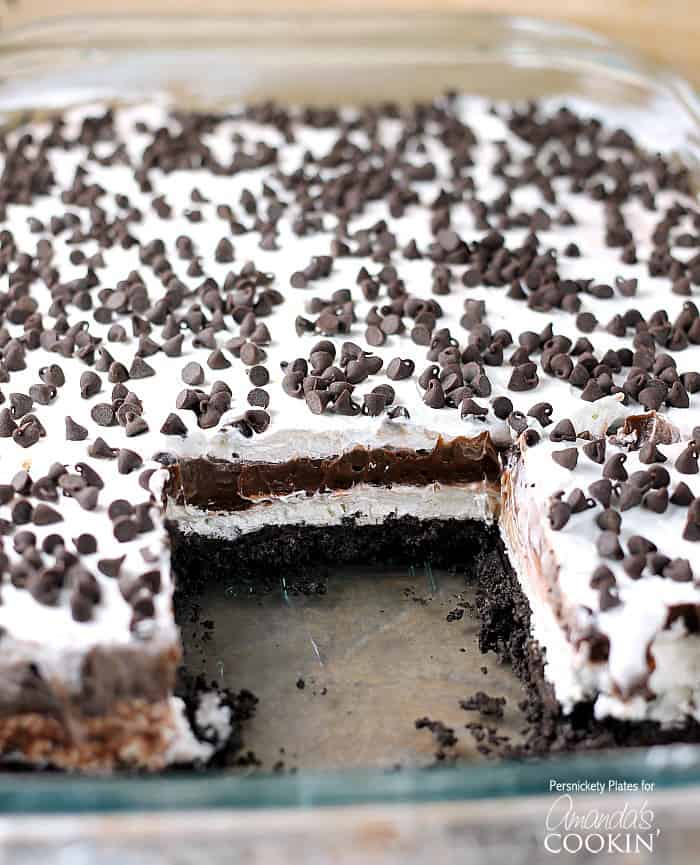 Perfect for Potlucks
If you love chocolate then this is the layered dessert for you. It's full of creamy, dreamy flavors and textures that make your taste buds happy. Because it's layered into one pan, it's the perfect take along for potlucks, parties and holidays. Since there's no baking involved with this chocolate lasagna, you won't have to heat up your kitchen making it perfect for warm months as well.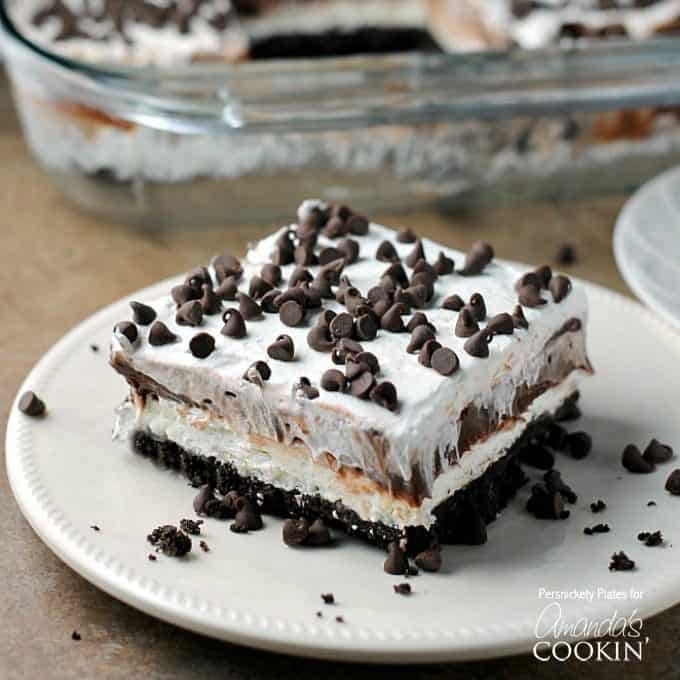 Changing the Topping
See the fun mini chocolate chips on top? You can even change the feeling of this no bake dream by substituting shaved chocolate for the chocolate chips. Use a vegetable peeler to shave a bar of bittersweet chocolate, creating short or long ribbons to sprinkle on top. Why bittersweet instead of semisweet or milk chocolate? You can certainly use whichever chocolate you prefer, but because there's less sugar in a bittersweet bar, it simply shaves better creating prettier chocolate shavings for this chocolate lasagna. So while chocolate chips are fun for a barbecue or birthday party, you might want to try shaved chocolate for a holiday get together.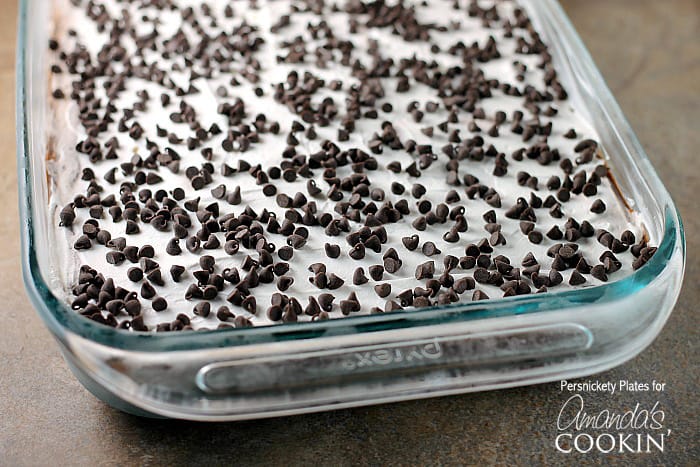 You will need:
1 package Oreo cookies (36 cookies)
6 Tablespoons butter, melted
1 brick (8 oz) cream cheese, at room temp
1/4 cup sugar
3 1/4 cups milk, plus 2 Tablespoons, divided
1 tub (12 oz) of Cool Whip
2 (3.9 oz) packages instant chocolate pudding
mini chocolate chips
Kitchen tools you'll find useful: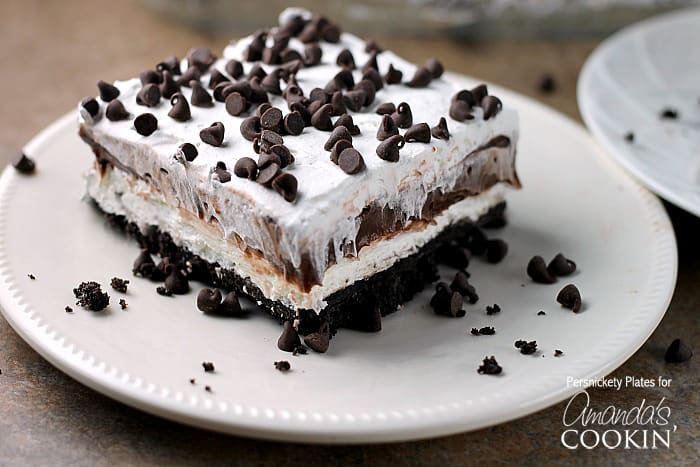 I have a confession, I don't like Cool Whip (persnickety, remember?) BUT I decided to try this Chocolate Lasagna anyway, and it was delicious! It was a hit at the barbecue and with how easy it is to make, you won't mind volunteering to bring it to your next get together.
SCROLL DOWN FOR THE PRINTABLE VERSION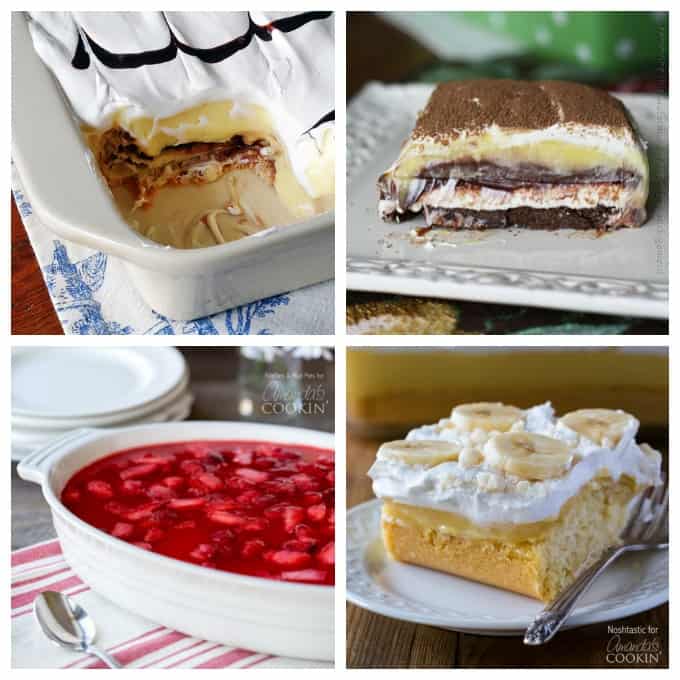 MORE DELICIOUS ONE-PAN POTLUCK DESSERT IDEAS
Watch the video