There's really no better time of the year to make an ice-cold pitcher of easy strawberry lemonade than summer time! Fresh strawberries are in still in season for a little while longer and they taste so good at this time of year, it's a great way to use them up.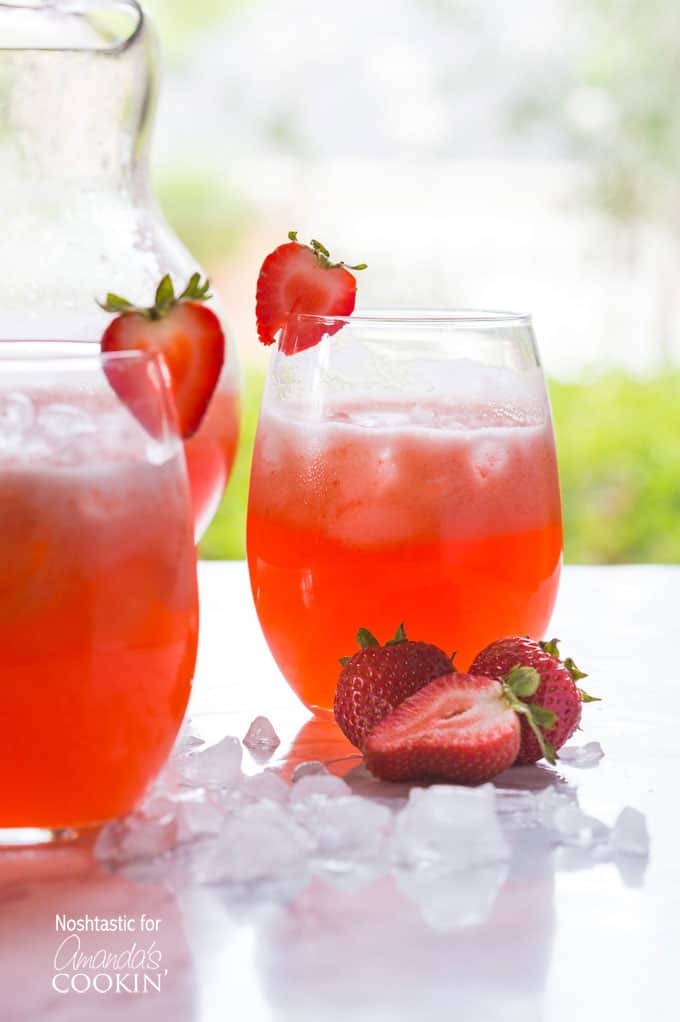 Easy Strawberry Lemonade
I know we are used to seeing strawberries in the grocery year round, but the rest of the year they are usually imported and simply don't have as nice of a flavor as the fresh in-season ones.
RELATED: you might also like this recipe – Strawberry Sweet Tea
If you are fortunate enough to live in a part of the country with a pick your own strawberry farm nearby and you've never visited then you really should go. I guarantee they will be the best strawberries you've ever tasted and just perfect for my strawberry lemonade recipe!
Related – Looking to spike your lemonade? Be sure to try my refreshing Lynchburg Lemonade this summer.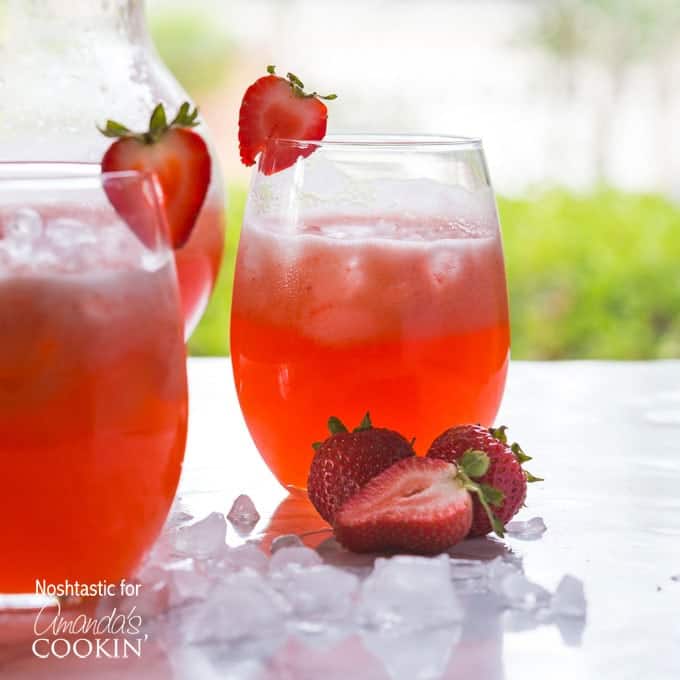 This recipe is very simple and starts out with one batch of my fresh squeezed lemonade. I recommend that you buy a really decent citrus juicer, it will make your life much easier when you're squeezing the lemons. I have a very simple hand juicer with a little glass bowl attached underneath, but if you plan to make a lot of lemonade then you might want to think about getting a small electric citrus juicer, they are pretty inexpensive.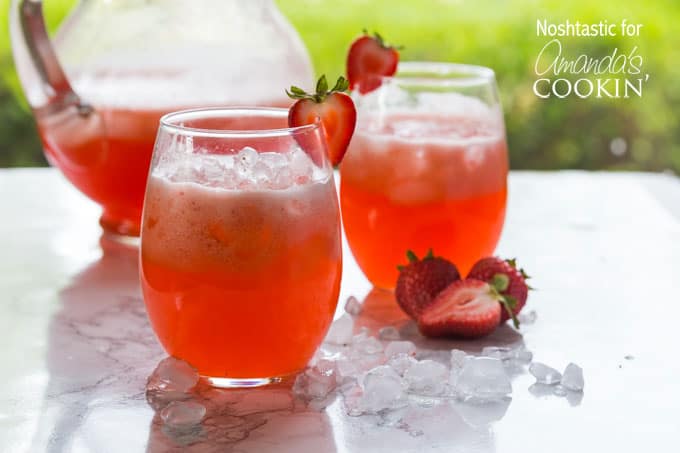 To make strawberry lemonade you will need
1.5 cups (375mls) freshly squeezed lemon juice (7 lemons)
1.5 cups (300g) sugar
10 or more large Strawberries
The taste and strength of your Strawberry Lemonade depends on two things, how many strawberries you use and how flavorful they are. I've given a guide for how many fresh strawberries I typically use, if you find that the taste is not strong enough for you then you can always add more to the blender until you get the taste you prefer.
Kitchen tools you may find useful:
SCROLL DOWN FOR THE PRINTABLE VERSION OF THIS RECIPE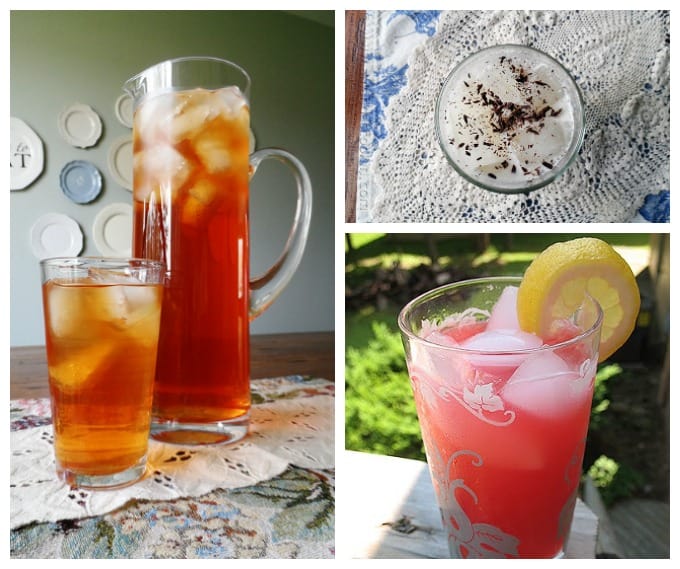 More refreshing drink recipes for summer:
Want even more free recipes? Be sure to join my newsletter for FREE recipes and craft ideas sent to your email inbox every week.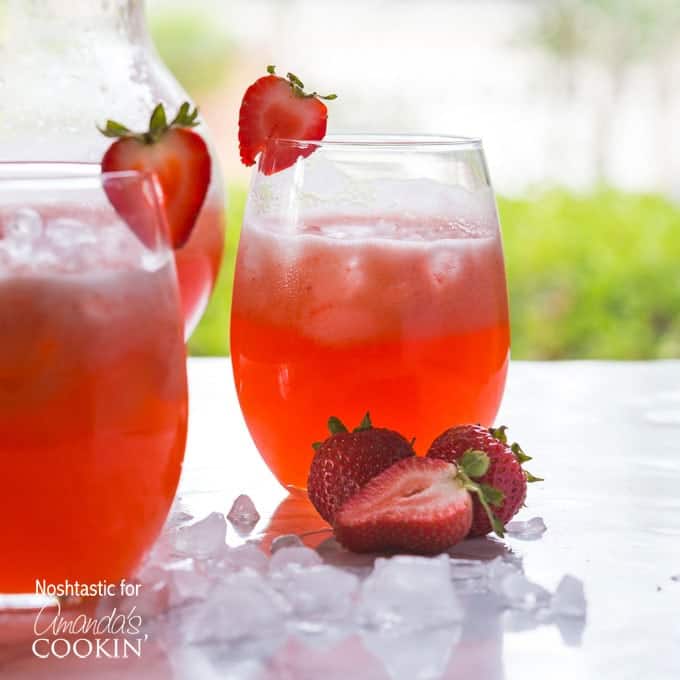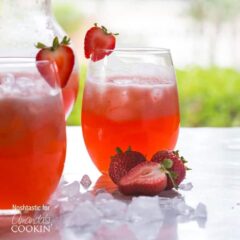 Strawberry Lemonade
If you can pick your own strawberries you really should! I guarantee they will be the best strawberries you've ever tasted and just perfect for my strawberry lemonade recipe!
IMPORTANT – There are often Frequently Asked Questions within the blog post that you may find helpful. Simply scroll back up to read them!
Print It
Rate It
Ingredients
1.5

cups

375mls freshly squeezed lemon juice (7 lemons)

1.5

cups

300g sugar

2

cups

boiling water

4 – 5

cups

1 litre or more cold water

10

large strawberries

cut into pieces
Instructions
Add the sugar and freshly squeezed lemon juice into a heat proof jug and add the boiling water.

Stir until the sugar has dissolved.

Once it's cooled down a bit pour it into a blender along with at least eight to ten large strawberries, blend until the strawberries are pureed.

Pour it back in the jug and add four cups of cold water to dilute it and stir well, add more to water if you need to according to taste.

Taste it and see if it has enough of a strawberry flavor for you, if not, pour a enough of the lemonade back into the blender and add more strawberries and blend again. it will vary depending on how flavorful your strawberries are.

If you prefer not to have the 'bits' in it you can pour the lemonade through a fine sieve, it's really up to you.

Serve cold.
Originally from Scotland, Sheena and her husband moved to Mississippi in 2008 after living in London, England for several yearsIn 2009 Sheena discovered she had Celiac disease. Not long after her diagnosis, her youngest son was also diagnosed with Celiac. After a lengthy recovery process, her blog Noshtastic was born. She now loves to create gluten free recipe that are full of flavor!
Latest posts by Sheena Strain (see all)