Ditch the frozen pizza and make this homemade French bread pizza that tastes a thousand times better. Although it's hard to top a homemade pizza, this french bread pizza makes for a super easy weeknight meal that everyone will love, and takes a lot less time! Customize the toppings and everyone will have their own mini pizzas suited to their individual tastes.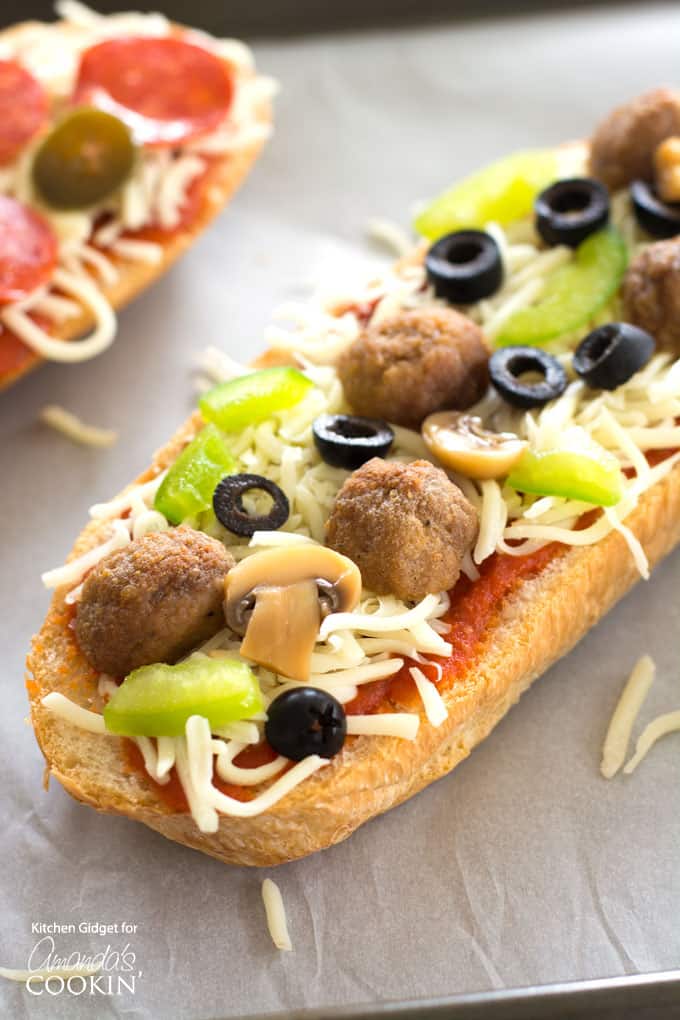 Why We Love French Bread Pizza
This is less of a recipe and more of a reminder that French bread pizza is so delicious, so easy and you should be making it more often! French bread pizza is actually a really popular dinner choice, you can even buy them in the frozen section instead of a traditional pizza.
It's toasty and crisp on the outside while soft and tender in the middle. The crunch when you bite into it is such a satisfying sound!
It's no secret that I love pizza in all forms, shapes, and sizes. Some of my favorites are hot and bubbly Pizza Dip and Pizza Beer Bread (<–going to make this again soon!). Growing up, my dad made it his quest to make the perfect pizza, so we ate quite a lot of it.
One of our favorite ways to eat it was using flour tortillas for crusts. Another fun and easy way to make homemade pizza is using loaves of French bread (<– we prefer our homemade version) for the crust. You can use a large loaf of French bread or the smaller ones.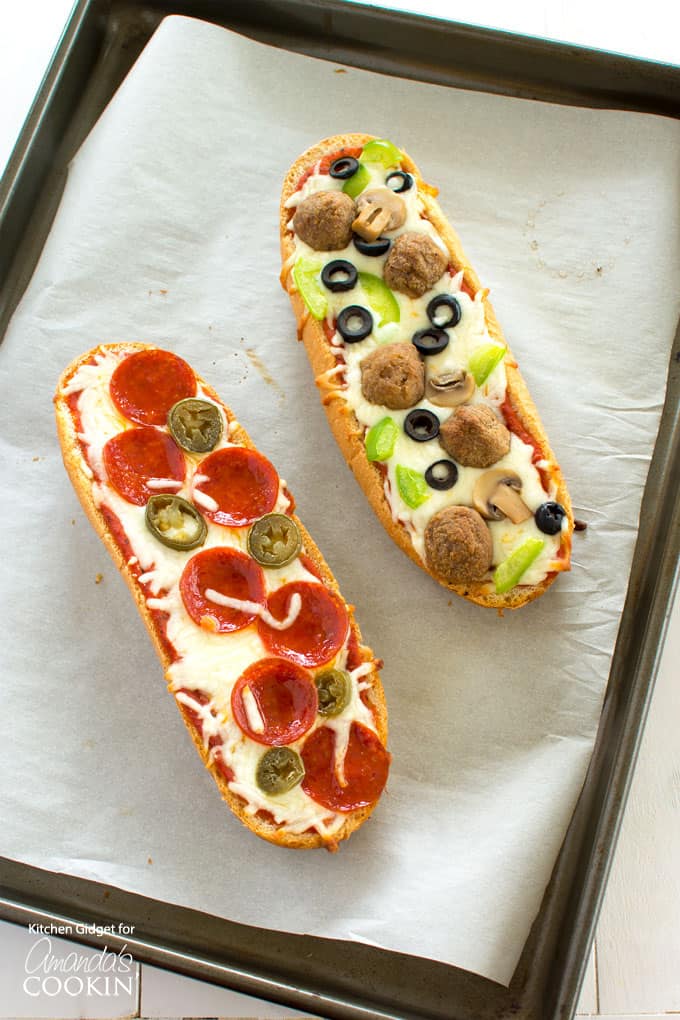 How to make french bread pizza
To make it absolutely amazing, I like to brush my bread with garlic butter first. This step is not necessary, but it takes it from average to out of this world. If you like your crust extra toasty rather than soft, pop it in the oven while you gather your pizza toppings.
Load it up with toppings and then bake until hot and melted. There are so many options for toppings I can't even begin to give you a complete list, but here are some of our favorites:
Sauce: pizza sauce, alfredo sauce, pesto, BBQ sauce
Meat (all meat should be pre-cooked): pepperoni, Italian sausage, meatballs, ham, bacon
Cheese: mozzarella, cheddar, parmesan
Extras: mushrooms, olives, jalapeños, basil leaves, bell pepper, red onion, pineapple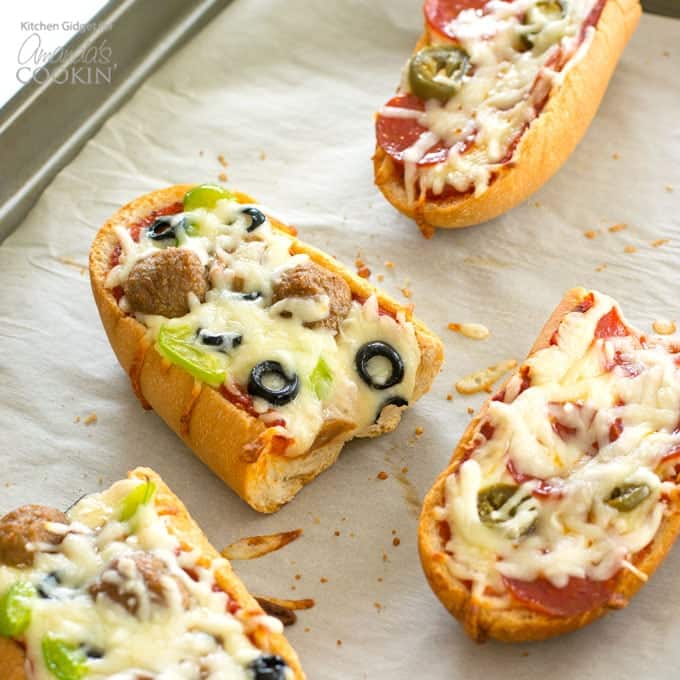 Ingredients you will need
1 loaf of French bread
2 tablespoons butter, melted
1/4 teaspoon garlic powder
1/2 cup pizza sauce
2 cups shredded mozzarella cheese
Your favorite pizza toppings
Helpful kitchen tools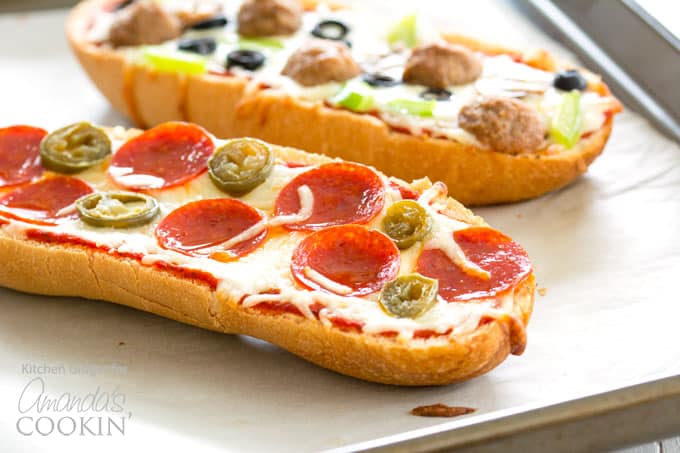 Start by preheating your oven to 400°F.
Next line a baking sheet with parchment paper or foil for easy clean up.
Now slice your bread in half lengthwise.
In a small bowl, mix together butter and garlic powder. Spread on inside of bread.
Top each half with pizza sauce, cheese and desired toppings.
Bake for 8-12 minutes or until hot and cheese is completely melted.
HINT: print these instructions below!
Let your imagination go wild! French bread pizza is also a great way to use up leftovers in the refrigerator. This is a fun recipe that kids can make for dinner or slumber parties.
Everyone can make theirs just the way they like so it's a definite crowd pleaser. Next time you need to make something quick for a party or appetizer, remember French bread pizza!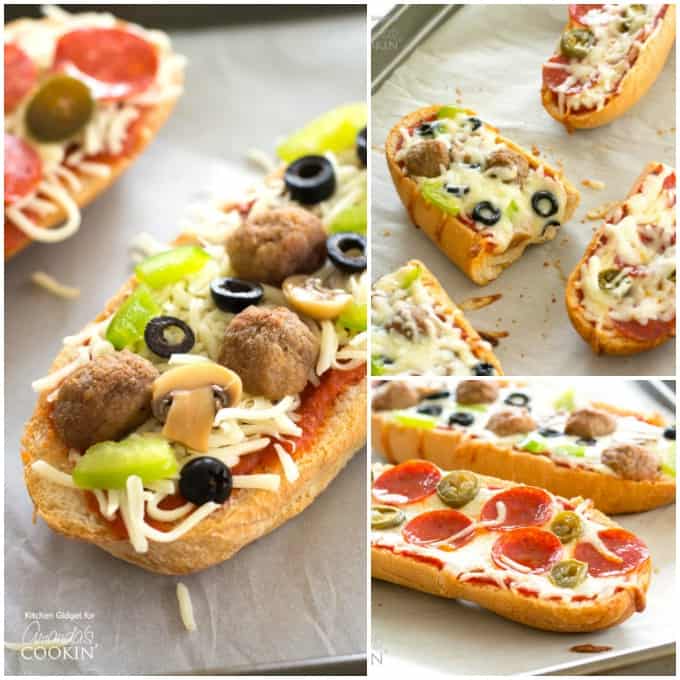 For more homemade pizza recipes check out…