Cooking is such a passion of mine, rooted deeply in my personal history and my family history. This pizza lasagna is a fun update on my family's traditional lasagna recipe that I'm excited to share with you today.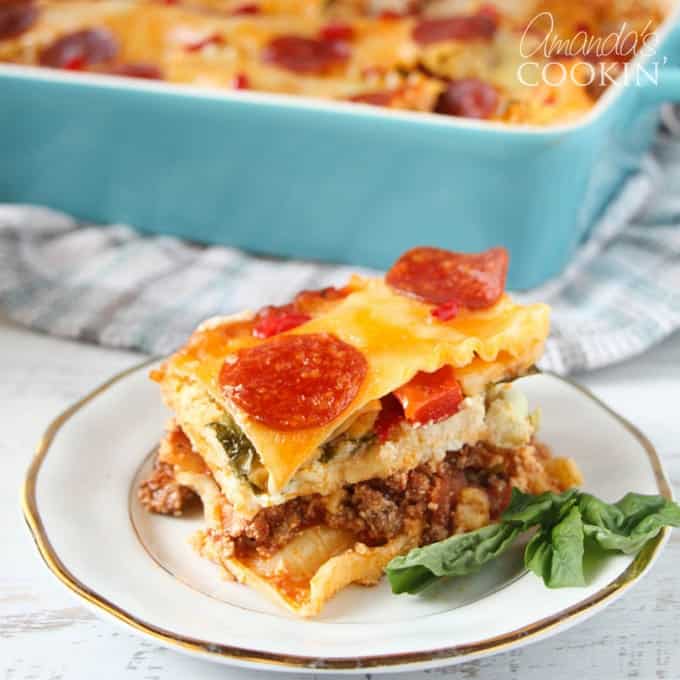 I learned my mom's lasagna recipe through osmosis. From a young age I watched my mom carefully prepare each ingredient before layering them all into a vintage casserole dish. She then carefully placed the whole thing in the oven to simmer and cook into something better than the sum of its parts.
Slowly over time, I was given the job of handling different steps of the recipe before I was ready to be entrusted with its careful preparation. The first time I made our family's lasagna recipe in its entirety and served it to my hungry family, it was like a right of passage.
Pizza Lasagna
This pizza lasagna is inspired by both my family's traditional lasagna recipe and my more recent adventures in Chicago, where deep dish pizzas are full of ground meat, flavorful sauce and generous fistfuls of cheese.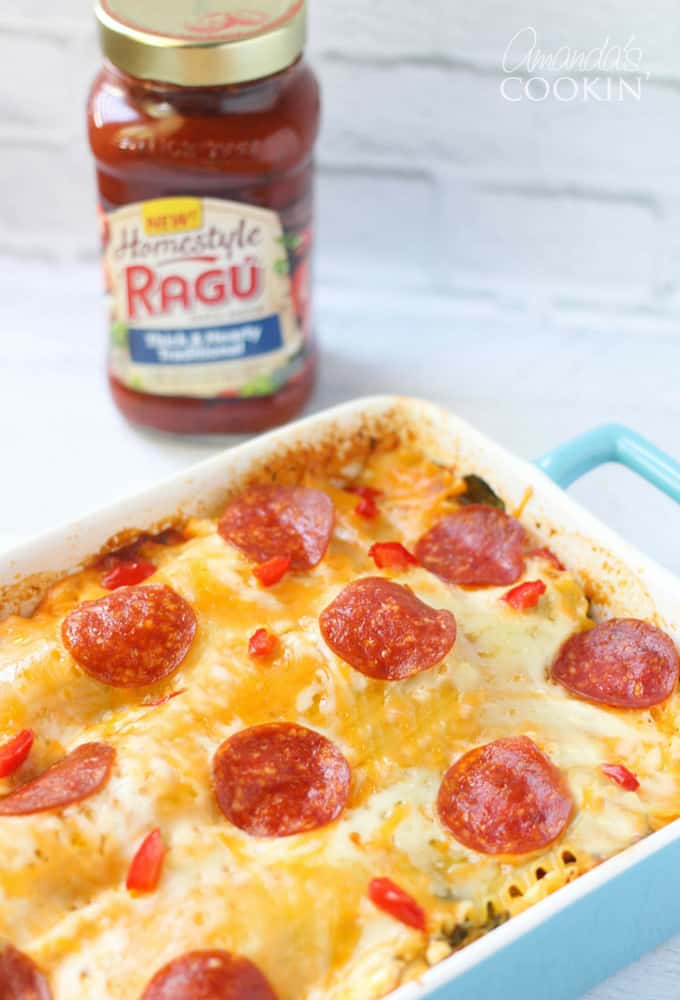 To make this recipe, I used Ragu Homestyle Thick & Hearty Traditional Pasta Sauce because the fresh ingredients, thick texture, and delicious flavor remind me of that homemade sauce my mom lovingly bestowed on our family pasta dishes. Homestyle to me means made with love – but more importantly, enjoyed as a family.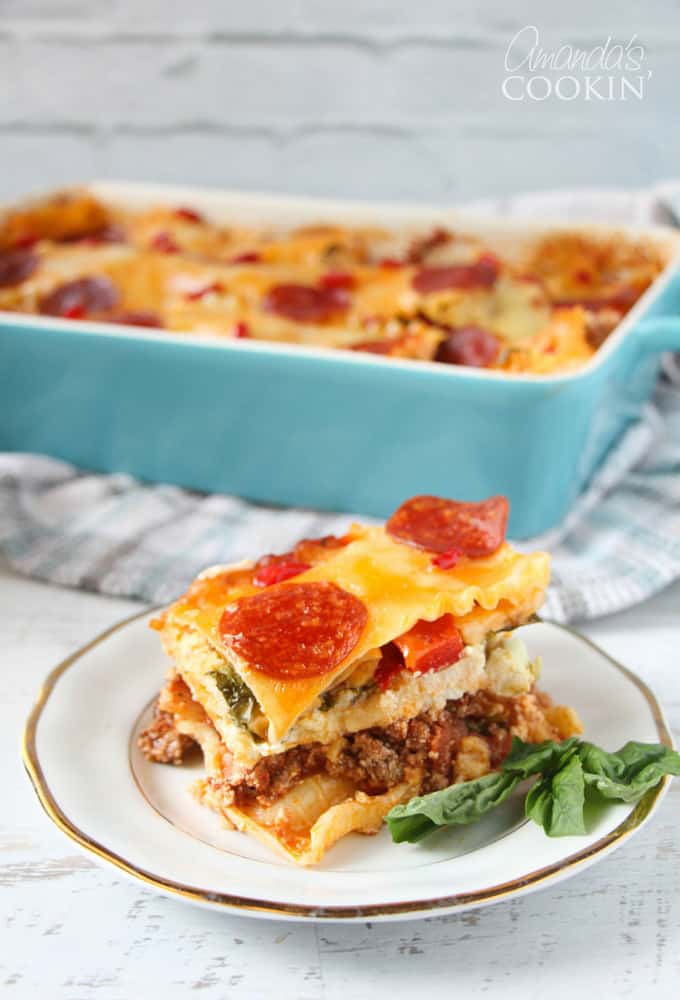 This recipe is simmered in tradition, and I hope you're able to enjoy it with your loved ones.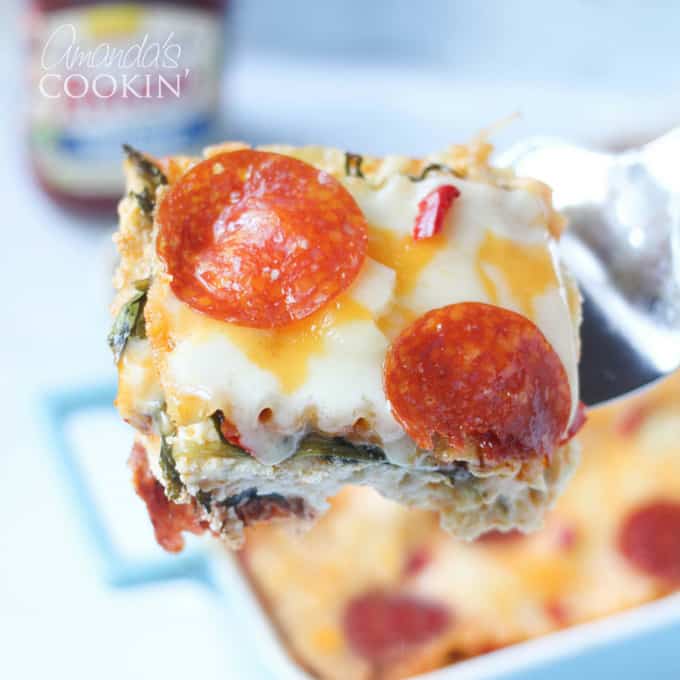 How to Make Pizza Lasagna
First, gather your ingredients:
1-23oz jar Ragu Homestyle
1 lb lean ground beef
1 lb cheddar cheese, shredded
1 package oven-ready lasagna noodles
2 cups ricotta cheese
1 cup pepperoni slices
1 red bell pepper, diced
2 cups spinach
I've had friends tell me before that they've had bad luck with oven-ready lasagna noodles, but I have a trick: soak them before layering into the lasagna. I know, it doesn't say it on the directions (and it should) but this is the key to ensuring soft, perfectly cooked noodles.
Place lasagna noodles in water to soak and set aside while you cook the beef. You could even just add the water to the lasagna casserole dish and strain it out when ready.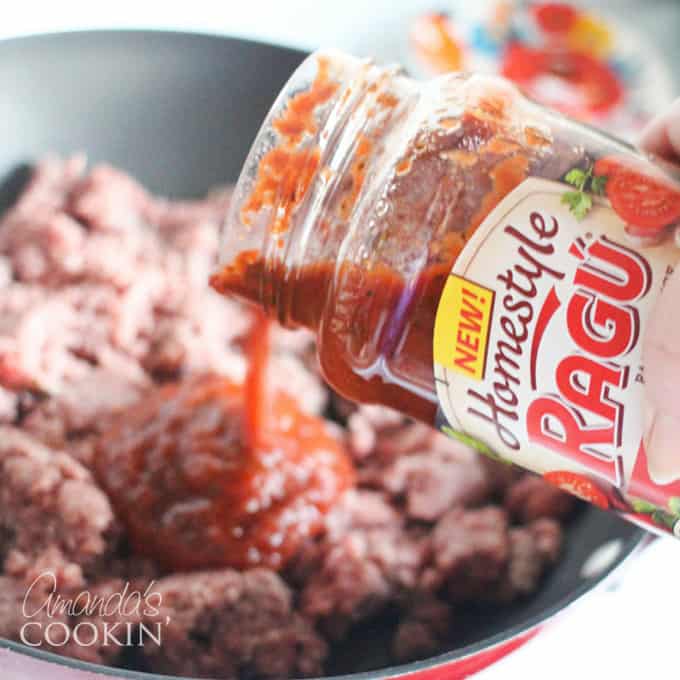 Cook the ground beef in a frying pan over medium heat with 1/2 cup Ragu Homestyle pasta sauce. Use a spatula to break up the meat and move it around. Cook until browned and cooked through, about 7 minutes.
NOTE: If you use ground beef that is higher in fat that 90/10, you will probably want to cook the beef first, drain it, then add the sauce.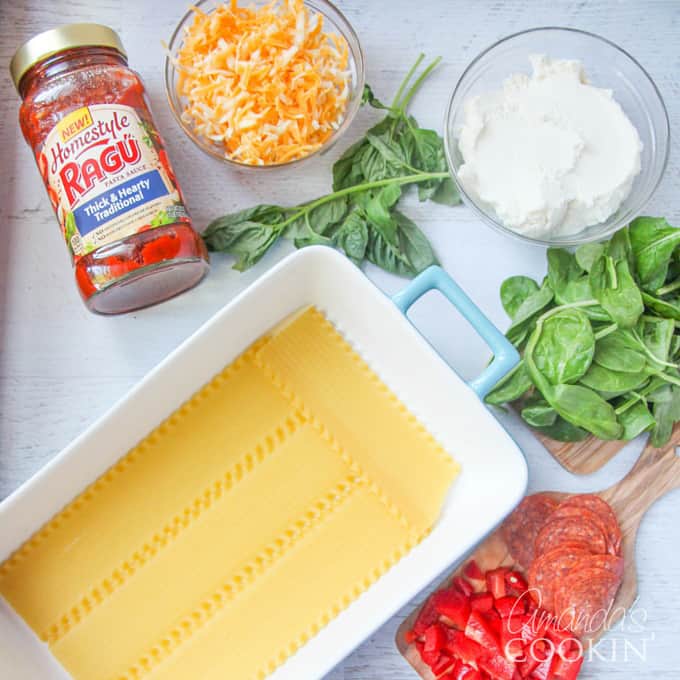 Drain lasagna noodles and add a single layer to the bottom of your casserole dish.
If you haven't already, get out your other ingredients to ensure a quick layering process.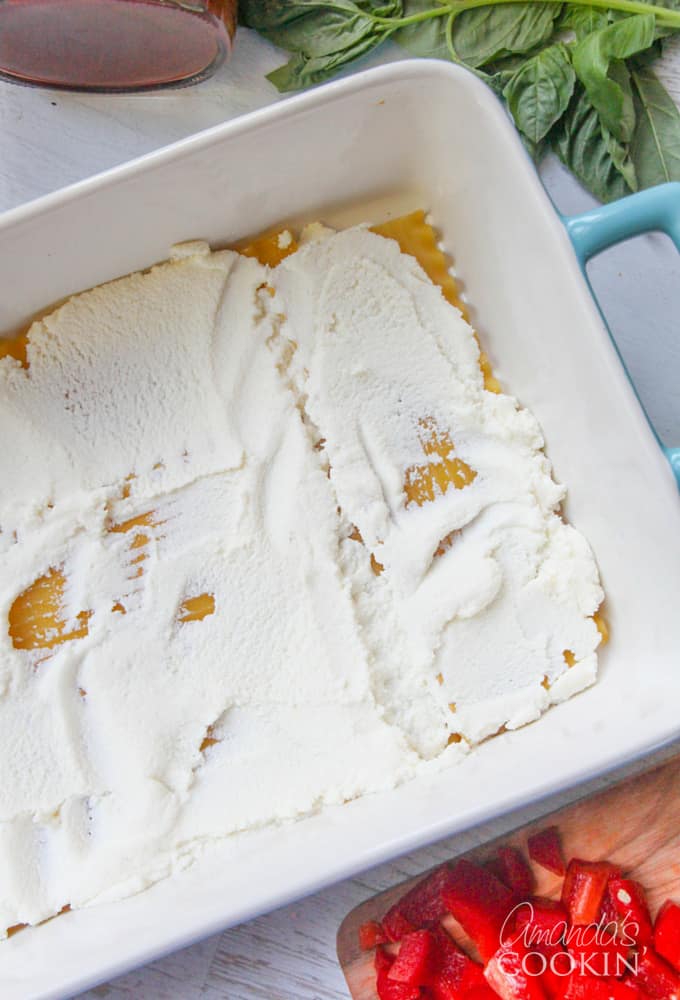 Spread 1/2 cup of ricotta cheese on top of the noodles using a spoon or spatula.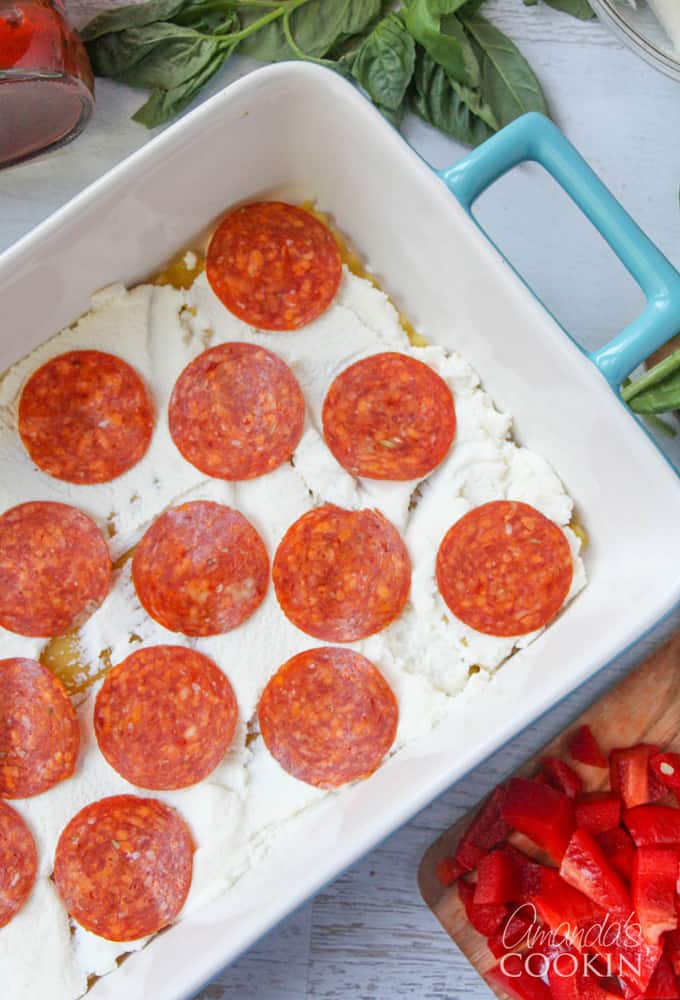 Add several pieces of pepperoni – you can even layer it in rows. (Are you starting to see why this is called "pizza lasagna?")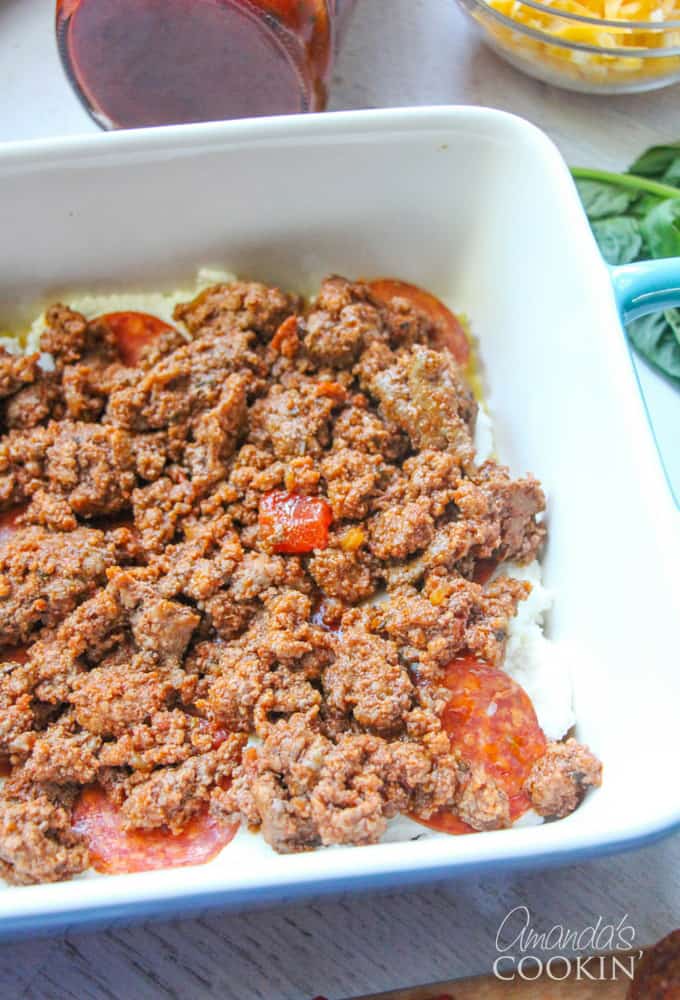 Spread beef in an even layer overtop of the pepperoni and cheese.
If needed, drain the beef on some paper towel to reduce fat before adding to the lasagna.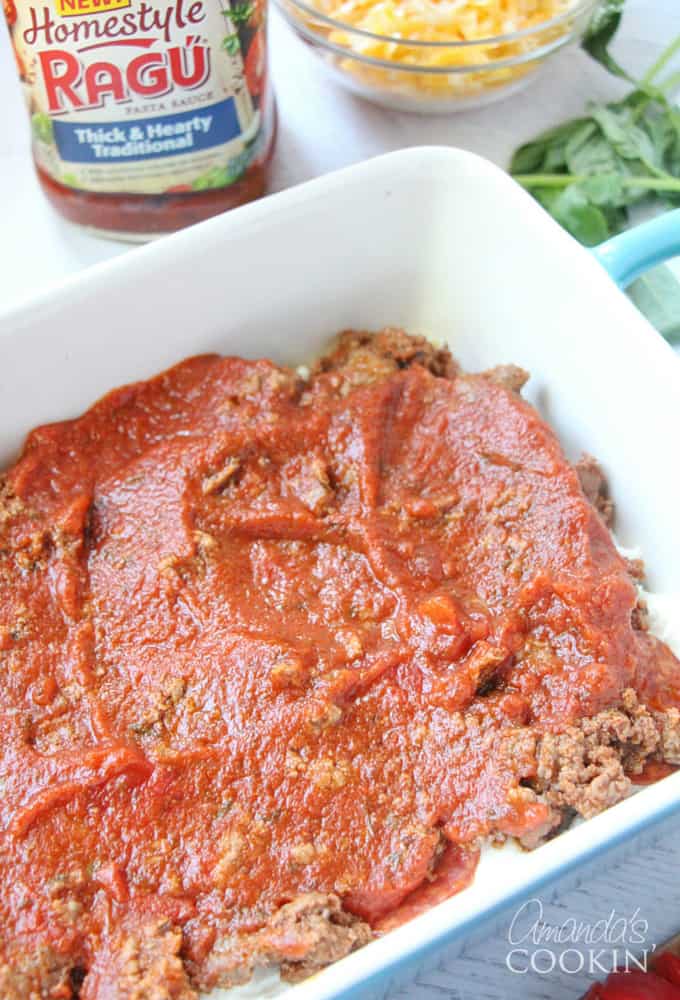 Top with half a jar of the Ragu Homestyle pasta sauce. Smooth with your spatula or the back of a spoon.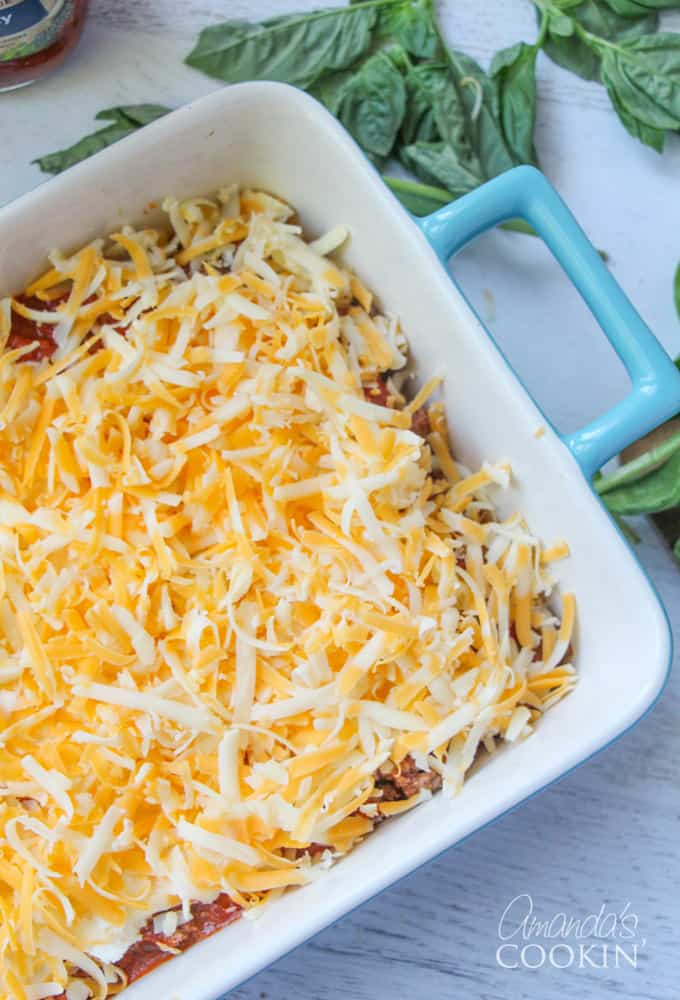 Spread 1 cup ricotta cheese and a generous layer of shredded cheddar over the sauce.
Top with a layer of lasagna noodles.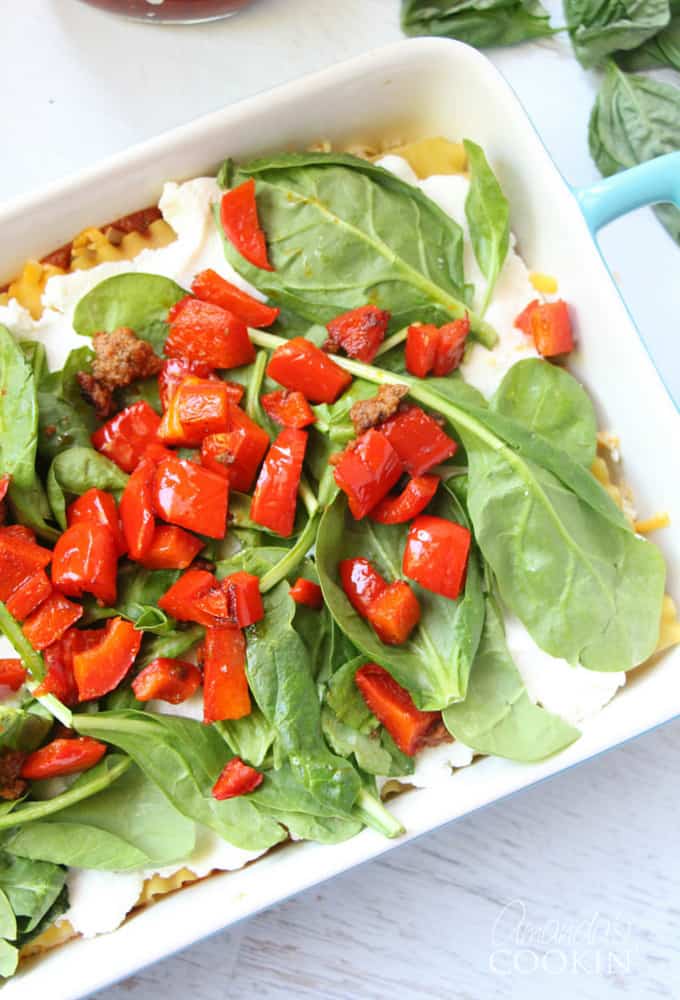 Next is the vegetable layer. Spread 1/2 cup ricotta cheese on the lasagna noodles, and then cover with spinach and chopped peppers.
I lightly sauted my peppers before adding them to the lasagna.
(You can alternatively use whichever vegetable pizza toppings you prefer – I like spinach, red peppers, and pepperoni on my pizza.)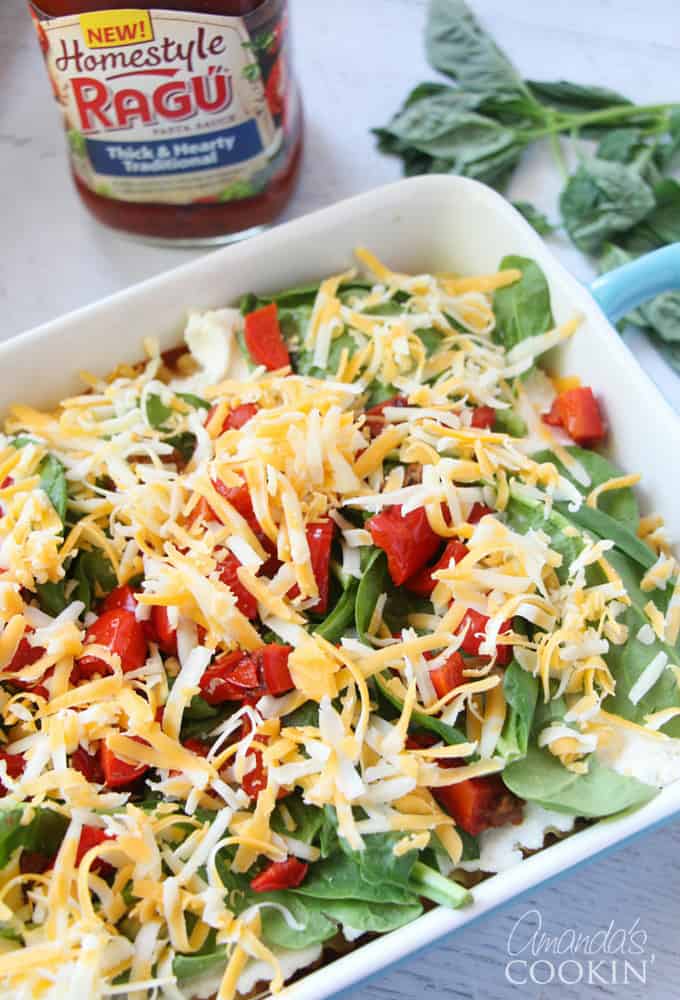 Sprinkle cheese overtop of the vegetables and top with a final layer of pasta noodles.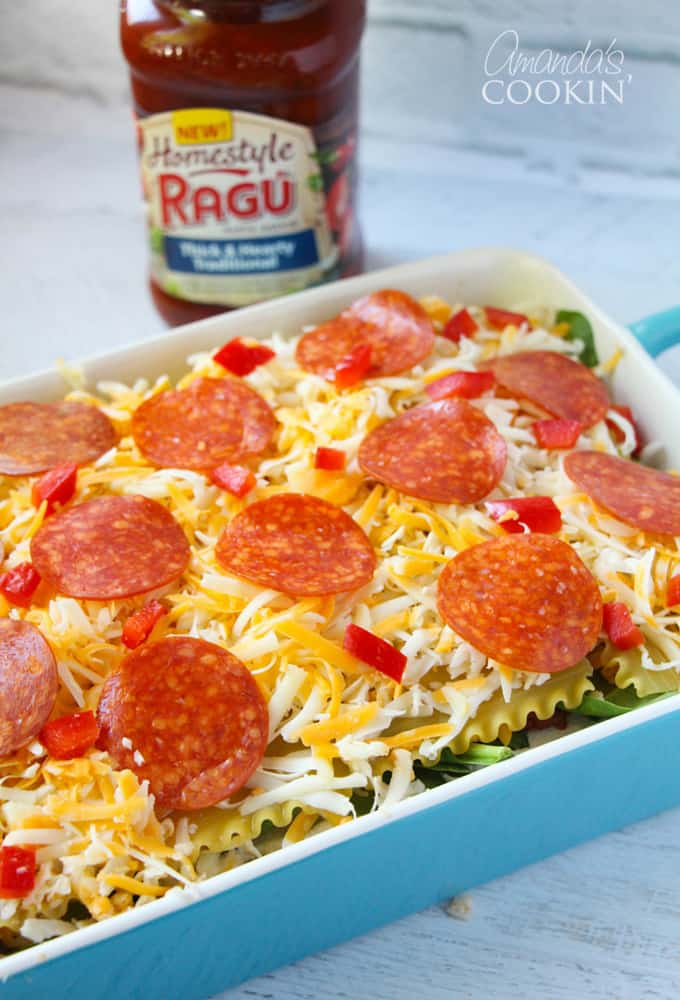 Top with final (generous) handfuls of cheese, pepperoni, and a sprinkle of the red peppers.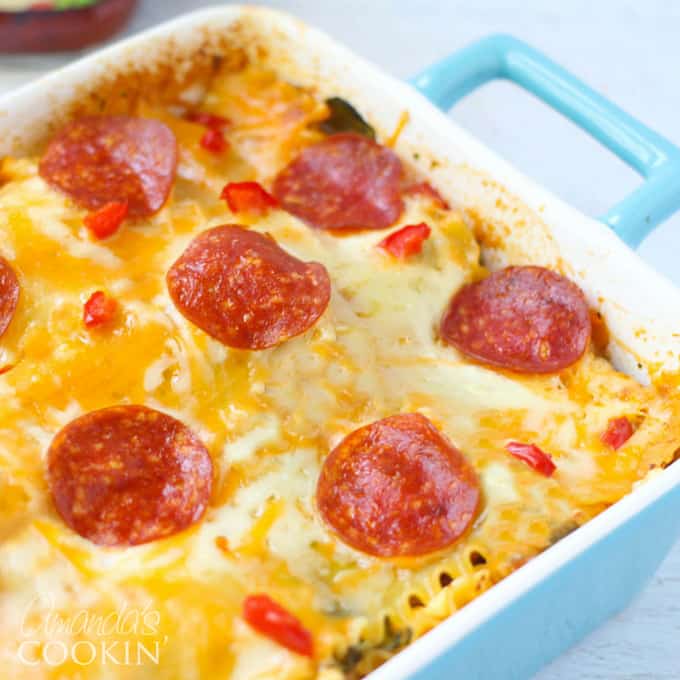 Cover with tinfoil and bake at 375F for 45 minutes.
Let the lasagna rest for at least 5 minutes after you remove it from the oven before cutting into pieces.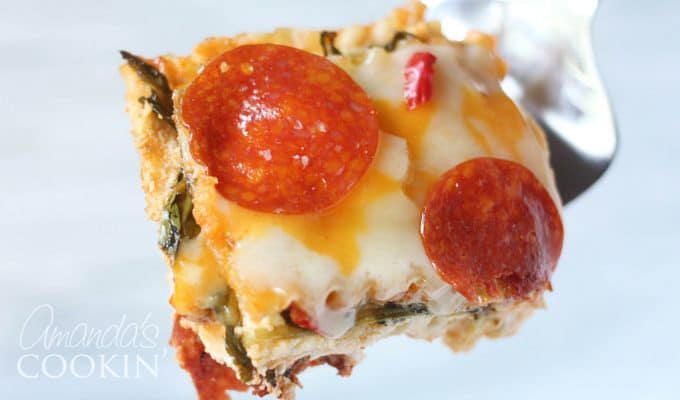 Check out the collection of delicious Ragu Homestyle recipes for more recipe ideas your family will love!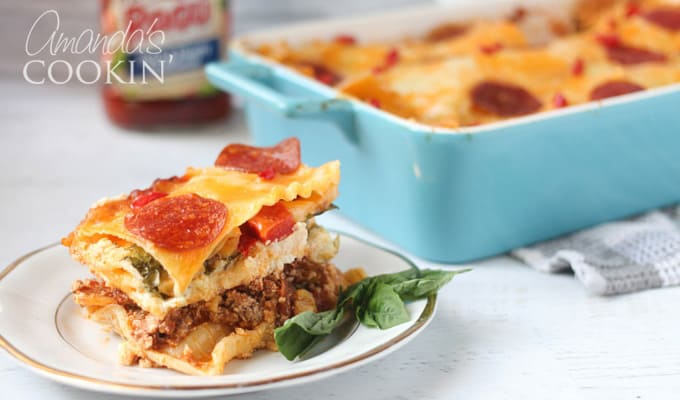 Do you have a favorite family meal that could use a modern update?