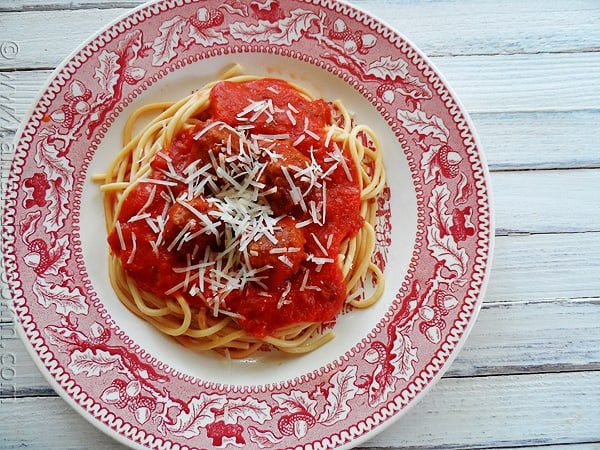 Spaghetti and meatballs served with fresh baked Italian bread are a favorite in this house, and pretty much a family tradition. While I'm British born, my other half is Italian. Years ago when we first started dating I remember going to his mom's house and having Sunday dinner. Quite often that meal consisted of some sort of pasta, more often than not, spaghetti and meatballs. It's also one of our favorite ground beef dinner ideas of all time.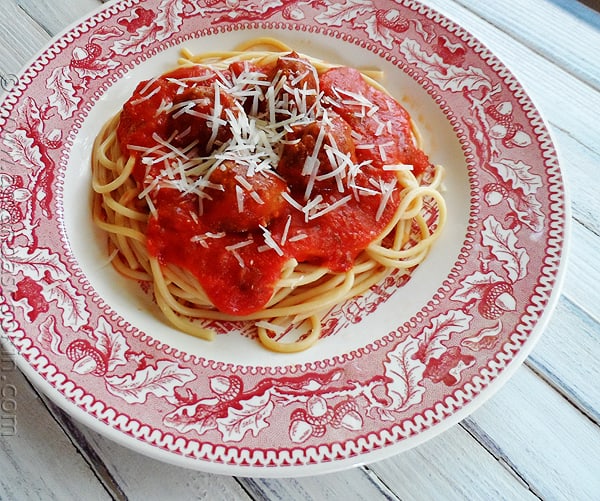 While his mom's meatballs are good, I never could leave well enough alone and had to make my own version. I've been developing them over the years and finally perfected mine a couple of years ago. They are a favorite here and everyone loves them.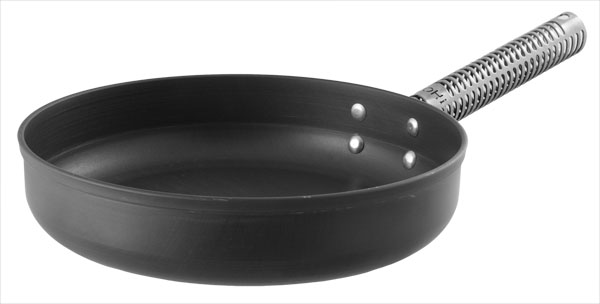 You've most likely heard me talk about my love for my ManPans wok. I used to have an old beat up saute pan that I cooked my meatballs and pasta in, then I received one of these beautiful ManPans 12 inch saute pans too! I LOVE this pan and used it recently to make Sunday dinner. They have different sized saute pans but the 12-inch is best for our big family. These pans really retain heat too, so you don't need to keep your burners as high as you are used to. The handles don't get hot and the pan is extremely light weight.
I originally heard about ManPans from my friend Suzanne of Thru the Bugs on my Windshield. She highly recommended their cookware so I made sure to add one to my arsenal. ManPans has exceptional customer service as well. I've had questions before and they have always answered me quickly and with the utmost professionalism, a joy to work with!
If interested, you can read a much more in depth review I've written on ManPans here.

I always start with the marinara, so that it can simmer a bit while I'm forming meatballs. The herbs in my sauce often depend on what's growing in my garden at the time. Here I have Italian parsley, thyme, oregano, and basil. Combine the herbs, onion and garlic, tomatoes, and wine. Season with some freshly ground black pepper and a little garlic salt, then let it simmer.
A note on red wine. Port works great for this sauce, but so does a simple Shiraz. If you have a favorite, by all means, use it! :)


When you combine all of the meatball ingredients, use a fork instead of a spoon or your hands. This helps avoid overworking the meat, which can lead to tough meatballs.


In the picture above I didn't roll the meatballs, just scooped the out with a cookie scoop. If you do roll them, which I also do, depends on my mood, just don't overdo it. Roll just enough to form a ball and place in your saute pan with some olive oil. Brown on all sides, remove, deglaze pan with a few tablespoons of wine, then add sauce and meatballs and simmer.
Spaghetti and meatballs is one of those very personal meals. Some recipes have been handed down from generation to generation, sometimes changing along the way, sometimes remaining true to the ancestor's original.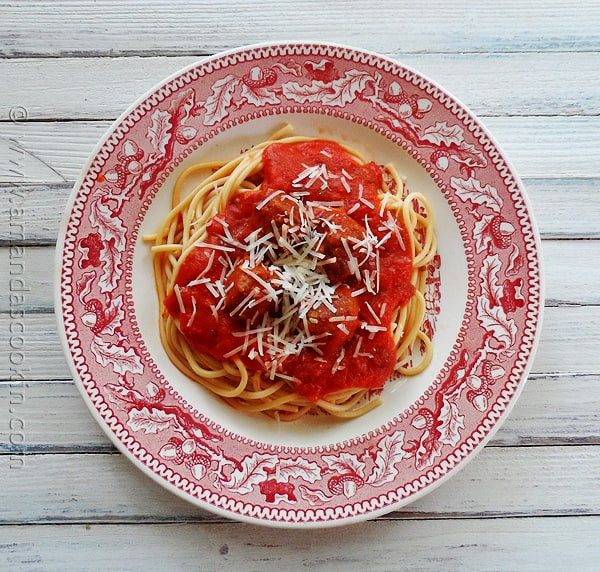 If you don't have one in your family yet, I encourage you to try mine. We love it, and I hope you will too.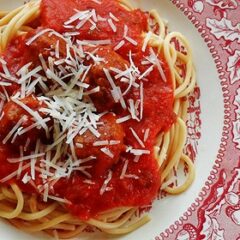 Spaghetti and Meatballs in Marinara Sauce
IMPORTANT - There are often Frequently Asked Questions within the blog post that you may find helpful. Simply scroll back up to read them!
Print It
Rate It
Ingredients
Marinara Sauce
2 14-

oz

cans diced tomatoes

1 6-

oz

can tomato paste

1

cup

water

2

large cloves garlic

smashed and minced

1/4

cup

minced onion

1/4

teaspoon

fresh chopped oregano

1/2

teaspoon

fresh chopped thyme

1/2

teaspoon

fresh chopped basil

1/4

teaspoon

freshly ground black pepper

1/3

cup

red wine
Meatballs
2

lbs

ground beef

1

lb

ground pork

2

medium garlic cloves

mined

1

tablespoon

minced onion

1/4

cup

fresh bread crumbs

1

egg

1/4

teaspoon

fresh thyme leaves

1/4

teaspoon

fresh parsley

chopped

1/4

cup

freshly grated parmesan

1/4

teaspoon

freshly ground black pepper
Other
1

pound

dry spaghetti noodles

2

tablespoons

olive oil

2

tablespoons

red wine
Instructions
For the marinara sauce
In a medium saucepan, combine all sauce ingredients and mix well. Bring to a gentle boil over medium-high heat. Reduce heat and simmer for 30 minutes, stirring occasionally.
For the meatballs
In a large bowl using a fork, combine all of the meatball ingredients. Gently mix with your fork so as not to smash the ingredients together. Too much working of the mixture can cause your meatballs to turn out tough.

Once everything is mixed, use your hands to be sure everything is combined well. Work with hands for no longer than one minute. Just long enough for everything to come together.

Use a cookie scoop to create meatballs. I don't roll mine, just place them straight from the cookie scoop into the pan. You can roll them in your palms first, but again, only for a moment, don't overwork the meat!

Heat 2 tablespoons of olive oil over medium heat in large saute pan or skillet. Brown meatballs on both sides, creating a nice crust. Remove meatballs and drain fat. Don't scrape out any bits of meat from the pan!

Deglaze the pan with 2 tablespoons of wine. Return meatballs to the pan, pour marinara over the meatballs and bring to a gentle boil over medium-high heat. Reduce heat and simmer, uncovered, for a minimum of 30 minutes. You can simmer the meatballs for up to 2 hours if you like, but you may need to add a little water throughout the process to keep the marinara from thickening too much.

Serve over cooked spaghetti noodles.
Expert Tips & FAQs
The meatball recipe makes 65 meatballs. I usually make the meatballs then split them into 3 batches. I freeze 2 batches for another day and cook the third.
Amanda Formaro is the crafty, entrepreneurial mother of four grown children. She loves to bake, cook, make kid's crafts and create decorative items for her home. She is a crafting expert and guru in the kitchen and has appeared online and in print publications many times over the years. She is also a craft book author five times over and product developer as well as the owner of
FunFamilyCrafts.com
. You can find her on social media by using the buttons to the left!
Latest posts by Amanda Formaro (see all)