I live in the midwest and we have great pizza here. I've lived in Nevada where the pizza is awful, or at least it's really hard to find good pizza. LOL I've always bought pizza delivery because I could never seem to make one that tasted good enough to replace it…
I'll admit that one of the mistakes I was making was not having a pizza stone. I thought I would have to spend a bundle of money to get what I needed, and let's face it. In this economy, who can really afford luxuries like that?
Well I went to WalMart and picked up two pizza stones (we have to feed 7 here, and all 7 love pizza) and
they cost less that $15 each
. They look a lot like the one you get from Pampered Chef, but theirs is $26. You place the stone in the cold oven, the preheat the oven early to allow it to get good and hot, heating up the stone at the same time.
Now another essential tool in pizza making is the pizza peel. This is a large wooden paddle, flat like a cutting board, but with a handle. This is what you build your pizza on and then you use it to transfer the pizza to the stone in the oven. Using cornmeal on the peel before adding the dough acts as little "ball bearings" allowing the pizza to slide off the peel and not stick. Well, I don't have a peel, so I improvised…
I used the round turntable from my microwave!
It's ok, you can laugh, but it worked beautifully! I made my dough early in the day and refrigerated both batches. I also cut up my toppings and has those ready too. Then when I was ready, I rolled out the dough, built the pizza and slid it into the oven. I have a double oven, so I had one stone in each. After adding the first one to the oven, I built the second one.
You see I really didn't know all of this. So my first attempt at making this recipe (it's actually a combination of three recipes) didn't work. The dough wasn't cooked all the way through on the bottom because I tried to use a regular round metal tray. They were troopers though, and they ate it. LOL
My family loved this pizza, and they are pretty picky, so I call this a success. I want to thank Cheri & Mitch of
FabulousFoods.com
for answering all of my questions and for this wonderful dough recipe.
I used three different recipes to build this pizza:
Sauce
Dough
sausage
Recipe source: CD Kitchen
I'm not going to post the pizza dough recipe here. There are so many wonderful step by step instructions and photos that you are much better off heading over to Mitch and Cheri's site to get the recipe, and you can print it there too. Here's the link:
You'll notice that my pictures depict a deep dish pizza. It was very good, but next time I am going to roll it out thinner. I'm so excited about finally making a pizza everyone loves. When we order takeout it costs us around $40 for enough pizza to feed us all. Yay for this!
Yum yum yum!!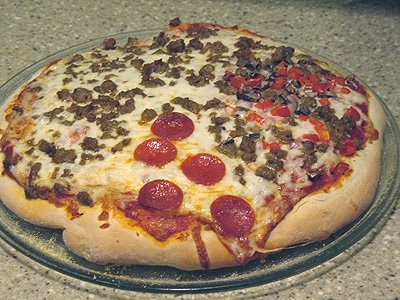 Ingredients
Sauce
6

ounces

tomato paste

6

ounces

warm water

110 degrees F/45 degrees C

3

tablespoons

grated Parmesan cheese

1

teaspoon

garlic

minced

2

tablespoons

honey

3/4

teaspoon

onion powder

1/4

teaspoon

dried oregano

1/4

teaspoon

dried marjoram

1/4

teaspoon

dried basil

1/4

teaspoon

ground black pepper

1/8

teaspoon

cayenne pepper

1/8

teaspoon

dried red pepper flakes

salt to taste
Homemade Pizza Sausage
1

pound

lean ground pork

1

clove

garlic

minced

1

teaspoon

paprika

1

teaspoon

crushed thyme

1/2

teaspoon

fennel seeds

1/8

teaspoon

cayenne

1/2

teaspoon

salt
Dough
3

cups

bread flour

1/2

cup

semolina flour

1

cup

warm water

2

tablespoons

yeast

2

tablespoons

honey

1/4

cup

olive oil

1/2

teaspoon

salt
Other
1/4

cup

cornmeal

Pizza peel
Instructions
Sauce
In a small bowl, combine tomato paste, water, Parmesan cheese, garlic, onion powder, oregano, marjoram, basil, ground black pepper, cayenne pepper, red pepper flakes and salt; mix together, breaking up any clumps of cheese.

Sauce should sit for 30 minutes to blend flavors; spread over pizza dough and prepare pizza as desired.
Homemade Pizza Sausage
Thoroughly mix seasonings into ground pork. Brown in a skillet and drain any excess fat. Set aside to cool.
Dough
Pour warm water into food processor. The water should be about 85 to 115° F. Test it with your hand. It should feel very warm, but comfortable.

Add the honey and salt. Mix on low for about 20 seconds.

Add the yeast and mix on low for another 5 seconds.

Add 1 cup of bread flour and all semolina flour, mix on low for 10 seconds.

Add the olive oil and mix until blended (about 15 or 20 seconds more).

Add the rest of the flour and process for about a minute or two. The dough should turn into a ball and roll around the processor. If the dough does not ball up because it's too dry, add water one tablespoon at a time until it does. If your mixture is more like a batter, add flour one tablespoon at a time. Adding water or flour as needed to get the right consistency will assure you always get a perfect dough. Just remember to do it in small amounts.

Once the dough is balled up, place the ball on a floured board and knead for about a minute. This builds the gluten which helps the dough to rise and become fluffy when cooked. Place the dough in a covered bowl in a warm, dry area to rise.

After about 45 minutes the dough should have about doubled in size.

Punch down the dough, cover, and let it rise for another 45-60 minutes.

While the dough is rising, place a pizza stone or high heat pizza pan in a cold oven. Preheat the oven to 425F. The oven needs to be good and hot, so preheat it about 45-60 minutes before adding the pizza.

Once risen, roll out the dough on a lightly floured surface. How thick or thin you make it depends on your tastes. We suggest between 1/4" and 1/2".

Sprinkle a pizza peel (hint, we use the round turntable from our microwave and it works GREAT!) with cornmeal and transfer rolled dough to the peel. The cornmeal helps slide the pizza off the peel and onto the pan in the oven.

Add sauce, cheese, and toppings. Slide pizza off the peel onto pan or stone in the oven. Bake for 10-14 minutes depending on the thickness of your dough.
NEW! Be sure to subscribe to my newsletter, Foodie in the Craftroom, to receive updates and tips from both Amanda's Cookin' and Crafts by Amanda! Visit https://amandascookin.com/p/subscribe-to-newsletter.html
Amanda Formaro is the crafty, entrepreneurial mother of four grown children. She loves to bake, cook, make kid's crafts and create decorative items for her home. She is a crafting expert and guru in the kitchen and has appeared online and in print publications many times over the years. She is also a craft book author five times over and product developer as well as the owner of
FunFamilyCrafts.com
. You can find her on social media by using the buttons to the left!
Latest posts by Amanda Formaro (see all)