A delicious twist on traditional pesto, this sun-dried tomato pesto is easy to make and even easier to eat. Toss it with hot pasta for a quick and satisfying weeknight meal.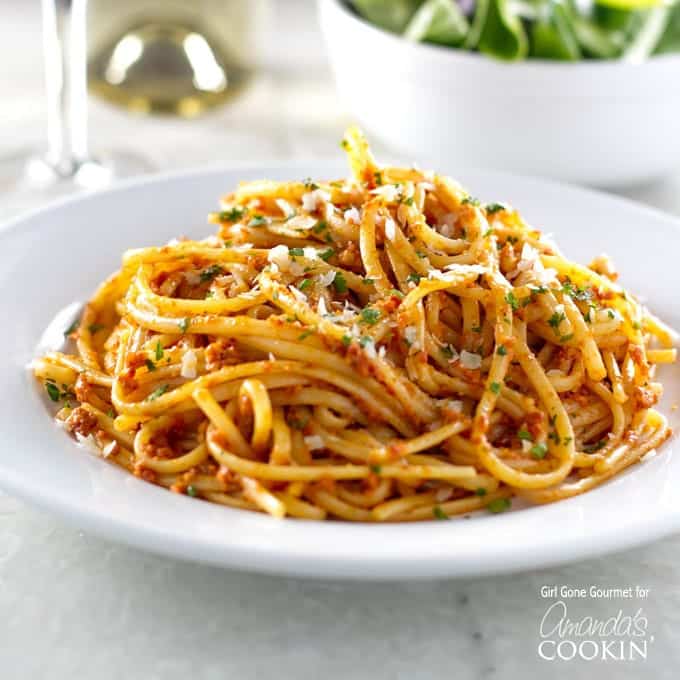 Sun-dried Tomato Pesto
After one too many bad experiences using out-of-season basil to make traditional pesto I've started making 'gateway' pesto. These culinary concoctions, like spinach & parsley pesto and beet tops pesto, get me through to summer when my basil plants finally take root in our tiny little herb garden. This sundried tomato pesto is one of my new favorites – it's simple to make and so full of flavor. Sun-dried tomatoes have a rich, slightly sweet flavor that pairs well with the almonds and cheese and it's so good you may not even miss your regular basil pesto. This is going to be one of your favorite food processor recipes!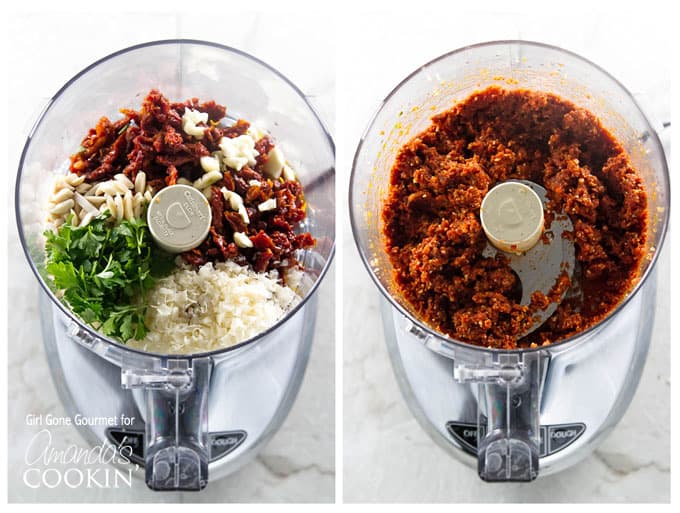 There are affiliate links in this post. That means if you buy something from that link, I will earn a small commission, but it won't cost you anything additional.
You Will Need:
8 ounces linguine or other long pasta
1 jar (8.5 ounces) sun-dried tomatoes
¼ cup slivered almonds
2 garlic cloves, peeled and roughly chopped
¼ cup roughly chopped parsley
1/3 cup olive oil
½ cup freshly grated Parmigiano-Reggiano cheese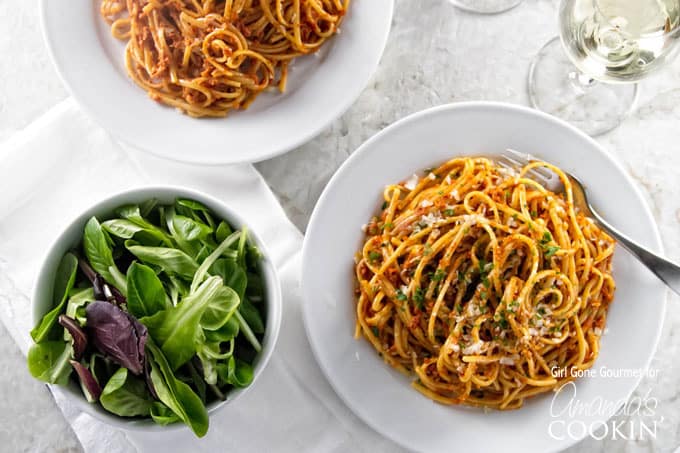 This recipe makes one cup of pesto, which serves about six people, and it keeps well in the refrigerator. Besides tossing it with hot pasta, use it as a sandwich spread, mix it with cream cheese for your morning bagel, or thin it out with additional olive oil for a great salad dressing. Moral of the story? There a lot of ways to use it, so consider doubling the recipe to have sun-dried tomato pesto on hand all week.
Love using your food processor for recipes like this? Don't miss these different ways to use your food processor in your kitchen!
Favorite pasta recipes: