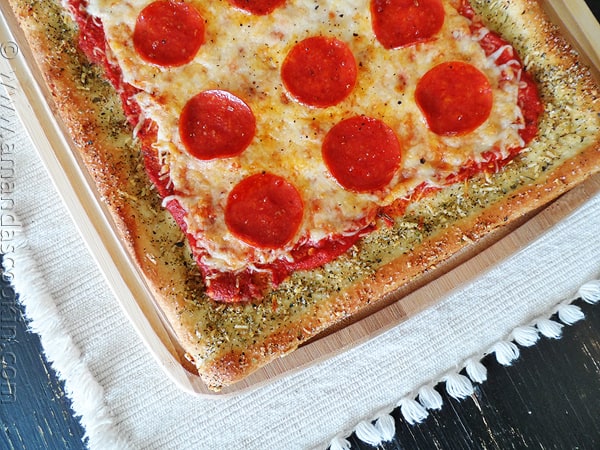 Do you love garlic bread pizza? I know that we do. Garlic bread pizza is not a new thing for sure, lots of restaurants and pizza joints are doing it now. You can have the same flavors at home, but without using garlic bread. What do you say? Let's make a garlic bread pizza together, shall we? It's similar to our French Bread Pizza, where we slather garlic onto the French Bread creating a heavenly garlic bread pizza in more individual sized portions.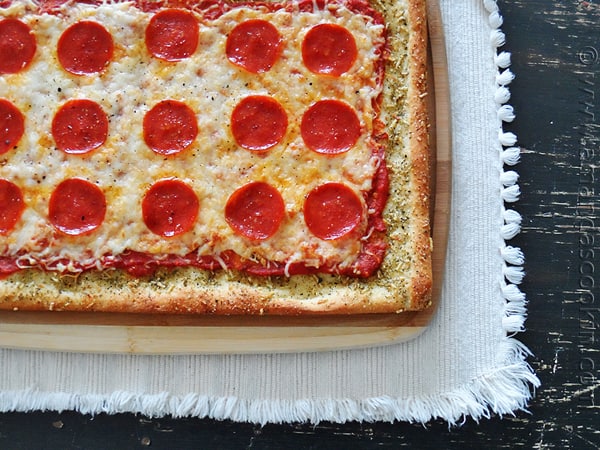 My kids are now young adults, teenagers. They are old enough to cook for themselves, and pizza is not only loved by all teenagers, it's easy to make with very little to no help.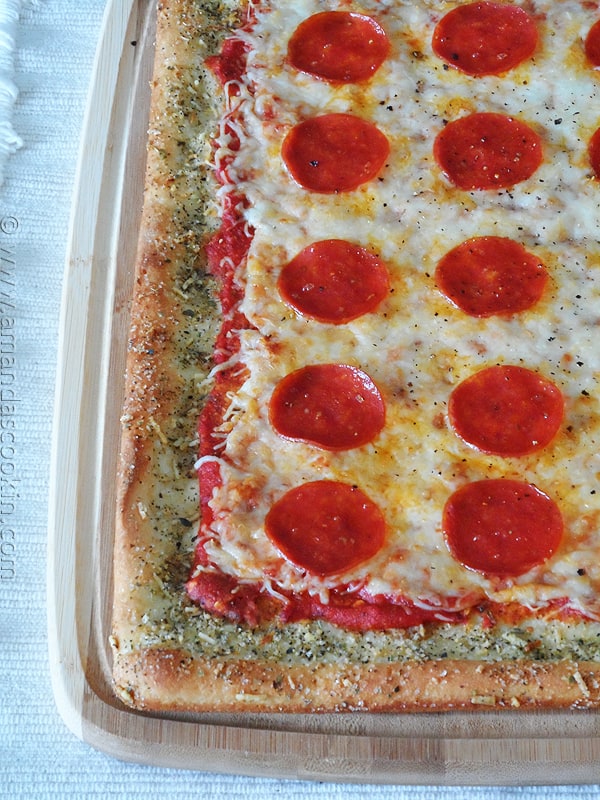 So when the fine folks over at Pillsbury and General Mills challenged me to use their convenient refrigerator pizza crust and dress it up a bit, I knew this would be a great way to get the boys into the kitchen.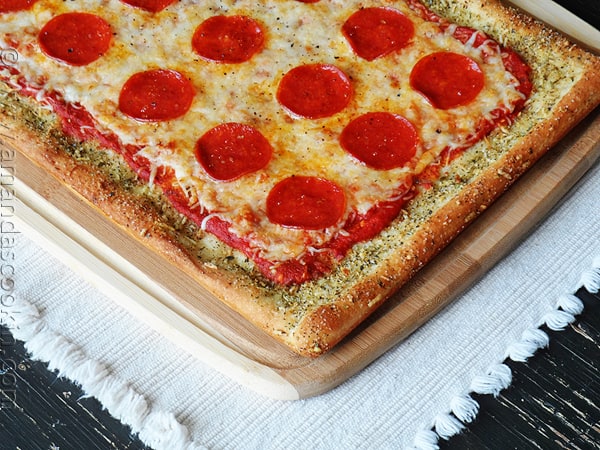 We're not talking topping on the pizza, but topping on the crust! It didn't take me long to decide that garlic bread was the flavor I was looking for and the boys agreed.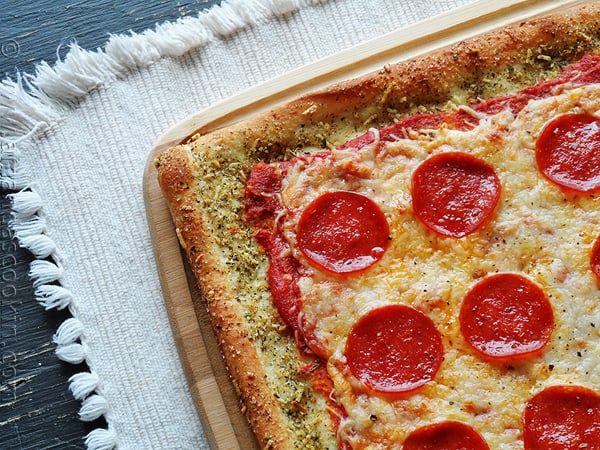 We love garlic bread, so adding the flavors of garlic bread to our pizza crust just seemed like a perfect fit. Besides, look how much nicer it looks than plain crust!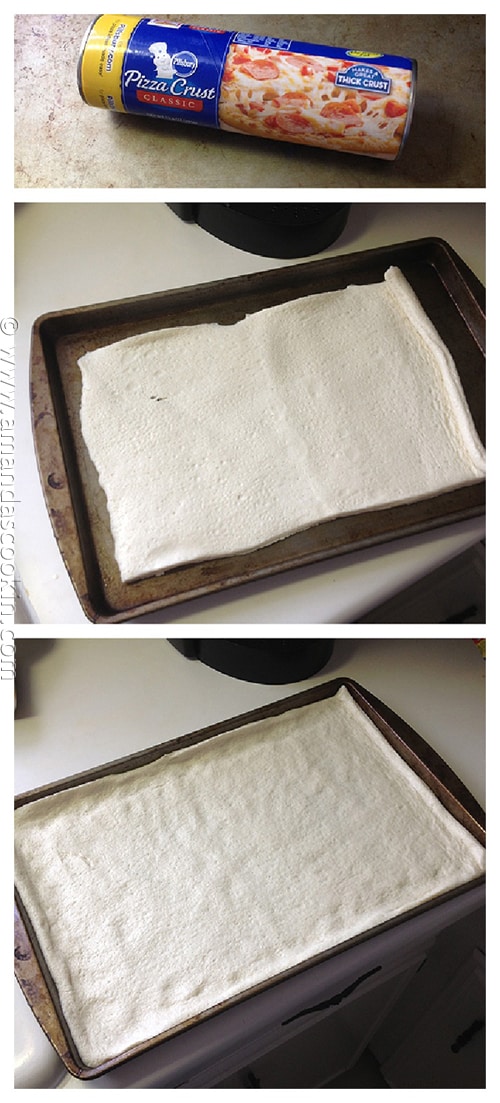 The crust is really easy to use. Spray a rimmed cookie sheet and unroll the crust. Press it out toward the edges, create a cruse rim with your fingers. This is really easy to do and teenagers can totally do this on their own.

Mix together your garlic salt ingredients. You can use garlic salt that already has herbs in it to save you a step, just add the Parmesan cheese. Brush olive oil around the edges and sprinkle with garlic salt mixture.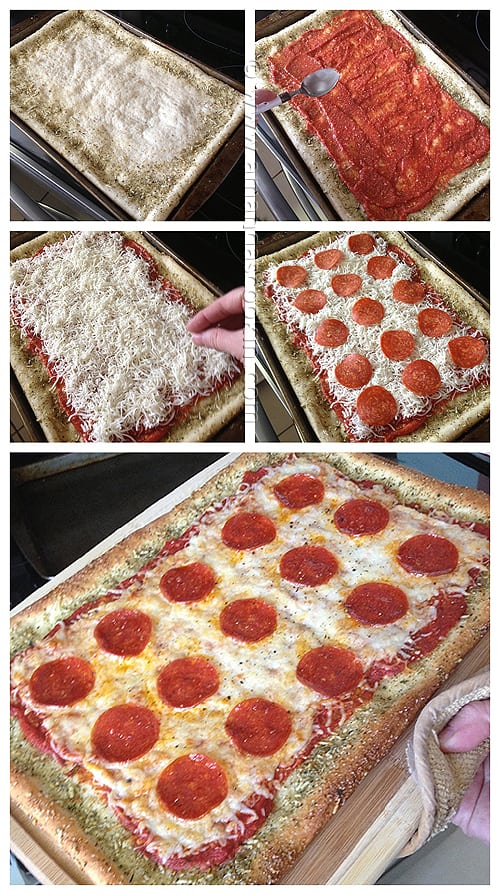 Partially bake the crust for 8 minutes, add sauce, cheese and toppings. Bake another 6-10 minutes or until cheese is melted and crust is golden.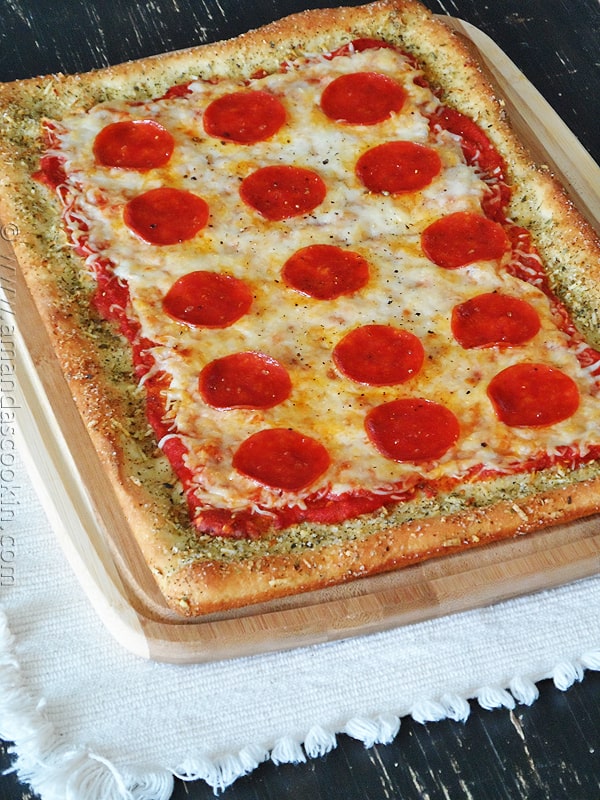 I love making homemade pizza dough, but it's a long process. Sometimes the kids want to make their own pizza or younger ones might want to help you in the process. Using ready made dough is so much more convenient and great for when you don't have a lot of time for mixing and rising.
Using refrigerator dough is a lot quicker and the kids (depending on their age of course) can do it themselves. The dough is great for making breadsticks too!
More Garlic Bread Pizza Recipes
Made on actual garlic bread – Mommy Hates Cooking
Another made on garlic bread – Culicurious
More Pillsbury Pizza Crust Ideas
Parmesan Crusted Pepperoni Pizza
Garlic Butter Crusted Margherita Pizza
Parmesan Crusted Chicken Alfredo Pizza
I was compensated for the time I spent in the kitchen and writing this post for you, but all opinions expressed are 100% mine.