What's better than pizza? A cheesy, saucy pizza dip with all of the toppings! After making our now famous pizza sandwich casserole (and not to mention those baked potato pizzas or pizza casserole recipe) I knew we should add another delicious pizza-inspired recipe to our collection.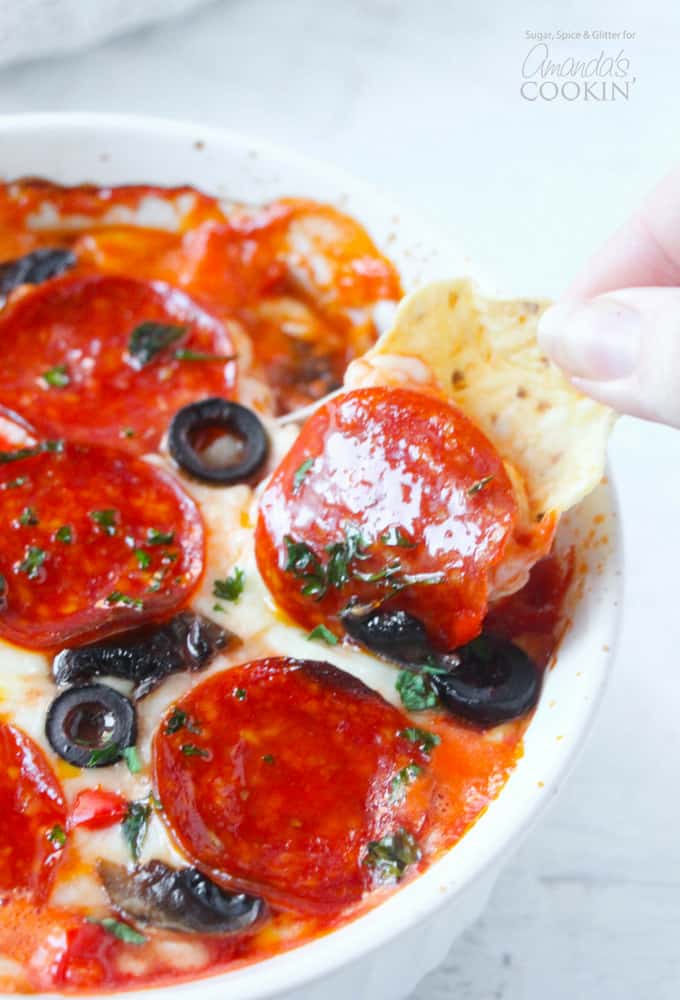 Pizza Dip Recipe
This pizza dip recipe is everything you want in a delicious deep-dish pizza, without the crust.
On the bottom, a thick layer of triple-cheese decadence topped with a layer of Italian-style tomato sauce, finished off with even more cheese and your favorite pizza toppings.
Serve this pizza dip with your favorite dip-ables (nachos, bread sticks, toast corners, vegetables, pretzels, etc). It's the perfect easy appetizer for guests – although if you're serving it with vegetables, I wouldn't hesitate to call it a Friday night meal!
It would be great at a party or a potluck – although ensure that you can serve it hot – that's when the cheese is at it's ooey-gooeist!
Maybe you can even use this pizza dip as the dipping sauce for these pizza puffs. Yum!
There are affiliate links in this post. That means if you buy something from that link, I will earn a small commission, but it won't cost you anything additional.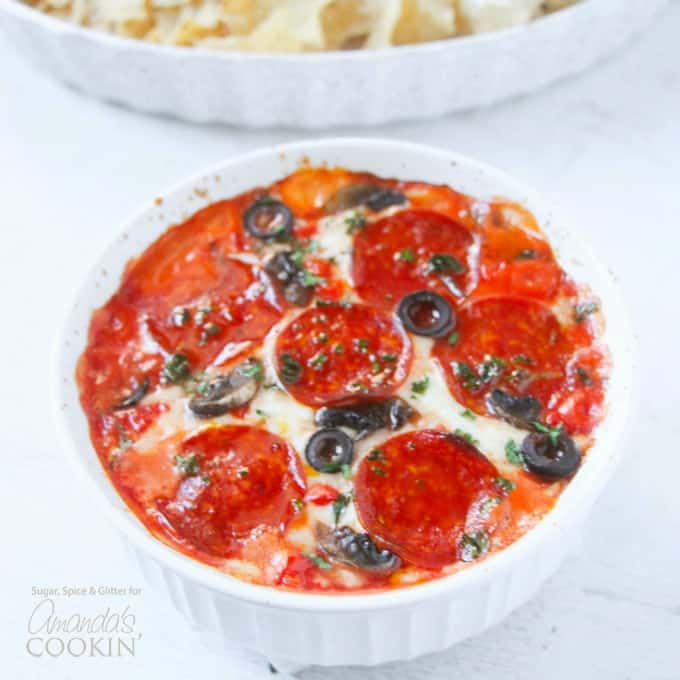 Ingredients to Make a Pizza Dip
8oz cream cheese
2 teaspoons Italian seasoning (oregano and basil, especially)
2 cups mozzarella
1/2 cup cheddar cheese
1/4 cup Parmesan cheese
1/2 cup Italian-style spaghetti or tomato sauce
Pizza toppings of choice
Kitchen Tools You May Find Useful
Preheat oven to 350F
Grate all of the cheeses and measure their post-grating size.
Mix cream cheese, herbs, cheddar cheese and 1/2 cup of the mozzarella.
Spoon into an oven-safe serving dish
Top with sauce and remaining cheese.
Bake 25 minutes until cheese is golden and bubbly.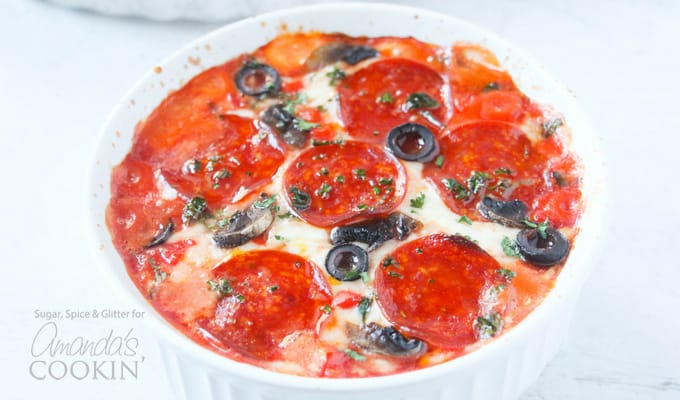 This pizza dip is definitely going into our regular casual meal night rotation. You can change it up by swapping out the types of cheese used, the toppings – or even use an alfredo sauce in place of the tomato. The sky really is the limit with this delicious dip!
What's your go-to appetizer for guests?
Grab your free printable for this pizza dip recipe here: