This recipe for banana pudding poke cake is a fun spin on the traditional banana pudding. This version is very easy to make as it uses cake mix and packaged banana pudding, and it's a perfect dessert to bring to a potluck or serve at your next cook out with friends.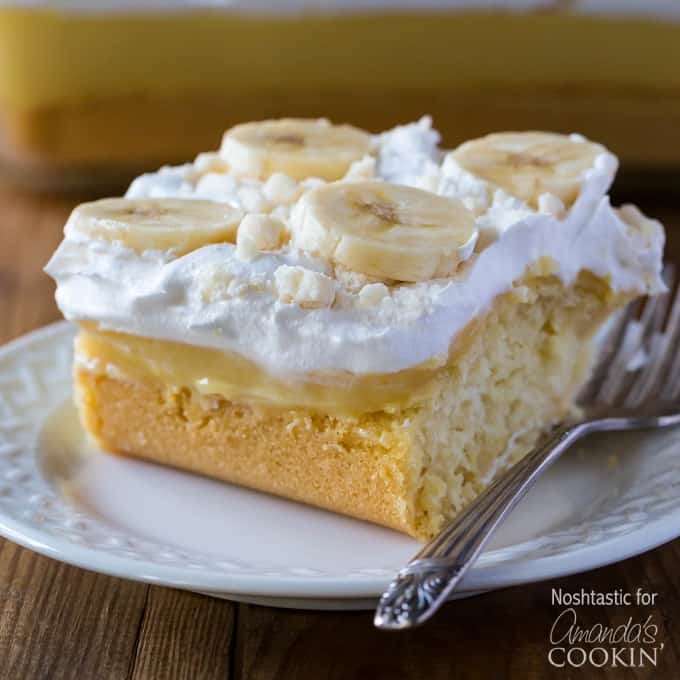 Banana Pudding Poke Cake
I love to bake from scratch most of the time, but sometimes you need something cheap, quick and easy you can throw together. If you have company coming and know it will be to everyone's tastes, my Banana Pudding Poke Cake is sure to please.
Most boxed cake mixes will make one sheet cake in a 13×9 pan, or two cakes in smaller pans. This time I used two smaller baking dishes to make this in and just split the prepared cake mixture between the two. I was able to use one cake for us to eat the day I made it, and I froze the other cake in the baking dish for later (without the pudding on top as that doesn't freeze well).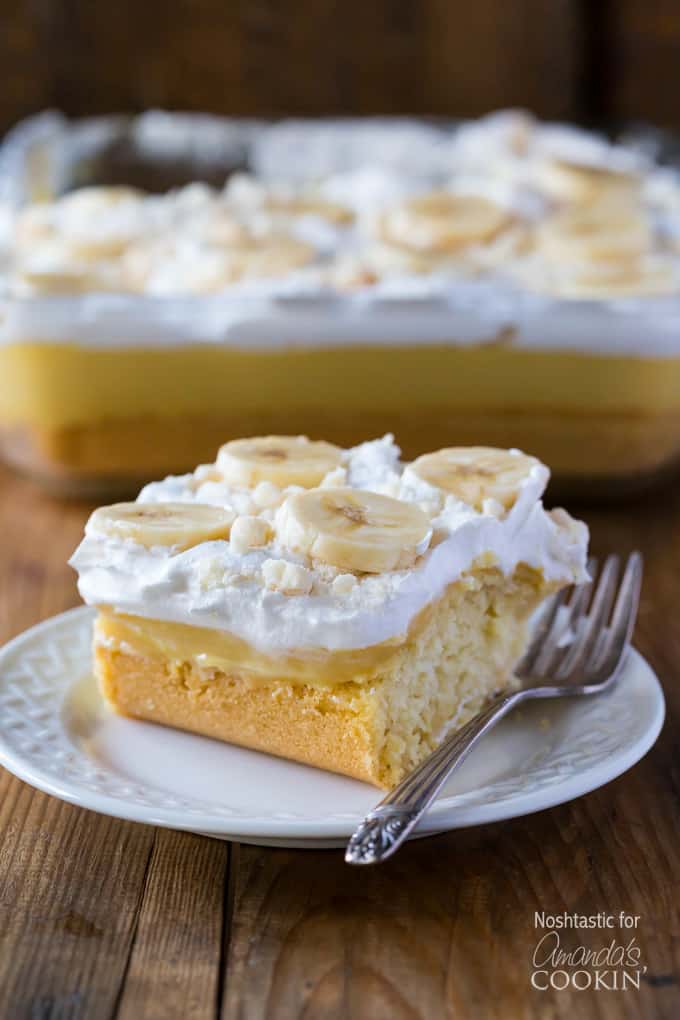 There are affiliate links in this post. That means if you buy something from that link, I will earn a small commission, but it won't cost you anything additional.
Ingredients you will need
1 box yellow cake mix, PREPARED
2 small boxes banana instant pudding mix
2-3 cups cold milk for pudding mix
1 container frozen whipped topping, or homemade whipped cream
Nilla Wafers, crumbled
2 sliced bananas
Things you may find useful: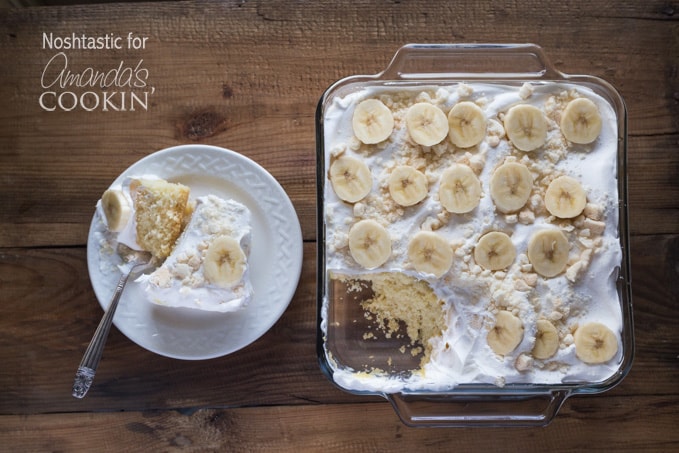 The instant pudding is very simple to make and will start to set right away. It will set up better and make it easier to apply the whipped cream or whipped topping if after you've added it onto the cake, you then chill it in the fridge for about an hour. After you've added the whipped topping you can keep the cake covered in the fridge until you are ready to serve it. Once you're ready to serve you can add the crushed wafers and the sliced bananas, if you put the bananas on it too far ahead of time they will eventually start to turn brown.
SCROLL DOWN FOR THE PRINTABLE VERSION OF THIS RECIPE
MORE POKE CAKE RECIPES YOU WILL LOVE:
I've put together quite a collection of poke cake recipes! Here are a few of my favorites.
This lemon curd poke cake is positively lovely and perfect for an elegant occasion like a bridal shower or even afternoon tea.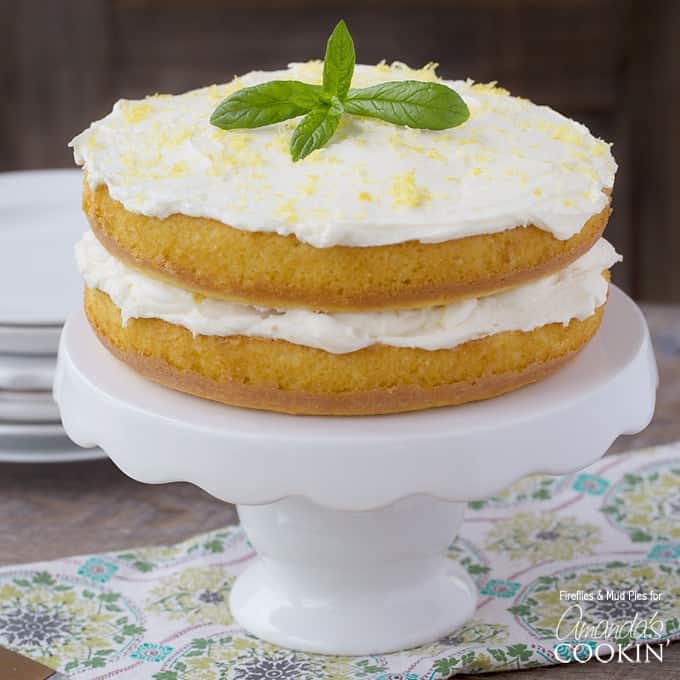 If you're an orange lover like me, this orange poke cake is definitely one you will want to try!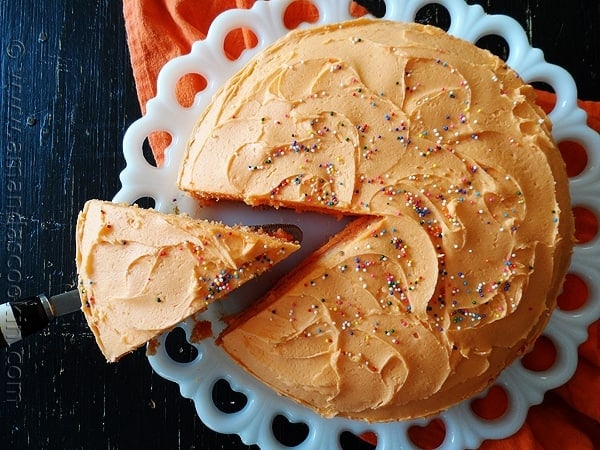 This raspberry poke cake is actually one of my favorites, and I love how you can change out the flavors to whatever you like best.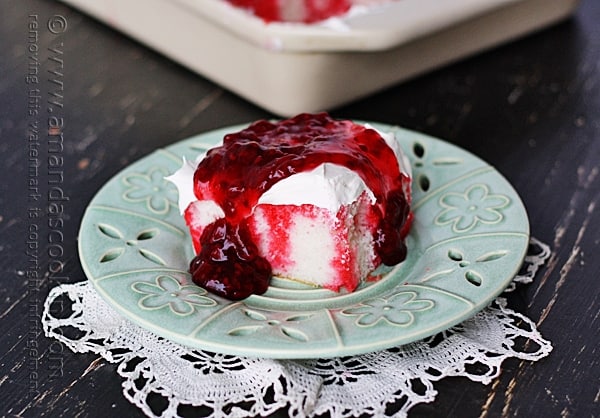 If you would like to try some more, you can find all my cake mix recipes here, all my poke cake recipes here, and ALL cake recipes here.
Want even more free recipes? Be sure to subscribe to my newsletter for FREE recipes and craft ideas sent to your inbox every week.