These Banana Upside Down Muffins turned out positively delicious. I love upside down desserts, the way the sugar caramelizes and just melts in your mouth. Adding the fabulous flavor of bananas to the mix was just icing on the… muffin!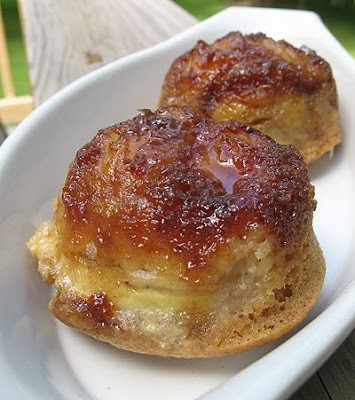 Quite a while ago I received a cookbook called Sweet!: From Agave to Turbinado, Home Baking with Every Kind of Natural Sugar and Sweetener
by Mani Niall. I had thumbed through it several times and bookmarked quite a few recipes, but never found the time to make anything.
Banana Upside Down Muffins
On a side note, there was an error in this recipe in the book. I contacted Chef Mani Niall through his website and he was super nice and very helpful with straightening things out. The recipe below is correct.
As you'll see from the picture below, I did have a couple of casualties when inverting the pan.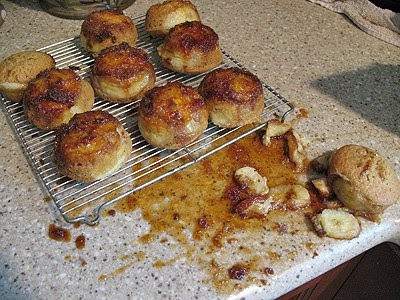 I love pineapple upside down cake and I love bananas. So when I saw the name of this recipe I knew it would be something I would enjoy. Even the kids liked the flavor of these muffins! So if you are like me and you get tired of making banana bread, try this delicious recipe on for size. These are perfect breakfast or brunch muffins!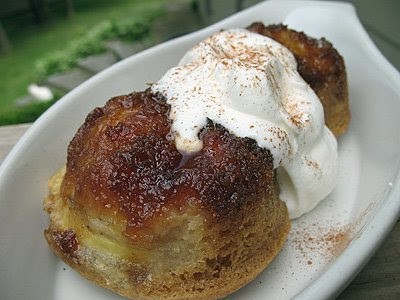 If you prefer it as a dessert, pair it with some freshly whipped cream sweetened with powdered sugar and a little banana extract, sprinkled with cinnamon.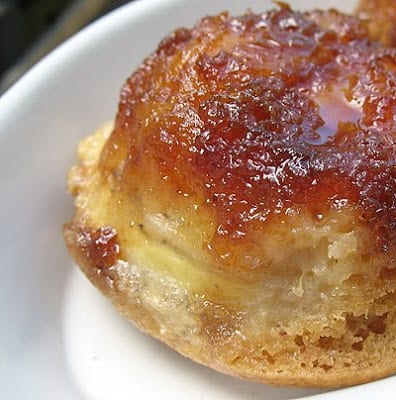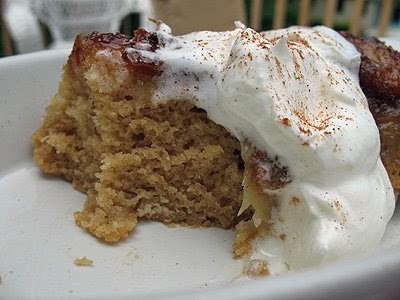 More upside down desserts
You just cannot go wrong with classic pineapple upside down cake made in a cast iron skillet. This recipe tends to be very nostalgic for people because this is how their grandma or great grandma always made it. Nostalgic recipes are dear to our hearts because it helps people remember those that are no longer with us.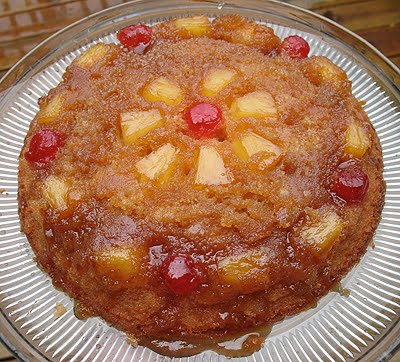 A different approach is this blueberry upside down cake. Don't be fooled, there are lots and LOTS of blueberries. You could probably cut down the number of berries if you wanted to. But would you really want to??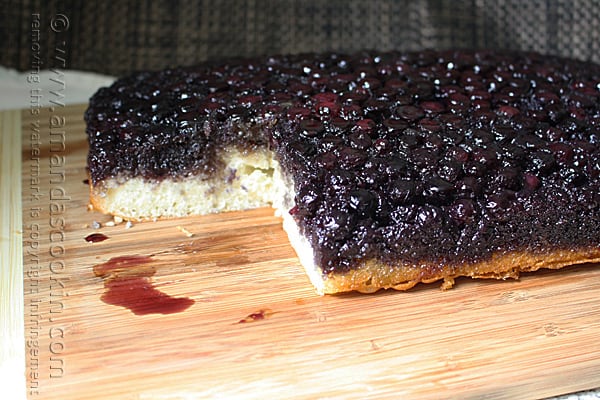 This recipe for raspberry upside down cake actually uses Bisquick! You remember Bisquick don't you? It's still around and still in people's pantries. If you don't use it though, read through the recipe and compare it to the blueberry upside down cake and I'm sure you could substitute with cake mix.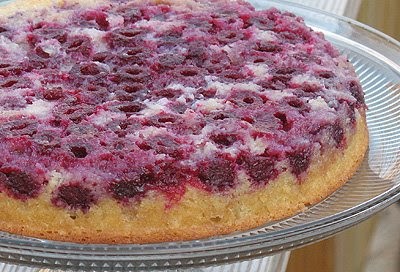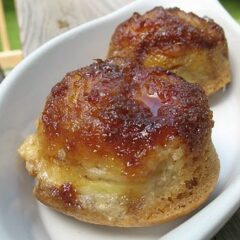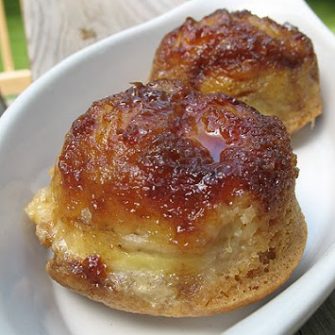 Banana Upside Down Muffins
IMPORTANT - There are often Frequently Asked Questions within the blog post that you may find helpful. Simply scroll back up to read them!
Print It
Rate It
Ingredients
non-stick cooking spray

4

tbsp

unsalted butter

1/2

cup

dark muscovado or brown sugar

packed (I used dark brown sugar)

4

ripe bananas
Muffins:
1

cup

unbleached all-purpose flour

preferably organic

2

tsp

baking powder

1/2

tsp

freshly grated nutmeg

pinch

of salt

1/2

cup

dark muscovado or brown sugar

packed

1/3

cup

canola oil

2

large eggs

room temperature

3

tbsp

whole milk

3

tbsp

dark rum

1

tsp

vanilla extract
Before You Begin
Mani suggests using dark muscovado sugar for the richest carmelized layer. I used regular dark brown sugar and they were fabulous. I can only imagine how good they would have been with muscovado!
Instructions
Position a rack in the center of the oven and preheat to 375 F. Lightly spray a 12 cup muffin pan with cooking spray.

To prepare the pans, place 2 teaspoons of the butter and 2 teaspoons of the brown sugar in each muffin cup. Bake until the mixture in each cup is melted and bubbly, about 10 minutes. Remove the pan from the oven and cool for a few minutes. Peel the bananas and cut them on a diagonal into 48 thin slices. In each muffin cup, place two banana slices on the bottom and two banana slices along the sides.

To make the muffins, sift together the flour, baking powder, nutmeg, and salt in a medium sized bowl. In a separate bowl, whisk together the brown sugar, oil, eggs, milk, rum, and vanilla. Make a well in the center of the dry ingredients, add the egg mixture, and stir just until blended. Do not overbeat. Divide evenly among the prepared muffin cups, filling them as full as possible (be sure to divide them evenly, they will be about 3/4 way full).

Bake until the center of a muffin springs back when pressed gently with your finger, about 18 minutes. Immediately invert and unmold the muffins onto a wire rack. Cool briefly and serve. The muffins are best the day they are made.

Amanda Davis is the entrepreneurial mom of four grown children and four step children. She and her husband, Chef Antoine, love to cook together creating recipes for this blog. Amanda also make kid's crafts and creates decorative items for her home. She is a crafting expert and guru in the kitchen and has appeared online and in print publications many times over the years. She is also a craft book author five times over and product developer as well as the owner of
FunFamilyCrafts.com
. You can find her on social media by using the buttons to the left!
Latest posts by Amanda Davis (see all)