Have you ever had no bake Chocolate Eclair Cake? If so, then you know how ridiculously irresistible this one-pan dessert is. But have you had it with chocolate graham crackers and a dark chocolate homemade frosting…that's lightly salted? This combo takes guilty pleasures to a whole new level. Just like our ever satisfying Cream Puff Chocolate Eclair Cake, this no bake chocolate eclair cake is a force to be reckoned with!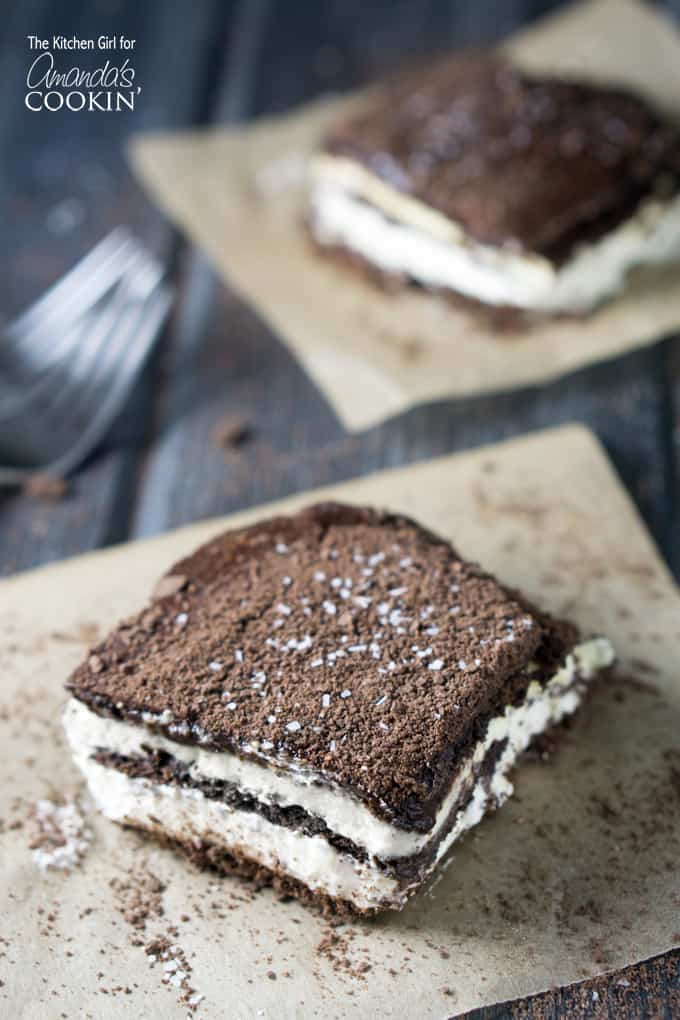 No Bake Chocolate Eclair Cake
Inspired by a donut, there's this cake. Thiiiiss caaaaaake. It's a silky, decadent, creamy, chocolatey cake that magically becomes all of those adjectives with very little effort. Chocolate lovers rejoice!
Interested in another chocolatey, no-bake recipe? My Chocolate Monkey Bites (No-Bake Energy Bars) are easy and fun to make with the kids. They could become your new favorite, chocolate snack. If you like oranges and chocolate together, and you wanna hang out in cake world, you'll love my Orange Olive Oil Cake with Dark Chocolate Ganache.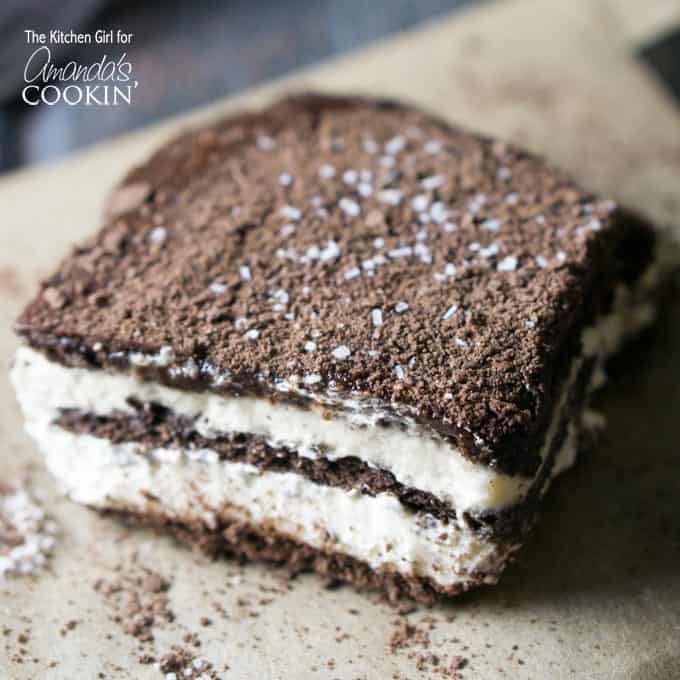 This is, hands down, the easiest dessert you'll ever make. You're combining pudding mix, milk, and whipped topping, layering it between graham crackers, and topping it with a super simple chocolate frosting. Then chill for about 8 hours. And that's it!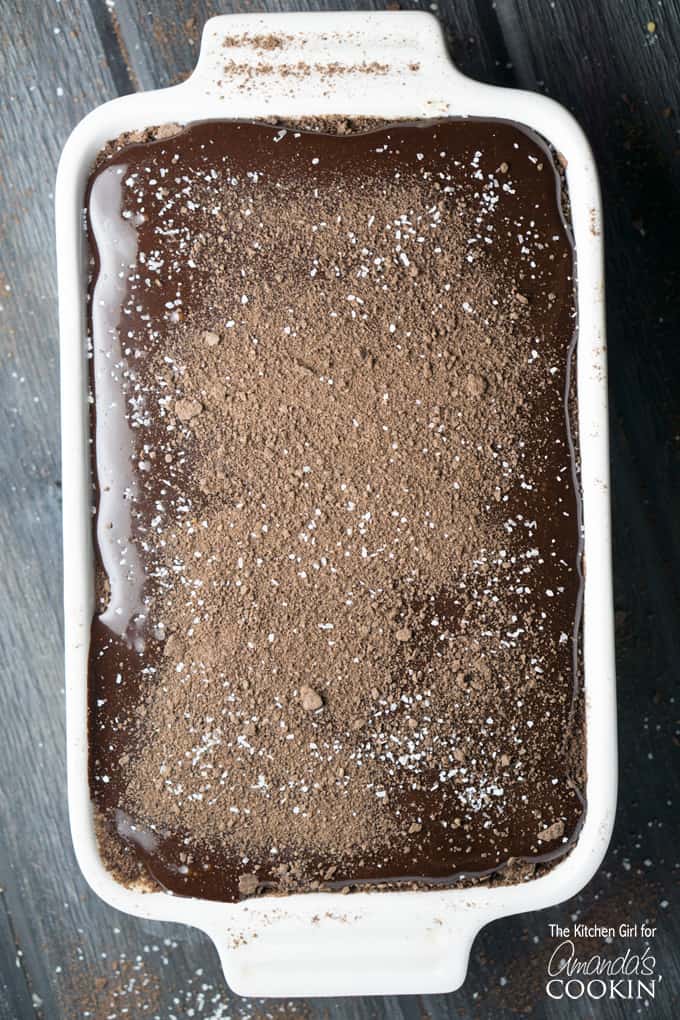 Ingredients for no bake chocolate eclair cake:
1 3.4-oz box vanilla instant pudding & pie filling

2 cups milk (any kind)

8 oz whipped topping (thawed)

1 14-oz box chocolate graham crackers

1/4 cup milk (any kind)

1/2 cup sugar

1/3 cup cocoa (sifted)

2 tbsp butter (softened)

(optional) kosher salt for garnish
Kitchen tools I use for this recipe: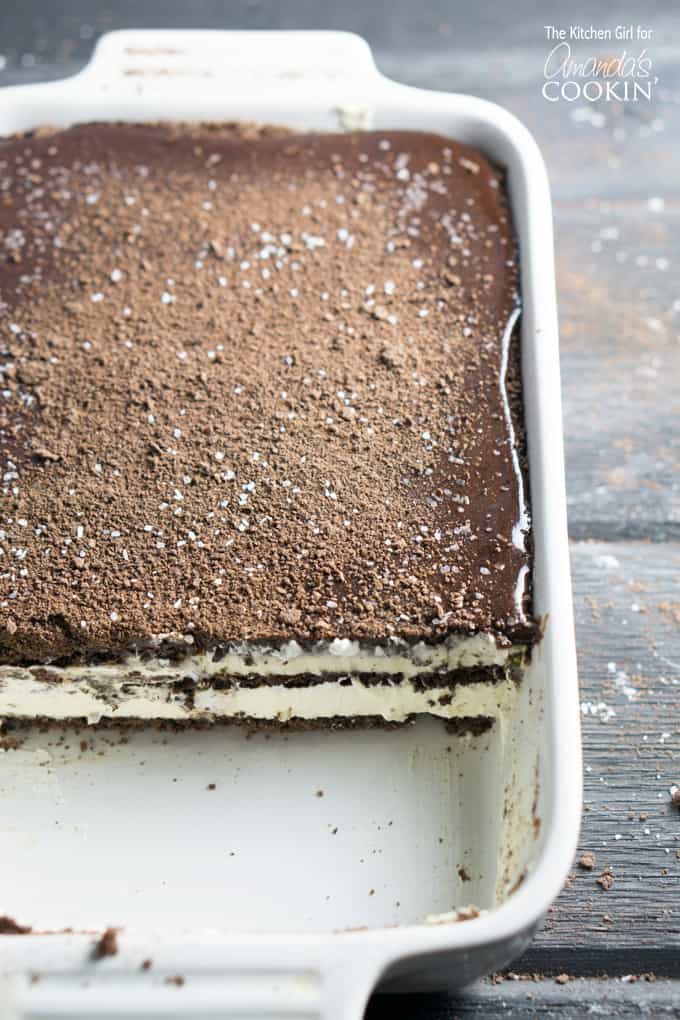 I've noticed that most recipes for refrigerator Chocolate Eclair Cake tend to share similar ingredients, instructions, and yield liberal amounts. That's awesome if you're going to an event with 10+ guests, but I purposely made this recipe smaller to accommodate your smaller BBQ or dinner party with 6-8 people. I did this because, believe me, if you end up with too many uneaten portions of this dessert, it just gets downright dangerous. So, we're keepin' it real with this smaller recipe.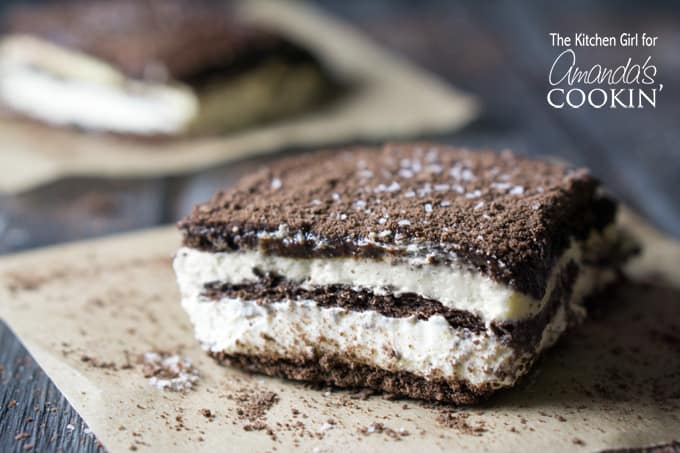 Find more chocolatey goodness via our Sex In A Pan dessert (AKA chocolate dream dessert) and of course, the ever famous Chocolate Lasagna. Find all of our one pan desserts here!
Traci Antonovich
Serves: 8 1-oz Servings
Chocolate Eclair Refrigerator Cake
15 minPrep Time
15 minTotal Time
Ingredients
1 3.4-oz box vanilla instant pudding & pie filling
2 cups milk (any kind)
8 oz whipped topping (thawed)
1 14oz box chocolate graham crackers

For the Chocolate Frosting

1/4 cup milk (any kind)
1/2 cup sugar
1/3 cup cocoa (sifted)
2 tbsp butter (softened)
(optional) kosher salt for garnish
Instructions
In a mixing bowl, whisk together pudding mix and milk until smooth; allow to set (about 5 min).
Gently fold in whipped topping; set aside.
In a food processor, pulse 1 sleeve graham crackers into crumbs (reserve 2 tbsp for garnish); set both aside. (this step is only required if you want to use graham cracker "crumbs" for the top layer).
In a 10.5 x 7 baking dish, line bottom with a single layer of graham crackers.
Pour half of the filling over the crackers; spread evenly.
Create a second layer of graham crackers.
Pour in remaining filling; spread evenly.
Sprinkle crumbled graham crackers over entire surface; place cake in refrigerator while you prepare frosting;

For the frosting:

In a small saucepan over medium flame, heat and whisk milk until warmed through, add sugar and cocoa; heat and whisk until gentle boil occurs; remove from heat.
Whisk in butter until smooth.
Gently pour frosting over cake; spread evenly to cover surface.
Garnish surface with reserved graham cracker crumbs and (optional) pinch of kosher salt.
Cover and refrigerate overnight; serve chilled.
Notes
It is not necessary to use the entire box of graham crackers for this recipe; i.e., you'll probably end up with a whole extra sleeve.
7.6.9.1
683
https://amandascookin.com/chocolate-eclair-cake/
Amanda Formaro, AmandasCookin.com

Traci authors The Kitchen Girl® food blog, where busy people on a budget grow smart food habits. She advocates eating for wellness as a lifestyle, offering healthy kitchen tips and everyday, whole food recipes that won't break your wallet...or your palate. She loves her job...even the 'dishes' part.

Latest posts by Traci Antonovich (see all)