When I hosted my pumpkin painting party last year, I was all over the web looking for fun Halloween food ideas. There are so many fun Halloween party recipes, so we made as many as time would allow. Here are the treats we went with.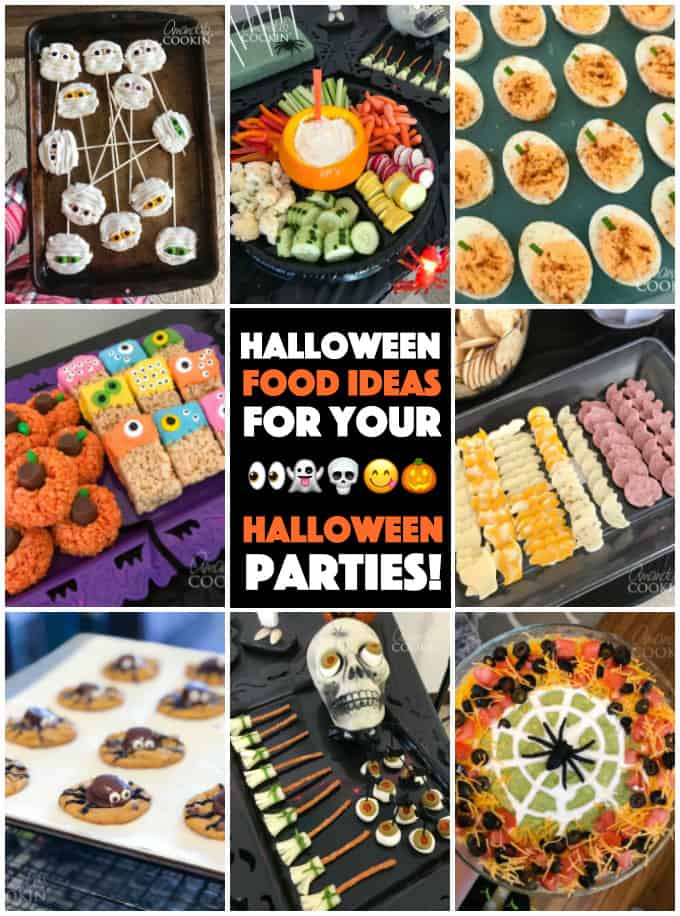 Halloween Food Ideas
When I bought my house earlier this year I decided to move out of my craft studio and bring it into my home. But before closing up shop, I hosted a pumpkin painting party for some friends. My daughter and I get a little crazy when it comes to planning parties, so we made tons of food. Here's what we came up with!
Halloween Food Ideas – Savory Snacks
We wanted to appeal to the masses, so we offered a little bit of everything at our Halloween party. Let's start with the savory and salty snacks that we offered.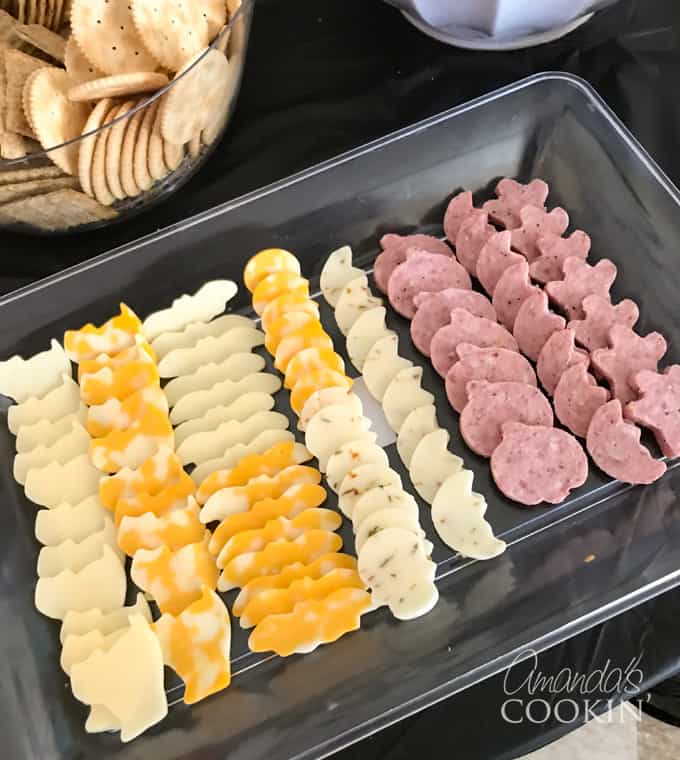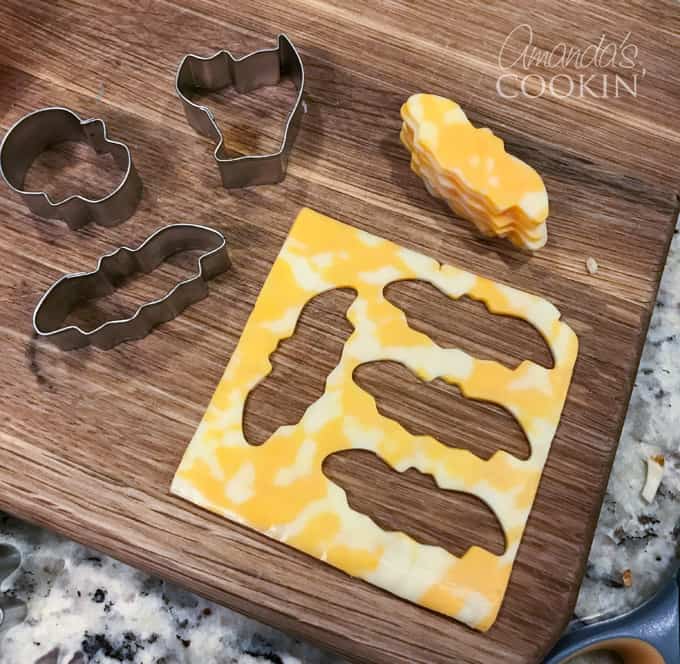 Cookie Cutter Cheese & Sausage
Someone uploaded a photo to Pinterest showing this idea. So simple, and I already had the Halloween mini cookie cutters!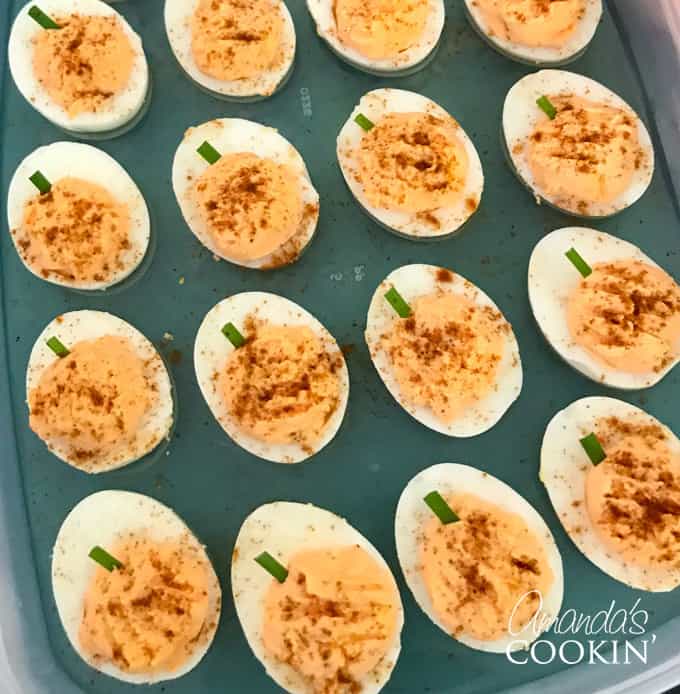 Pumpkin Deviled Eggs
I didn't use pumpkin at all in these eggs, I just added a bit of paprika to the filling to turn it orange. Sprinkle with additional paprika and some snipped chive to top them off! Here is the recipe.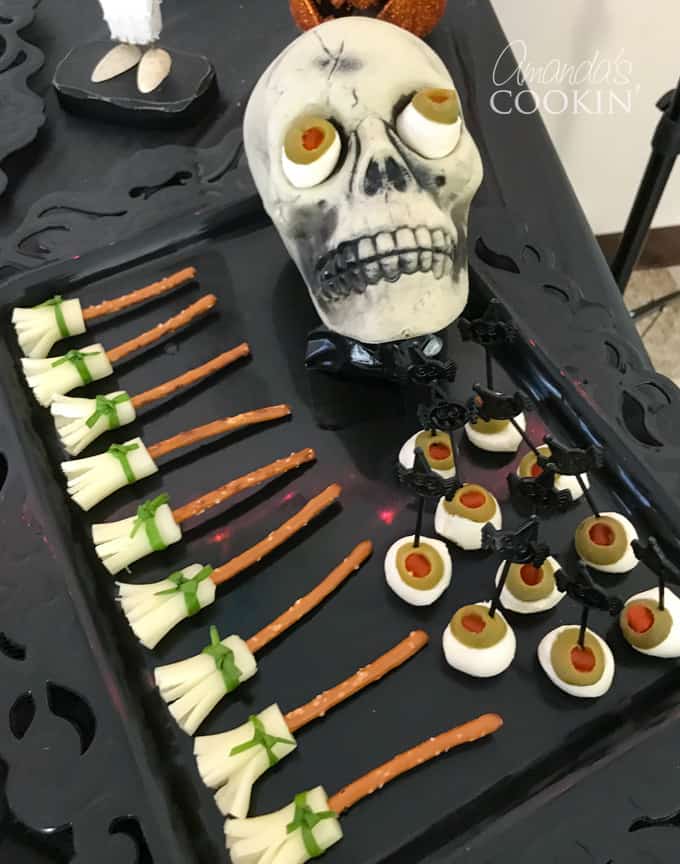 Cheese and Pretzel Broomsticks
These were popular, probably because they are A) cute, B) healthier than a cupcake, and C) easy to eat without any mess! String cheese, pretzel sticks, and chives are all you will need. Here is our recipe.
Mozzarella Eyeballs
I actually found this idea from Giant Eagle, but I checked their site and the recipe is gone now. I bought a plastic skull from the dollar store, then sliced the top off of green olives with pimentos, and put them on top of mozzarella balls.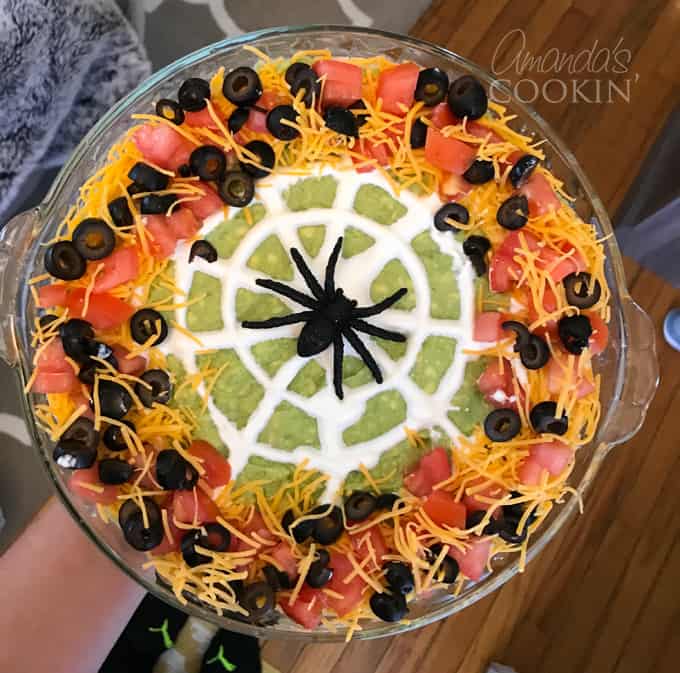 Spider Web Taco Dip
This is positively delicious, but the avocado will brown as it's sitting at the table. No one seemed to mind though, the plate was empty at the end of the night! [Recipe here]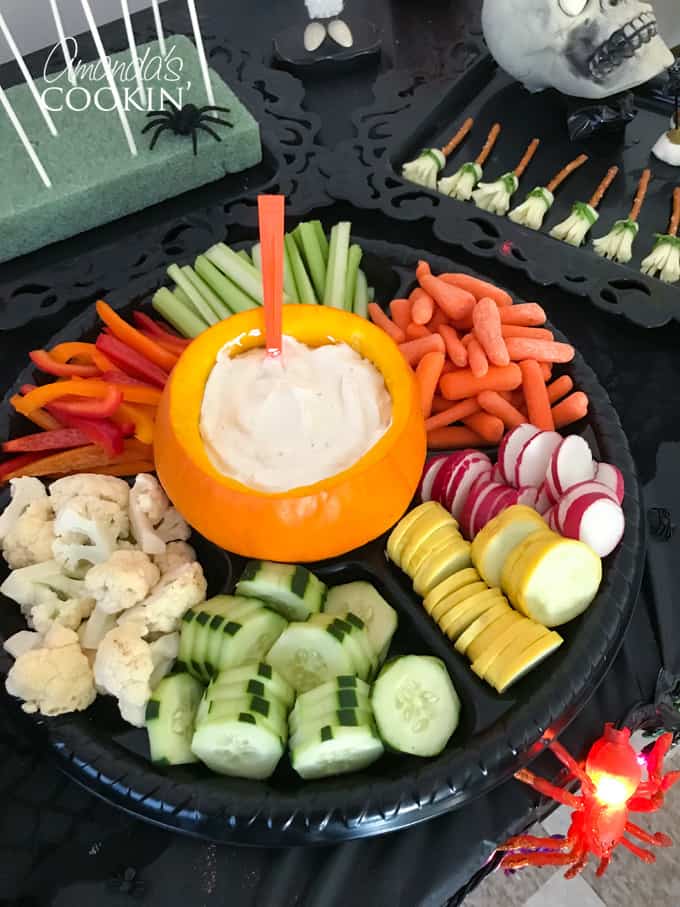 Veggies and Dip in a Pumpkin
So simple, get a pie pumpkin, cut off the top, and clean out the innards. Fill with your favorite dip or make our homemade buttermilk ranch dressing and surround with fresh vegetables!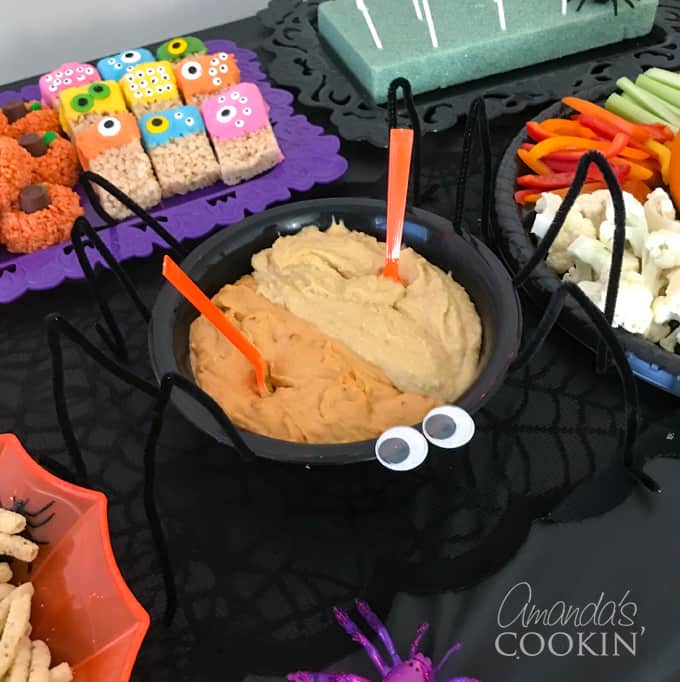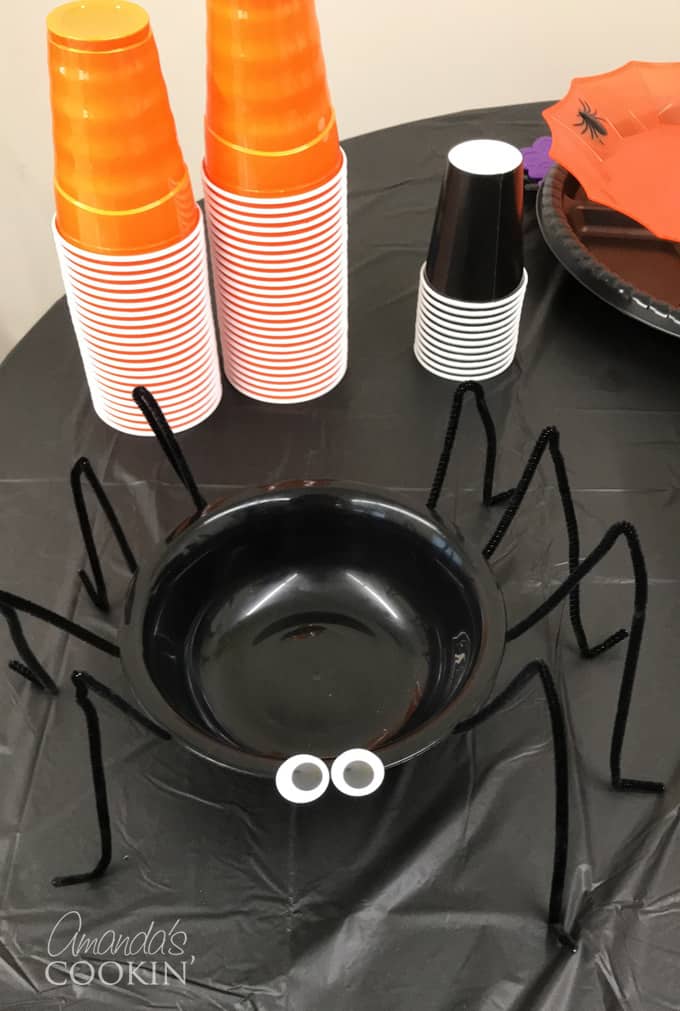 Spider Bowl with Hummus
This is such a simple and cute idea. We bought a few black plastic bowls from the dollar store and taped black pipe cleaner legs under the rim. Use glue dots to attach a couple of large googly eyes and fill with dip (we used two flavors of hummus).
Popcorn in Halloween bags
I have a popcorn machine so we picked up some Halloween themed popcorn bags and filled enough in case anyone wanted to take some home.
Halloween Food Ideas – Sweet Desserts
I'm all about the sweets, so I definitely wanted to provide several different desserts for our Halloween party. There are so many options for sweet Halloween party food, here's what we offered.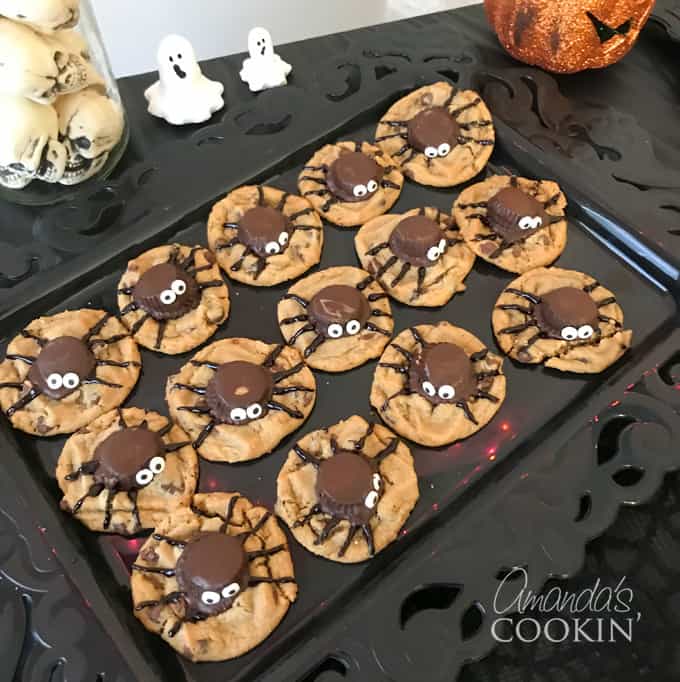 Spider Cookies
Our spiders are melted (oops) because I added them too soon to the cooling cookies. I used my peanut butter cookie recipe and drew my inspiration from here.
Rice Krispie Treat Pumpkins
These are super cute and really easy to make. I've seen other ones that use Tootsie Rolls or pretzel rods as the stem. Ours used Rolos like this recipe.
Rice Krispie Treat Monsters
Oh my gosh, what cuties! We went crazy and made several colors, but you could just stick with a couple. Here's how to make them.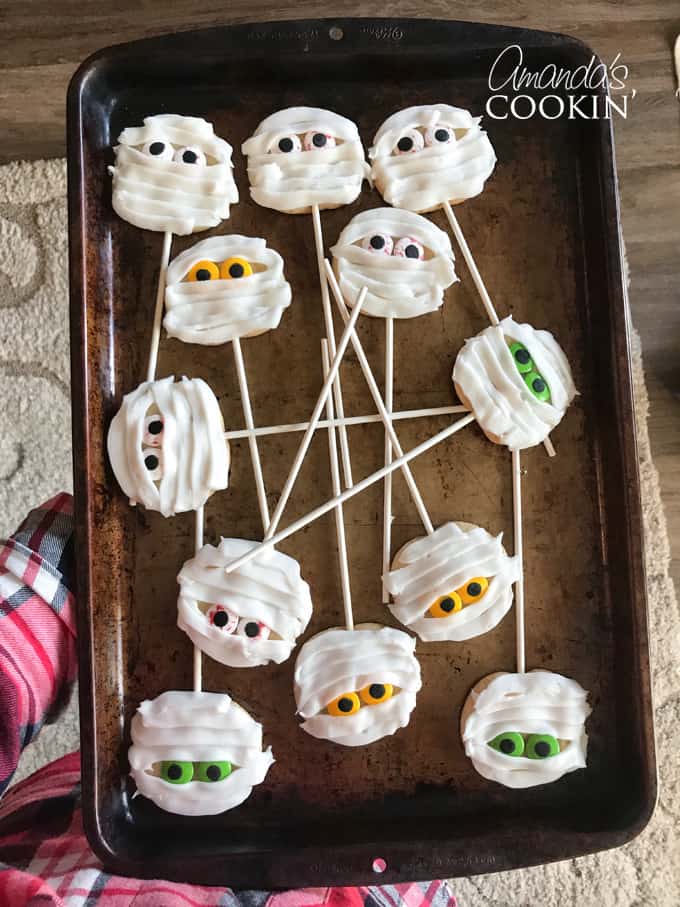 Mummy Cookies
I used refrigerator cookie dough and canned white frosting to make the bandages on my mummy cookies. I thickened the frosting with powdered sugar and used a flat piping tip. I was also able to find fun bloodshot candy eyes! I used the 6-inch lollipop sticks for these and used a piece of floral styrofoam to display them. Get the recipe here.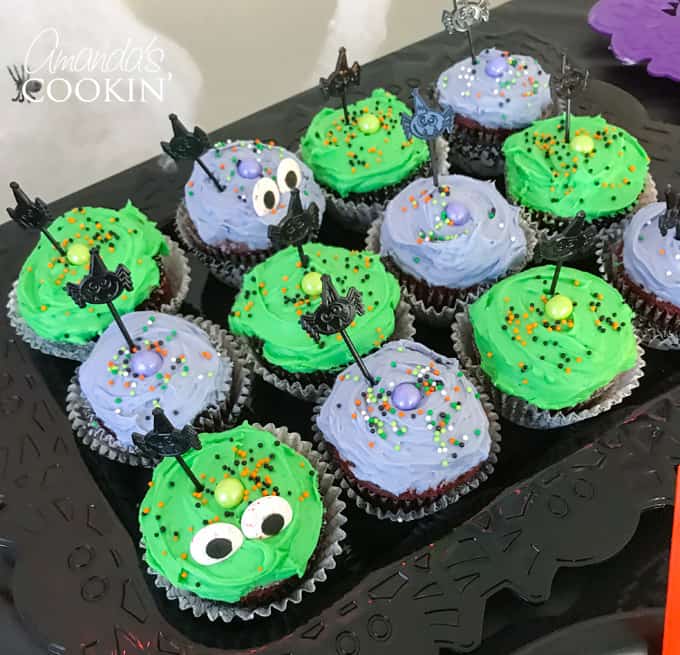 Halloween Cupcakes
We baked a simple chocolate cake mix into cupcakes and tinted some white canned frosting with purple and green gel food coloring. After topping with some fun sprinkles we added some candy eyeballs and called it a day.
Halloween Food Ideas – Fun Drinks
You can't have a Halloween or fall party without some festive drink options! I wanted to make sure I had both alcoholic and non-alcoholic options available.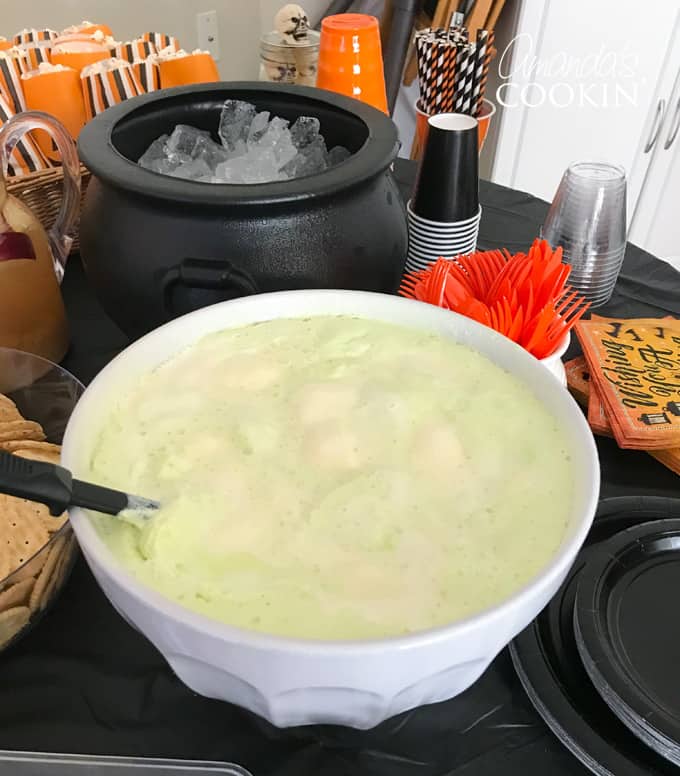 Swamp Potion
For this non-alcoholic Halloween punch you mix Kool-Aid with green sherbet. However, we were unable to find green sherbet anywhere so we went with vanilla ice cream instead. We used this recipe but also added in Sprite.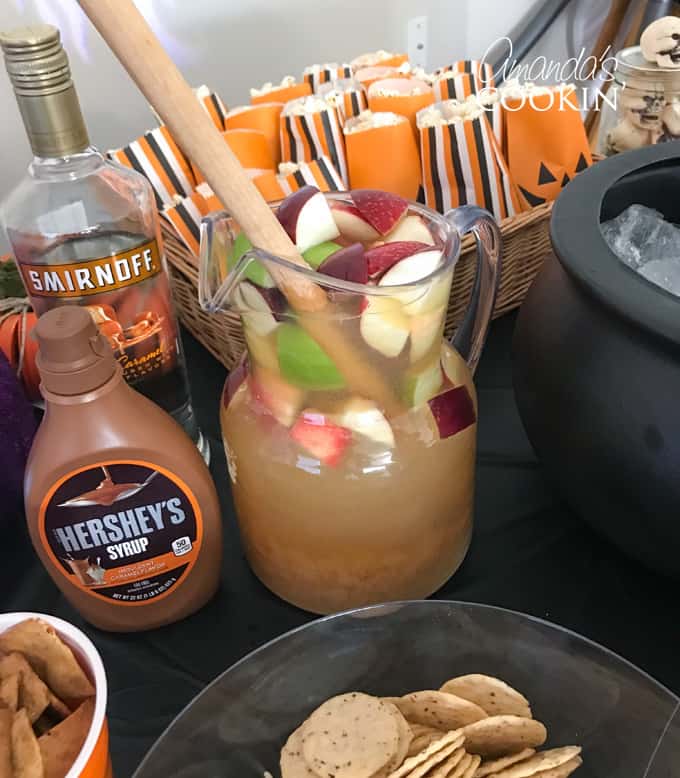 Caramel Apple Sangria
This alcoholic beverage was a huge hit! Such a pretty presentation and it was so delicious! Everyone commented they were unable to tell they were even drinking alcohol. Here's the recipe.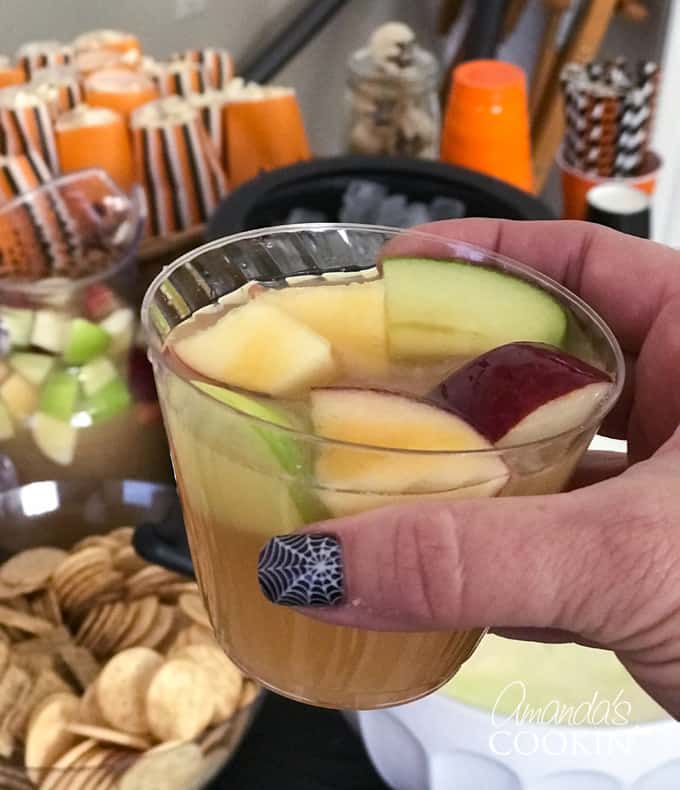 Witch's Cauldron
You can usually find these simple black plastic cauldrons at dollar stores or WalMart and they were great for holding chips and Halloween candy. We used ours to hold ice for the sangria.
Other fun Halloween Food Ideas
Like I said, there are tons of ideas out there! Here are some other Halloween fun foods that I've made over the years.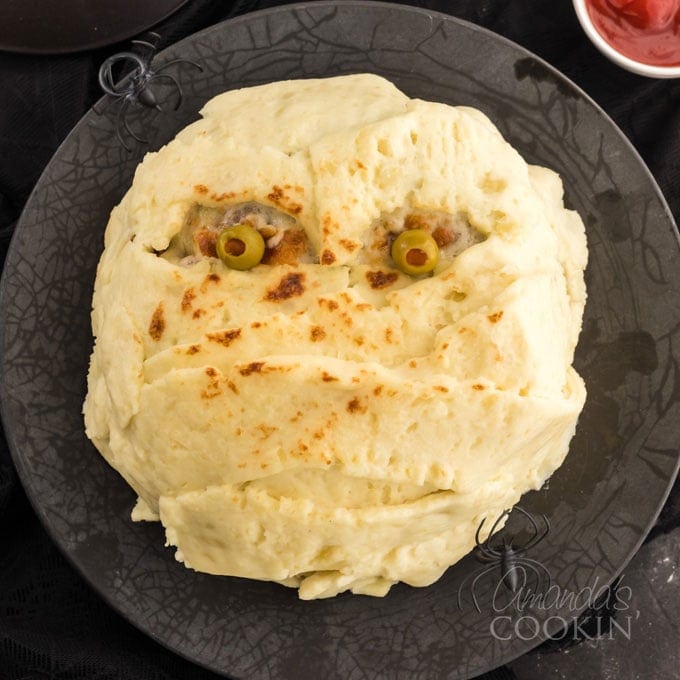 Mummy Meatloaf
If you need a fun Halloween dinner idea for finicky kids or an adult get together, be sure to try my mummy meatloaf!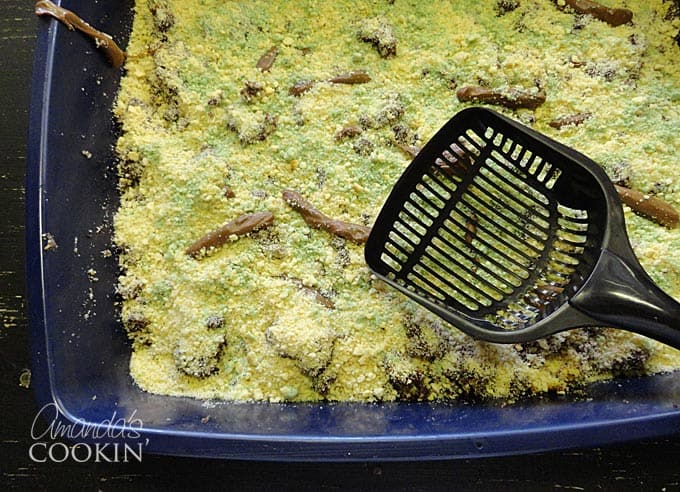 Kitty Litter Cake
While we didn't use any of these for this particular party, we have definitely made them before! My deliciously disgusting Kitty Litter Cake is always a huge hit at Halloween parties! People on Facebook are always asking "why?!" – trick or treat! This is the trick, and it's great fun!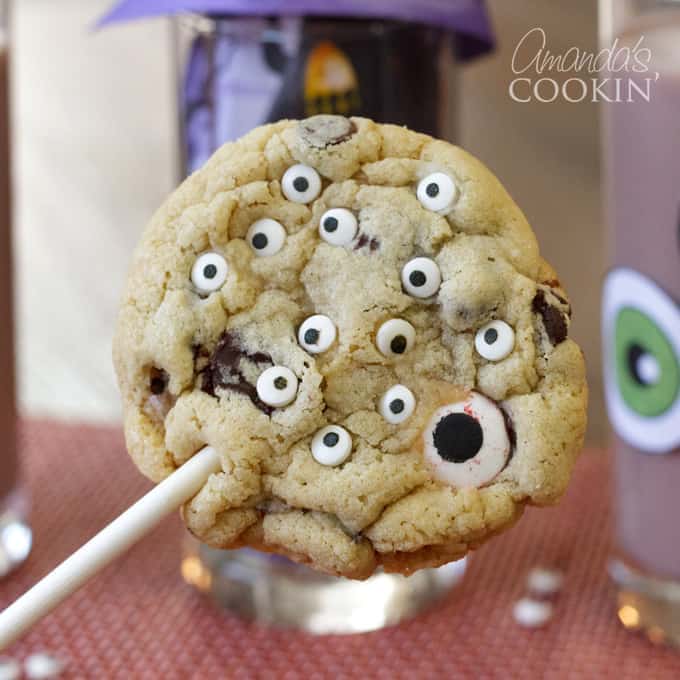 Monster Eyeball Cookies
These monster eyeball cookie pops make the perfect Halloween party treat. Place them on sticks and you have a cute-yet creepy- Halloween dessert idea!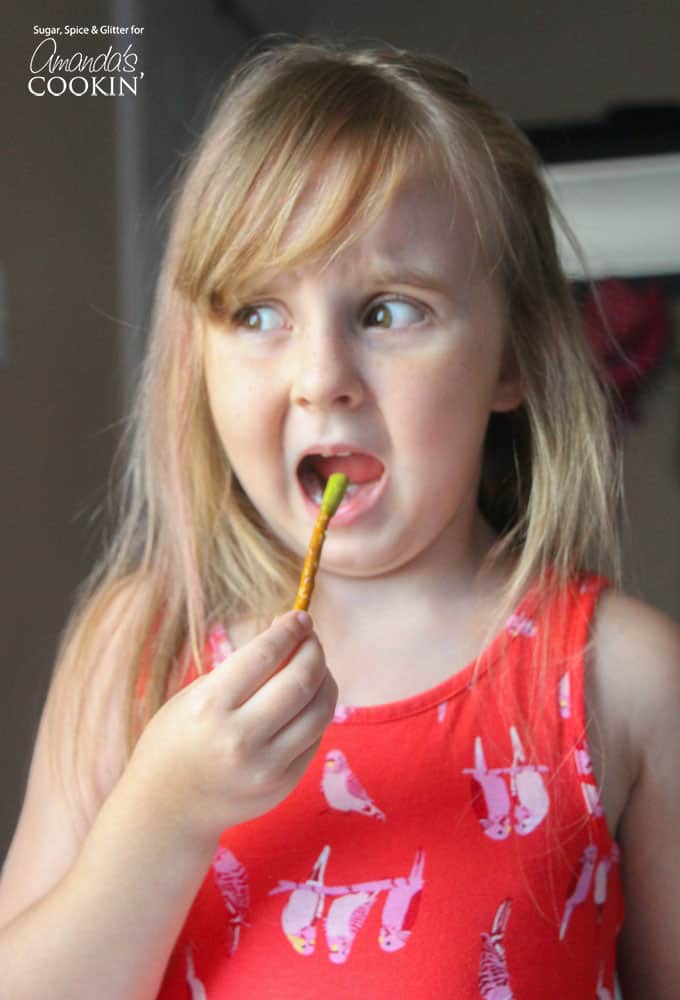 Boogers on a Stick
Another gross idea that kids giggle over are these Boogers on a Stick. Pretzels sticks dipped in green-tinted Velveeta cheese!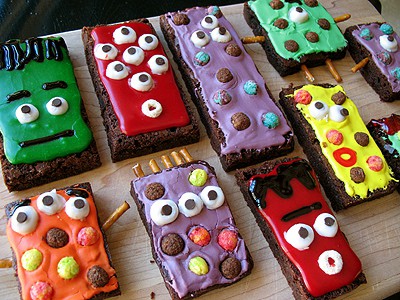 Monster Brownies
I made these adorable Monster Brownies several years ago. The colors are so fun and everyone loves them.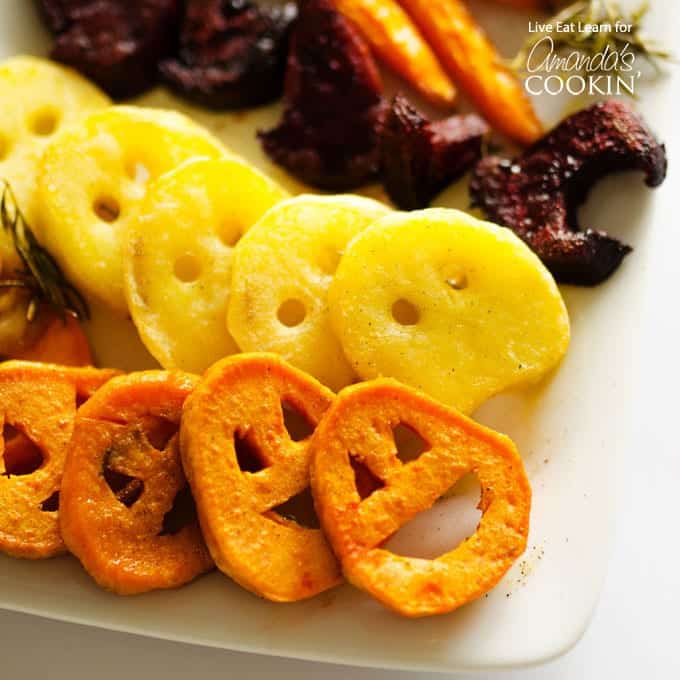 Roasted Halloween Vegetables
Kids don't want to eat their veggies? Make them these roasted Halloween vegetables and they'll gobble them up!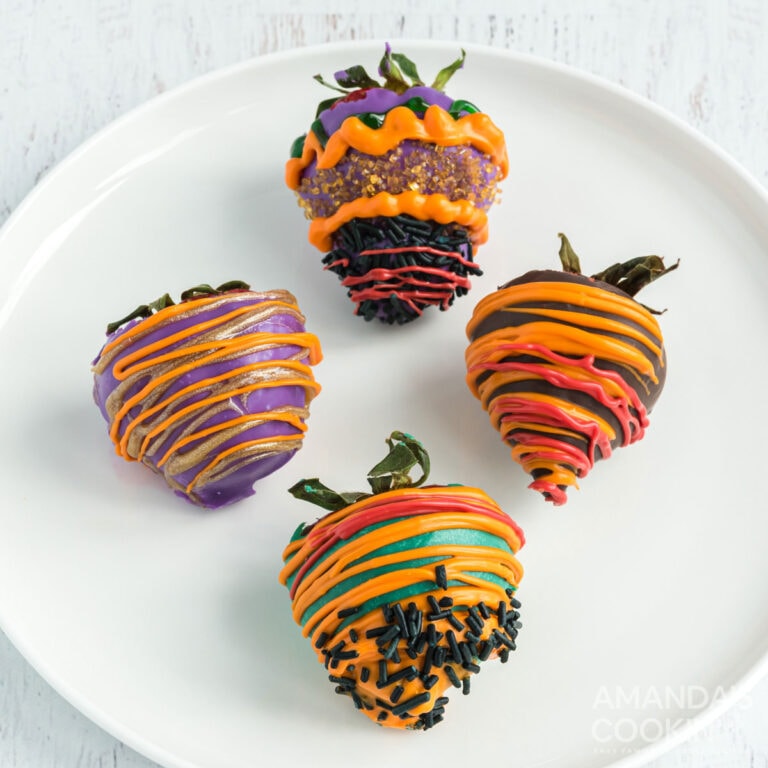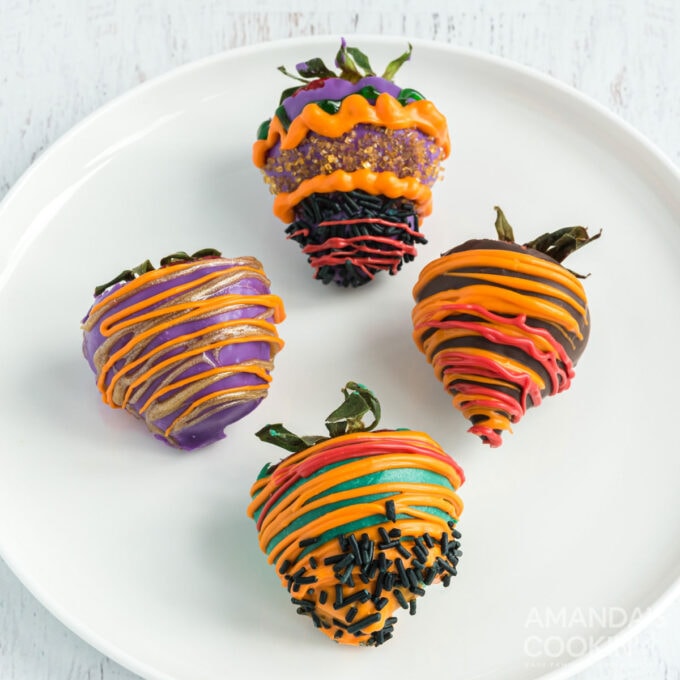 Halloween Chocolate Covered Strawberries
You can easily make these Halloween chocolate covered strawberries with colorful candy melts and some sprinkles! Who doesn't love chocolate covered strawberries already? Take them up a notch for your Halloween gathering.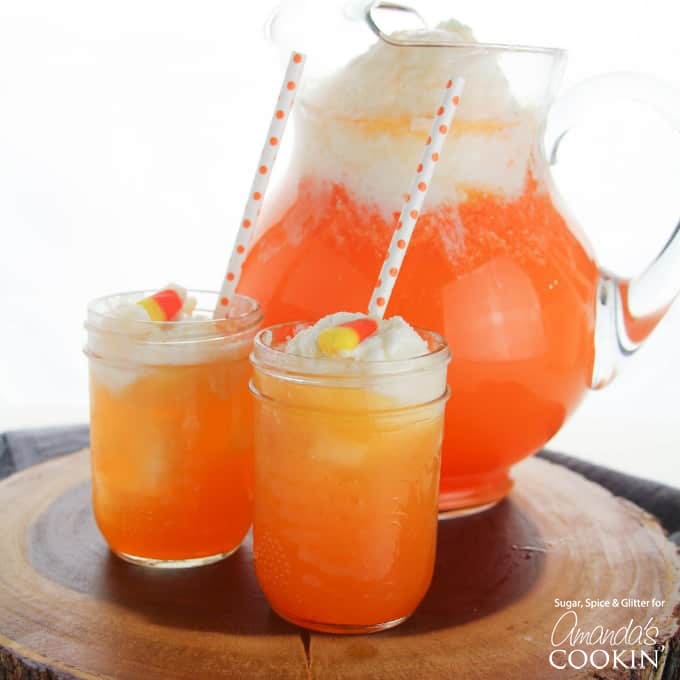 Candy Corn Punch
Candy Corn Punch is perfect for fall get-togethers with friends or a Halloween party. It's non-alcoholic too, so the kids can enjoy it as well!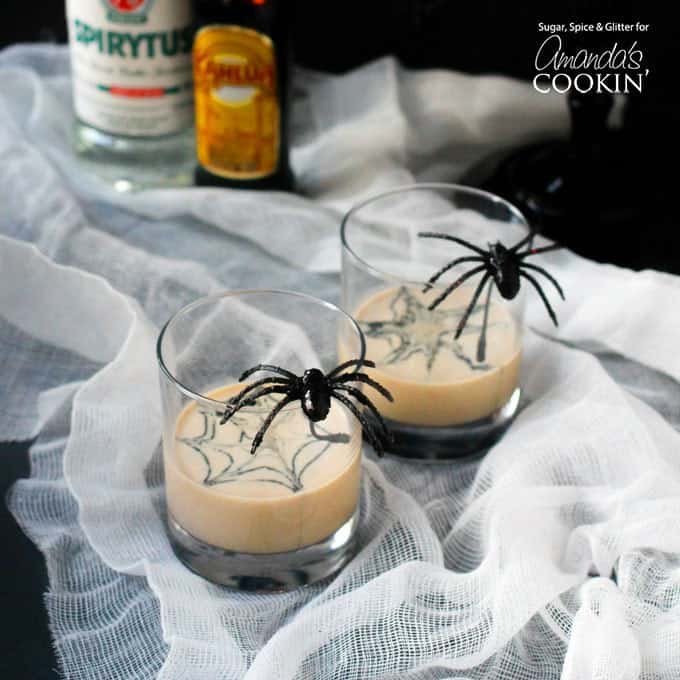 Halloween and Fall Cocktails
For the grown-ups, we have a Spiderweb Cream Cocktail, this Raven Coffee Cocktail, and our Caramel Pumpkin Cocktail!
Hope you have fun at your Halloween party! Check out my craft blog if you need Halloween craft ideas, DIY Halloween decorations, or Halloween party ideas for kids!
This post originally appeared here on Sep 22, 2018.
Amanda Davis is the entrepreneurial mom of four grown children and four step children. She and her husband, Chef Antoine, love to cook together creating recipes for this blog. Amanda also make kid's crafts and creates decorative items for her home. She is a crafting expert and guru in the kitchen and has appeared online and in print publications many times over the years. She is also a craft book author five times over and product developer as well as the owner of
FunFamilyCrafts.com
. You can find her on social media by using the buttons to the left!
Latest posts by Amanda Davis (see all)