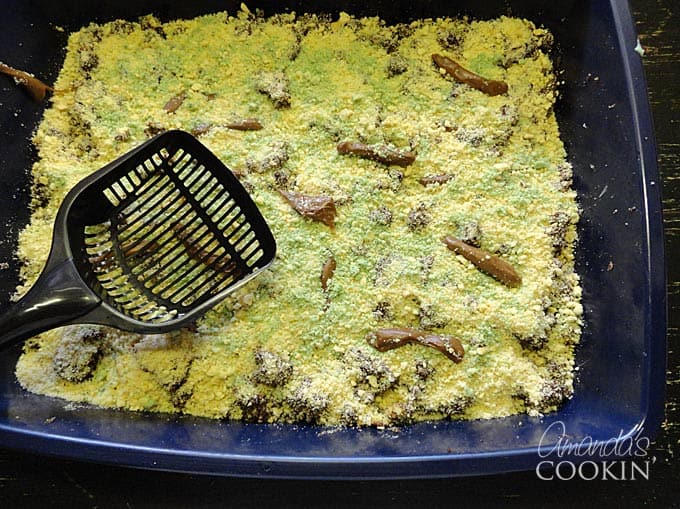 This kitty litter cake recipe has been around for quite a few years. I made one 10 years ago when my daughter was in 5th grade and hosted a Halloween party. A few years ago after she graduated high school she asked me to make the cake again, only this time she was having a group of friends over for a bon fire. So if you want some gross Halloween party food, the kitty litter cake is always a hit! Only the bravest will actually try it, but those that do will giggle, laugh and then say "mmm!".
Kitty Litter Cake Recipe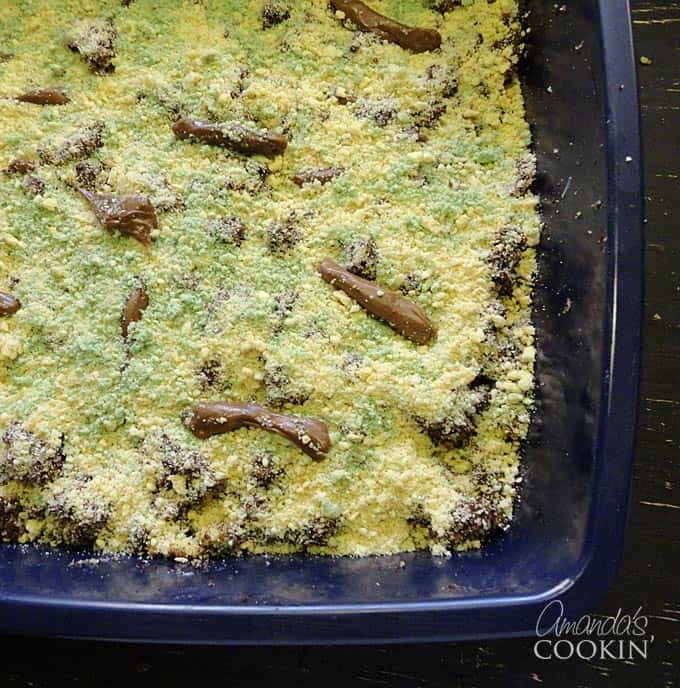 So for those of you who have never eaten or made a kitty litter cake it's basically just cake mix, pudding, cookies and Tootsie Rolls. Let's get started shall we?
There are affiliate links in this post. That means if you buy something from that link, I will earn a small commission, but it won't cost you anything additional. These small commissions help support this site and keep these tutorials free to you! So, thank you if you do :)

One of the main reasons this cake looks so real is due to the small amount of cookie crumbs that you will color with a little bit of green food coloring. This makes it look like the green chloraphyll in cat litter.

The cake itself is made up of two separate baked cake mixes, a chocolate and a white or yellow, crumbled up. Then there's the entire package of vanilla sandwich cookies you'll crush up too.

In a brand new kitty litter pan, you take the two cakes, half of the cookie crumbs, and then you'll add a package of prepared pudding. Vanilla is the norm, but I used pistachio. Once it's mixed up, you heat some Tootsie Rolls in the microwave to soften them and stretch them out to look like turds. Yum.

Then sprinkle the rest of the crumbs on top, then finish with the green crumbs. Add a few more turds and you're done! have fun and Happy Halloween!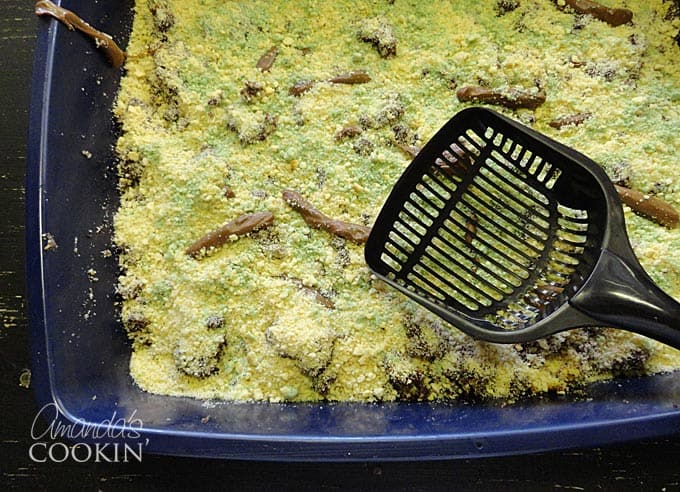 Here's some more Halloween party ideas for you:
Some fun things to add to your Halloween party!