This Buttermilk Ranch Dressing is creamy, tangy and flavorful.  It is the perfect accompaniment to a fresh salad or pair it with a vegetable platter for dipping.  This Buttermilk Ranch Dressing recipe can be your go-to zesty dressing since it has just 10 ingredients and takes only 5 minutes to make!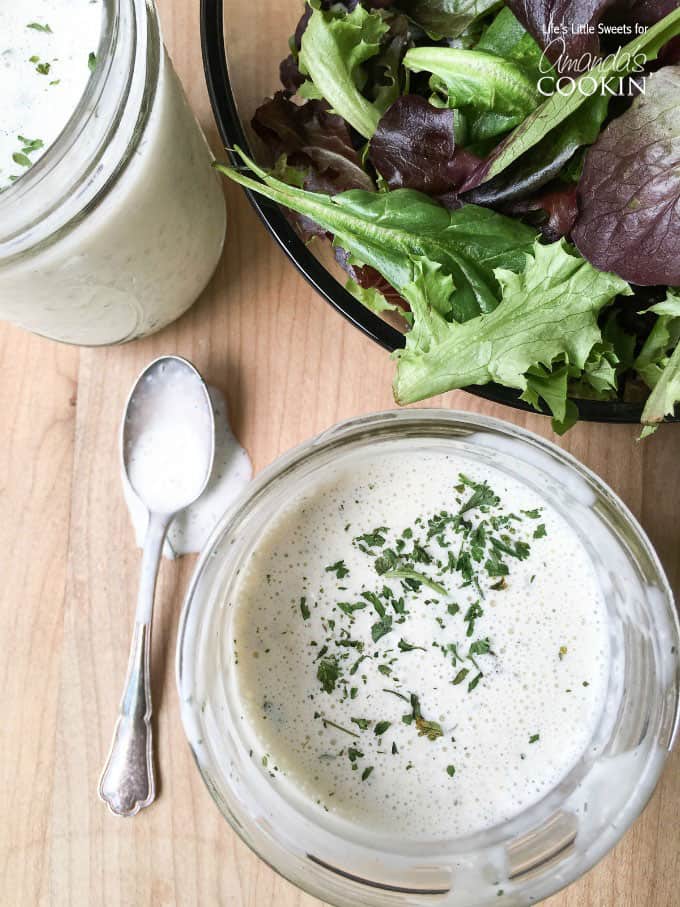 Buttermilk Ranch Dressing Recipe
Buttermilk Ranch Dressing is an indulgence for me because it feels indulgent.  It is so creamy and it has so much flavor, with that "tang" which makes it more interesting than any other dressing.  This is a dressing that has everything, for example, zesty spices like garlic, onion and dill powder.
It really makes a difference to make your own homemade dressing because it doesn't taste processed or have extra ingredients that you do not know how to pronounce.  Read on to hear why this Buttermilk Ranch Dressing has a special place in my heart.
RELATED: Want to know how to make homemade ricotta is 5 minutes? Yes, you read that right! Check out this super simple 5-minute homemade ricotta cheese recipe!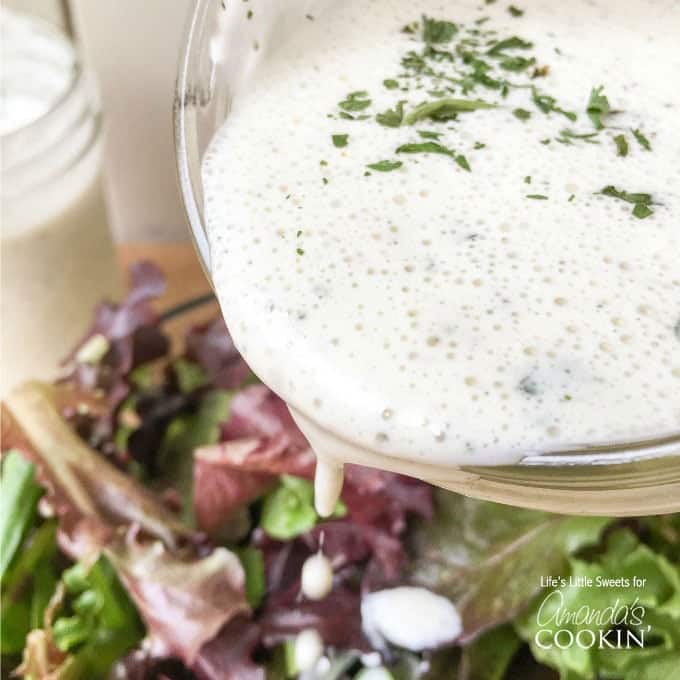 RELATED: if you love dips of all sorts, you'll go crazy over this protein packed Baba Ganoush Hummus! Made from pureeing roasted eggplants- this dip will be a hit with you and your guests!
Ingredients for Buttermilk Ranch Dressing recipe
1/2 cup your favorite mayonnaise
1/2 cup Greek yogurt or sour cream *See notes for substitutions
1/2 cup buttermilk *
1/2 teaspoon white vinegar *
1/2 teaspoon Worcestershire sauce
1 tablespoon dried parsley *
1/2 teaspoon dried dill *
1/2 teaspoon garlic powder *
1/4 teaspoon onion powder
1/4 teaspoon kosher salt
freshly ground black pepper to taste
Kitchen tools you may find useful: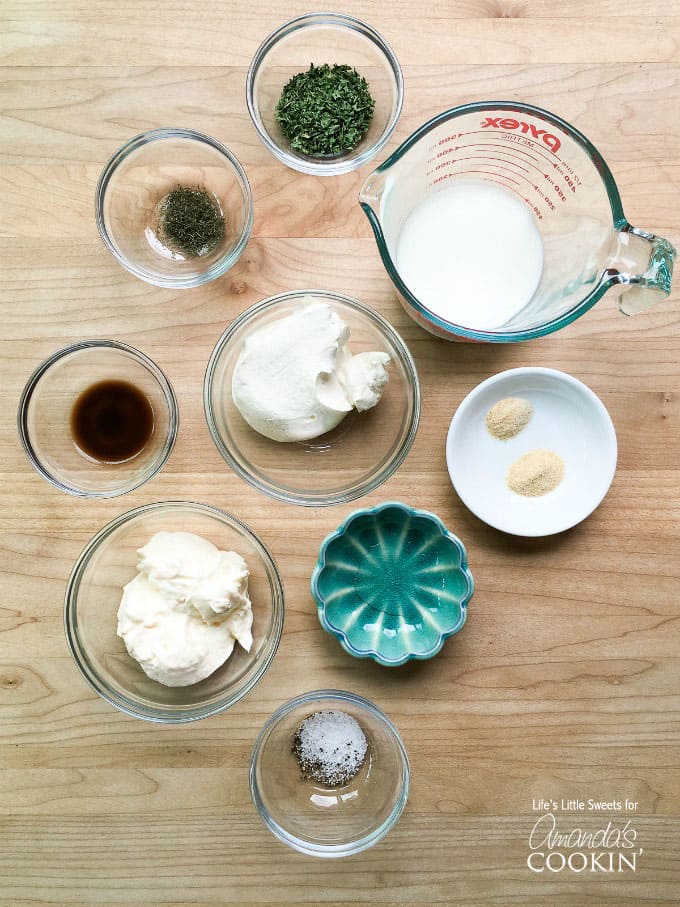 Notes For Substitutions for Buttermilk Ranch Dressing
Here is a list of helpful substitutions that can be made for various ingredients in this recipe:
Greek yogurt and sour cream

:  You can use the same amount of either Greek yogurt and sour cream.  I have tried both with this recipe and they both taste great.  Greek yogurt (any fat content that you prefer) gives you a lighter option versus sour cream and it has a nice tangy flavor that complements this recipe well.

Buttermilk

:  If you do not have buttermilk on hand, you can put 1-1/2 teaspoons freshly squeezed lemon juice (or the same amount of white vinegar) in a wet measure, then fill to the 1/2 cup line with whole milk and allow it to stand for 5-10 minutes.  You can use other reduced fat milks if you want but it might be less creamy.

1/2 teaspoon white vinegar

:  1/2 teaspoon freshly squeezed lemon juice

1 tablespoon dried parsley

: 3 tablespoons freshly minced parsley

1/2 teaspoon dried dill

: 1-1/2 teaspoons freshly minced dill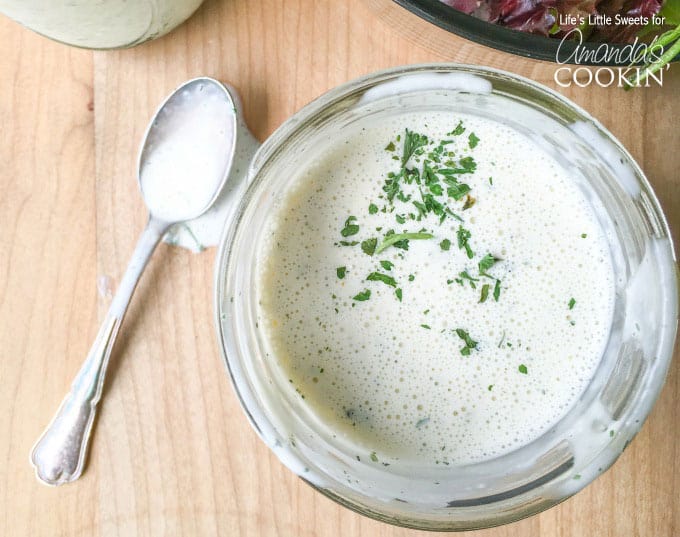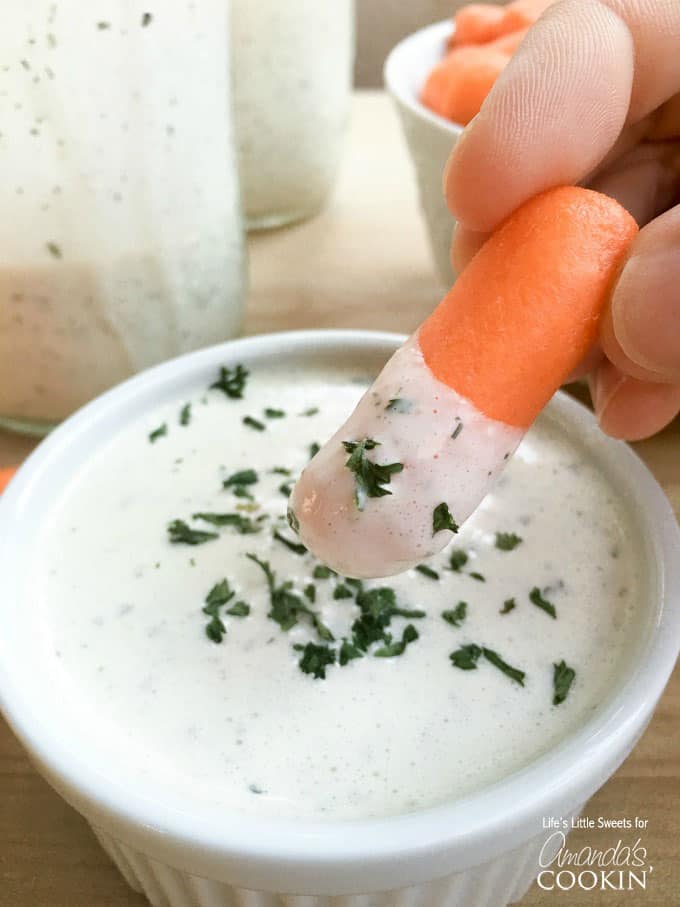 Recipe Attribution
This recipe is inspired by The Best Homemade Buttermilk Ranch Dressing from 5 Heart Home and also makes a perfect vegetable dip!
Let me explain why this Buttermilk Ranch Dressing has a special place in my heart.  When I was pregnant with my daughter, I was absolutely addicted to Chick fil A's "Buttermilk Ranch Sauce."  I think their sandwiches and their amazing waffle fries are really just vehicles for their sauces!  My "post-pregnancy" self still adores that sauce and that tangy, buttermilk ranch flavor is something I will always crave.  This recipe has more of a zesty kick compared to Chick fil A's and it tastes so clean, it's very creamy.  I am like, "Chik fil A – what?" when I have this Buttermilk Ranch Dressing in front of me!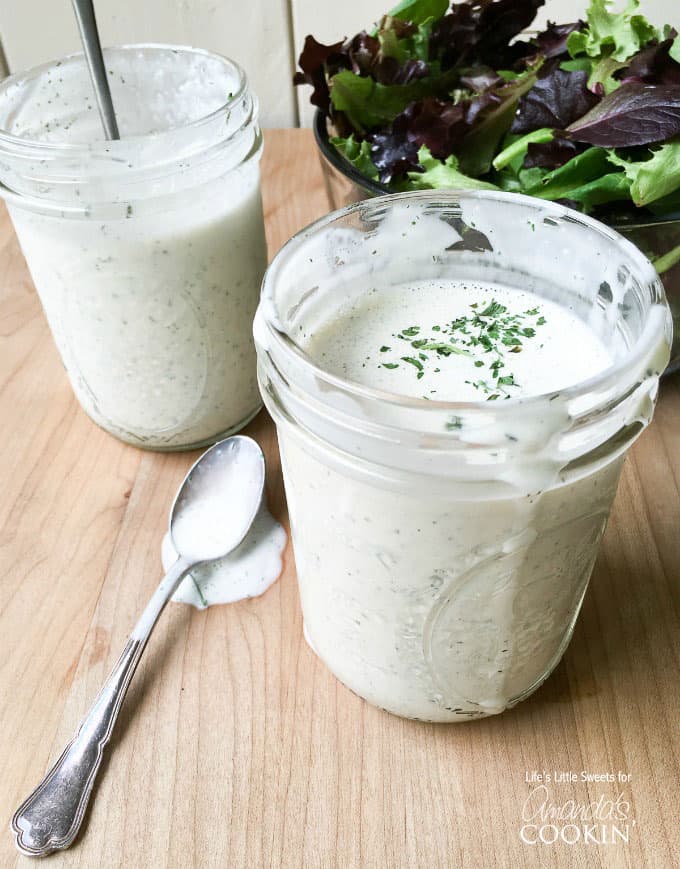 This Buttermilk Ranch Dressing can be made and used right away but I feel that really sings when it has been in the refrigerator overnight or for at least 4+ hours. The extra time allows the spices to hydrate, marinate together and thicken nicely.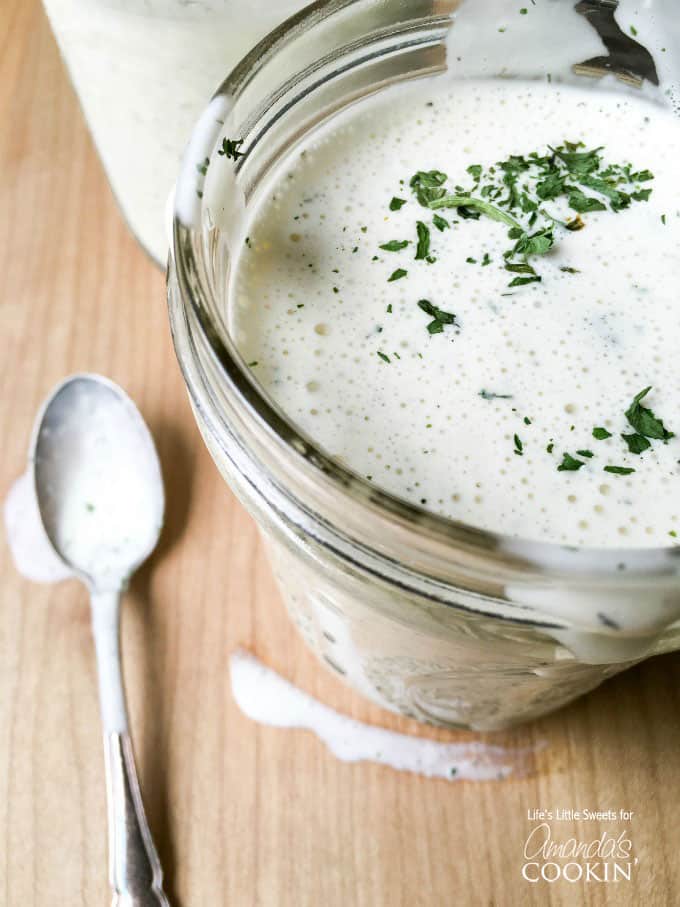 I hope you enjoy this Buttermilk Ranch Dressing recipe as much as I have!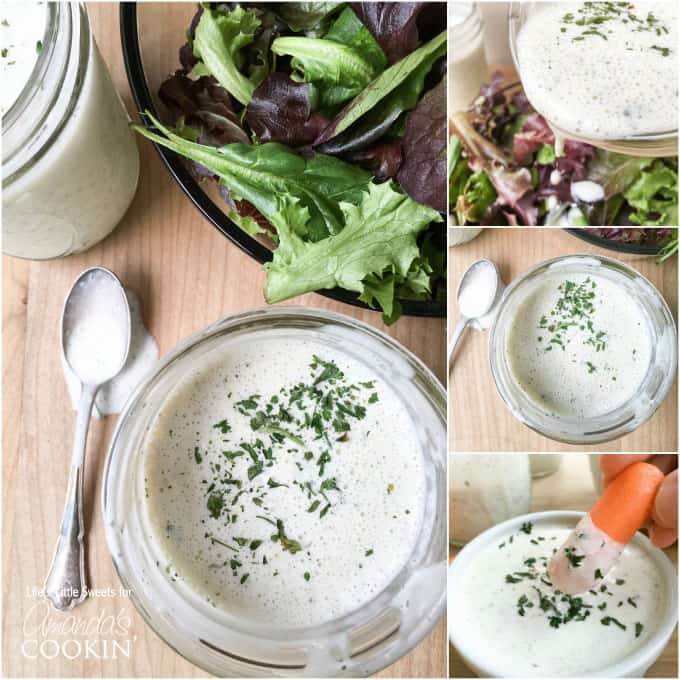 SCROLL DOWN FOR THE PRINTABLE VERSION OF THIS RECIPE
MORE RECIPES YOU MIGHT LIKE:
If you love ranch dressing you'll probably adore this Skinny French Onion Dip too. It's perfect for a guilt free snack!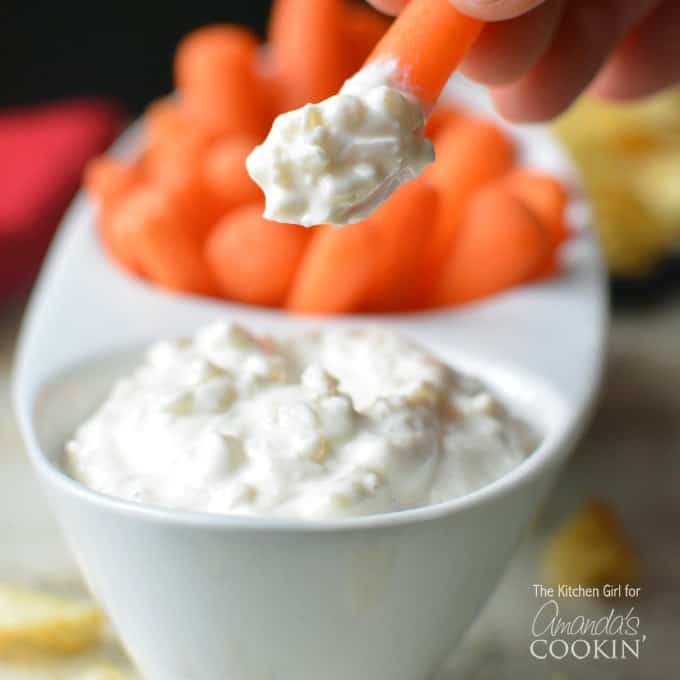 Eat a refreshing lunch with this simple to make chopped salad. Easy to eat in public, no large pieces hitting your chin!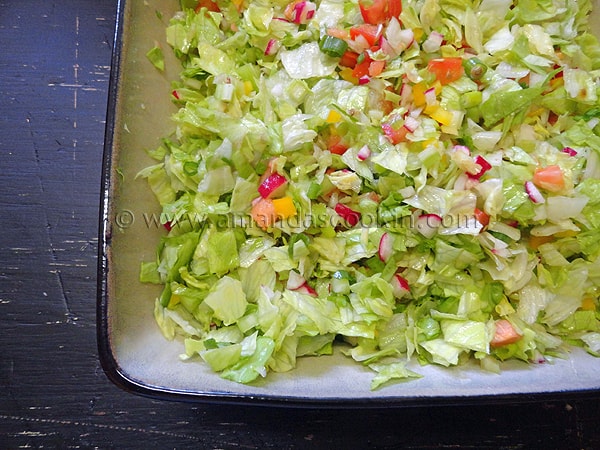 Another favorite dressing is this Creamy Dill Dressing. Again, like the ranch dressing it's perfect for salads and for dipping.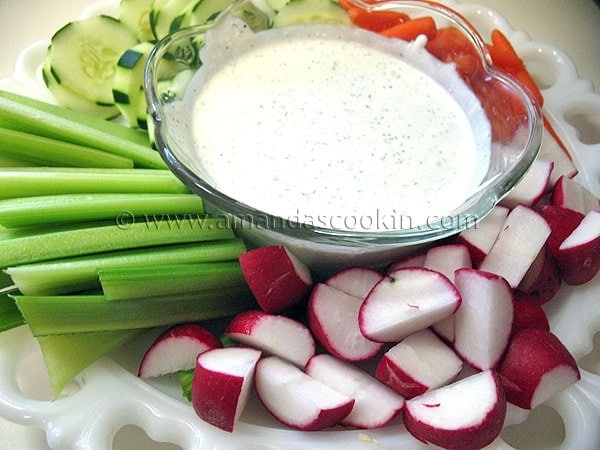 Want even more free recipes? Be sure to join my newsletter for FREE recipes and craft ideas sent to your email inbox every week.