Fall is almost here, which for me means salted caramel and pumpkin in everything – so why not add them to a cocktail? As strange as it may seem, this Caramel Pumpkin Cocktail is a delicious way to enjoy all of your favorite fall flavors in one icy cocktail, similar to our Apple Pie Cocktail!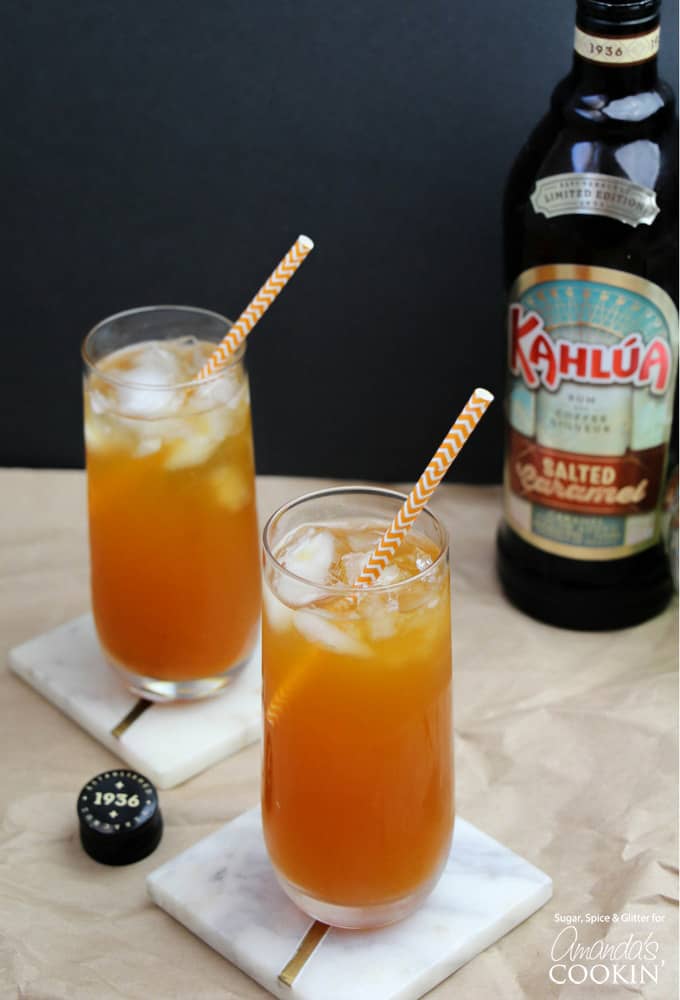 Caramel Pumpkin Cocktail Recipe
Initially, when I wanted to make a caramel pumpkin cocktail I thought of updating our Salted Caramel Coffee Cocktail recipe to include a couple tablespoons of pumpkin puree – but that felt like cheating. (And that recipe will totally work with a couple tablespoons of pumpkin puree, by the way.)
So, I instead decided to come up with a completely new recipe and experiment with something that I don't see a lot when it comes to pumpkin drinks – an icy, cold cocktail. Most of the time, pumpkin is added to hot drinks – pumpkin spice lattes and the like – but sometimes you don't want a late night dose of caffeine or something hot in order to enjoy a pumpkin drink.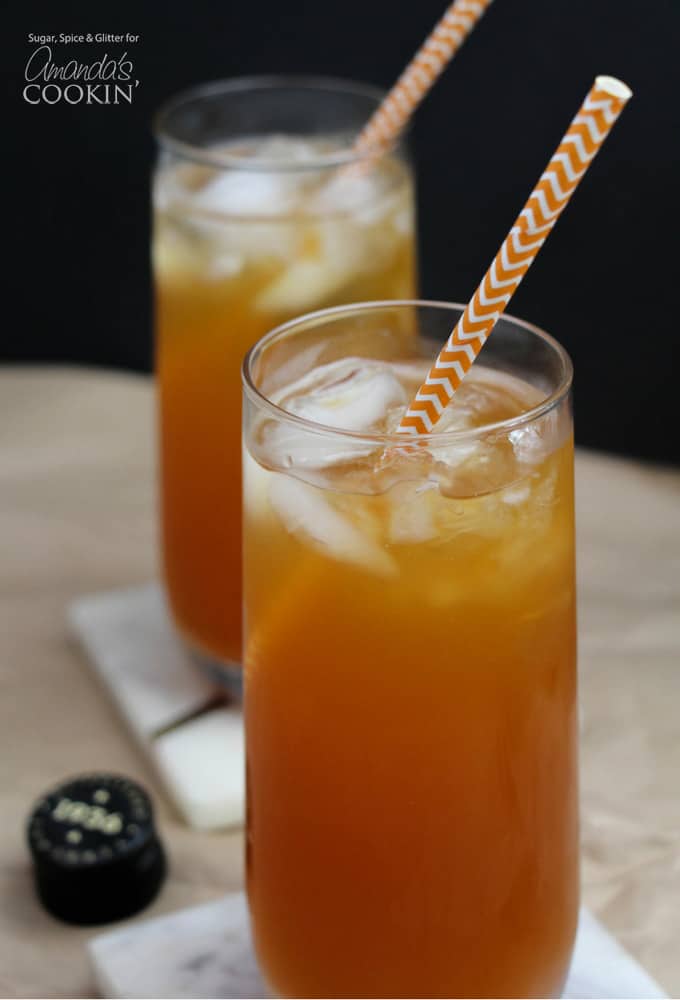 As weird as it may seem, the inspiration for this Caramel Pumpkin Cocktail comes from one of my favorite children's series – Harry Potter. In the series, pumpkin juice is often mentioned as the (virgin) drink of choice and on its own, pumpkin juice doesn't sound very appetizing.
So to keep the pumpkin subtle and refreshing, this boozy pumpkin drink has an apple cider base – diluting the pumpkin in apple juice or apple cider transforms it from just palatable into completely delicious and refreshing.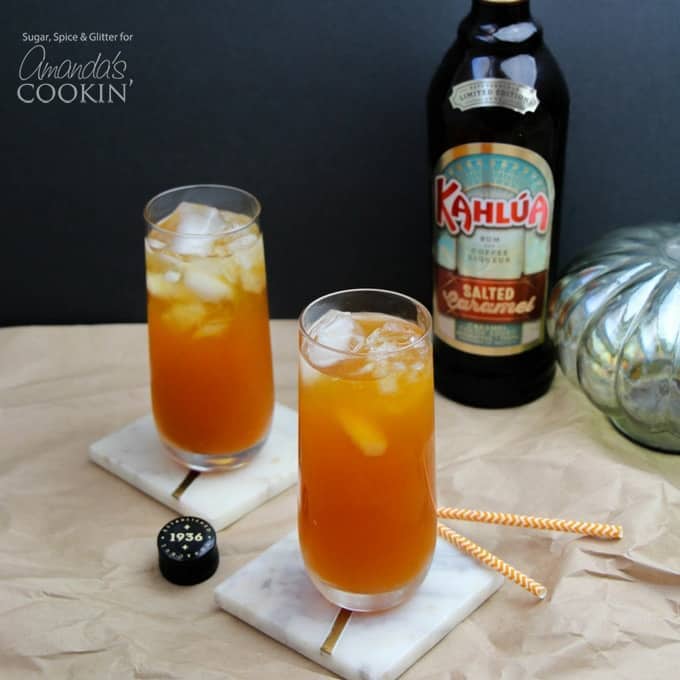 You could definitely use alcoholic apple cider to make this cocktail but keep in mind that will be one strong drink! I used regular apple cider, stirred in some pumpkin puree, strained it and spiked it with salted caramel liqueur – and the results are scrumptious!
This is an unexpected yet delicious cocktail, perfect for early fall get-togethers when you still want a cold cocktail but are starting to get that pumpkin craving. With this drink, you get to enjoy the best of all worlds!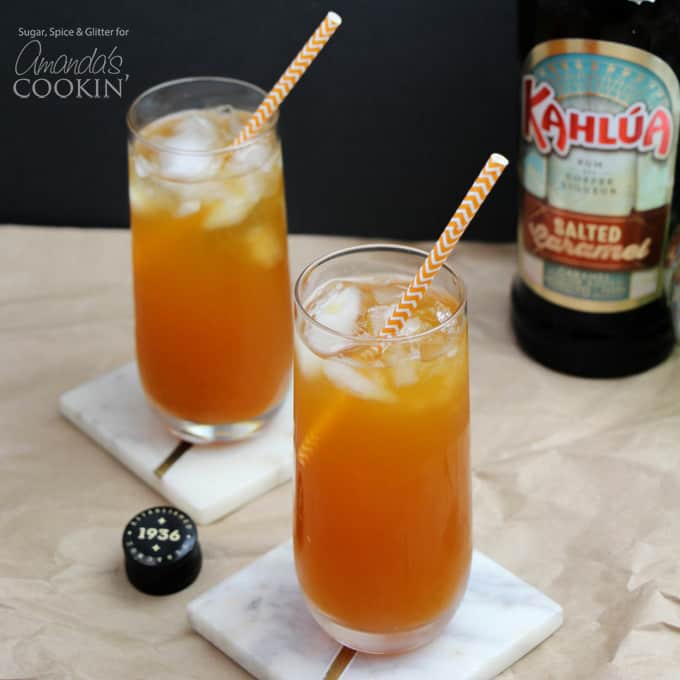 Ingredients to Make a Caramel Pumpkin Cocktail
2+ cups apple cider
1 Tablespoon pumpkin puree
4 oz Kahlua Salted Caramel
Ice
Tip: you can add more pumpkin puree to taste and you can substitute apple juice for the apple cider
Kitchen Tools You May Find Helpful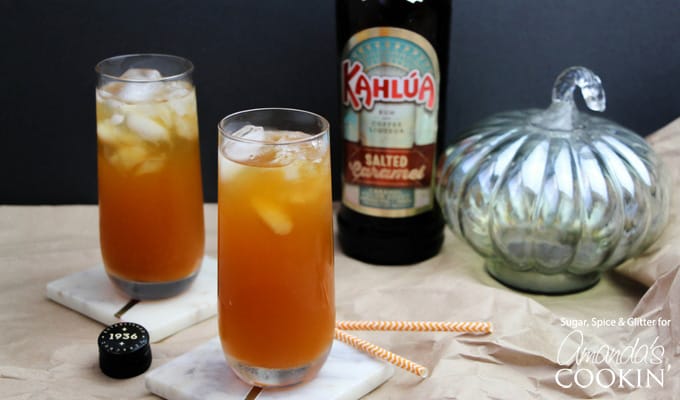 Are you a pumpkin fan? What's your favorite fall cocktail recipe? Make sure to check out our Peach Pie Cocktail for another amazing cocktail concoction! And for a non-alcoholic drink, this slow cooker pumpkin spice latte is perfect for holiday gatherings or Christmas morning.
Speaking of caramel, don't miss this delicious caramel apple dip to top off your fall gathering or Halloween party!
Ingredients
2+ cups apple cider
1 Tablespoon pumpkin puree
4 oz Kahlua Salted Caramel
Ice
Instructions
Fill two serving glasses with ice and set aside.
Place the apple cider in a pitcher or cocktail shaker.
Add the pumpkin puree and stir or shake well.
Strain the mixture into your serving glasses and top each with 2oz of Salted Caramel Kahlua.
Top with extra apple cider as desired.
Enjoy immediately.
7.8.1.1
727
https://amandascookin.com/pumpkin-cocktail/
Amanda Formaro, AmandasCookin.com
Jennifer loves sharing positive parenting inspiration, easy recipes for the foodie family, and fun kids' activity ideas. Her goal is to provide a safe space for busy moms to come find great resources and reliable ideas to help you & your family thrive.
Latest posts by Jennifer Tammy (see all)