This Red Velvet Lasagna is a layered, no-bake dessert recipe with a crunchy graham cracker crust, cream cheese layer, red chocolate pudding layer and topped with Cool Whip, chocolate shavings, and cherry syrup. This dessert has 4 delicious, velvety layers and uses a 9 x 13-inch pan, making the perfect dessert to bring to a gathering.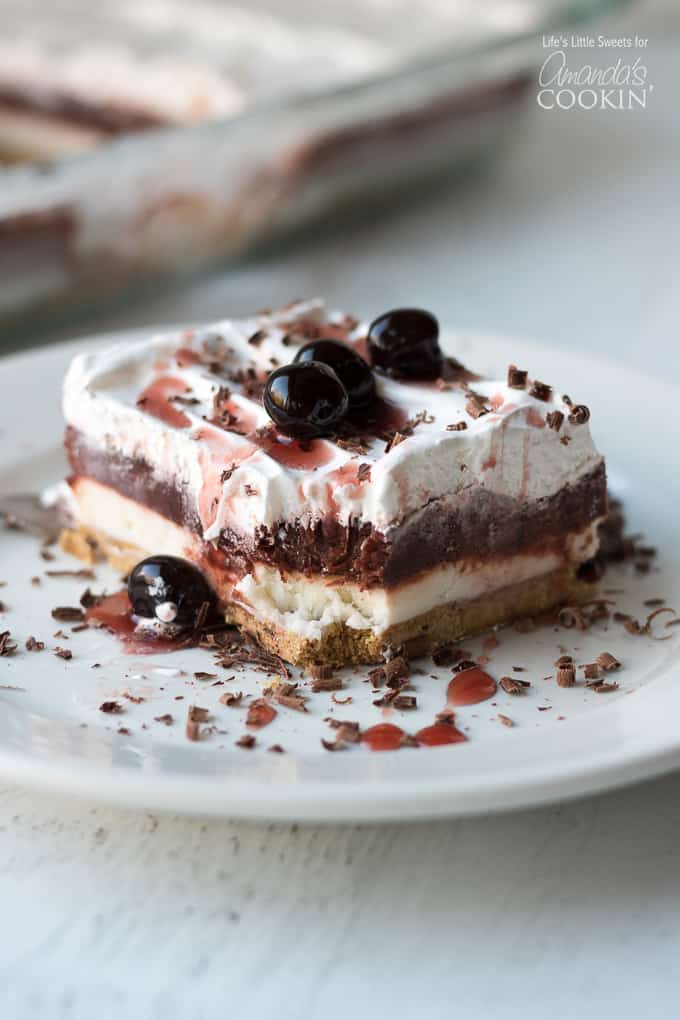 Red Velvet Lasagna
Hi Everyone, this Red Velvet Lasagna has all the makings of a traditional lasagna/lush dessert with a "romantic" twist: red velvet. Looking forward towards Valentine's Day, I came up with this Red Velvet Lasagna to be the perfect "something red" for the holiday. Honestly, I think anything red velvet-themed is appropriate to be served at any time of the year – just sayin'. Who else thinks of Valentine's Day months ahead? I'm a romantic at heart and if I had to choose a favorite holiday, V-day – as I like to call it – would be it because it's all about love.
I highly suggest using an offset spatula for spreading the cream cheese, pudding and Cool Whip layers. This enables you to get nice, even layers. To get super defined slices, I recommend freezing the dessert for 6 hours or overnight to get it solidly frozen. Doing this makes it easier to handle since it is a pudding dessert. Once you take it out of the freezer, it defrosts pretty quickly within a half hour. I think it tastes best when cold/chilled versus room temperature.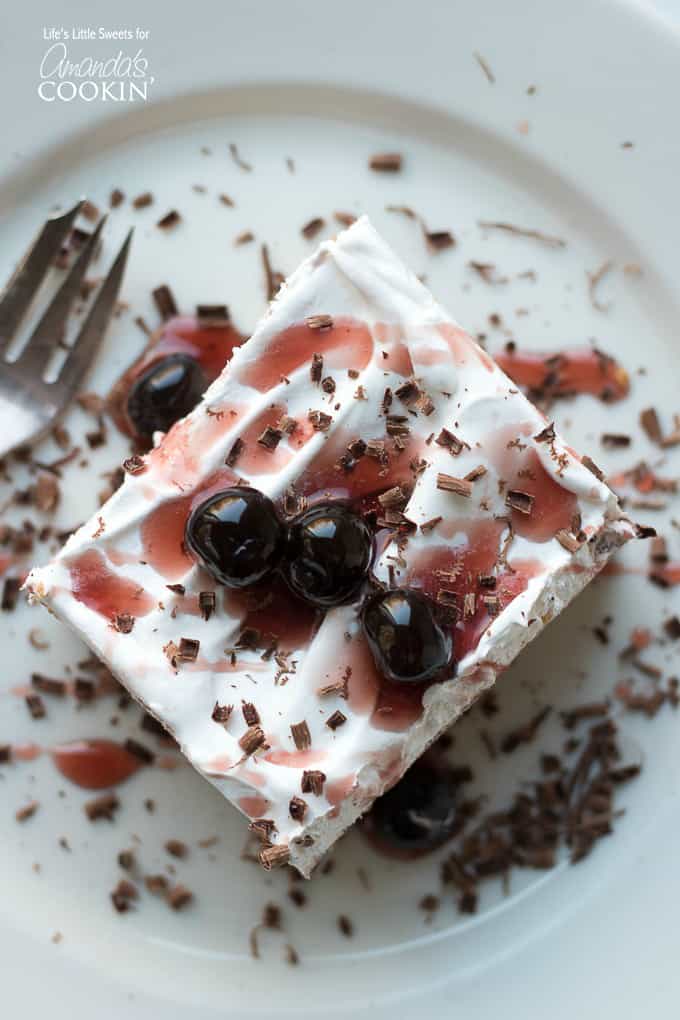 If you will be topping this layered dessert with shaved or curled chocolate, you can use a vegetable peeler to get little chocolate curls or a box grater to get shaved chocolate. It goes really well with the chocolate pudding and really dresses up the dessert for serving. You can also get creative by selecting some festive sprinkles to sprinkle on top, depending on the holiday or occasion that you are having this dessert.
For serving, you can use cherries in syrup like wild dark cherries (shown in the photos) but you can also use strawberry/raspberry syrup to drizzle if you prefer.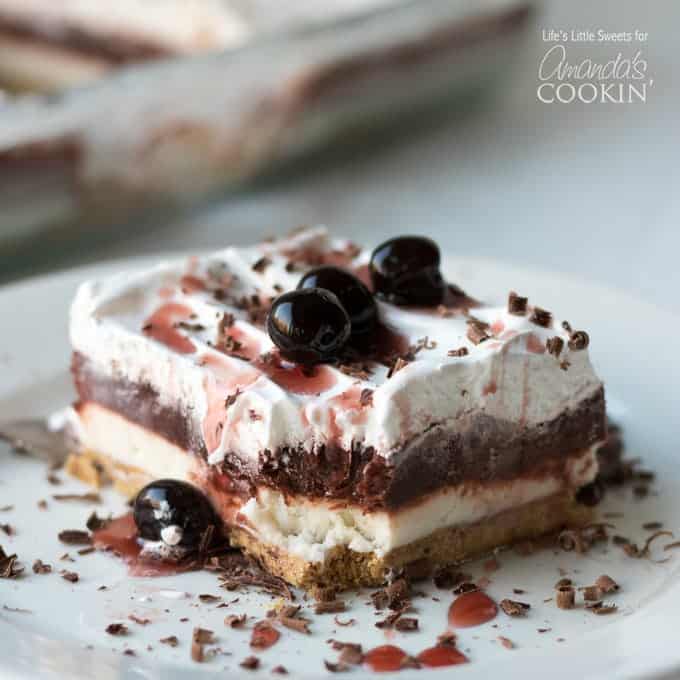 Ingredients for Red Velvet Lasagna
1st Layer – Bottom Graham Cracker Crust Layer:
2 (5 ounce) packages of regular or vanilla graham crackers, finely ground using a food processor or manually crushing
8-10 tablespoons of unsalted butter, melted and cooled *I give a range for the amount because I have found that depending on the humidity, you may need more or less butter
2nd Layer – Cream Cheese Layer:
2 (8 ounce) packages cream cheese, softened to room temperature
1 cup granulated white sugar
1-2 tablespoons apple cider vinegar or freshly squeezed lemon juice
3rd Layer – Red Chocolate Pudding Layer:
2 (3.4 ounce) packages Jello instant chocolate pudding mix
3 cups milk
red food coloring (about 60 drops)
4th Layer – Whipped & Toppings Layer:
1 (8 oz) container whipped topping (I used Cool Whip), you can substitute the same amount whipped cream
shaved or curled dark chocolate, amount to taste for garnishing
a drizzle of cherry, strawberry or raspberry sauce – I use wild cherries in syrup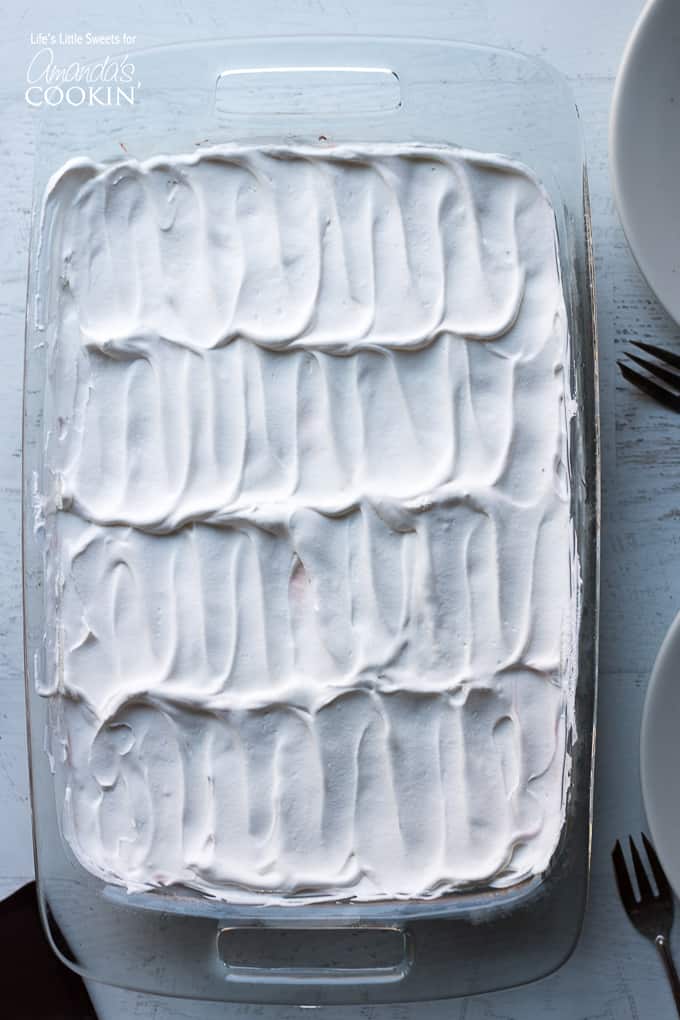 Kitchen Tools for Red Velvet Lasagna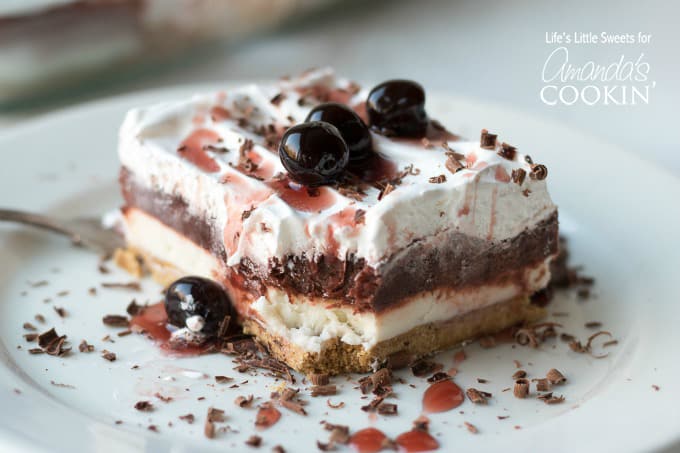 I know you will love this Red Velvet Lasagna!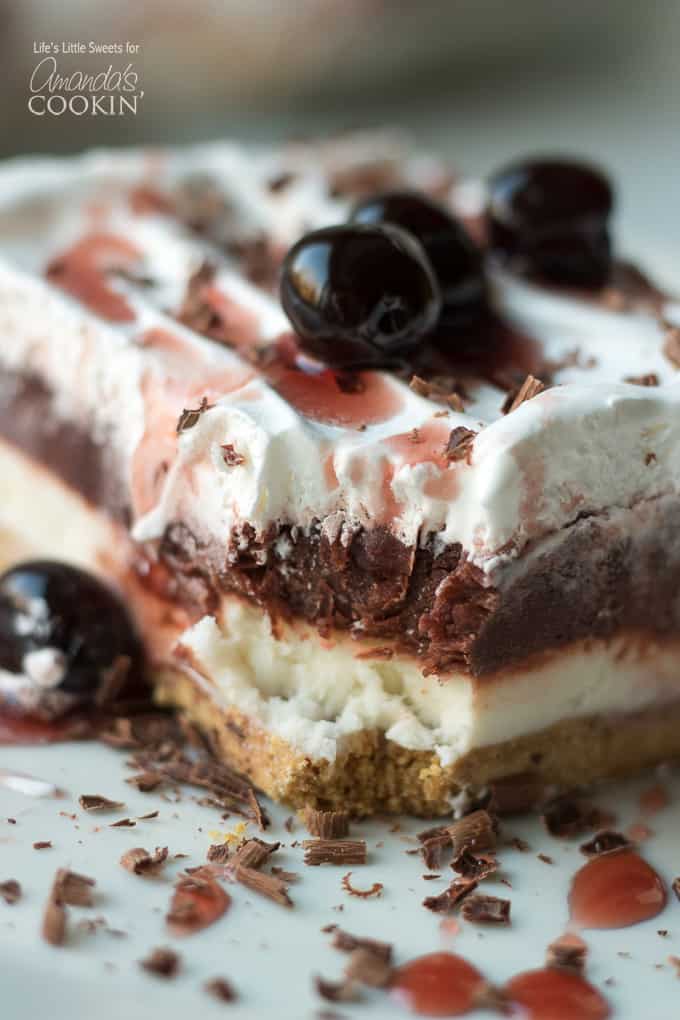 Don't forget to check out more lasagna and lush dessert favorites below!