This Coconut Cream Lush recipe is light, creamy and filled with coconut deliciousness. It's a one-pan dessert that feeds a crowd and even has a no-bake crust option for those hot weather days. Just like this Pineapple Dream Dessert, this coconut cream lush recipe will be your new go-to dessert for any gathering!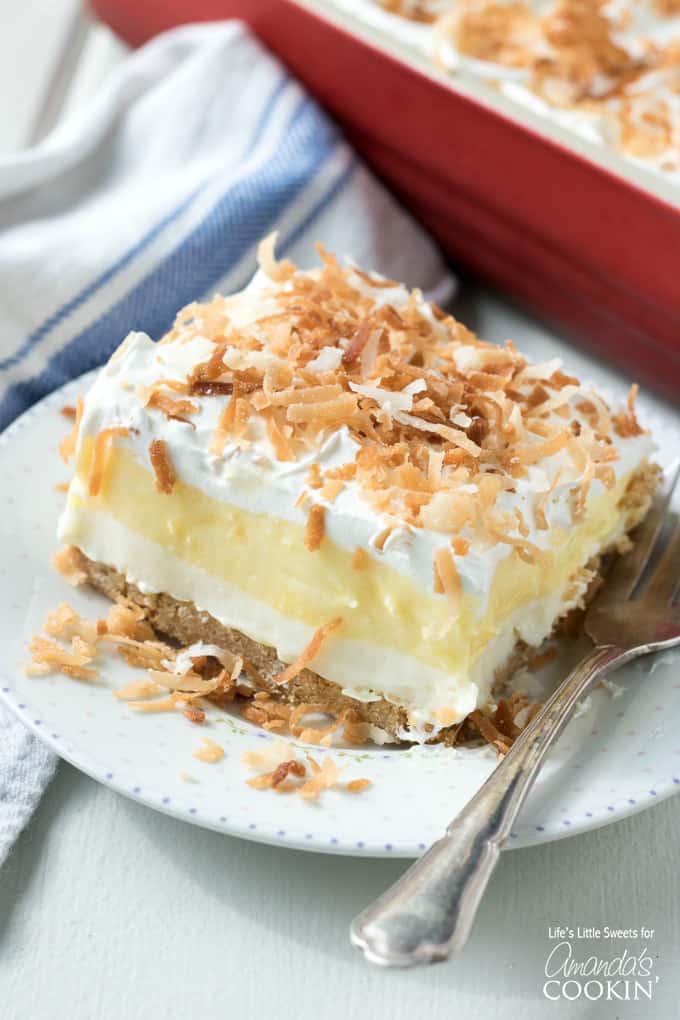 Coconut Cream Lush
Hello Everyone, boy do I have a treat for you! This Coconut Cream Lush.
Did you see my previous Lemon Lush recipe? I love that these "lush" recipes are not too sweet, so you can really enjoy it without being overwhelmed by sweetness! It's the perfect, cool, one-pan dessert for picnics, and any kind of warm weather gathering, like say, Mother's Day, Memorial Day, 4th of July or Labor Day.
I just love the simplicity of this dessert and what's different about this Coconut Cream Lush versus my previous Lemon Lush is that I give an option to make it "no-bake" using a graham cracker crust. Yay for keeping those hot weather days cool! Of course, I also include the traditional baked crust option too.
RELATED: Don't miss our Banana Cream Lush with Bananas Fosters Sauce! If you love simple but easy desserts that'll rock your world- you'll go crazy over this one!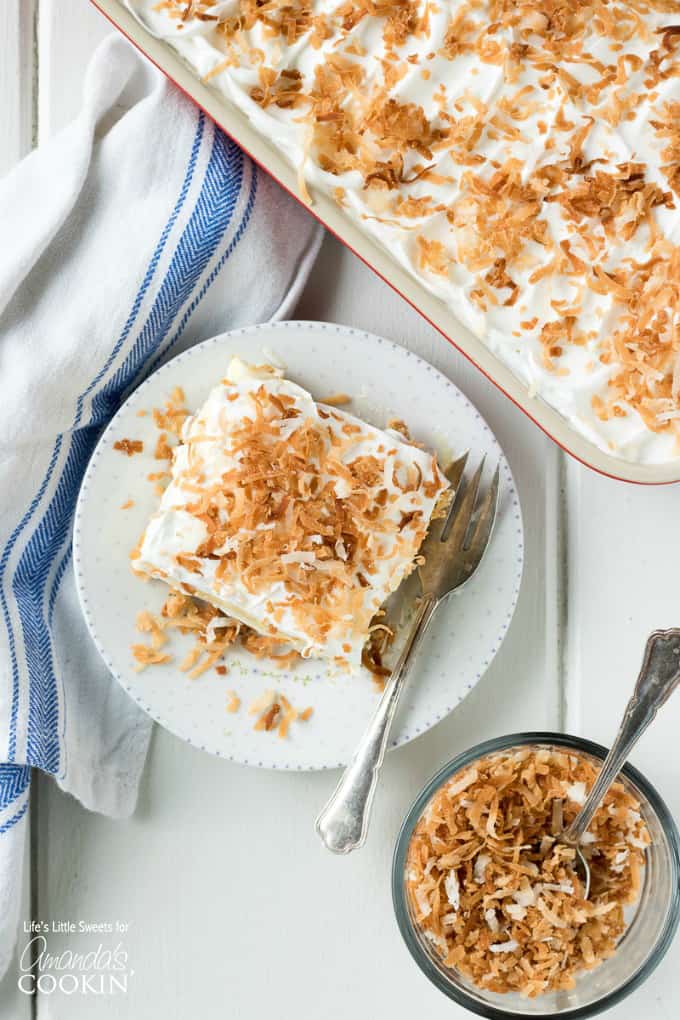 Ingredients for Coconut Cream Lush
Graham Cracker Crust (for no-bake crust option)
2 packages of regular graham crackers
5-8 tablespoons of unsalted butter, melted and cooled *I give a range for the amount because I have found that depending on the humidity, you may need more or less butter
Bottom Pecan Crust Layer (for baked crust option)
2 cups all-purpose flour
1 cup unsalted butter, melted and cooled
1/2 cup finely chopped or food processor processed pecans
1/4 cup granulated white sugar
Cream Cheese Layer
2 (8 ounce) packages cream cheese, softened to room temperature
1 cup granulated white sugar
1-2 tablespoons fresh squeezed lemon juice
Coconut Cream Pudding Layer
2 (3.4 ounce) packages instant coconut cream pudding mix *my local grocery stores do not carry this flavor perhaps because of the region but Amazon Prime has it
4 cups milk (you can also do 3 1/2, if you want it slightly thicker)
Whipped Topping & Toasted Coconut Garnish Layer
1 (8 ounce) container whipped topping (I used Cool Whip), you can substitute the same amount whipped cream
1 cup toasted coconut flakes (unsweetened)
Optional: Sprinkle finely chopped pecans on top

Kitchen Tools for Coconut Cream Lush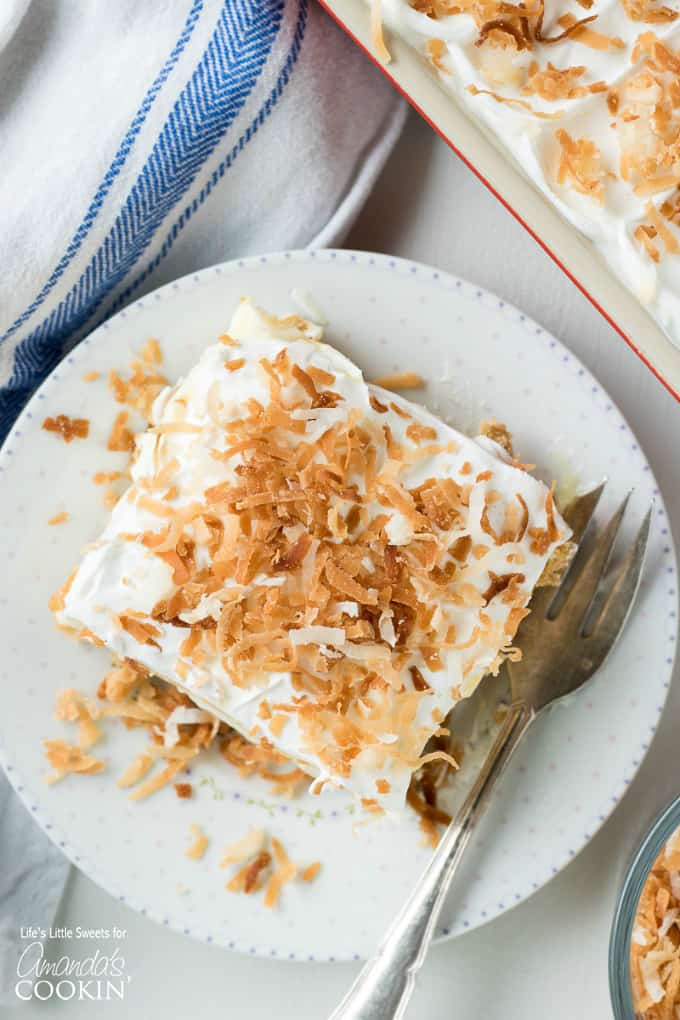 You can freeze the Coconut Cream Lush overnight (at least 6 hours) to get more defined slices.  Make sure you use a sharp knife to cut down into the bottom crust first before removing with the spatula. It will defrost fairly quickly.
Do not freeze if you substituted homemade whipped cream for the whipped topping because I can not guarantee the results.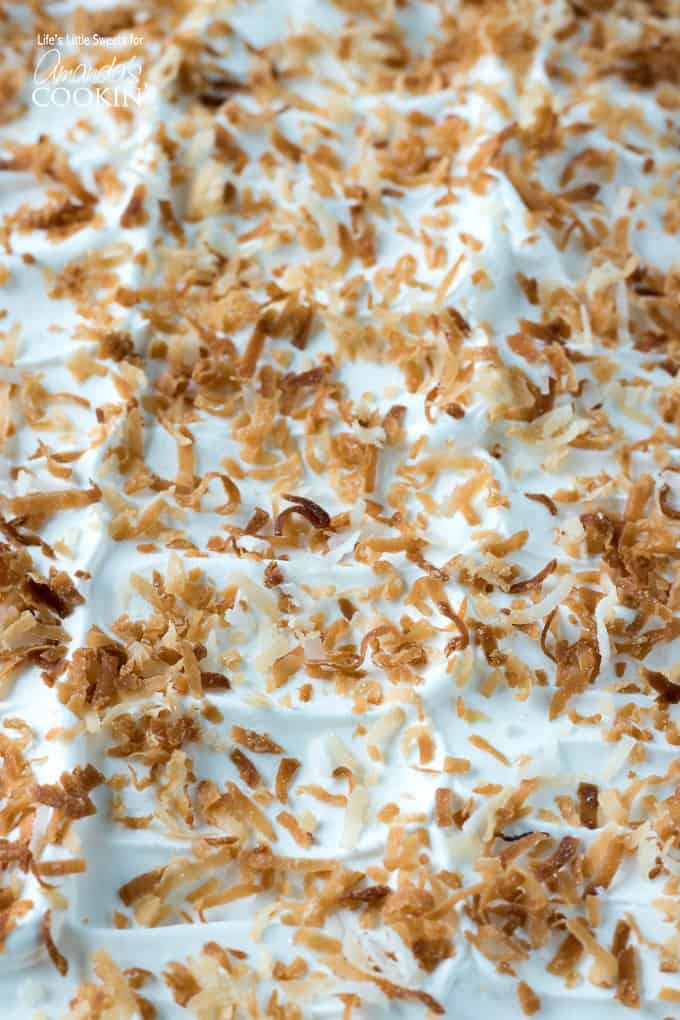 Those toasted coconut flakes add a nice crunchy texture to this smooth as silk dessert.
I suggest using an offset spatula for spreading the layers and make sure it's clean before starting a new layer.
After refrigerating, for serving to show more defined layers, you can take a butter knife or offset spatula and "wipe" along the sides and the layers will show nicely.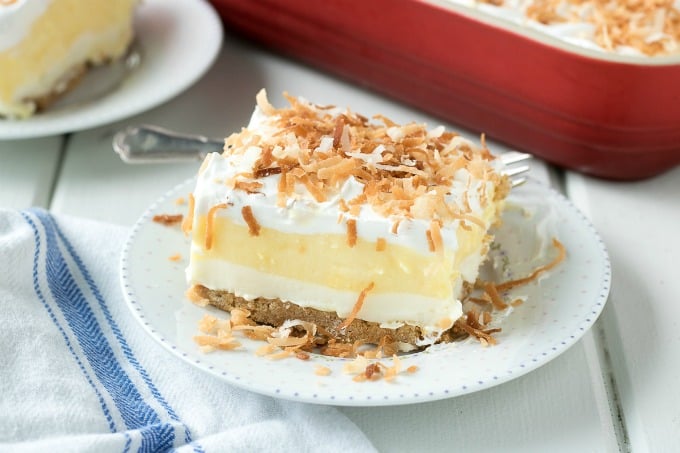 I know you will enjoy this Coconut Cream Lush, it's so light and delicious you will want more than one slice! 
Looking for even more one-pan dessert recipes for this summers BBQ's, potluck's, or holidays? Check out…