Banana Split Dessert is a light and sweet Banana Cream Lush recipe topped with chocolate sauce, maraschino cherries, and pineapple. Enjoy this delightful dessert at any summer holiday, potluck or BBQ! (12 slices)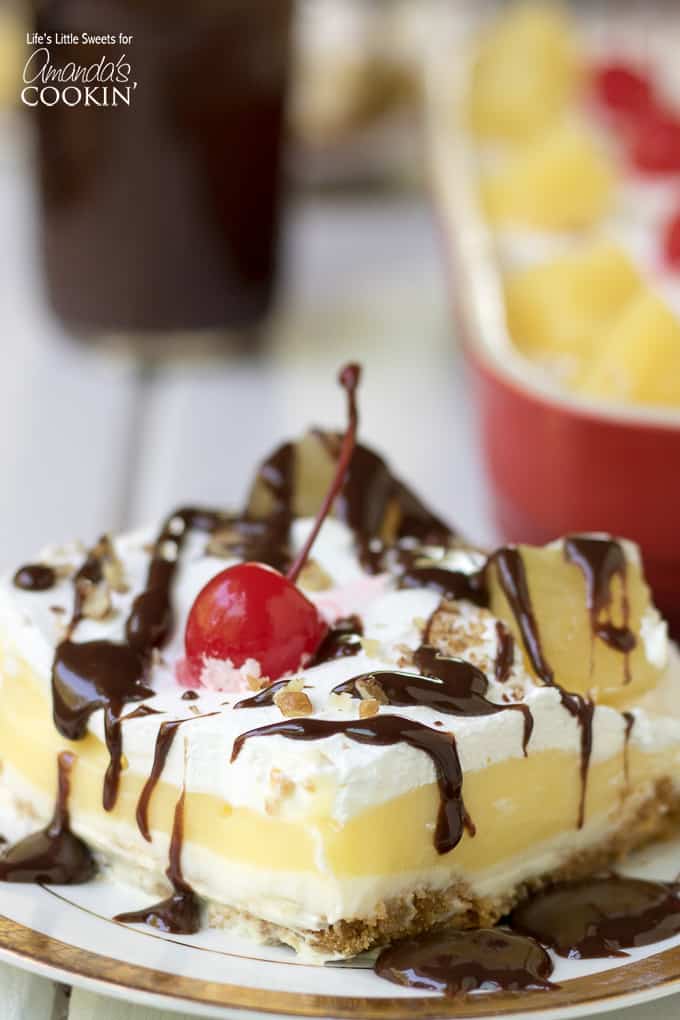 Banana Split Dessert
Hello Everyone, I am here with another awesome Lush recipe, this time, it's Banana Split Dessert Lush.
Did you see my recent Banana Cream Lush with Bananas Foster Sauce? This Banana Split Dessert is a different version of that. Have you seen my Coconut Cream, Lemon, and Mocha Lush recipes? They are also great options for summer dessert ideas and just like this Banana Cream Lush, they feed a crowd with 12 big slices per recipe.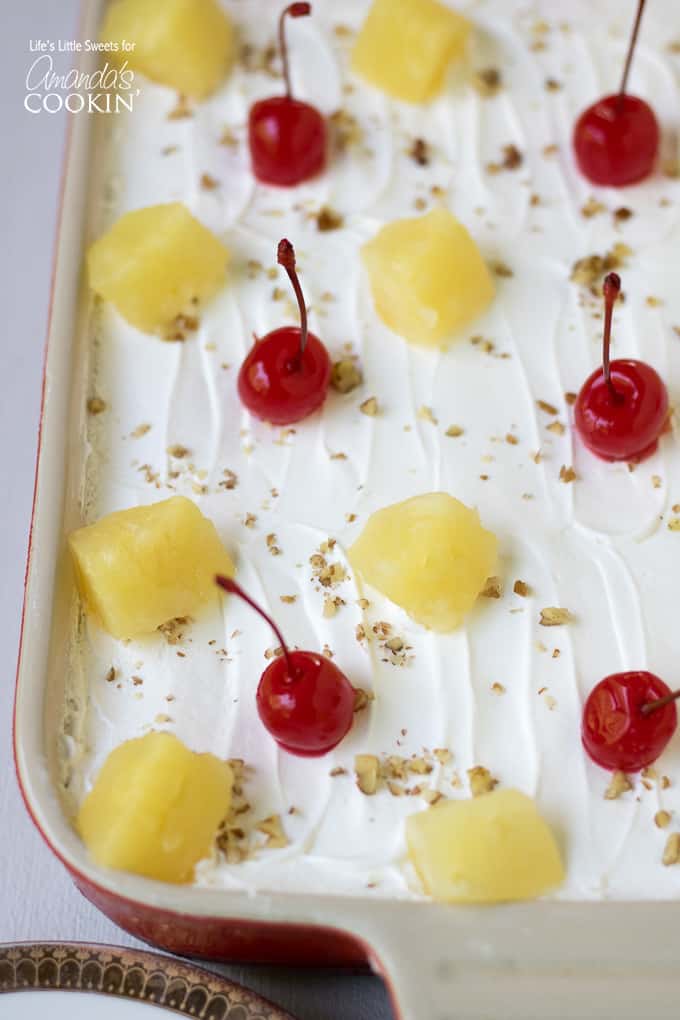 Ingredients for Banana Split Dessert
Bottom Graham Cracker Crust Layer (for no bake crust option):
2 (5 ounce) packages of regular, honey or vanilla graham crackers, finely ground using a food processor or manually crushing
5-8 tablespoons of unsalted butter, melted and cooled *I give a range for the amount because I have found that depending on the humidity, you may need more or less butter
Bottom Pecan Crust Layer (for baked crust option):
2 cups all-purpose flour
1 cup unsalted butter, melted and cooled
1/2 cup finely chopped or food processor processed pecans (great for the mini food processor)
1/4 cup granulated white sugar
Cream Cheese Layer (2nd Layer):
2 (8 ounce) packages cream cheese, softened to room temperature
1 cup granulated white sugar
1-2 tablespoons fresh squeezed lemon juice
Banana Cream Pudding Layer (3rd Layer):
2 (3.4 ounce) packages instant banana cream pudding mix
4 cups milk (you can also do 3 1/2, if you want it slightly thicker)
Whipped & Toppings Layer (4th Layer):
1 (8 ounce) container whipped topping (I used Cool Whip), you can substitute the same amount whipped cream
2-3 chopped pecans or walnuts (this would go if you chose the bottom pecan crust option too)
maraschino cherries (I use a 10 ounce jar, 284 grams) – there will be some extra leftover for serving individual slices, if people want more
1 can (20 ounce/1 pound 4 ounces/567 grams) pineapple chunks – there will be extra for serving individual slices, if people want more
chocolate sauce to drizzle over slices
right before serving: 1 freshly sliced banana (optional)

Kitchen Tools Needed for this Banana Split Dessert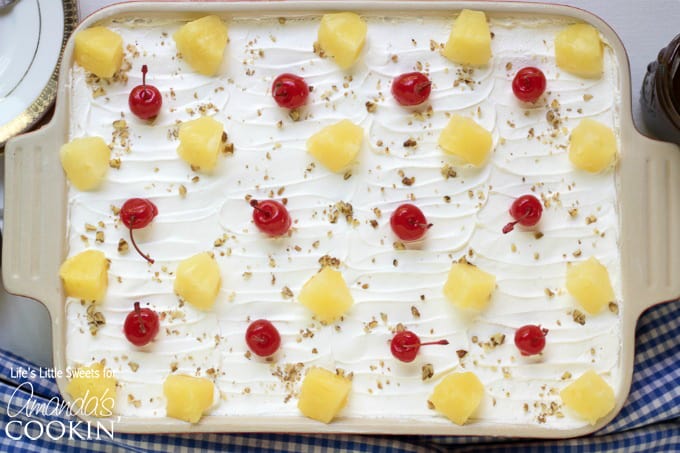 This is a perfect one-pan dessert recipe to bring along to work parties, BBQ's, picnics, family outings and more!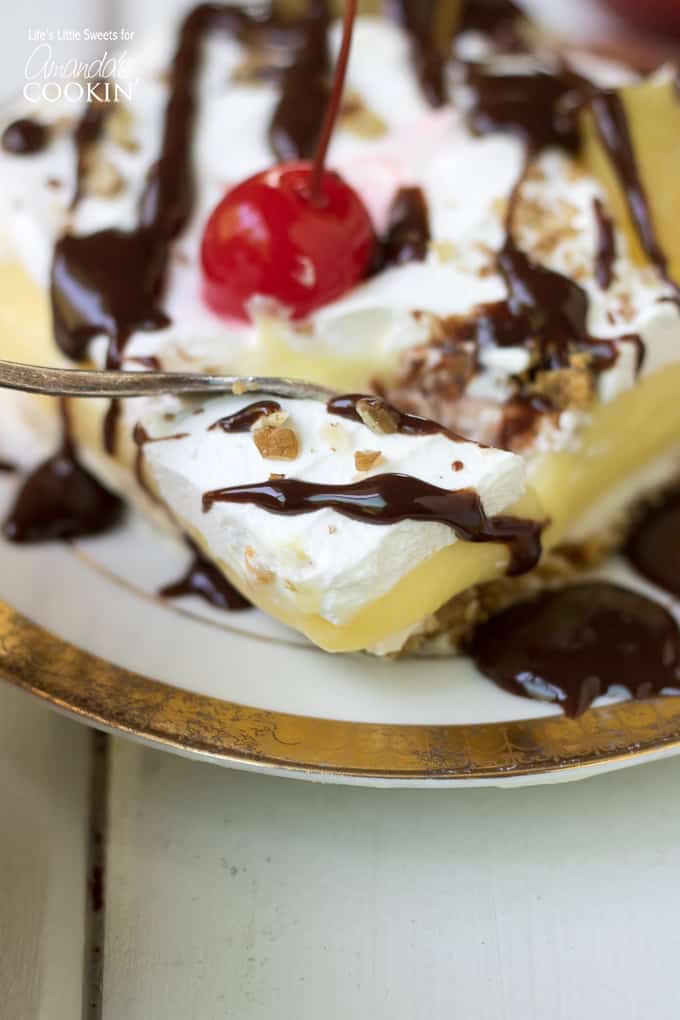 You are going to love this Banana Split Dessert recipe!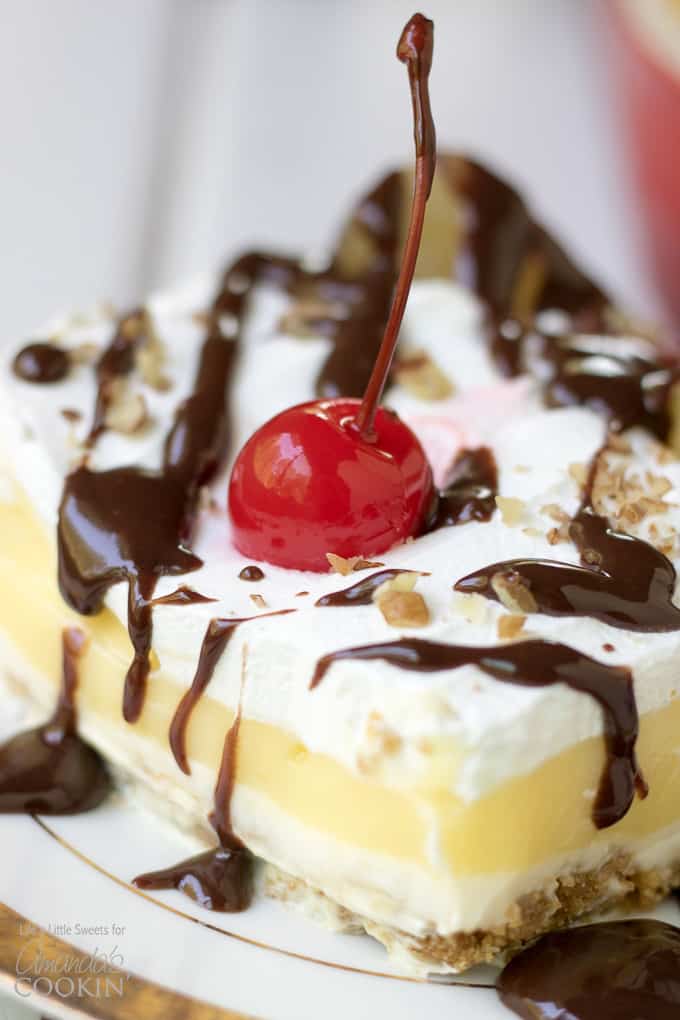 This banana split masterpiece will be the star of any BBQ or gathering you bring it to, similar to this heavenly Chocolate Lasagna recipe!