If you're looking for an easy dessert, this cake mix apple cobbler is as easy as "set it and forget it". You'll use the crock pot for this delicious treat, and using a cake mix as the base makes it convenient and simple. Whether it's for a family gathering, a holiday or just dessert after dinner on a chilly weeknight, slow cookers aren't just for dinner!
PRINTABLE RECIPE IS AT THE END OF THIS POST
Making Cake Mix Apple Cobbler in the Crock Pot
Did you know that you can make apple cobbler with cake mix? It's the perfect shortcut, saving you the time of measuring out all the dry ingredients yourself. Within minutes you'll have all the cobbler ingredients layered and ready go, so that when you return home not only is dessert ready but you're house will permeate that sweet, warm aroma of baked apples and cinnamon! It's the perfect easy dessert!
Here's a quick video showing you the process: (Psstt.. you can scroll all the way to the end for the printer friendly version of this recipe!)
There are affiliate links in this post. That means if you buy something from that link, I will earn a small commission, but it won't cost you anything additional.
Now that my kids are older, it's not uncommon for me to come home to an empty house. With three of the four out of high school and working or going to college, we try to make it a habit to get together regularly for a family dinner. Now that I'm working from my studio full time, I'm not at home as often to cook and bake like I was before. So this crock pot apple cobbler is a wonderful time saver, especially since I know I'll be busy all day but want a warm and gooey dessert.
When you come home from work then run out the door for soccer practice, expecting company can be pretty stressful. Just toss together a batch of this sweet slow cooker apple cobbler and it's one less dish you'll need to worry about later. I've made this when friends come over, we've had it for Sunday supper dessert, and I've even made this recipe for a party! Everyone loves it, especially topped with vanilla ice cream with a little caramel sauce drizzled on top.
To Make Cake Mix Apple Cobbler in the Crock Pot You Will Need:
2 (20 oz) cans of apple pie filling (1 can if using a crock smaller than 4.5 quart)
1 white cake mix
½ teaspoon cinnamon
6 tablespoons unsalted butter, melted
Cinnamon sugar (optional )
Vanilla ice cream (optional)
It's as simple as layering the ingredients, setting a timer, and walking away! Get complete, printable instructions below. If you make it, I would love to hear what you thought of it!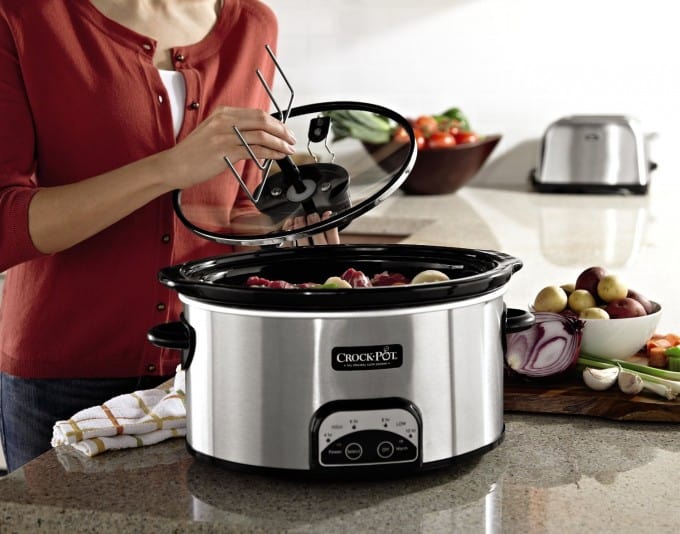 This is the CrockPot I use, it has the iStir function. I don't use the stirring function for this particular recipe, but it's awesome for stews, soups and chilis!
More Recipes You Might Enjoy
Check out the video below on making this cakemix apple cobbler in the crockpot!