The fall season is fast-approaching, and apples are now in season. Do you have a reliable, go-to recipe for Baked Apple Crisp? You do now! This recipe has nine ingredients, apples being the key player, of course. The rest of the ingredients…you likely have laying around. Another favorite crisp recipe around here is this Apple Cranberry Crisp. You just can't go wrong with a fresh apple crisp and a scoop of ice cream on top.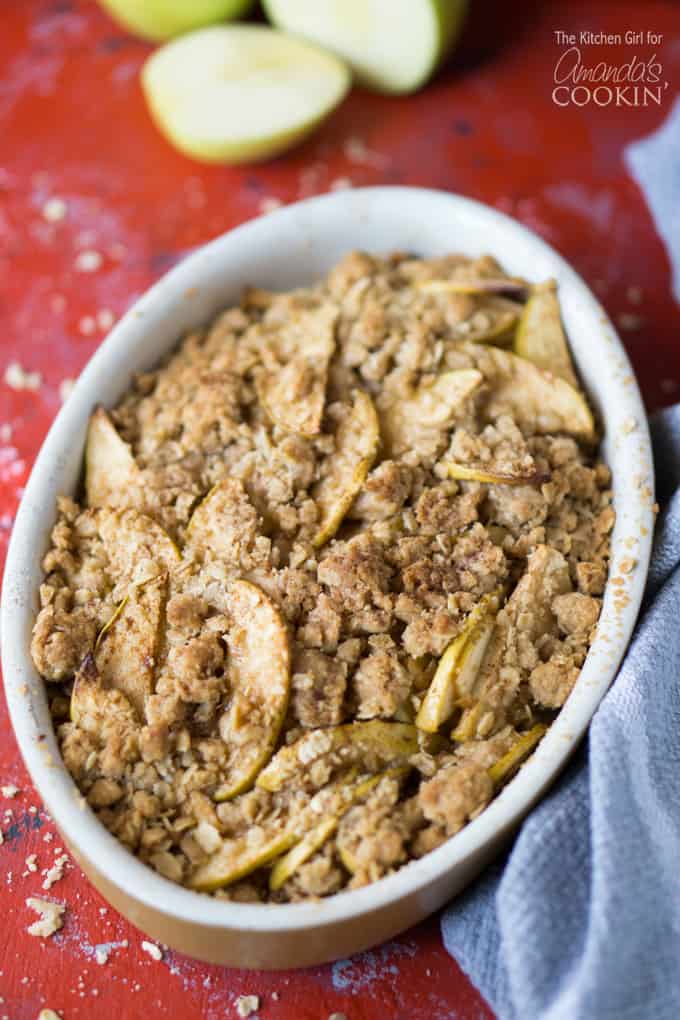 Baked Apple Crisp
Oh, how I love the fall season and all of the cool-weather produce. It just makes me want to get in my kitchen to cook and bake fruity things. The thing is, I'm super-relaxed when it comes to making pie crust from scratch. Translation, I'm pretty lazy about it, so I'm always shouting praise to the pioneers of apple crisp and their (delicious) pastry shortcut.
We have an apple tree in our yard, and I honestly can't keep up with it during the season. Thankfully, the season is long, which means many apple crisps will land in our bellies starting late summer, which is now, which is exactly why I'm bringing you this recipe. You may or may not have an apple tree, but I know you love the convenience and simplicity of this fruity, baked, comfort food that everyone loves, especially with a scoop of ice cream on top.
If you want more fruit-inspired, fall dessert recipes, check out my Spanish-inspired Orange Olive Oil Cake with Dark Chocolate Ganache, or my Gluten-Free Peach Blackberry Crisp. Both are known for subtle sweetness that compliments the natural, fruit sugars.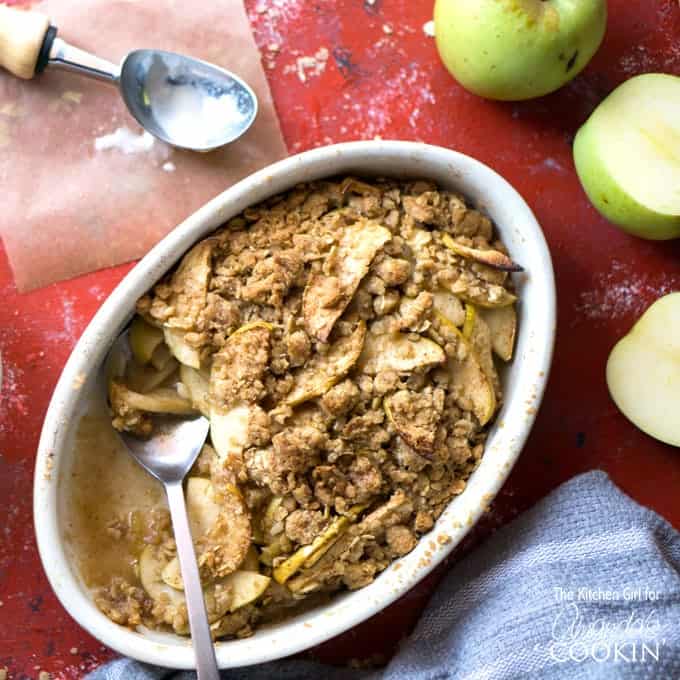 Ingredients you'll need to make Apple Crisp:
1/2 cup brown sugar
1/2 cup flour (your choice)
1/2 cup rolled oats
1/4 teaspoon cinnamon
1/4 teaspoon sea salt
1/3 cup unsalted butter (cubed)
4 cups apples (about 4 apples, thinly sliced)
2 tbsp lemon juice
1/4 teaspoon cinnamon
Helpful Kitchen Tools: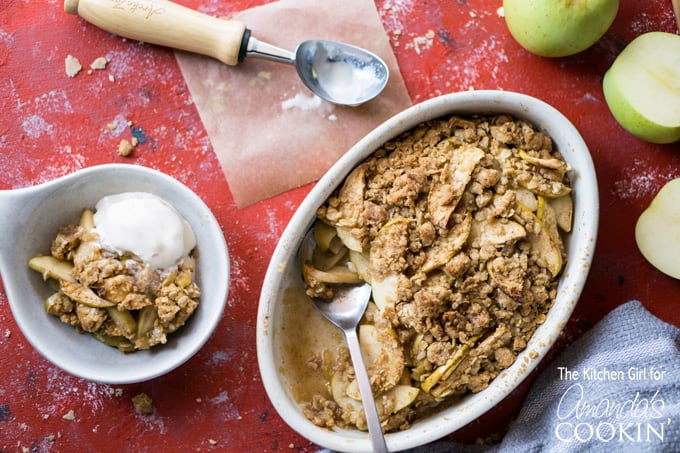 It's important to note that you can use just about any sweet, crunchy apple for this recipe. In fact, I'm not sure I can tell you what apples not to use because I'm not convinced there are any that wouldn't work. But, I always go with sweet and crunchy…and it always works! Oh, and no peeling necessary…unless you absolutely want to.
Don't miss out on all things apple! Check out some of this blogs favorite apple recipes below…