Crockpot cinnamon apples are slow-cooked to perfection creating a delicious syrup atop tender and soft apple slices. The aroma of these apples fills your house with cinnamon sugar goodness!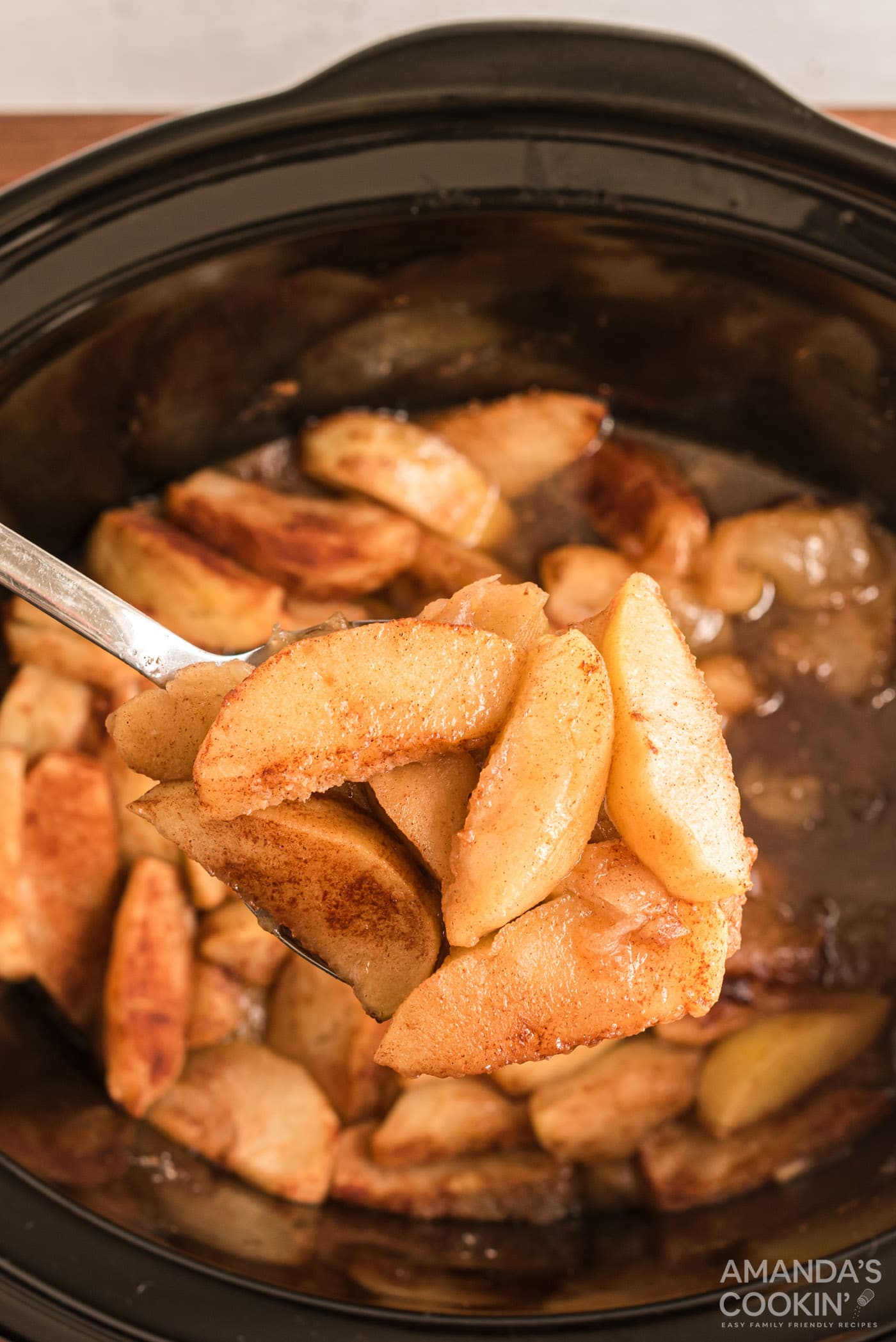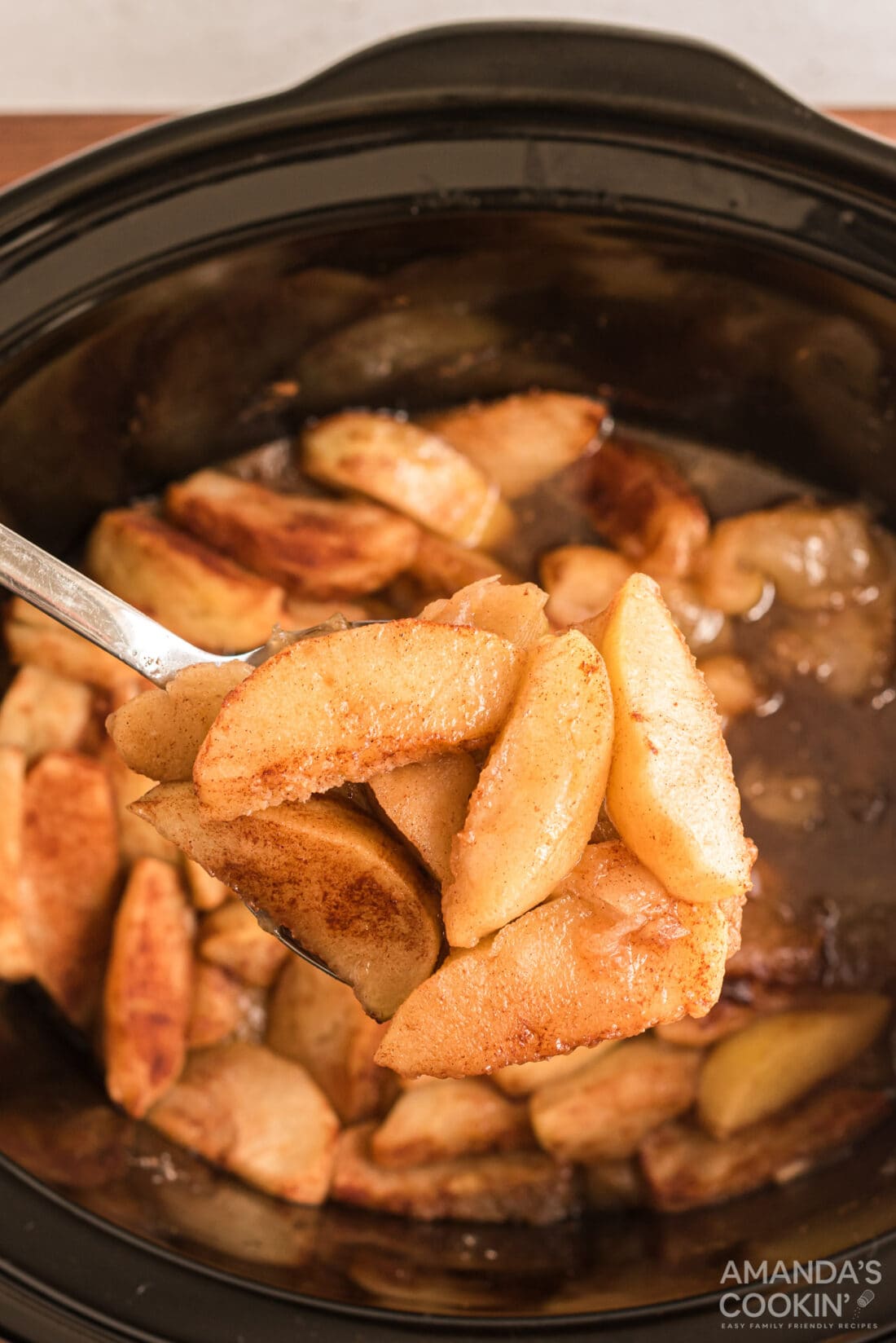 Why this recipe works
---
These crockpot cinnamon apples taste and smell just like fall. These versatile apple slices can be served for breakfast, alongside dinner, or topped with ice cream for dessert.
Nothing screams sweater weather better than cinnamon and apples together in the same recipe. This is an awesome way to use up your bounty of freshly picked apples from the orchard. Need more ideas to use them up? Try our hot apple cider!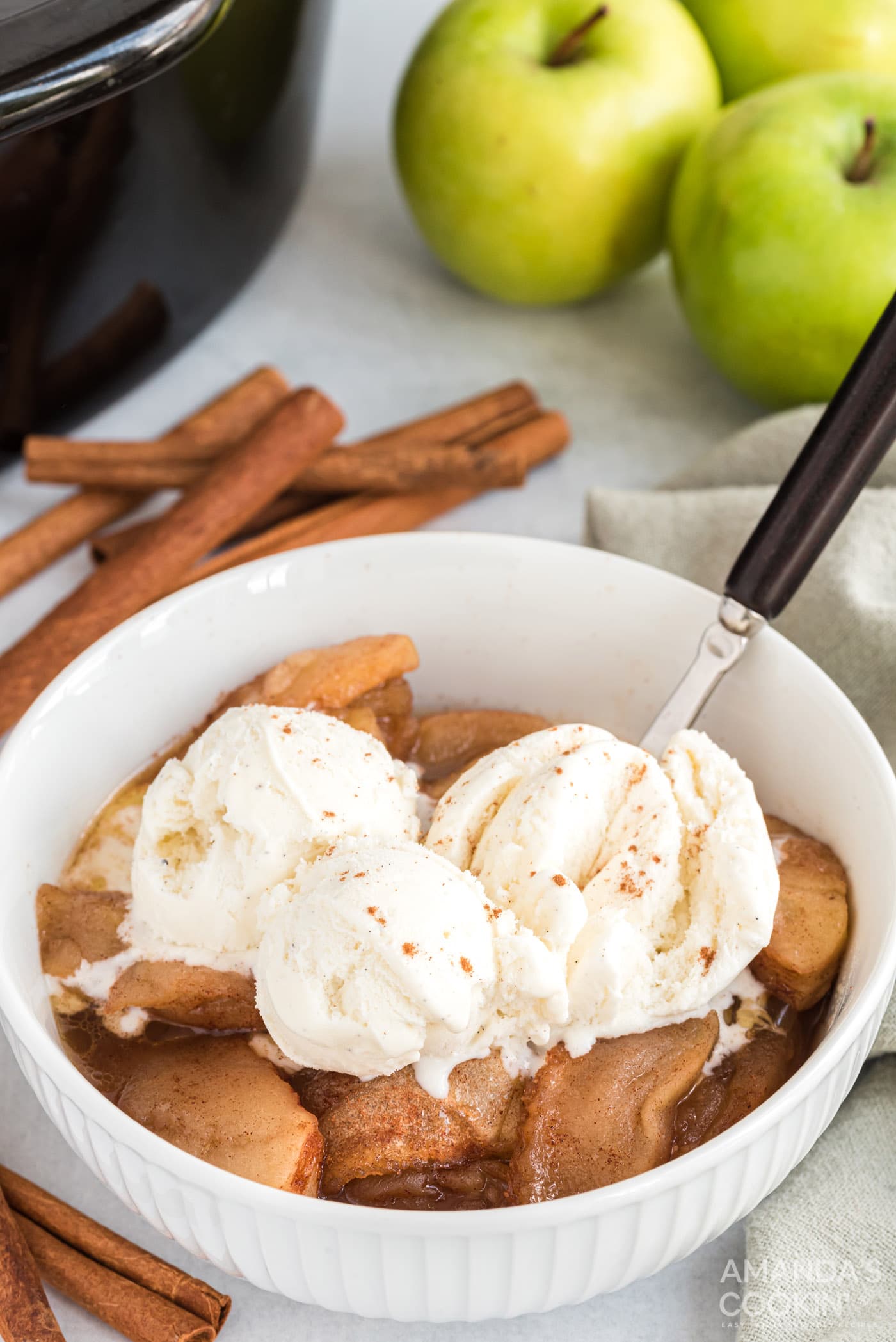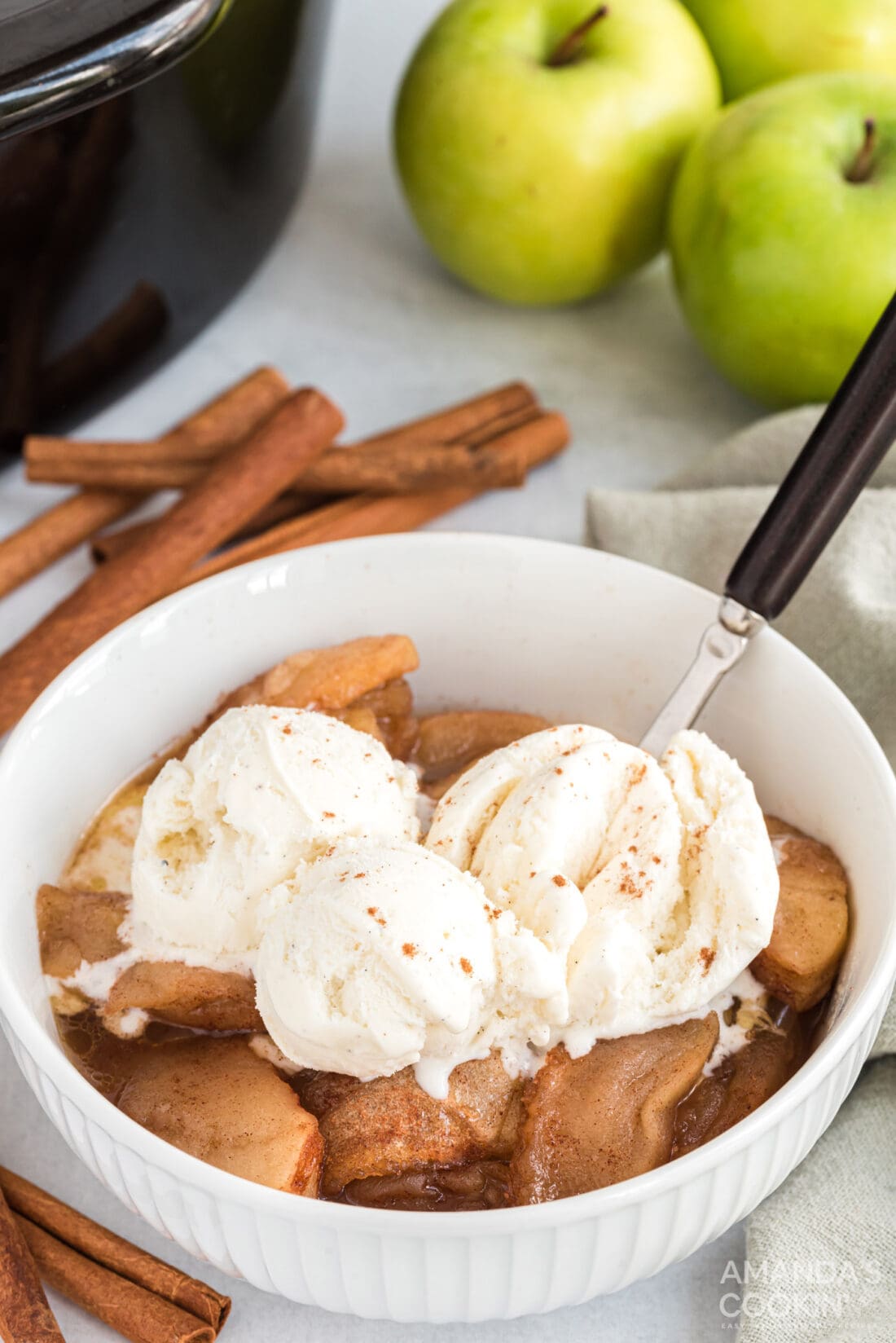 Ingredients you will need
---
Get all measurements, ingredients, and instructions in the printable version at the end of this post.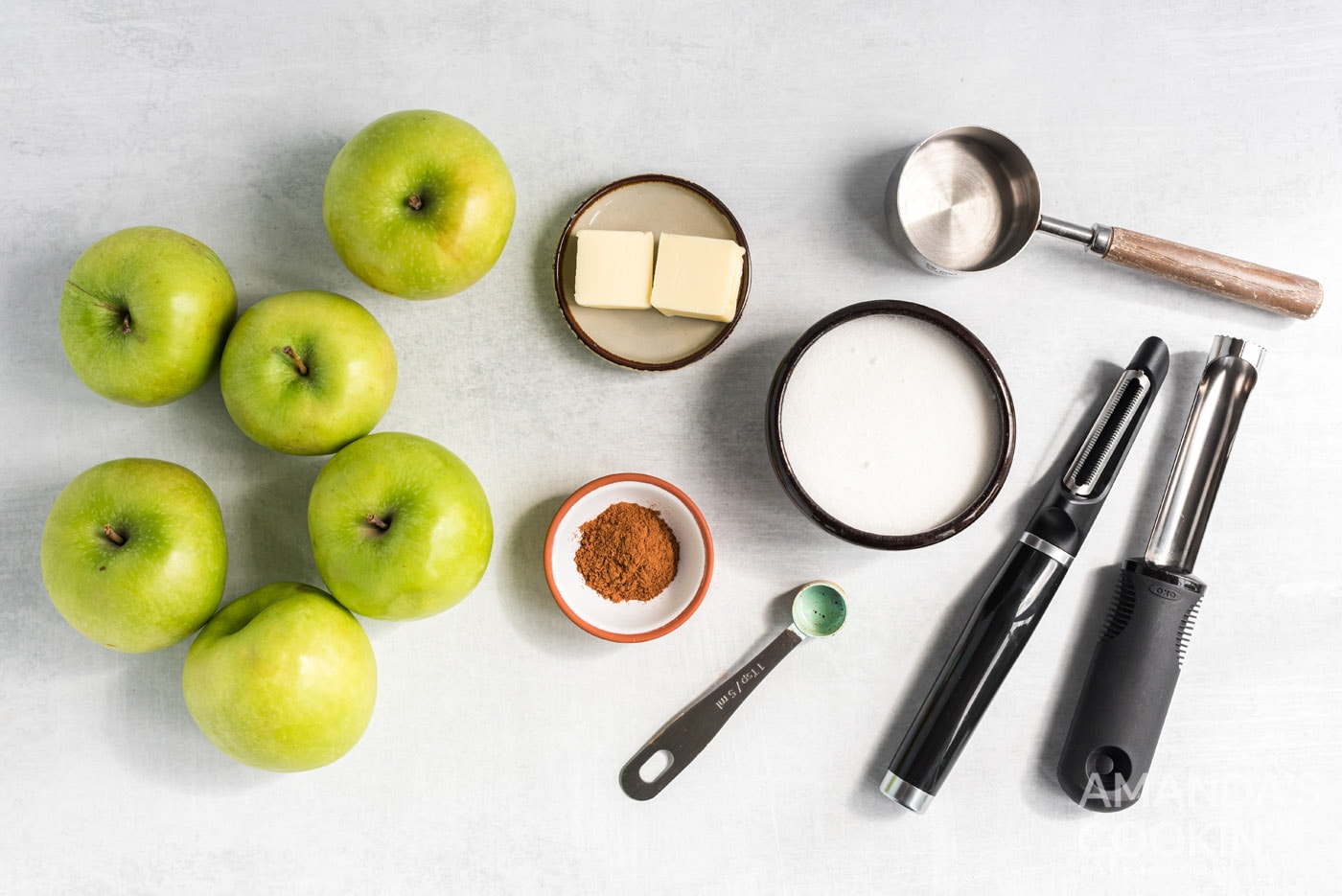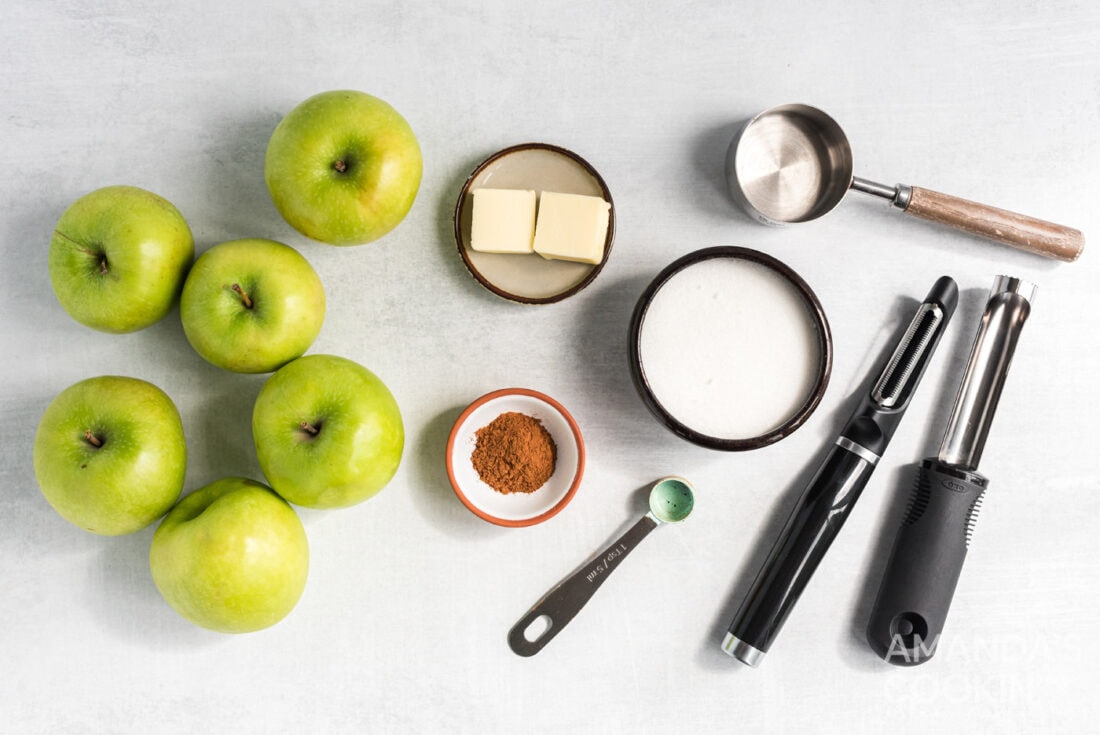 Ingredient Info and Substitution Suggestions
---
APPLE – We'd suggest using a firm apple for this recipe. Some great options include Granny Smith for their nice firm texture and tart flavor. Golden Delicious and Pink Lady are great for their amazing taste. Red Delicious, Fuji, Gala, and Honeycrisp work as well. Be sure to slice your apples at about 1/3-1/2 inch thickness. Too thin of an apple slice may result in soggy apples.
How to Make Crockpot Cinnamon Apples
---
These step by step photos and instructions are here to help you visualize how to make this recipe. You can Jump to Recipe to get the printable version of this recipe, complete with measurements and instructions at the bottom.
Peel and core the apples, then slice about 1/3 to 1/2 inch thick.

EXPERT TIP: If you're using a firm apple slice them thinner, if your apples are soft cut them thicker so they keep their shape. This is so much easier if you have an apple corer that slices at the same thickness.


Put all the apple slices in a 6 qt crockpot, sprinkle with sugar and cinnamon and stir to coat.
Dot with butter and cook until soft.
The apples are done when tender, but not soggy. They should retain their shape. Around 2 hour and 45 minutes (on high) seemed to produce the best texture for us. Keep an eye on your apples, checking for tenderness every 15 minutes after the 2 hour mark.
Frequently Asked Questions & Expert Tips
---
What kind of apple can I use?
We would suggest you opt for a firm apple like Granny Smith (pictured above), Golden Delicious, Pink Lady, Red Delicious, Gala, Fuji, and Honeycrisp. A firmer apple will hold its shape better when slow-cooked. You may use a softer apple variety, but be sure to check on your apples for doneness during the cooking process as these types of apples become "mushy" or "soggy" quicker.
Can I prep these apples in advance?
The downside of prepping apple slices in advance is that they brown quickly. We would suggest prepping everything as you're ready to make the recipe in the crockpot.
How do I store leftovers?
Though these apples are best served fresh, you can store the cooled apples in an air-tight container kept in the refrigerator for 2-3 days. Reheat in the crockpot or on the stovetop. You may also try freezing them by lining a glass baking dish with plastic wrap with the cooled apples on top, then pop them into the freezer (flash freezing). When frozen, remove from the freezer and take the apples and plastic wrap out of the dish. Wrap apples, or put them into a Ziploc bag, and put them back into the freezer. When you want to thaw, remove from freezer, unwrap, and place into a bowl to thaw.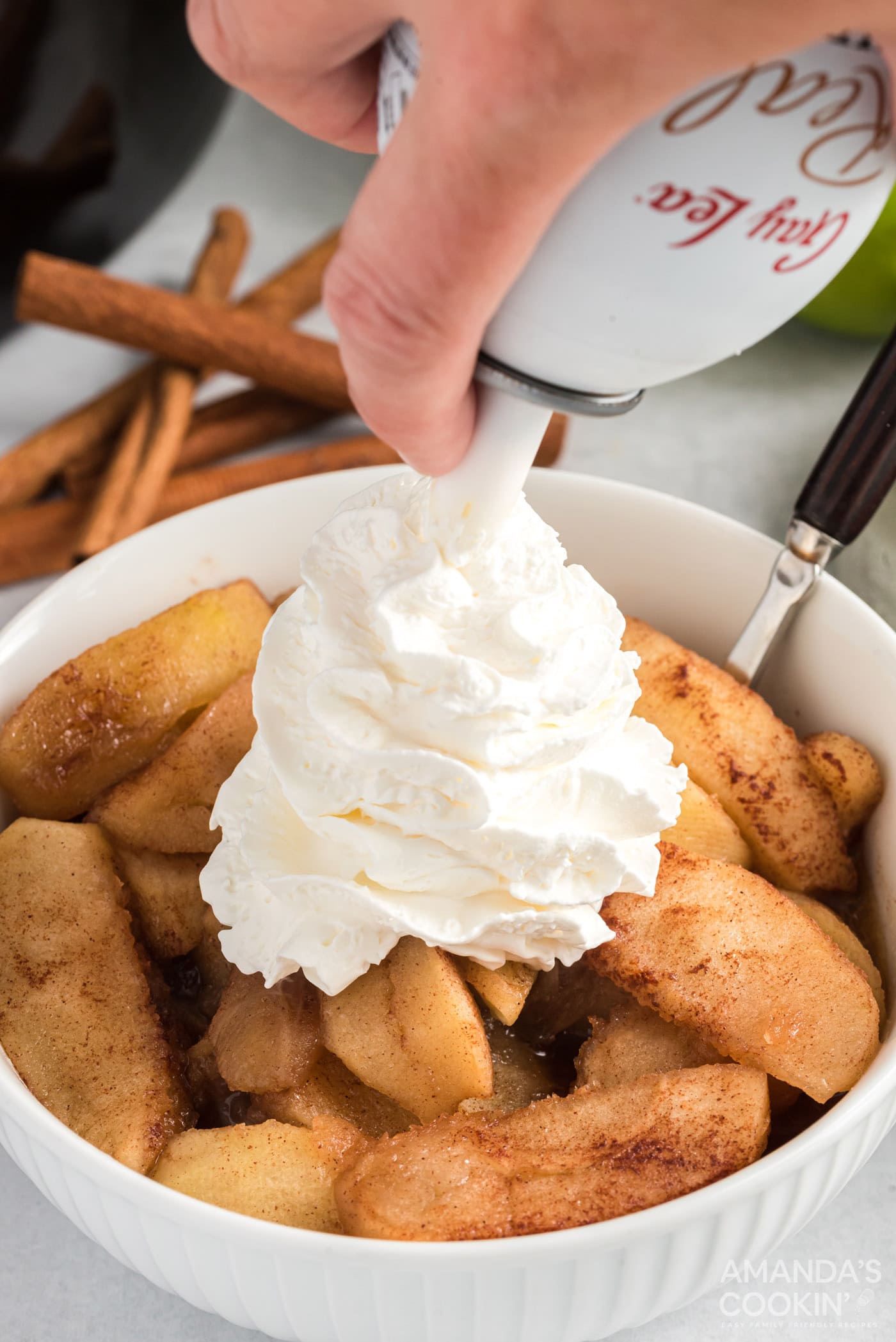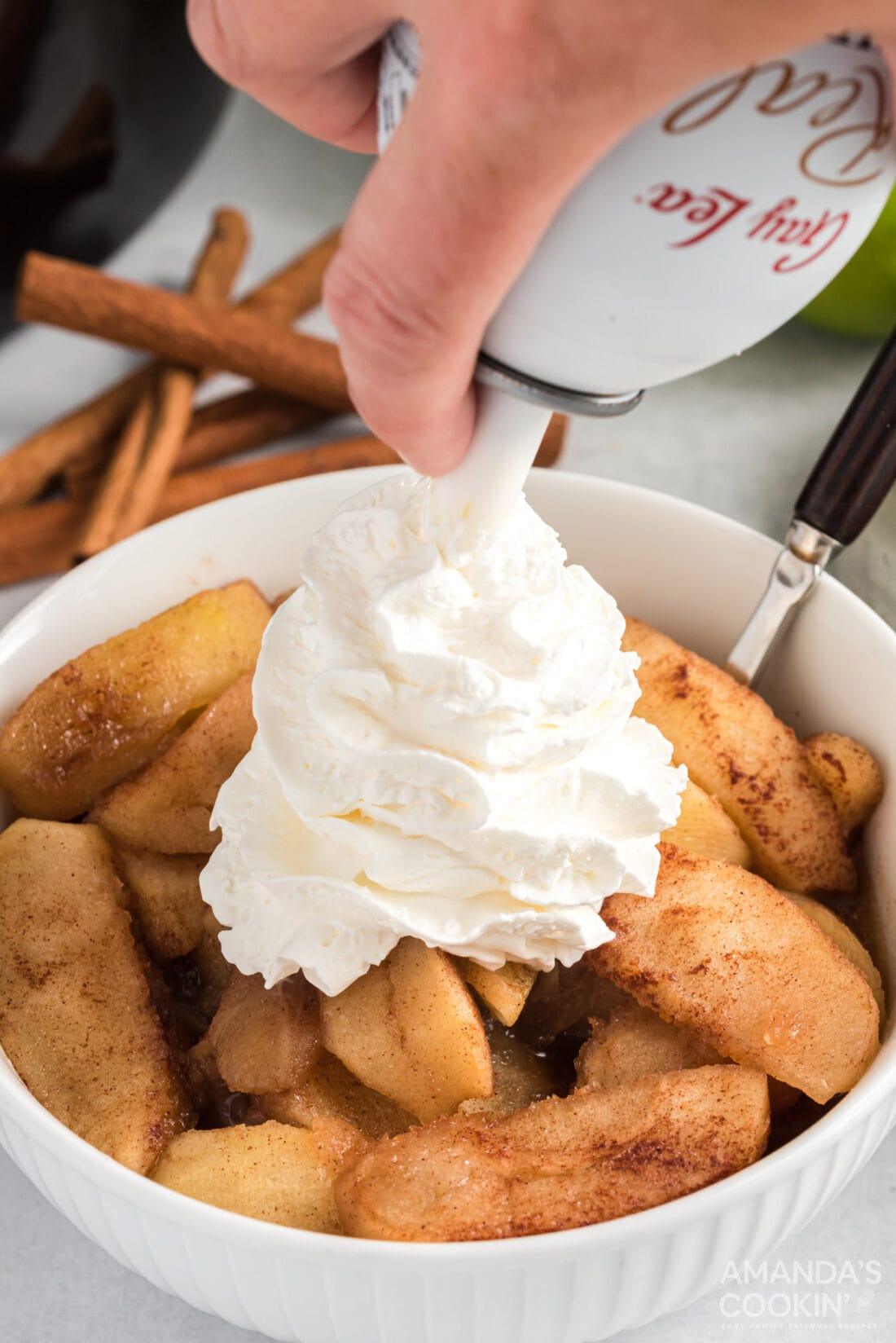 Serving Suggestions
---
Crockpot cinnamon apples are delicious for breakfast and make a terrific topping for oatmeal, pancakes, waffles, you name it! They're also fantastic alongside savory dishes like roast pork or Thanksgiving dinner. You can also serve them for dessert with a scoop of vanilla ice cream or some whipped cream.
More Apple Recipes
---
I love to bake and cook and share my kitchen experience with all of you! Remembering to come back each day can be tough, that's why I offer a convenient newsletter every time a new recipe posts. Simply subscribe and start receiving your free daily recipes!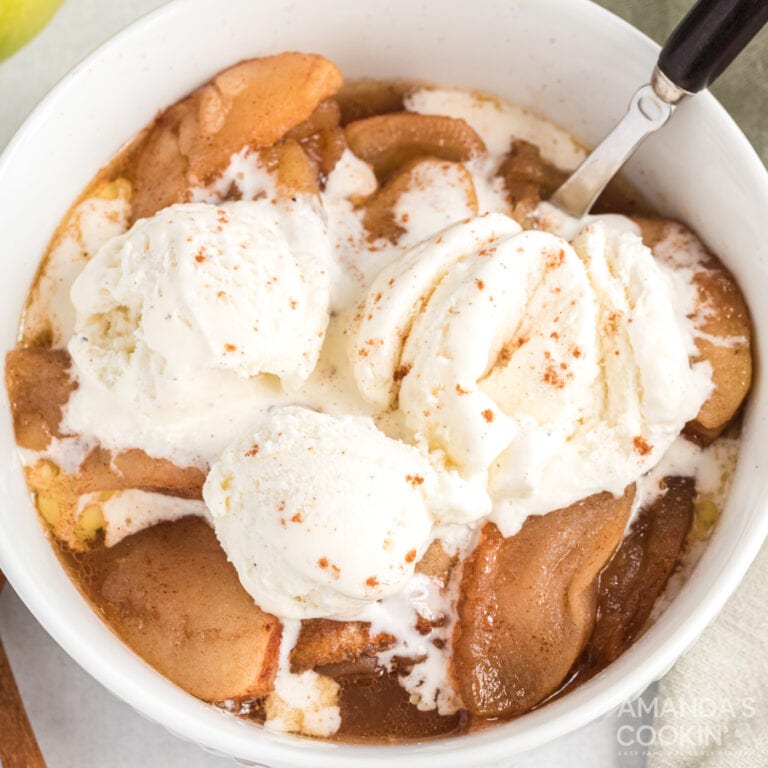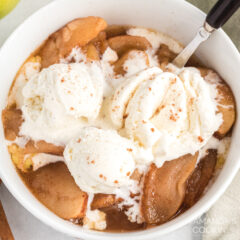 Crockpot Cinnamon Apples
Crockpot cinnamon apples smell and taste just like fall! These versatile apple slices can be served with both sweet and savory meals!
IMPORTANT – There are often Frequently Asked Questions within the blog post that you may find helpful. Simply scroll back up to read them!
Print It
Pin It
Rate It
Ingredients
6

large Granny Smith apples

about 3 lbs- peeled and cored. Or any firm apple variety

2/3

cup

granulated sugar

1/2 cup if your apples are super sweet

2

teaspoons

cinnamon

2

tablespoons

butter
Instructions
Cut apples about 1/3 to 1/2 inch thick slices. Place in 4 or 6 quart crock pot.

Sprinkle with cinnamon and sugar, then stir to coat evenly.

Cut butter into small pieces and dot over apples.

Cover and cook on High for 3 hours, or Low for 6 hours, stirring halfway through cook time.

The apples are done when tender, but not soggy. They should retain their shape. Around 2 hours and 45 minutes (on high) seemed to produce the best texture for us. Keep an eye on your apples, checking for tenderness every 15 minutes after the 2 hour mark.
Expert Tips & FAQs
Cook times may vary based on slow cooker brand, size, model, etc. It's important to note that you will want to check on your apples in the crockpot for doneness after the 2 hour mark (on high). Desired texture and tenderness are based upon individual preference.
Using a firm apple variety such as Granny Smith, Gala, Fuji, Golden Delicious, Red Delicious, and Honeycrisp will hold their shape better in the slow cooker compared to a softer apple.
Nutrition
Serving:
1
serving
|
Calories:
215
cal
|
Carbohydrates:
47
g
|
Fat:
4
g
|
Saturated Fat:
2
g
|
Cholesterol:
10
mg
|
Sodium:
35
mg
|
Potassium:
194
mg
|
Fiber:
4
g
|
Sugar:
41
g
|
Vitamin A:
215
IU
|
Vitamin C:
8.3
mg
|
Calcium:
18
mg
|
Iron:
0.3
mg
Rebekah Garcia is the food blogger behind Kitchen Gidget. She creates recipes influenced by her Midwestern roots, Hispanic heritage and insatiable sweet tooth. When she's not cooking, you can find her at the beach with a good book. She is married to the man of her dreams and home is where the military sends them. She believes food is better when shared…unless it's the last bite!
Latest posts by Rebekah Garcia (see all)