Summer is just getting started and that means barbecues and pool parties and lots of mixed drinks. Jello shots are definitely an adult favorite and we decided to experiment with two different ways of making watermelon jello shots. Both were a hit, though the jello shots in the lime rinds definitely had a tart kick at the end, while the shots made in a real watermelon rind had a nice sweet finish. So pick your poison and let's get started!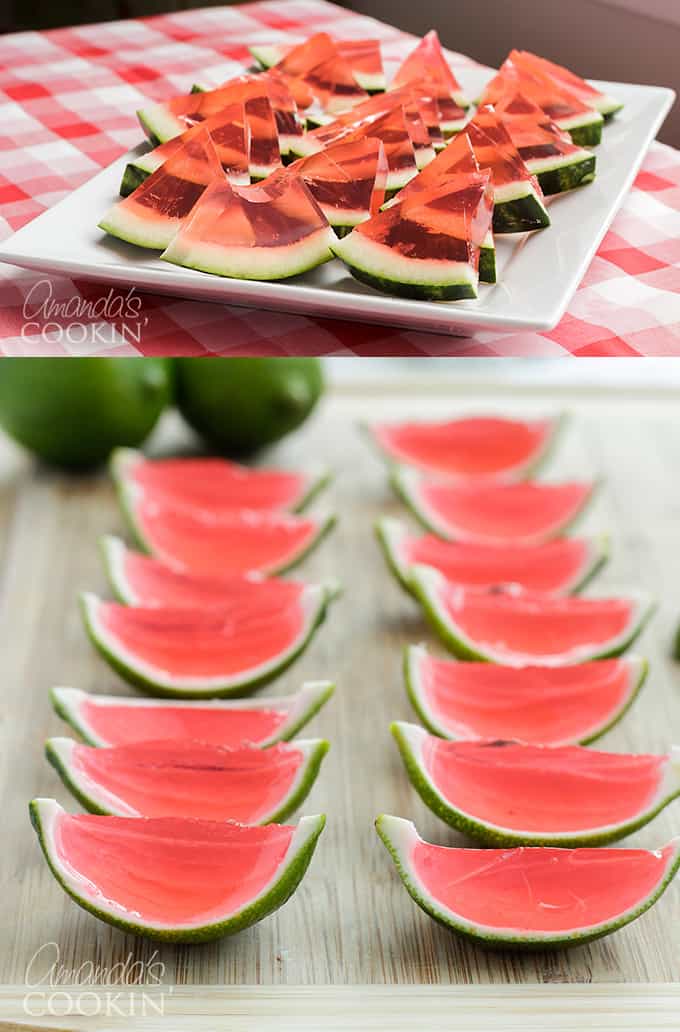 How to Make Watermelon Jello Shots – 2 Ways
NOTE: I used watermelon flavored gelatin which is pink. If you want your shots to be red, use strawberry gelatin instead.
Having a BBQ? These Raspberry Mango Vodka Popsicles or this Refreshing Watermelon Smoothie would make another perfect addition to your party!
To make watermelon slice jello shots in a watermelon you need:
6 pound watermelon, halved with fruit removed (leave about 1/4-inch of fruit in the shell)
3 (3-ounce) boxes watermelon flavored gelatin
6 envelopes unflavored gelatin
3 cups boiling water
3 cups vodka
Just for the record, I made the shots inside the watermelon rind two different ways. In one-half I scooped out ALL of the watermelon, leaving a clean rind. The other I left about 1/4-inch of the fruit inside the rind.
The verdict?
Leaving a small layer of fruit gives your guest a little sweet after-nibble. Seriously. They are still good without the fruit left in the shell, and honestly, they're prettier. But I did prefer the jello shots with the fruit after-nibble. You'll probably notice both types in the photos.
Helpful Kitchen Tools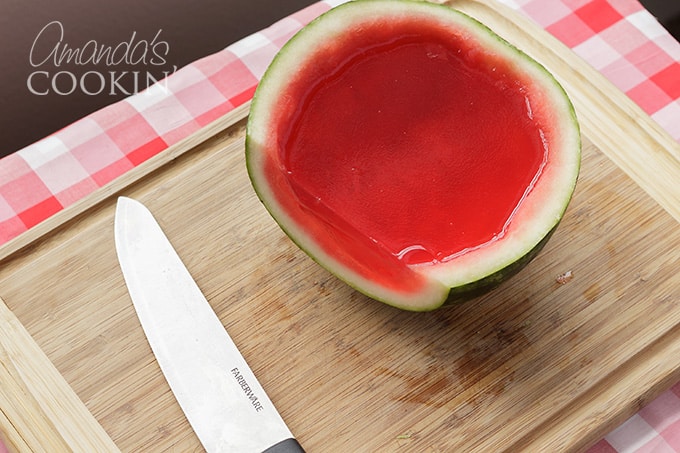 After your gelatin has set, remove the watermelon half from the fridge and place it on a cutting board.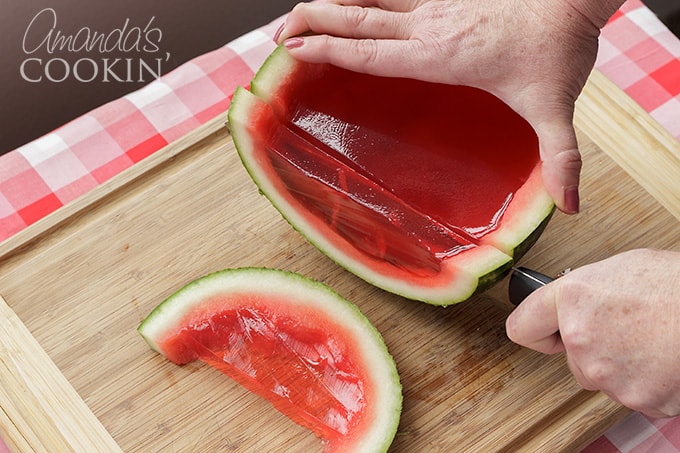 Use a sharp knife to cut 1-inch slices. The gelatin will be nice and firm because of the added unflavored gelatin in the recipe. Remember Jell-O Jigglers from when you were a kid?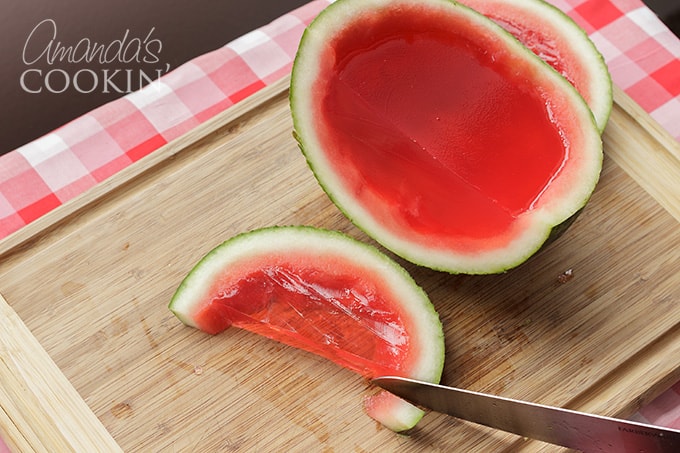 Even though you filled the watermelon rind with liquid gelatin, when it solidified, it shrank too. You can trim the excess tips off of each slice.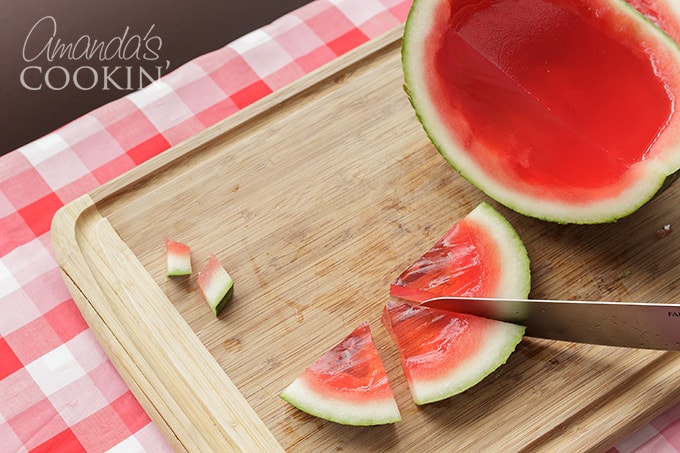 Cut each watermelon slice into three triangles.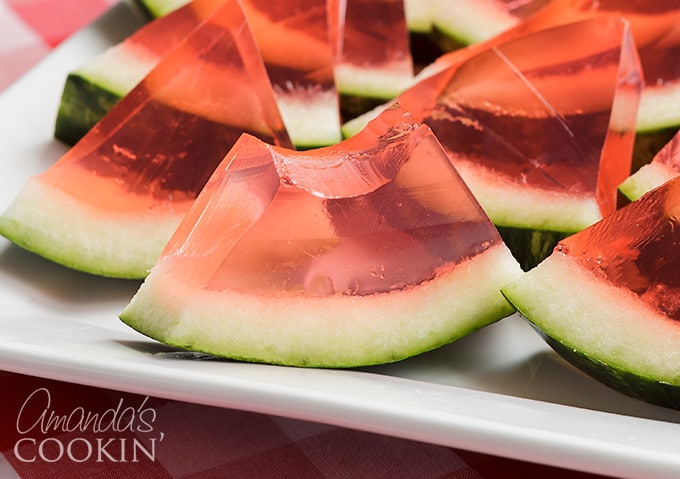 Now all you have to do is serve them. Get ready for the compliments!
Watermelon Jello Shots in Lime Rind
Next, we tried using limes as our jello shot vessel. These definitely had the cute factor, and they were delicious. However, there's a noticeable tart lime after taste, so that may or may not be your thing.
To make watermelon lime jello shots in lime rinds you need:
6 limes, halved with fruit and pith removed (see video for demonstration)
1 (3-ounce) box watermelon flavored gelatin
1 envelope unflavored gelatin
1 cup boiling water
1 cup cold vodka
I didn't take any step by step photos but I did shoot a video for you (below)! The process is basically the same as the larger wedge shaped shots, just on a smaller scale. These watermelon jello shots are made inside little lime shells instead of a big watermelon.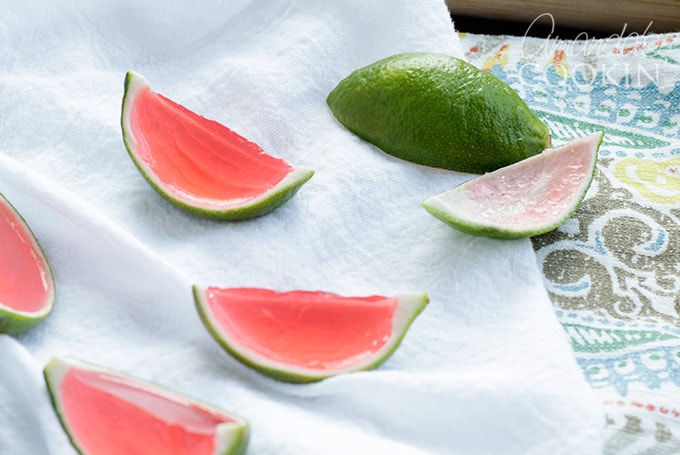 Basically, with these cut your limes in half and scoop out the fruit. The easiest way to do this is to pull at the pith and fruit near the top of the lime half. It's fairly easy to pull out once you loosen it. Watch the video below to see how it's done.
Dang! They're cute, no? I love how adorable they are. They remind me of these adorable Watermelon Cookies I made long ago.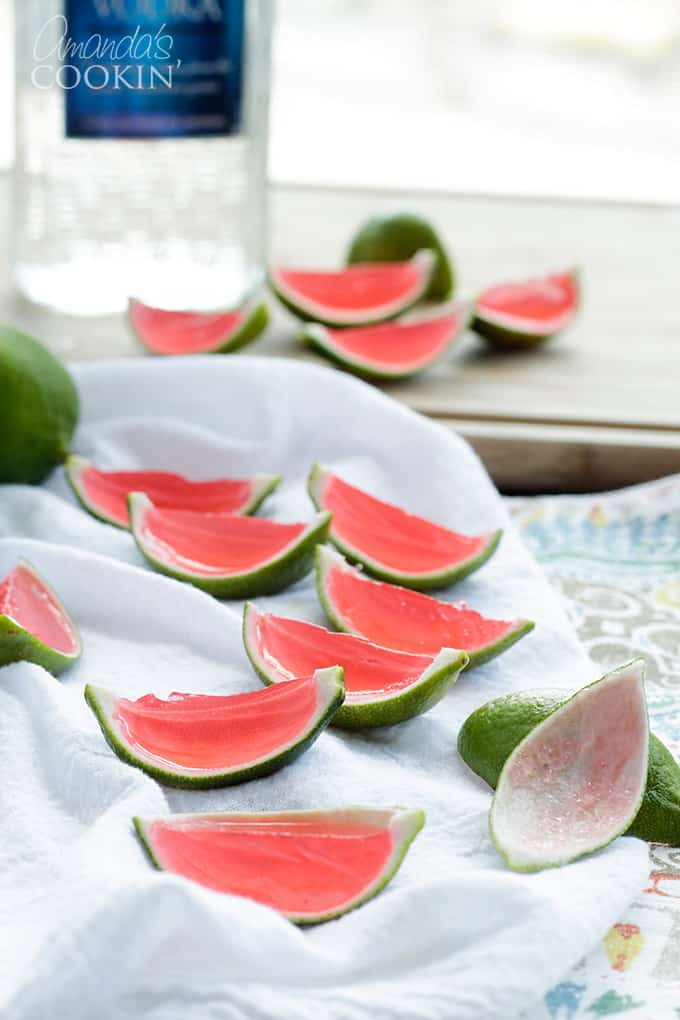 It doesn't matter which version of these watermelon jello shots you choose to make, you will be the star of the party. Guaranteed.
If you're looking for more awesome summer drink ideas, you'll definitely want to check out these Blue Mixed Drinks which are fun mermaid inspired cocktails that your guests will love. This Pina Colada recipe is delicious and perfect for summer. And of course, last but certainly not least, this party favorite drink is a popular choice for potlucks or gatherings of all types, Rum Punch!