This Pumpkin Roll recipe is the perfect recipe to feature on the Thanksgiving dessert table! This Pumpkin Roll is a thin, moist pumpkin cake with or without walnuts, filled with a creamy frosting mixture and wrapped into a swirl of sweet heaven! (makes 1 roll, 10 slices)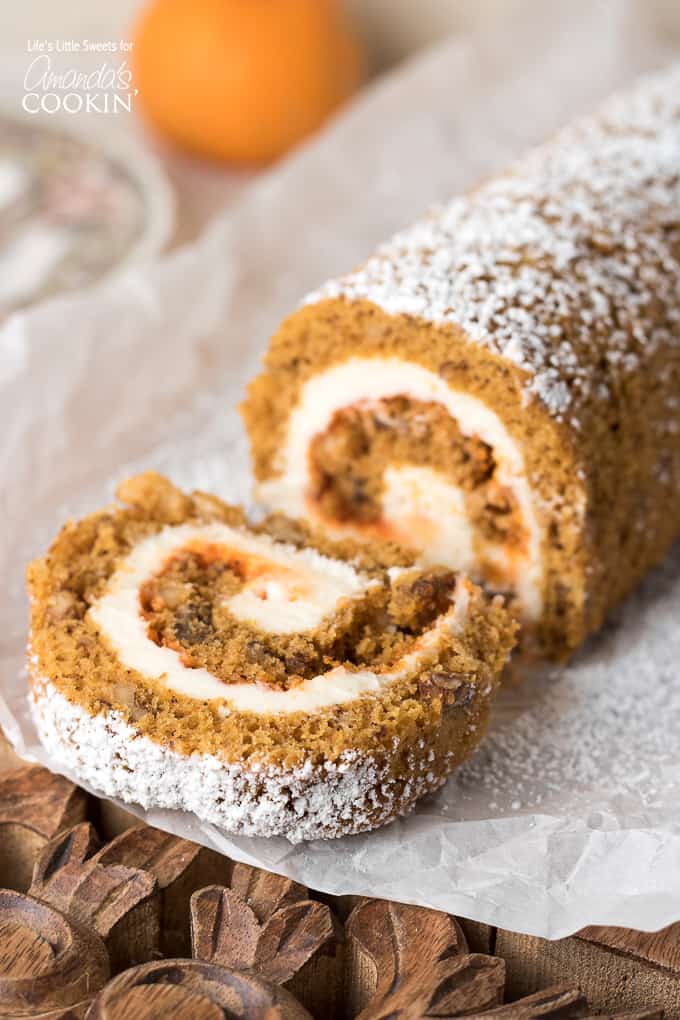 Pumpkin Roll
Hey Everyone, how's your November going? Is it flying by as fast as mine? It seems like we were just at Halloween. Can you believe how close we are the Thanksgiving? Are you looking for a dessert that is a little more special than the usual pumpkin or pecan pie? Let me be clear – there's nothing wrong with those two dessert choices, by the way, those are some of my favorites but why not try something a little different but just as beloved? Let's hear it for this Pumpkin Roll!
This Pumpkin Roll recipe is also a great way to use up an unfinished can of pumpkin puree because it requires only 2/3 cup. Yes, only 2/3 cup and you get that gorgeous golden pumpkin color. It seems like this time of year I always have a can of unfinished can of pumpkin puree sitting in the refrigerator and you know the saying, "waste not want not" :)
I will have you know that I do enjoy a slice of this Pumpkin Roll with my morning coffee…why dessert for breakfast? Because life is too short and fleeting not to and it goes so well with a hot cup of coffee or tea for that matter. I advise you do the same – at least once in a while!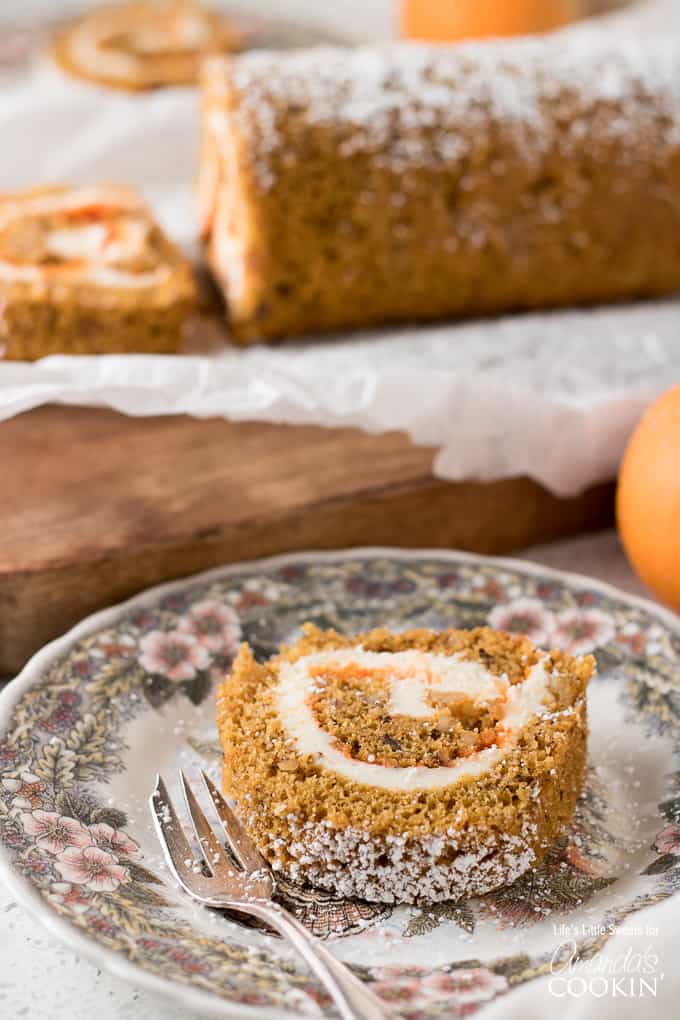 Ingredients for Pumpkin Roll
This recipe is inspired by Libby's Pumpkin Roll.
Cake
3/4 cup all-purpose or cake flour
1/2 tsp baking powder
1/2 tsp baking soda
1/2 tsp cinnamon
1/2 tsp cloves
1/4 tsp Kosher salt
3 large eggs
1 cup granulated white sugar
2/3 cup pumpkin puree
optional: 1 cup chopped walnuts or pecans
confectioner's sugar for dusting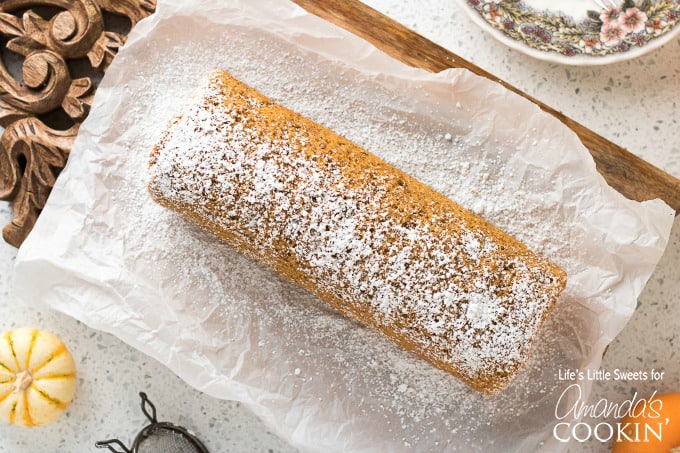 Filling
1 (8 ounce) package of regular cream cheese, room temperature
1 cup confectioner's sugar (sift if it's lumpy)
6 tbsp unsalted butter
1 tsp pure vanilla extract
orange sugar sprinkles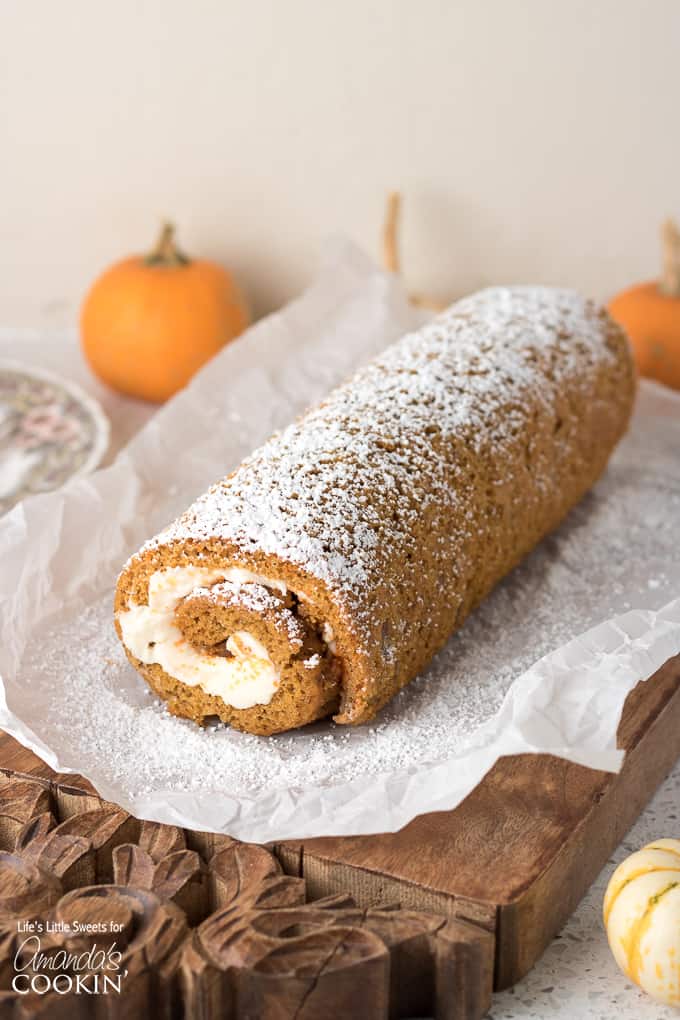 Helpful Kitchen Tools for Pumpkin Roll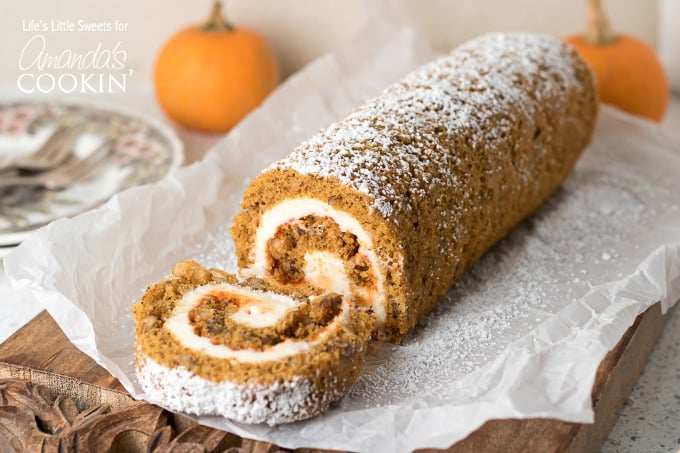 There are some things to remember about this pumpkin roll, you will need a 15 x 10-inch jelly roll pan. If you already have one, great! If you need one, why not just get one and try this recipe and then you can make endless jelly roll cakes in the future – hey, it's always good to have options ;)
Be careful when you are rolling and re-rolling the cake being careful not to crack the cake.  You want to make sure that your cake isn't too wet or too dry. Spread the filling evenly so you get a nice, round swirl when you slice through and you will be all set!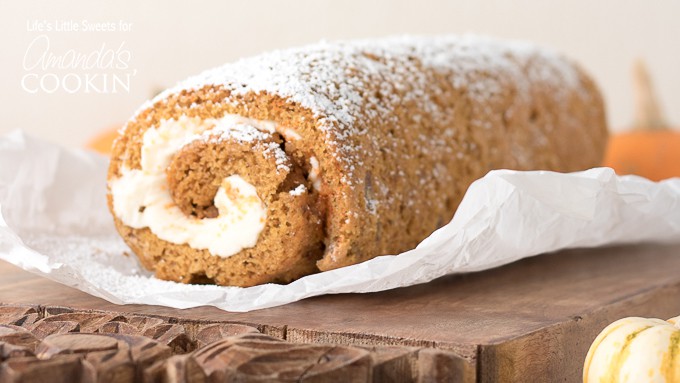 I know you will love this Pumpkin Roll recipe!
For more delicious Thanksgiving recipes check out the list below!