This Pumpkin Lasagna has a vanilla graham cracker crust, a sweet cream cheese layer, pumpkin spice Jello pudding, Cool Whip topping and topped with toasted, chopped pecans, shaved bittersweet chocolate and drizzled with caramel sauce. This no-bake dessert feeds a crowd, filling a 13 x 9-inch pan; having a slice of this delicious dessert will have you craving more!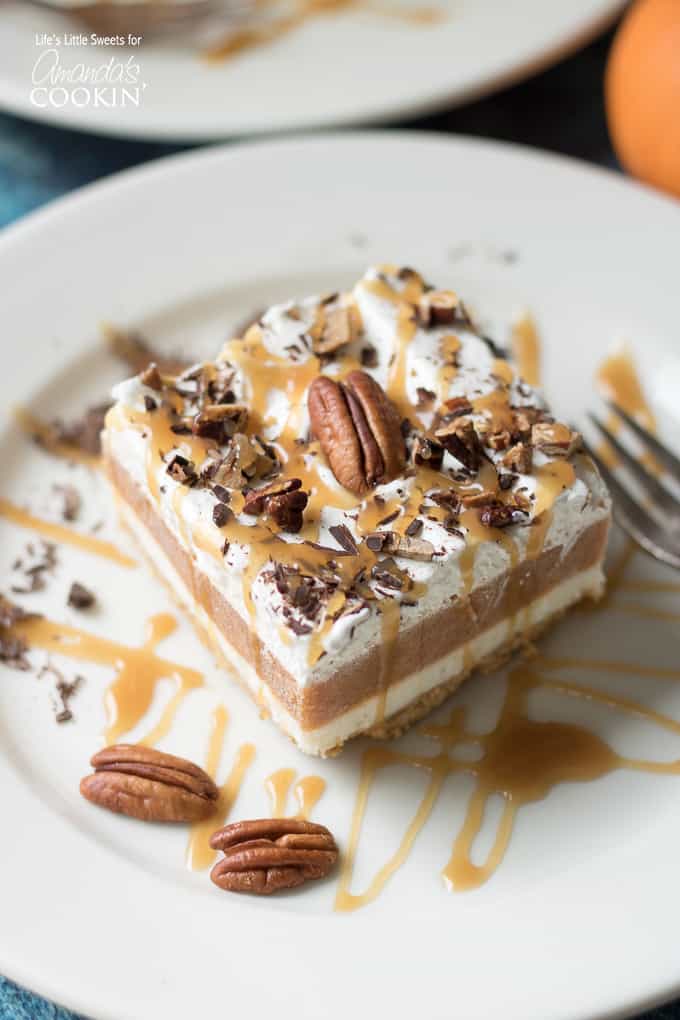 Pumpkin Lasagna
Hi Everyone, I have the perfect pumpkin dessert for you: Pumpkin Lasagna. It has creamy, luscious layers of vanilla graham cracker crust, sweet cream cheese, flavorful pumpkin spice Jello pudding, cool whip and it's topped with roasty-toasty pecans, shaved bittersweet chocolate and drizzled with caramel sauce – whew!
First off, the flavor is incredible, all the Fall flavors are there from pumpkin to pecans and caramel. I knew this dessert HAD to have chocolate involved somehow and the bittersweet chocolate has the right amount of sweetness for this lasagna recipe. You could substitute white chocolate too, if you wish.
You can also drizzle this Pumpkin Lasagna with chocolate sauce which would be a nice addition. I love the flavors of pumpkin and chocolate together. You can substitute the chopped and toasted pecans for walnuts, if you prefer. I totally recommend toasting the pecans, by the way, it really adds to the flavor. Just a couple minutes in the toaster oven on a foil lined sheet and they're done! So, this recipe isn't entirely "no bake" with the toasted pecans but the flavor and texture they add is worth it :)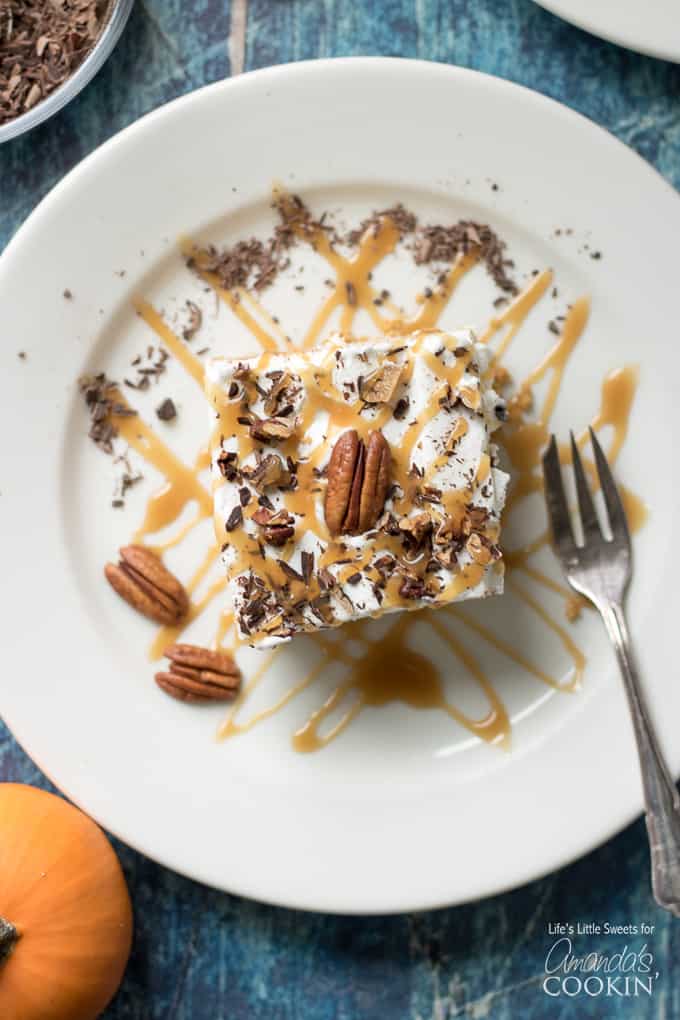 Ingredients for Pumpkin Lasagna
1st Layer – Bottom Graham Cracker Crust Layer:
2 (5 ounce) packages of regular or vanilla graham crackers, finely ground using a food processor or manually crushing
5-8 tablespoons of unsalted butter, melted and cooled *I give a range for the amount because I have found that depending on the humidity, you may need more or less butter
2nd Layer – Cream Cheese Layer:
2 (8 ounce) packages cream cheese, softened to room temperature
1 cup granulated white sugar
1-2 tablespoons apple cider vinegar or freshly squeezed lemon juice
3rd Layer – Pumpkin Spice Pudding Layer:
2 (3.4 ounce) packages Jello instant pumpkin spice pudding mix (I found this on Amazon.com)
3 cups milk
4th Layer – Whipped & Toppings Layer:
1 (8 ounce) container whipped topping (I used Cool Whip), you can substitute the same amount whipped cream
1/4 cup chopped, toasted pecans or walnuts (to toast nuts: spread chopped nuts over a foil-lined sheet, toast in 350 degree oven for 1-2 mins, keep an eye on them so they don't burn)
halved pecans to garnish, optional
a drizzle of caramel sauce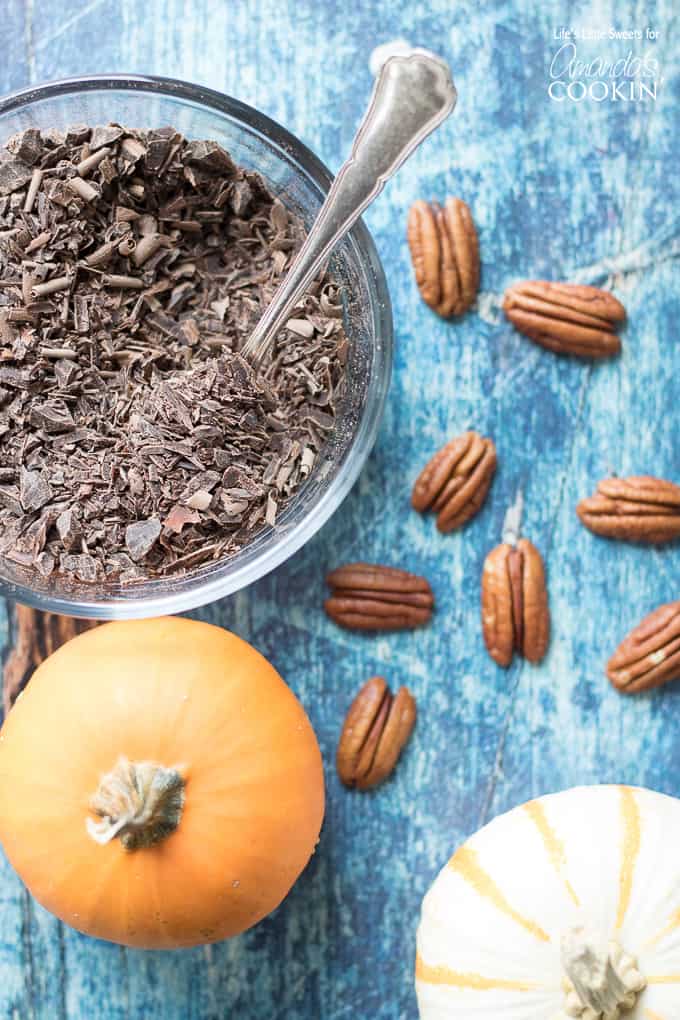 Kitchen Tools for Making Pumpkin Lasagna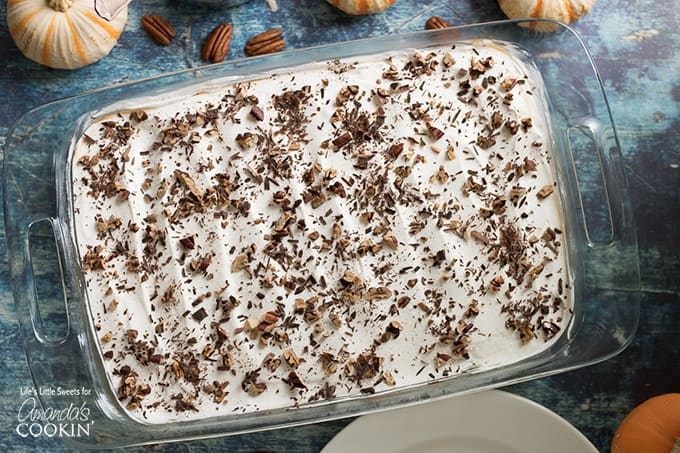 If you are an avid follower of this blog, you will notice that this Pumpkin Lasagna looks exactly like one of the several "lush" dessert recipes that I have contributed to Amanda's Cookin' – well, it technically is a "lush" recipe but we realize more people call this recipe "lasagna."
I modified the amount of milk in the pudding layer from the other "lush" recipes that I have contributed, making it 3 cups instead of the usual 3 1/2-4 cups milk. This is a personal taste decision and I find that the slices are more defined when cutting through. Another thing I like to do to get super defined slices with this type of dessert is to freeze it overnight (or just at least 6 hours or until its even and frozen through), take it out and slice with a sharp knife. I use a flat serving spatula to get the slices out of the pan. The dessert unfreezes pretty fast (in less than a 1/2 hour – if that) and makes for lovely slices for serving. This is a great recipe for making ahead.
For the bottom graham cracker crust, you could also try a couple rows of ground golden OREO cookies or a Nilla cookie crust. Sometimes, there might be special "pumpkin spice" flavored Oreos if it's pumpkin spice season. I went with the vanilla graham crackers (Honey Maid makes them) because they have some spice to them, you can get them year round and they taste great. If you want a more traditional baked "lush" bottom crust with pecans, flour, and butter, check out Banana Split Dessert for instructions. I personally love the no bake, graham cracker crust, option because it's easy and tastes great. There are endless ways to tailor this recipe to your personal flavor tastes.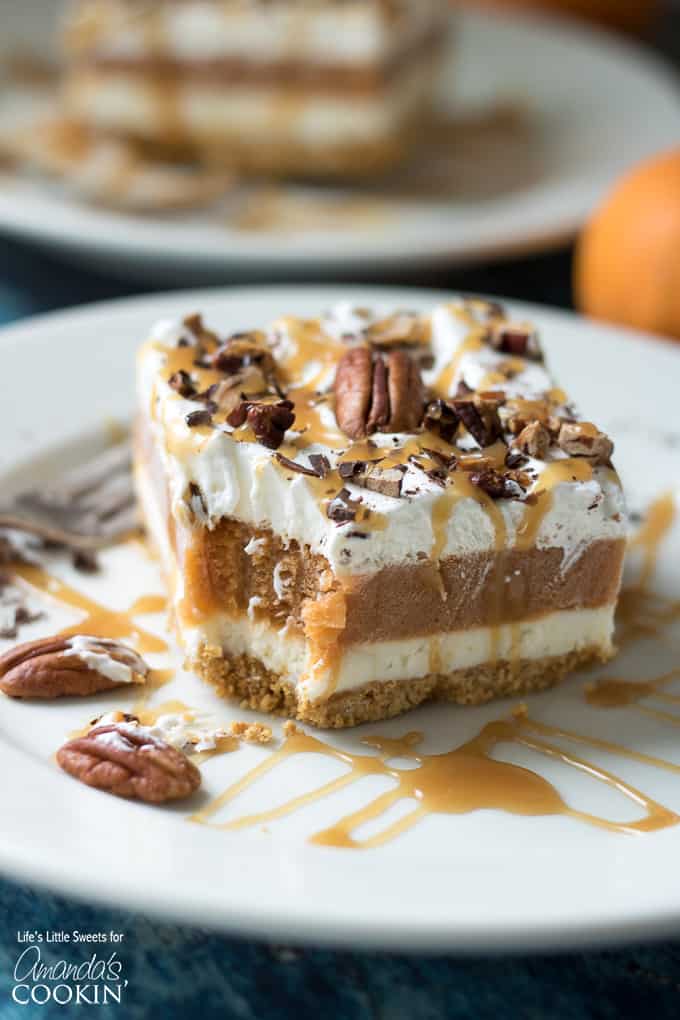 This Pumpkin Lasagna recipe is one of several recent pumpkin recipes I've done, check out Pumpkin Roll, Pumpkin Spice Donuts, and Pumpkin Snickerdoodle Cookies. I know you will love this Pumpkin Lasagna recipe!