This pineapple upside down cake has become a family favorite! It's comprised of a tasty yellow cake recipe then topped with a buttery brown sugar topping. Moist on the inside, sweet on top, and crunchy on the edges. Just the way we like it!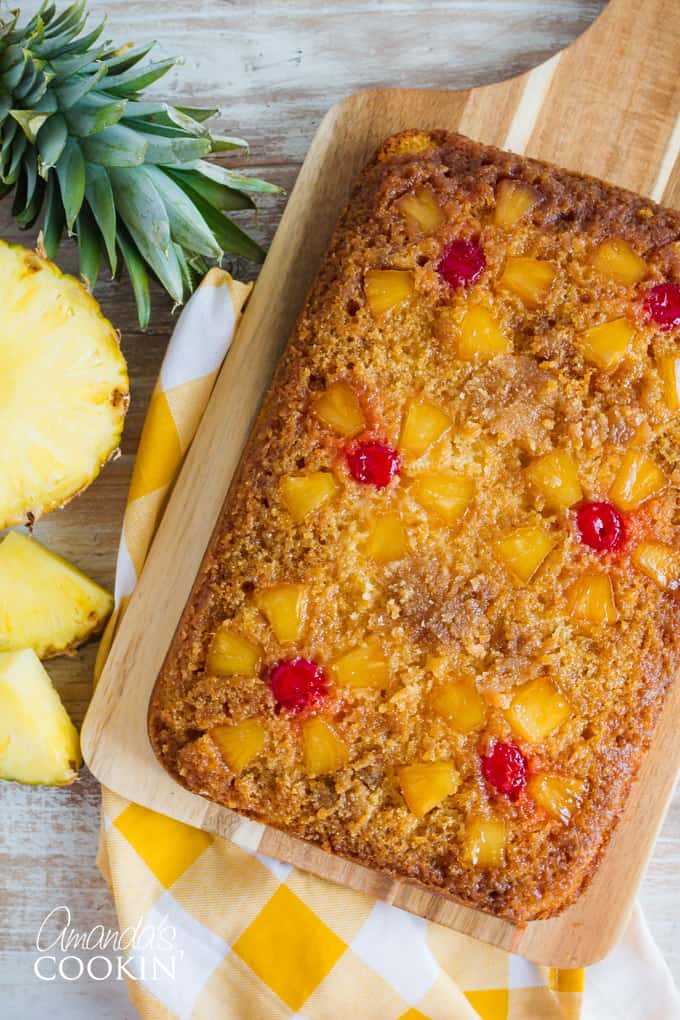 Pineapple Upside Down Cake
I have been making pineapple upside down cake using this recipe for more years than I can remember. I've actually posted this recipe before, however, it was when I made this cake in a cast iron skillet. You can get two skillet cakes with this recipe, or one larger cake using a 13×9 baking pan.
Something I did notice when I made this cake this last time was that I had an overabundance of butter using the glass pan. When using a metal pan, I didn't have the excess butter which actually dribbled out of the pan after I inverted the cake. So if you plan to use a glass pan, you may want to go with a couple fewer tablespoons of butter when melting it in the oven.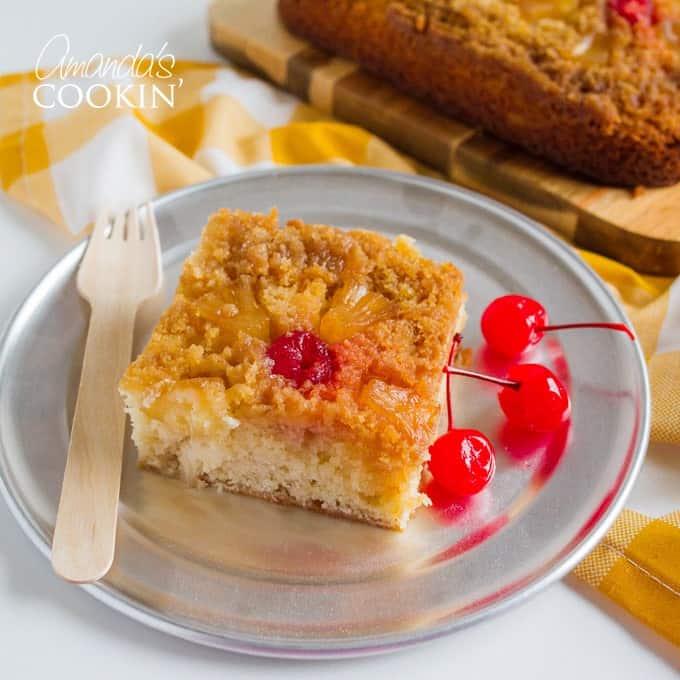 The fine folks at Pam Cooking Spray asked me to try out their new formula. I decided to try spraying the pan before starting. Normally I don't use a cooking spray with this recipe because I figure the butter will do the job. However, I always have a few pieces of fruit stick to the pan, so I decided to give it a shot. I was pleasantly surprised that nothing stuck and the cake inverted beautifully!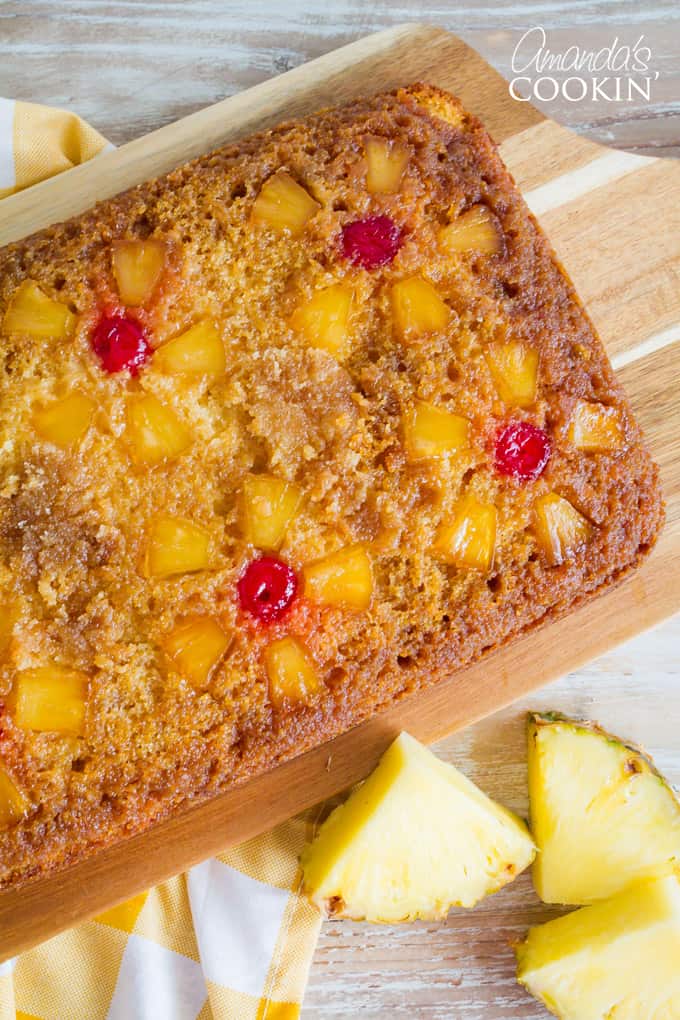 FIND THE FULL PRINTABLE VERSION AT THE END OF THIS POST
Ingredients for Pineapple Upside Down Cake
Cake Batter:
2 1/4 cups cake flour
1 1/2 cups sugar
1/4 cup shortening
1/2 cup cold unsalted butter, cut into thin slices
3/4 cup milk
3 eggs
2 1/2 teaspoons baking powder
1 teaspoon salt
1 1/2 teaspoons vanilla extract
Topping:
1/2 cup unsalted butter, divided
2 cups packed brown sugar, divided
1 15-oz can pineapple chunks
maraschino cherries
Helpful Kitchen Tools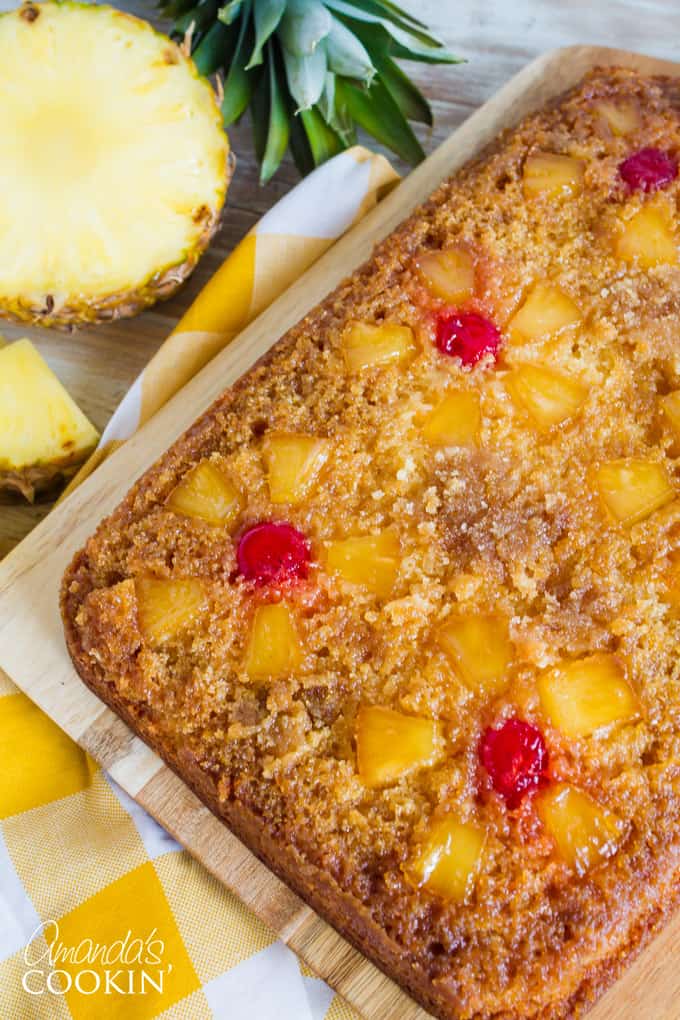 I put together a little video to show you the steps of this recipe. It's best to have everything measured out and ready to go. Drain your fruit ahead of time and mix up the batter while your butter is melting in the oven.
FAIR WARNING – I am a total video dope. So there's one spot in here where I accidentally overlapped the end of a segment (ha ha) and while I was trying to add the brown sugar to the pan my other hand with the video camera ended up showing you the mixing bowl. Haha!
So feel free to make fun of my ridiculous video abilities: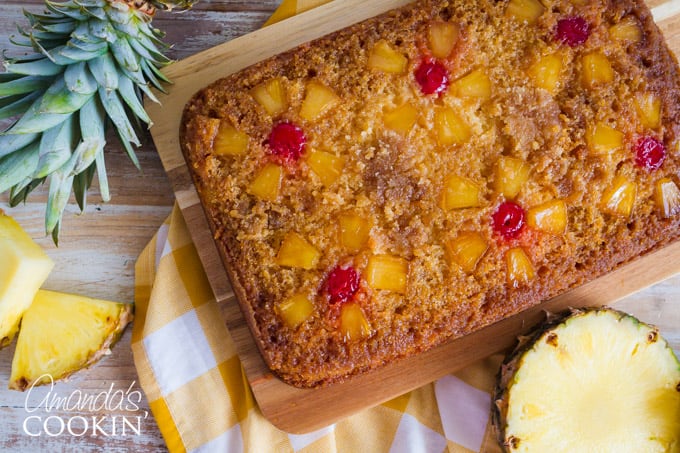 This pineapple upside down cake is the perfect Easter or Thanksgiving dessert- a classic I should say!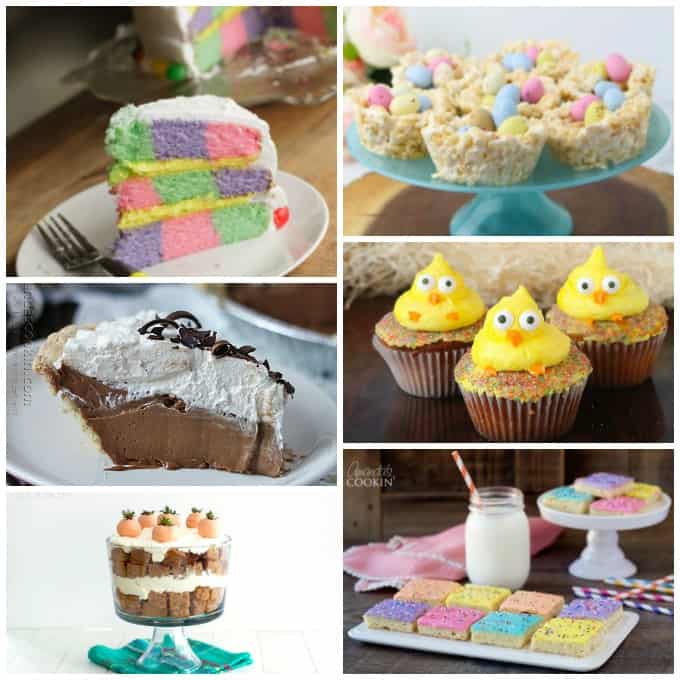 Want more Easter dessert ideas? We've got you covered! Check out the recipes below.
This post was originally published on this blog on Oct. 3, 2011.