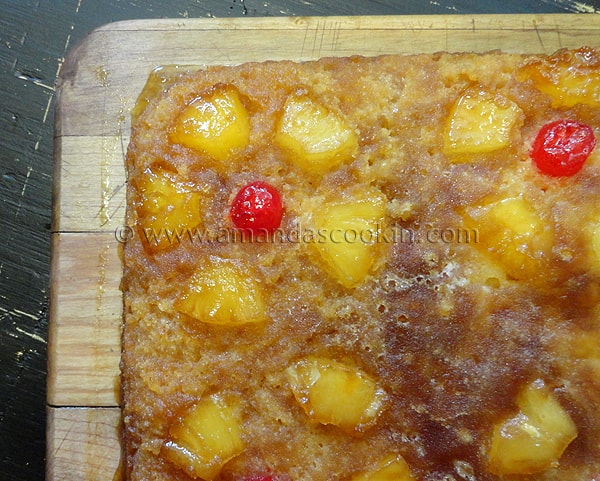 I have been making pineapple upside down cake using this recipe for more years than I can remember. It's my husband's favorite cake and definitely in my top 5. This is a great yellow cake recipe, and combined with the buttery brown sugar topping, it's truly sensational. Moist on the inside, sweet on top and crunchy on the edges. Just the way we like it!
I've actually posted this recipe before, however it was when I made this cake in a cast iron skillet. You can get two skillet cakes with this recipe, or one larger cake using a 13×9 baking pan. Something I did notice when I made this cake this last time was that I had an overabundance of butter using the glass pan. When using a metal pan, I didn't have the excess butter which actually dribbled out of the pan after I inverted the cake. So if you plan to use a glass pan, you may want to go with a couple less tablespoons of butter when melting it in the oven.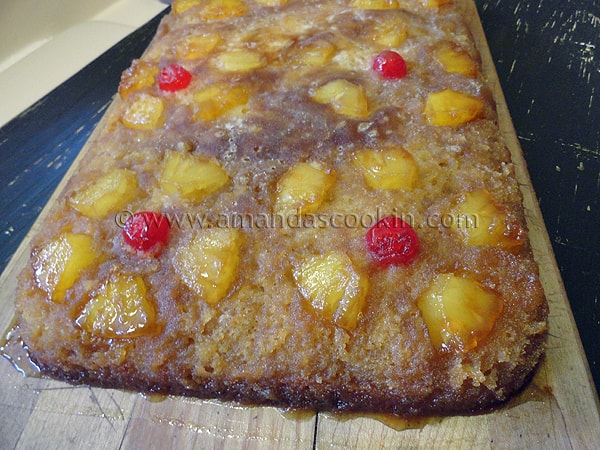 The fine folks at Pam Cooking Spray asked me to try out their new formula. I decided to try spraying the pan before starting. Normally I don't use a cooking spray with this recipe because I figure the butter will do the job. However, I always have a few pieces of fruit stick to the pan, so I decided to give it a shot. I was pleasantly surprised that nothing stuck and the cake inverted beautifully!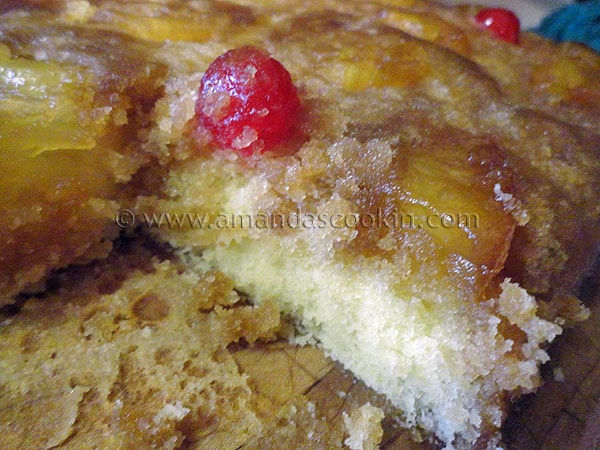 I put together a little video to show you the steps of this recipe. It's best to have everything measured out and ready to go. Drain your fruit ahead of time and mix up the batter while your butter is melting in the oven.
FAIR WARNING – I am a total video dope. So there's one spot in here where I accidentally overlapped the end of a segment (ha ha) and while I was trying to add the brown sugar to the pan my other hand with the video camera ended up showing you the mixing bowl. Haha! So I suck at videos. Sue me. I'm good at baking, and that's what counts :-P
So feel free to make fun of my ridiculous video abilities:
Amanda Formaro
Serves: 15-20
Pineapple Upside Down Cake
15 minsPrep Time
40 minsCook Time
Ingredients
Cake batter:

2 1/4 cups cake flour
1 1/2 cups sugar
1/4 cup shortening
1/2 cup cold unsalted butter, cut into thin slices
3/4 cup milk
3 eggs
2 1/2 teaspoons baking powder
1 teaspoon salt
1 1/2 teaspoons vanilla extract

Topping:

1/2 cup unsalted butter, divided
2 cups packed brown sugar, divided
1 15-oz can pineapple chunks
maraschino cherries
Instructions
Preheat the oven to 375 degrees and center rack in the oven. Spray 13x9 baking pan with Pam Cooking Spray.
Prepare the topping first by placing 1/2 cup butter in prepared pan. Place in the oven until the butter has melted, this only takes a few minutes.
Remove pan from the oven and sprinkle 2 cup of brown sugar over the melted butter. Drain pineapple chunks, reserving the juice to store any leftovers.
Gently place pineapple chunks onto the brown sugar, creating flowers with 5-6 pieces. Place a cherry in the middle of each pineapple flower. A pan this size will accommodate 6 flowers.
Prepare the cake batter by combining all batter ingredients in a mixer bowl. Mix at low speed for 30 seconds or so to incorporate, then increase speed to medium and mix for 5 minutes, occasionally scraping bowl if needed.
Do not be concerned if there are some small butter bits still in the batter, it will still bake up beautifully!
Carefully, but fairly quickly, pour the batter over the pineapples. You want to pour the batter on top, moving around as you go, so that you don't move any of the pieces of fruit around.
Bake 35-40 minutes. The sides should be bubbly and the top will be browned. Cool for 10 minutes on a wire rack.
Place a flat cutting board over the pan, then using oven mitts, invert the pan onto the cutting board. If necessary, use an icing spatula to scoop up any topping left in the pan to patch any bare spots on top of the cake.
7.6.4
262
https://amandascookin.com/pineapple-upside-down-cake-2/
Amanda Formaro, AmandasCookin.com
Con Agra provided me with a toolkit (see below) and PAM Nonstick spray to help me develop this recipe. Watch for a giveaway in the next couple of weeks where you can will these goodies too. Con Agra compensated me for my time, however all opinions expressed are 100% mine.
Watch for next week when I'll be giving away some fun goodies courtesy of Pam Cooking Spray!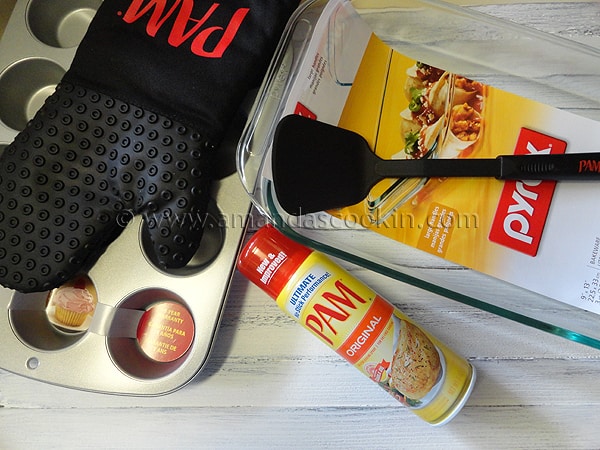 Amanda Formaro is the crafty, entrepreneurial mother of four children. She loves to bake, cook, make kid's crafts and create decorative items for her home. She is a crafting expert and guru in the kitchen and has appeared online and in print publications many times over the years. She is also a craft book author five times over and product developer as well as the owner of
FunFamilyCrafts.com
. You can find her on social media by using the buttons to the left!
Latest posts by Amanda Formaro (see all)