At the end of summer, when zucchinis are in abundance is the perfect time to make chocolate zucchini bread. This chocolate zucchini bread is moist, chocolatey and every bit of fabulous. I made this twice before freezing the rest of my shredded zucchini. I plan to make some later into the winter to remind me of the warms days long gone.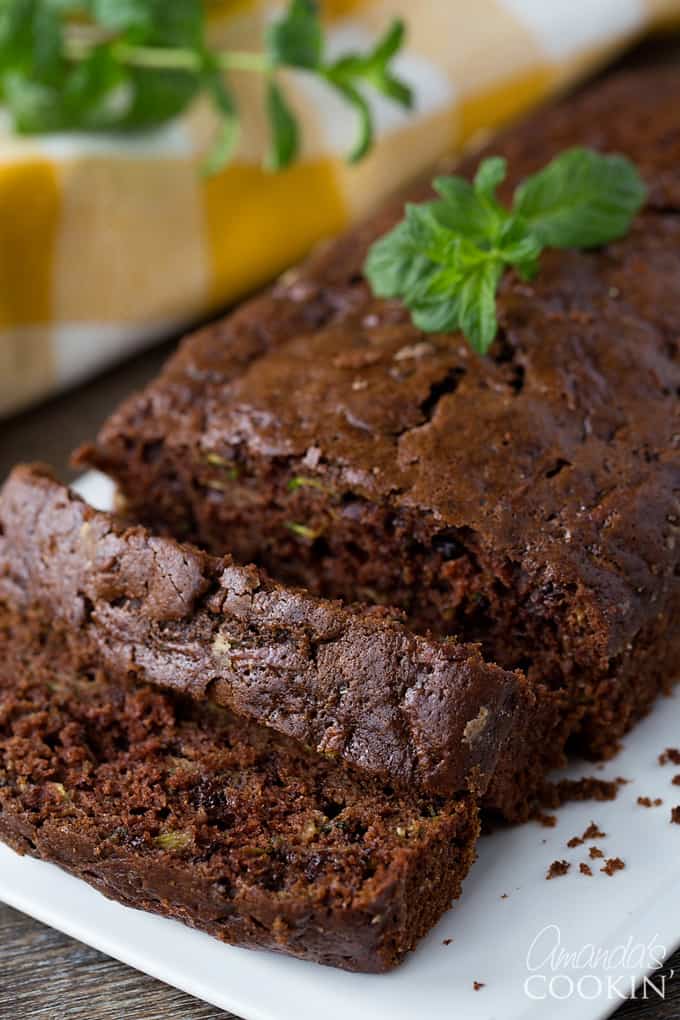 Ingredients for chocolate zucchini bread
Recipe by Our Best Bites Chocolate Zucchini Bread
2 Cup flour
2 tsp cinnamon
1/2 tsp salt
1 1/2 tsp baking soda
6 Tbsp unsweetened cocoa powder
1/2 Cup canola oil
1 Cup sugar
1/4 Cup brown sugar
3 eggs
2 tsp vanilla
1/2 Cup sour cream
3 Cup grated zucchini
3/4 Cup mini chocolate chips
optional: zest from one orange
Topping
2 Tbsp brown sugar
2 Tbsp white sugar
1/2 tsp cinnamon
Helpful Kitchen Tools
2 loaf pans
mixing bowls
hand or stand mixer
measuring cups and spoons
Preheat oven to 350 degrees. Butter and flour 2 loaf pans and set aside. I actually used one 8″ disposable pan to give away and a larger 9″ one for me and the batter divided perfectly. So you should get 2 very full 8″ pans or slightly less full 9″.
Mix topping ingredients in a small bowl and set aside.
Place flour, cinnamon, baking soda, salt, and cocoa powder in a small bowl and whisk to combine. Set aside.
With a stand or hand mixer beat oil, white sugar, brown sugar, and eggs until combined and slightly fluffy, 1-2 minutes.
Add vanilla and sour cream and mix until combined.
Gently stir in the grated zucchini (and zest if you're using).
Take a spoonful of the flour mixture and stir in with the chocolate chips (that will help keep them evenly distributed.) If you only have regular chocolate chips, or a chocolate bar, just give it a chop so it's the size of mini chocolate chips.
Add the remaining flour mixture to the batter and stir just until combined. Add chocolate chips and stir to combine.
Divide the batter between the two pans. and sprinkle topping over each. Place pans on a cookie sheet for easy moving.
Bake in your preheated 350 degree oven for 50-60 minutes.
When it's done a toothpick or skewer should come out without goopy batter on it and the top will be gorgeous and cracked with sugar.
Let it cool on a rack for 5-10 minutes and then remove from pans.
Incidentally, this tastes more like cake than a quick bread, so enjoy!