This Banana Cream Lush recipe is 2 lush recipes in one because it is also a Bananas Foster Lush.  A rum-infused, banana-caramel sauce brings this classic Banana Cream Lush layered dessert to a whole new level. Bursting with sweet banana cream flavor, this lush recipe is the long lost cousin of the infamous Banana Pudding Poke Cake. Both of which are fantastic to bring along to a summer BBQ or potluck!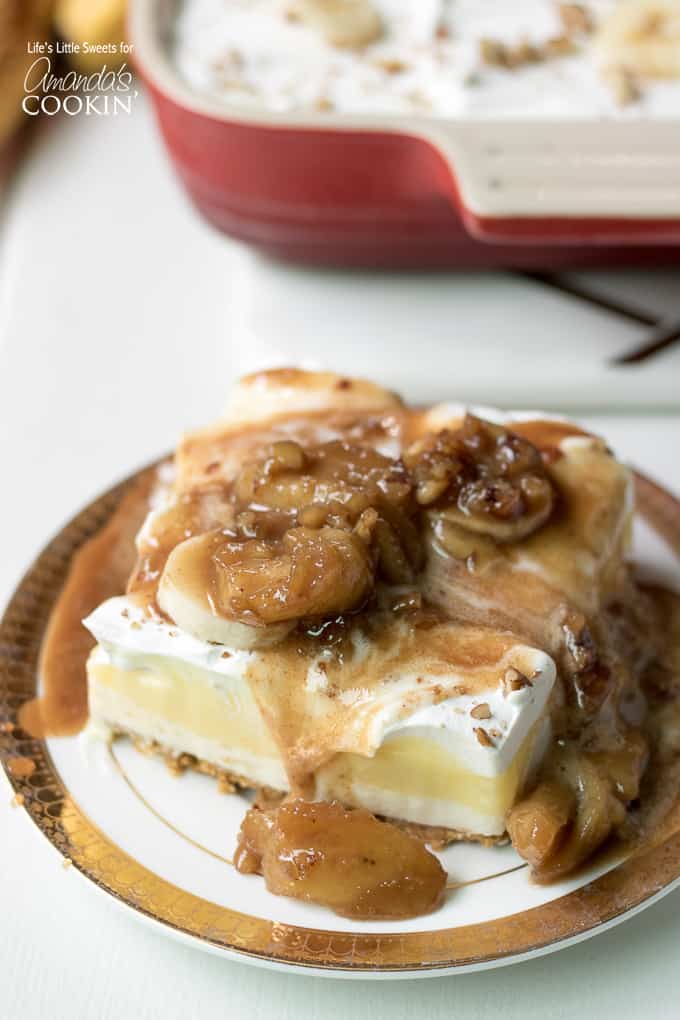 Banana Cream Lush with Bananas Foster Sauce
Hello Everyone, are you ready for a lush dessert on a whole new level? This Banana Cream Lush brings together the classic banana-rum flavor of a Bananas Foster dessert and Banana Cream Lush. In the recipe card, I give plenty of options to customize this recipe to your tastes.
Have you seen my Coconut Cream Lush, Lemon Lush, and Mocha Lush recipes? They are also great options for summer dessert ideas and just like this Banana Cream Lush, they feed a crowd with 12 big slices per recipe. Another really popular one is this Chocolate Lasagna!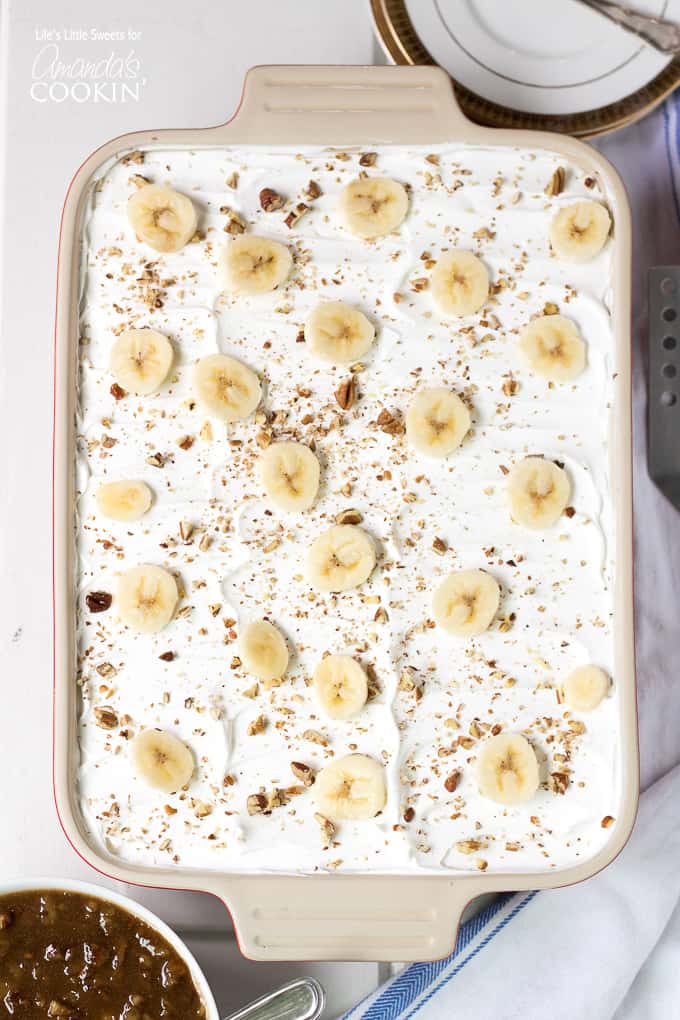 The above and below photos show this recipe as a Banana Cream Lush dessert recipe, which is great on its own. You can make this recipe ahead of time and it keeps well in the refrigerator or freezer (as long as you use cool whip for the top layer). I suggest slicing the bananas just before serving so that they do not get brown. I also topped the dessert with 2-3 tablespoons chopped pecans and walnuts which taste great with the banana flavors too.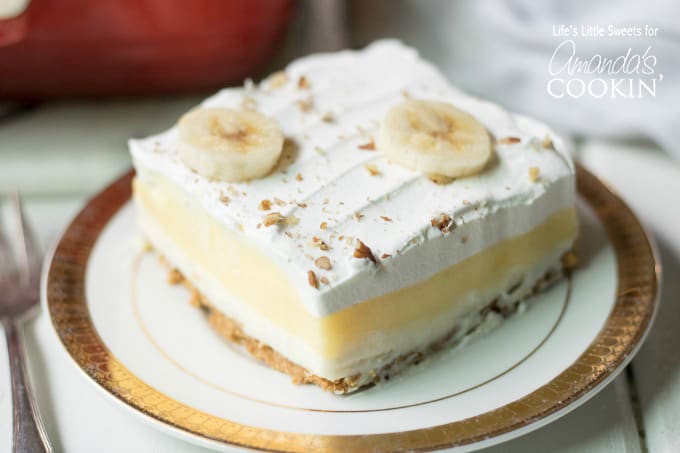 Ingredients for Banana Cream Lush
Bottom Graham Cracker Crust Layer (for no bake crust option):
2 (5 ounce) packages of regular, honey or vanilla graham crackers, finely ground using a food processor or manually crushing
5-8 tablespoons of unsalted butter, melted and cooled *I give a range for the amount because I have found that depending on the humidity, you may need more or less butter
Bottom Pecan Crust Layer (for baked crust option):
2 cups all-purpose flour
1 cup unsalted butter, melted and cooled
1/2 cup finely chopped or food processor processed pecans (great for the mini food processor)
1/4 cup granulated white sugar
Cream Cheese Layer (2nd Layer):
2 (8 ounce) packages cream cheese, softened to room temperature
1 cup granulated white sugar
1-2 tablespoons fresh squeezed lemon juice
Banana Cream Pudding Layer (3rd Layer):
2 (3.4 ounce) packages instant banana cream pudding mix
4 cups milk (you can also do 3 1/2, if you want it slightly thicker)
Whipped & Toppings Layer (4th Layer):
1 (8 ounce) container whipped topping (I used Cool Whip), you can substitute the same amount whipped cream
2-3 chopped pecans or walnuts (this would go if you chose the bottom pecan crust option too)
right before serving: 1 banana sliced
Bananas Foster Sauce for Serving (5th Layer):
1 stick (1/2 cup) of salted butter
1 cup dark brown sugar
3/4 cup heavy cream or whipping cream
1/2 cup dark rum
2 bananas, sliced in half and then lengthwise in thick slices
1/2 cup chopped pecans or walnuts
1/4 ground cinnamon
optional: 1/2 teaspoon vanilla extract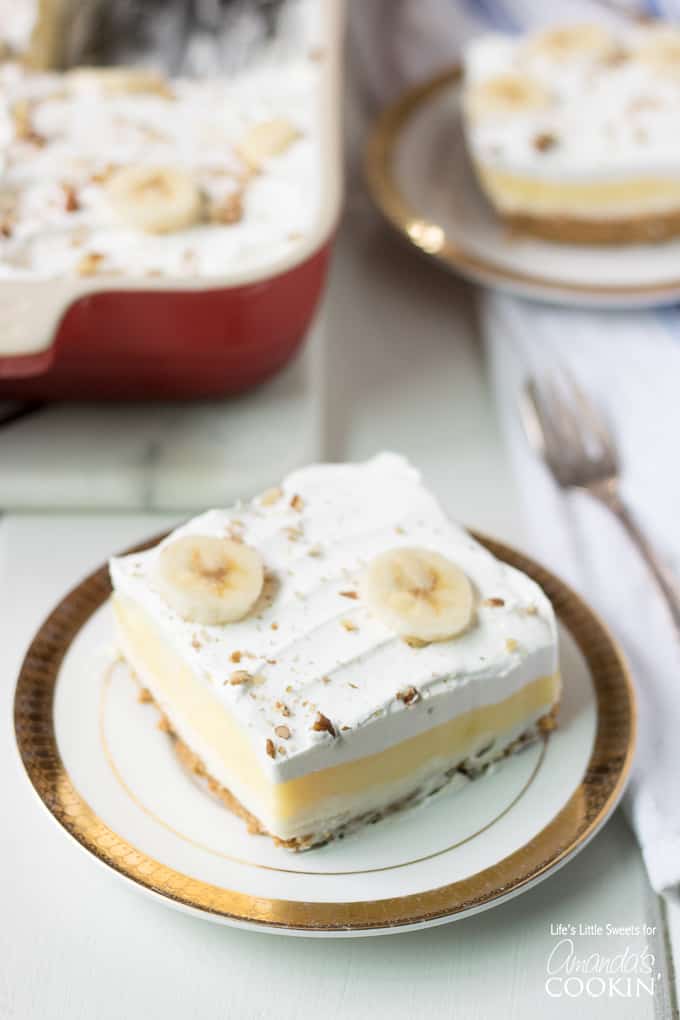 Kitchen Tools Needed for Banana Cream Lush with Bananas Foster Sauce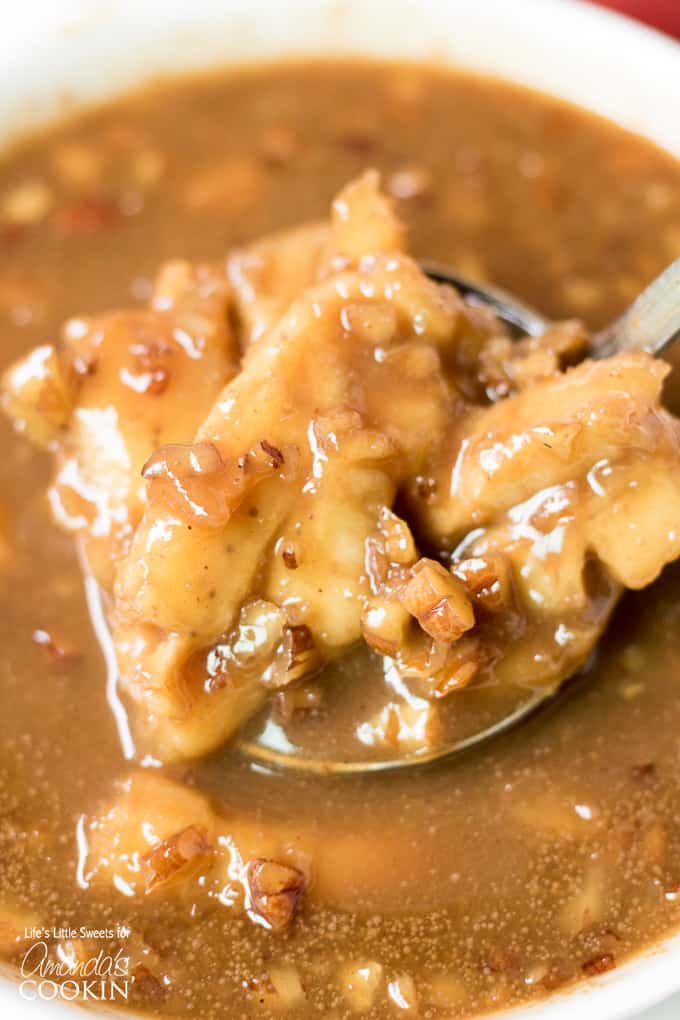 This bananas foster sauce is salty and sweet. The savory element in this banana lush comes from using salted butter. You can omit the pecans or walnuts but they go so well atop this masterpiece. You can also use the caramel sauce as a topping on French toast, crepes or ice cream. YUM!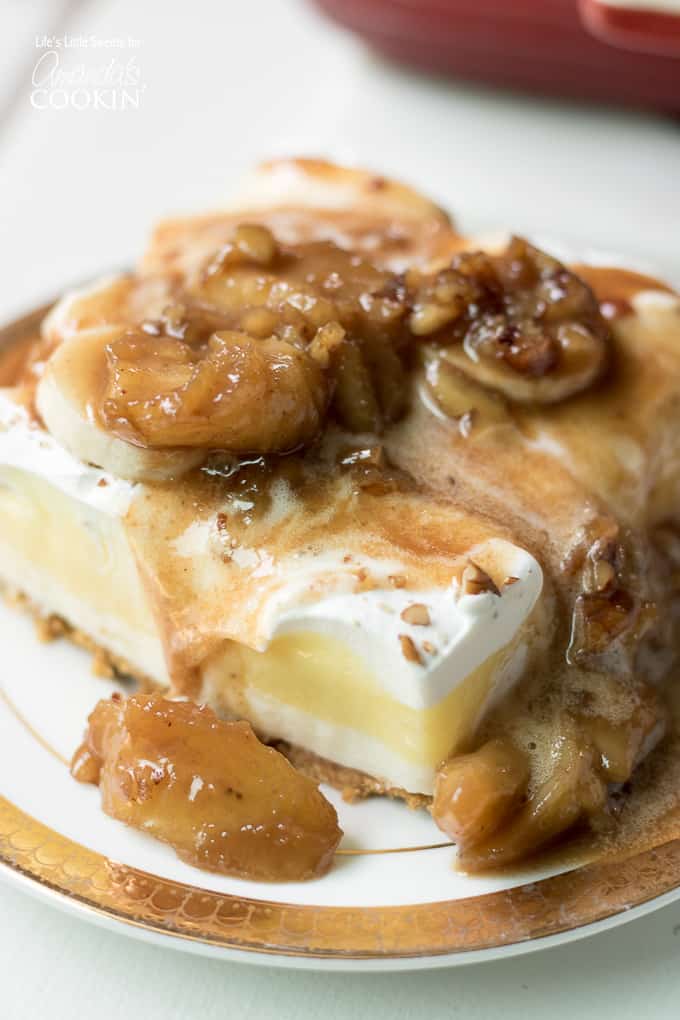 I love the combination of the chilled lush dessert with the warm bananas foster sauce on top. This Banana Cream Lush recipe is big on banana flavor: There are fresh bananas, cooked bananas and banana cream pudding.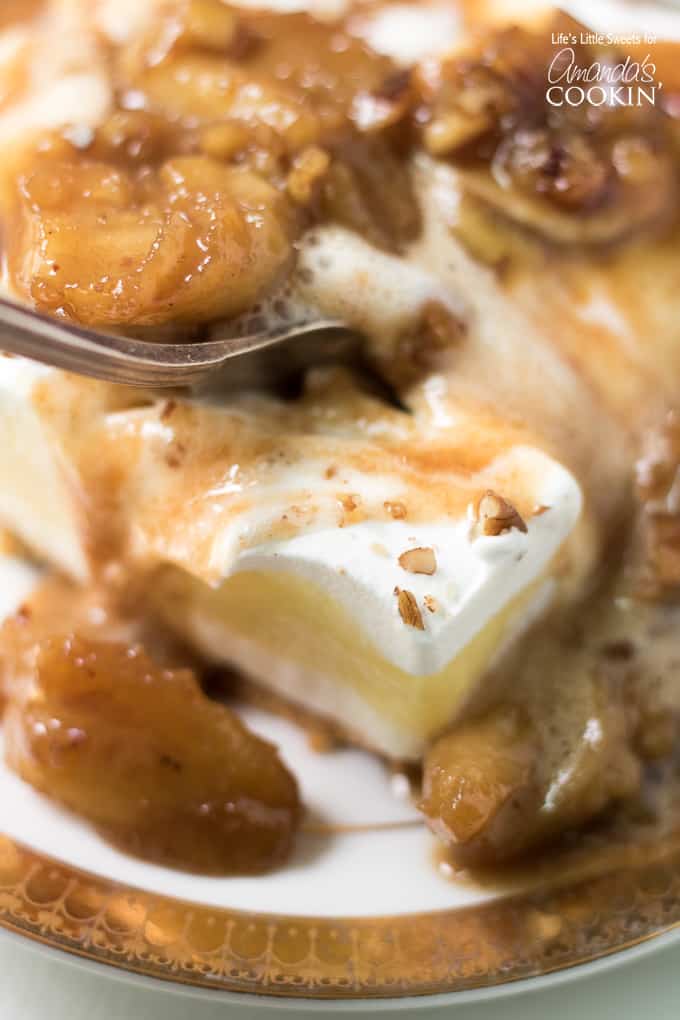 The perfect one-pan dessert recipe to bring along to work parties, BBQ's, picnics, family outings and more!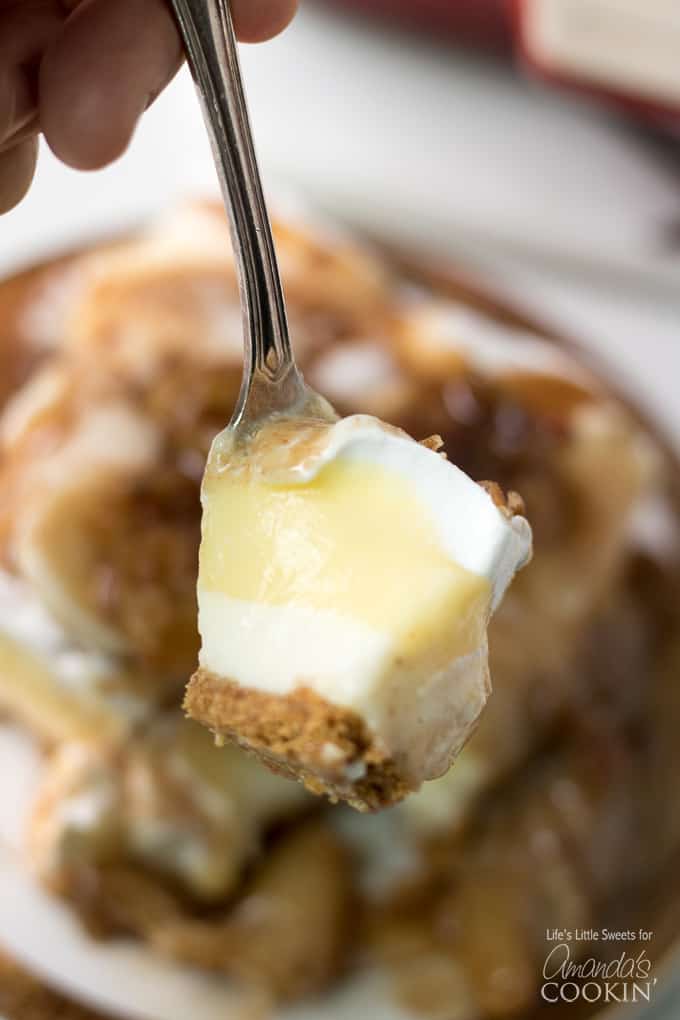 Bursting with different textures and incredible flavors, your guests will love you for making this.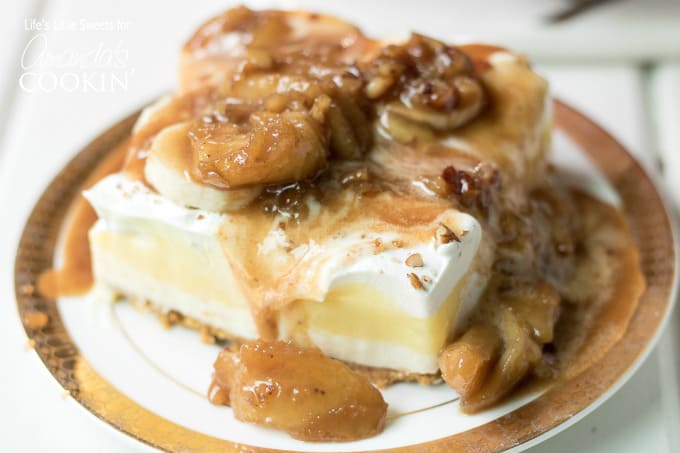 I have no doubt you are going to love this Bananas Foster Lush recipe!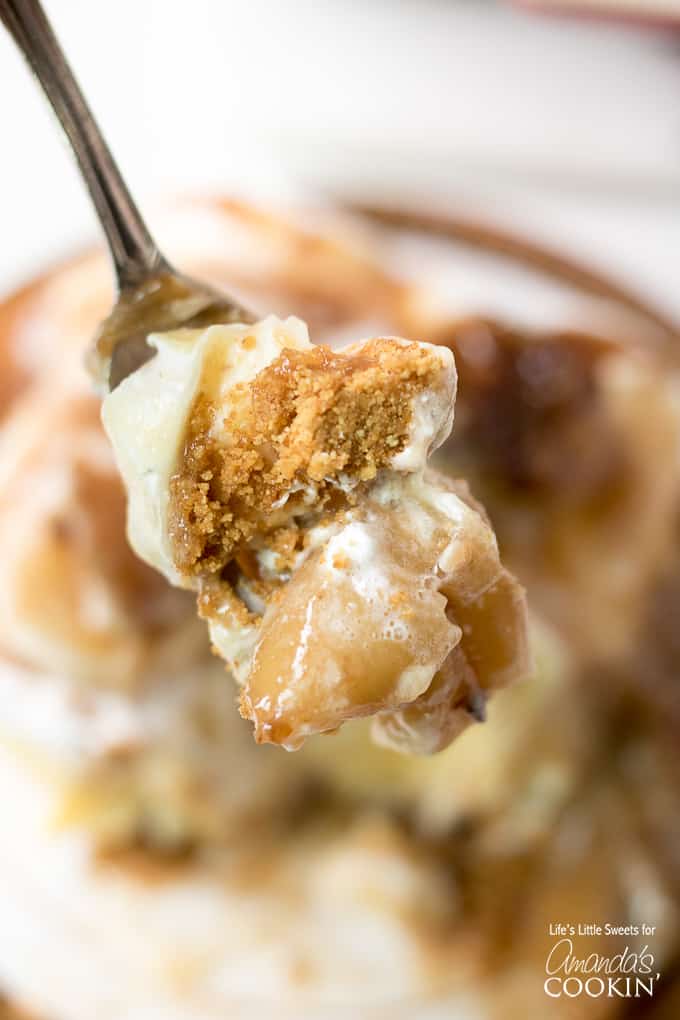 Banana Fanatic? Be sure to check out this Easy Banana Cake– a super easy doctored up cake mix creation! Or our favorite Sour Cream Banana Bread recipe!