Similar in popularity to our chocolate lasagna and lemon lush, this silky lemon cheesecake pudding dessert is a no-bake dream, perfect for holidays and potlucks! Made with a graham cracker crust, creamy lemon pudding, smooth cream cheese and fluffy whipped topping, this layered lemon dessert will delight everyone!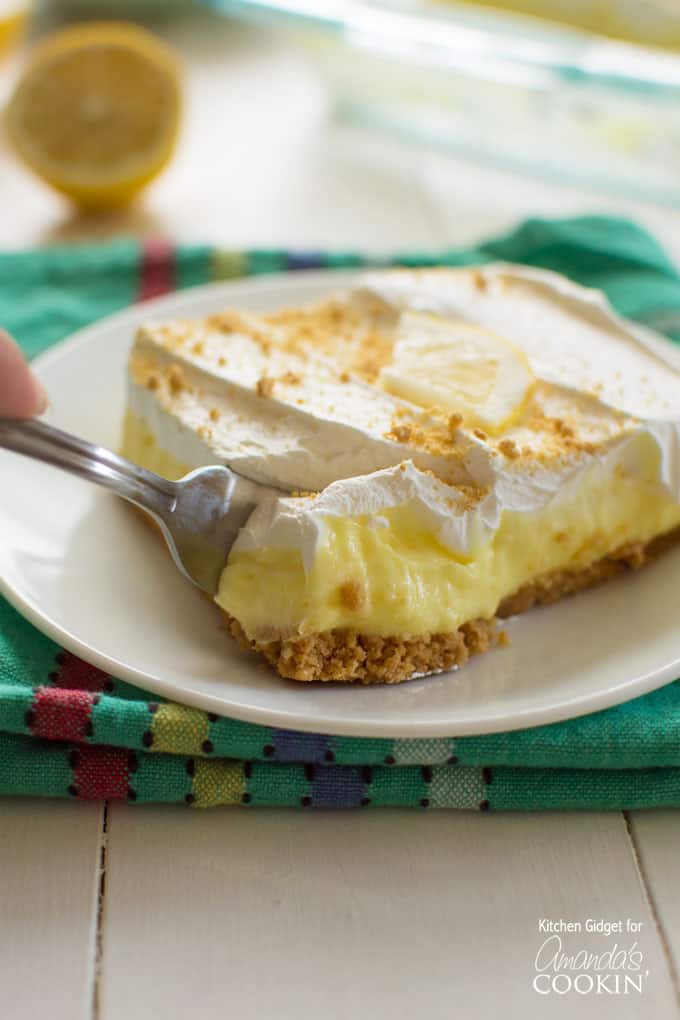 Lemon Cheesecake Pudding Dessert
This lemon cheesecake pudding dessert tastes just like lemon cream cookies! Several years ago one of my favorite cookies was discontinued. You know the ones I'm talking about…the kind you can only buy once a year from those adorable little sales reps.
Watch the video below:
They were a toasty shortbread cookie filled with a luscious lemon cream frosting. Each year I keep hoping they'll bring them back, but alas no luck. However, one bite of this no bake lemon dessert and I was in heaven! Lemon-yellow heaven with sunshine and citrus!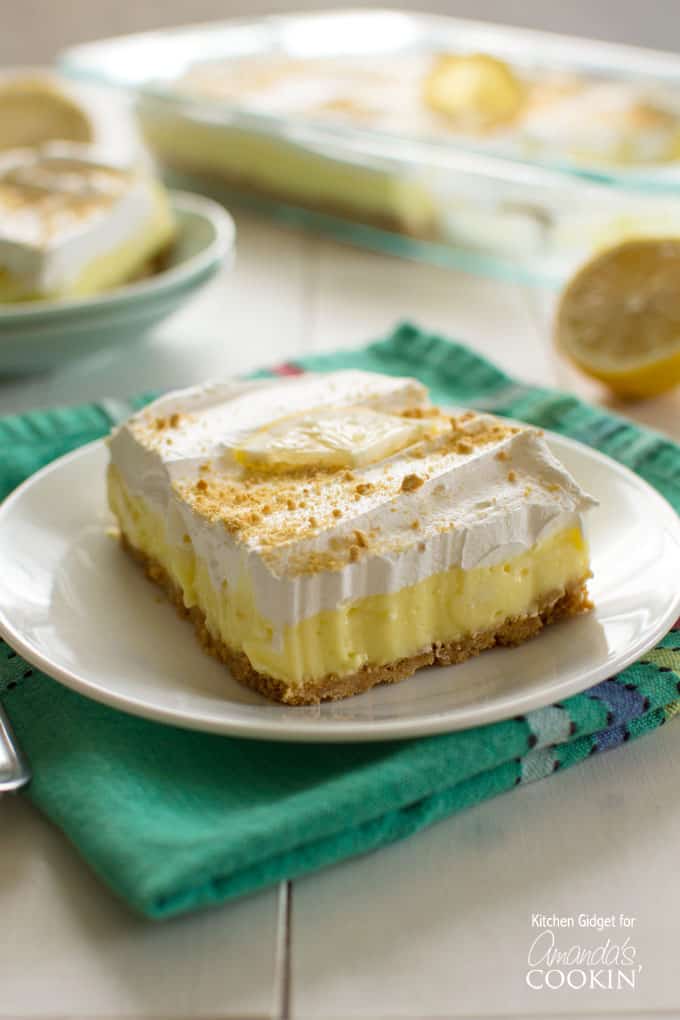 It's no secret that I love lemon desserts. Lemon sandwich cookies that start with a cake mix are one of my all-time favorites. It's also no secret that I love layered no bake desserts as well. They're always a favorite at gatherings and so easy to put together! If you're a chocolate fanatic, try the chocolate cheesecake pudding dessert instead.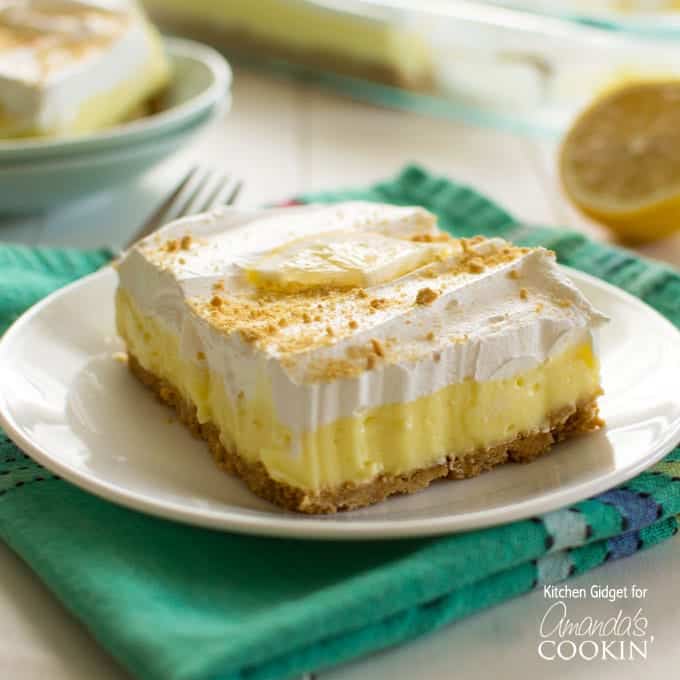 You Will Need:
2 cups crushed graham crackers, plus more for garnish
1/2 cup butter (1 stick)
2 tablespoons sugar
1 package cream cheese, softened
2 boxes instant lemon pudding mix
3 cups milk
1/2 teaspoon lemon zest
1 container whipped topping, thawed
Lemon slices, for garnish (optional)
KITCHEN TOOLS YOU WILL FIND USEFUL:
This lemon cheesecake pudding dessert starts with a graham cracker crust. I love to bake mine for a few minutes to bring out the toasty, nutty flavors of the grahams, but in the summer I forgo this step. The crust will be a bit crumbly, but it will set up in the refrigerator once the butter has cooled.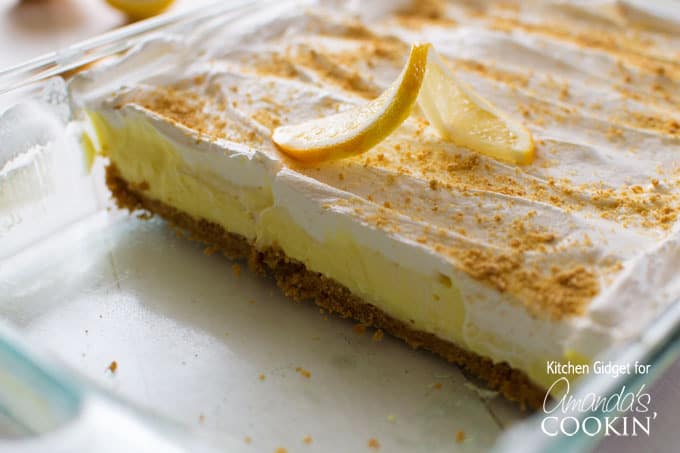 Next comes the lemon layer. Adding cream cheese to pudding instantly adds a cheesecake-like richness. Be sure the cream cheese has come all the way to room temperature so it's easy to blend. I also add about 1/2 a teaspoon of freshly grated lemon zest to the filling. That burst of citrus gives the filling a definite homemade taste.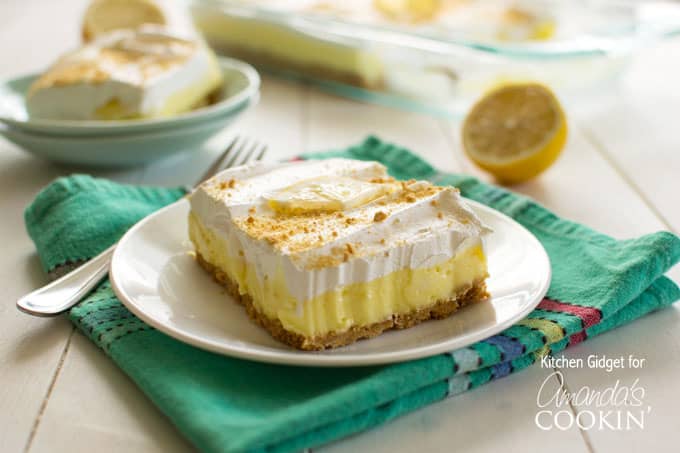 If you don't have a lemon on hand, this dessert will still be fantastic without the zest. Lastly, a final layer of whipped topping for a light, sweet finish. Garnish with slices of lemon and extra graham cracker crumbs for a beautiful presentation!
SCROLL DOWN FOR THE PRINTABLE VERSION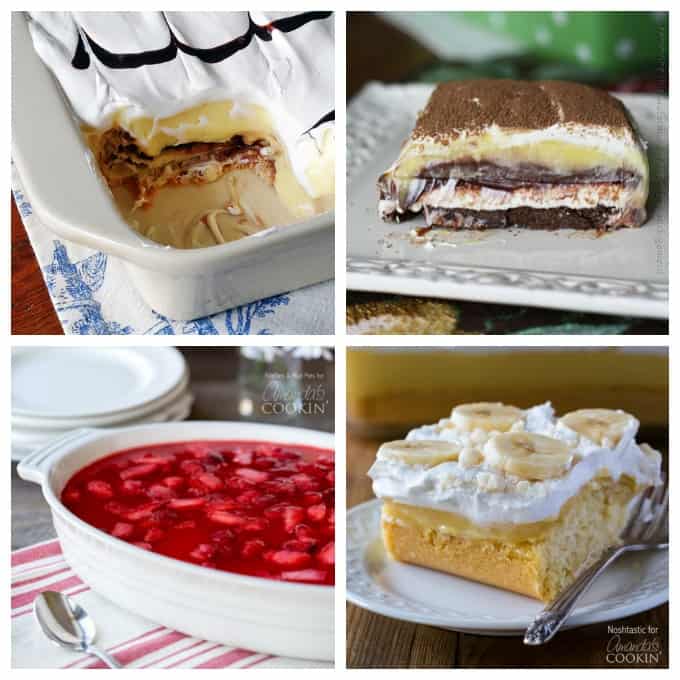 MORE DELICIOUS ONE-PAN POTLUCK DESSERT IDEAS