I love breakfast. Eggs are one of my favorite dishes, so I am always trying to find different ways to serve them. It's usually just me though, as hubby's off the work early, the kids go off to school, and that's when I get to eat breakfast. I'm also diabetic, so I try to keep a good balance of protein, good carbs and good fats whenever I cook. I've heard a lot of good things lately about how Mediterranean recipes fit that bill perfectly. Most use good quality olive oil, plenty of fresh vegetables and lean meats.
I made a trip to the library and hit the cookbook section. I generally just scan the shelves looking for a new culinary treasure I have yet to experience. I hit the jackpot this time when I pulled the book Against the Grain: 150 Good Carb Mediterranean Recipes
 by Diane Kochilas off the shelf. The first recipe I tried after devouring all the pages in this great book, was Scrambled Eggs with Garlic, Basil & Gruyere. I didn't have any gruyere, so I used feta cheese. The results were absolutely, sop up as much as you can off the plate fabulous. I paired this mouth watering breakfast with some orange wedges and savored every morsel.
I buy farm fresh eggs. I am very fortunate to live in a rural area where I can do that. Not sure if you can tell from this picture, but the yolks are MUCH deeper yellow, more yellow-orange, than the grocery store eggs. This is because they are higher in protein. When chickens are allowed to be outside, scratching around in the dirt, eating protein enriched bugs all day, they produce eggs with a lot more protein than a chicken in a large egg farm (factory). Those chickens are kept in cages, stacked on top of one another, dropping out egg after egg after egg. Be cautious of some supposed "free range" claims, just because a chicken is allowed to be outside doesn't mean they will be able to eat bugs. For example, there are some egg farms that let the chickens out in a pen, but the pen floor is concrete! That means no scratching for bugs, and that's where the bird gains its nutrients to pass on to you and me through gorgeous orangey yolks. What's funny is that my mother in law told me that if she had opened an egg from the grocery store that looked like that she probably would have thought the egg was no good.
This is a very easy recipe, just whip the eggs together with everything except the garlic, which should be slowly cooking in olive oil over a low flame.
Cook the eggs slowly until done and enjoy!
Scrambled Eggs with Garlic, Basil & Gruyere
I halved everything here to make breakfast for one.
Per serving: calories 237; fat 18g (saturated fat 6g); cholesterol 437mg; sodium 152mg; carbohydrates 3g, fiber 0g, protein 15g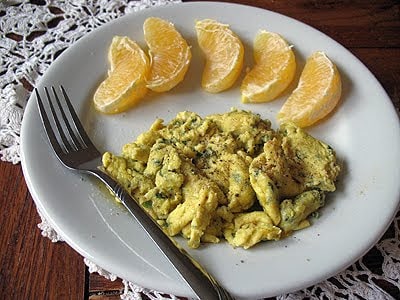 Ingredients
2

tsp

olive oil

2

garlic cloves

mashed

4

large eggs

1

tbsp

light cream

I used whole milk

2

tbsp

finely chopped fresh basil

2

tbsp

grated gruyere

I used crumbed feta
Instructions
Heat the oil in a large, heavy skillet over low heat. Add the garlic, cook until golden, but don't let it burn.

Beat together the eggs, cream, 2 tablespoons of water, the basil, and cheese in a large bowl. Pour the egg mixture into the skillet over the garlic. Scramble lightly and cook until fluffy and soft but not runny. Divide between two plates and serve.
NEW! Be sure to subscribe to my newsletter, Foodie in the Craftroom, to receive updates and tips from both Amanda's Cookin' and Crafts by Amanda! Visit https://amandascookin.com/p/subscribe-to-newsletter.html
Amanda Formaro is the crafty, entrepreneurial mother of four grown children. She loves to bake, cook, make kid's crafts and create decorative items for her home. She is a crafting expert and guru in the kitchen and has appeared online and in print publications many times over the years. She is also a craft book author five times over and product developer as well as the owner of
FunFamilyCrafts.com
. You can find her on social media by using the buttons to the left!
Latest posts by Amanda Formaro (see all)