These Homemade Cinnamon Rolls are a true classic. Topped with cream cheese frosting, these gooey cinnamon rolls satisfy your sweet cravings! They also make the perfect holiday or weekend breakfast with the family. (makes 12 rolls.)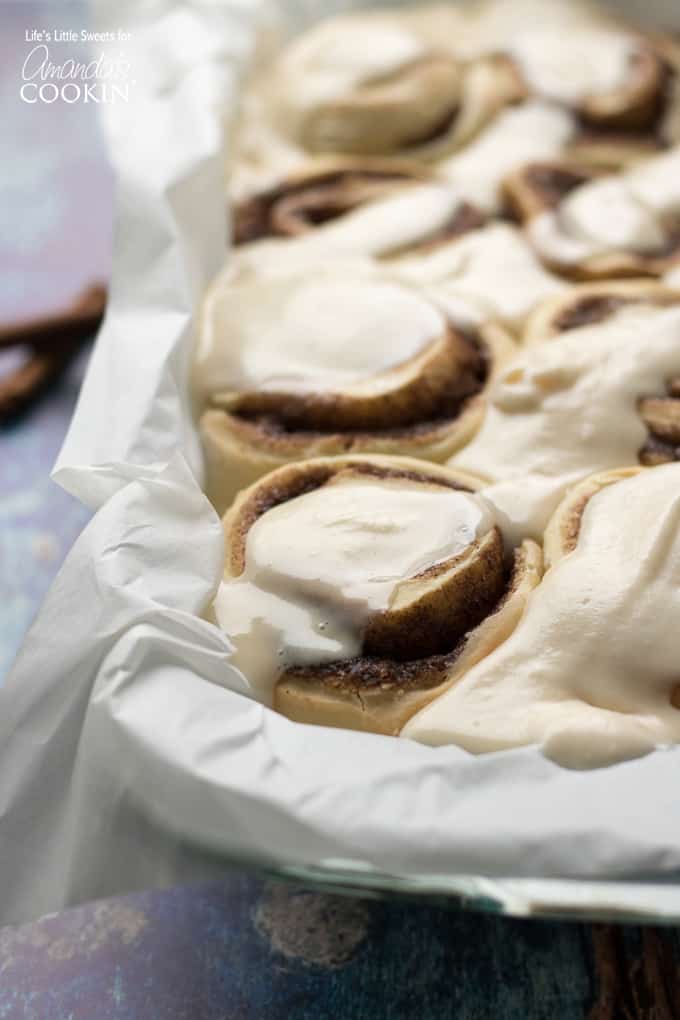 Homemade Cinnamon Rolls
Hi Everyone, these Homemade Cinnamon Rolls are the kind you dream about, they are just like bakery style cinnamon rolls. Nice and large but they are also gooey due to being baked with heavy cream poured over them and being topped with cream cheese frosting.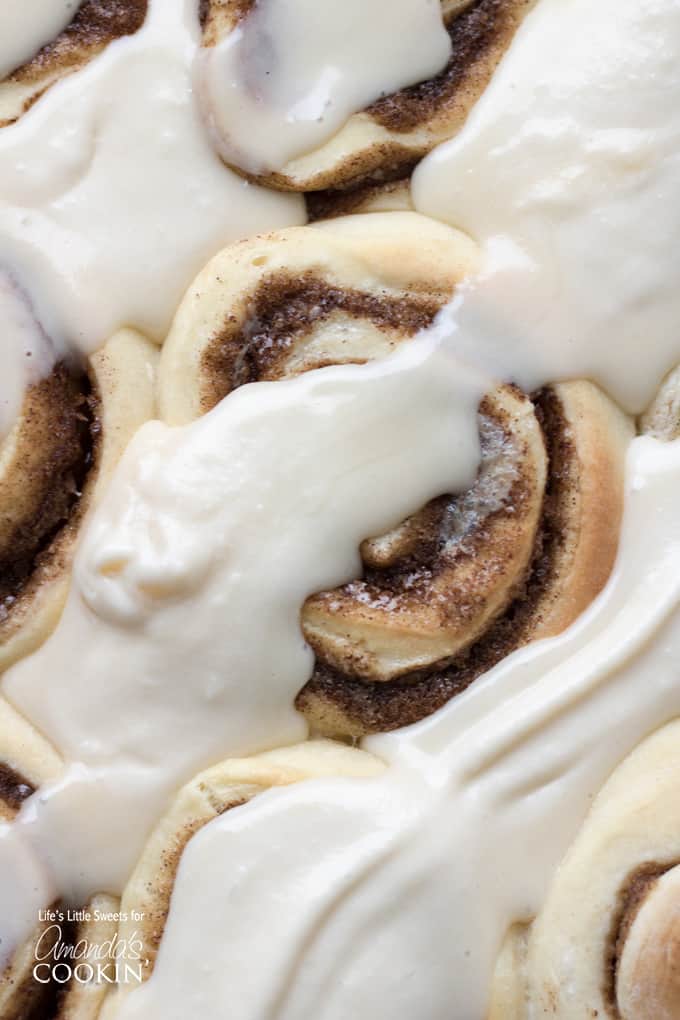 Ah, they'll have you floating in cinnamon roll heaven. This recipe makes plenty of cream cheese frosting too, enough for each cinnamon roll to get its fair share.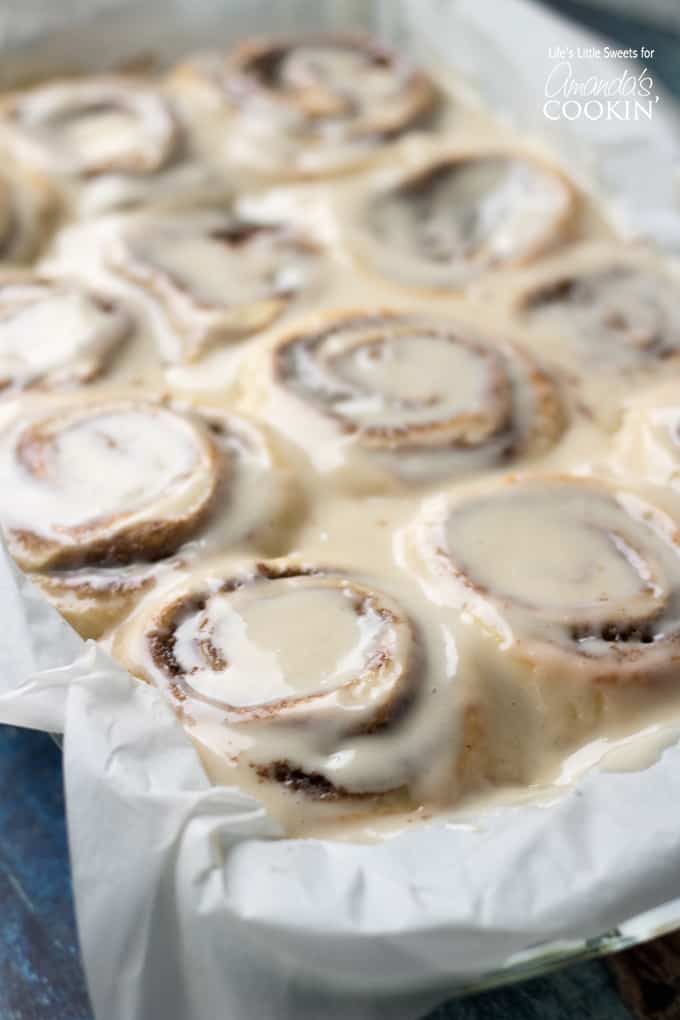 They are the perfect partner to a hot cup of coffee or tea and the kind of food you want to linger over on a Saturday or Sunday morning.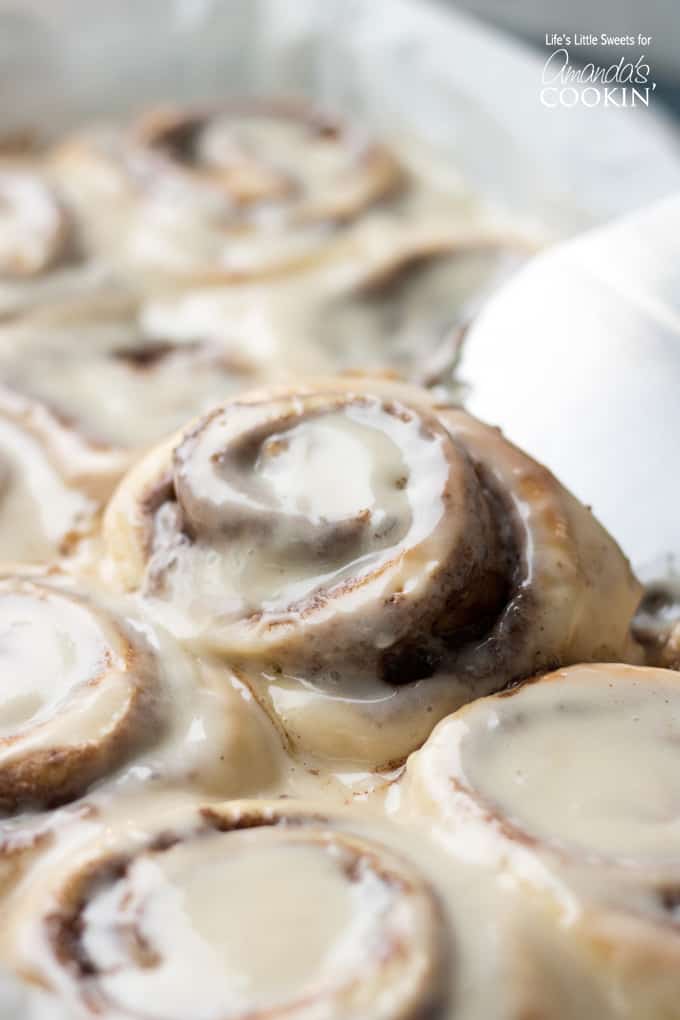 You can make these the night before so that you can easily reheat them in the morning which is what I usually do.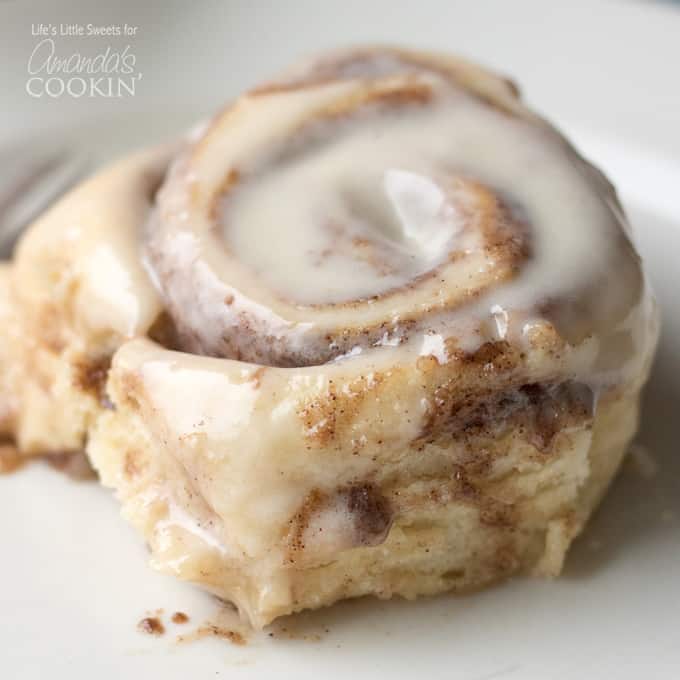 Ingredients for Homemade Cinnamon Rolls
Dough for Cinnamon Rolls
cooking spray (vegetable or Canola oil)
1 cup warm milk (the temperature should be between 105-115 degrees F)
2 1/2 tsp (5/16 oz./8.75 g) fast rise yeast (I like Hodgson Mill)
2 large eggs (room temperature)
1/3 cup unsalted butter, melted (but not hot)
4 1/2 cups all-purpose flour
1 teaspoon Kosher salt
1/2 cup granulated white sugar
Cinnamon-Sugar Filling
1/2 cup unsalted butter, softened
1 cup dark brown sugar
2 tablespoons cinnamon
1/2 cup heavy cream
Cream Cheese Frosting
8 ounces (226 grams) regular cream cheese
6 tablespoons unsalted butter, softened
2 cups powdered sugar
1/2 tablespoon pure vanilla extract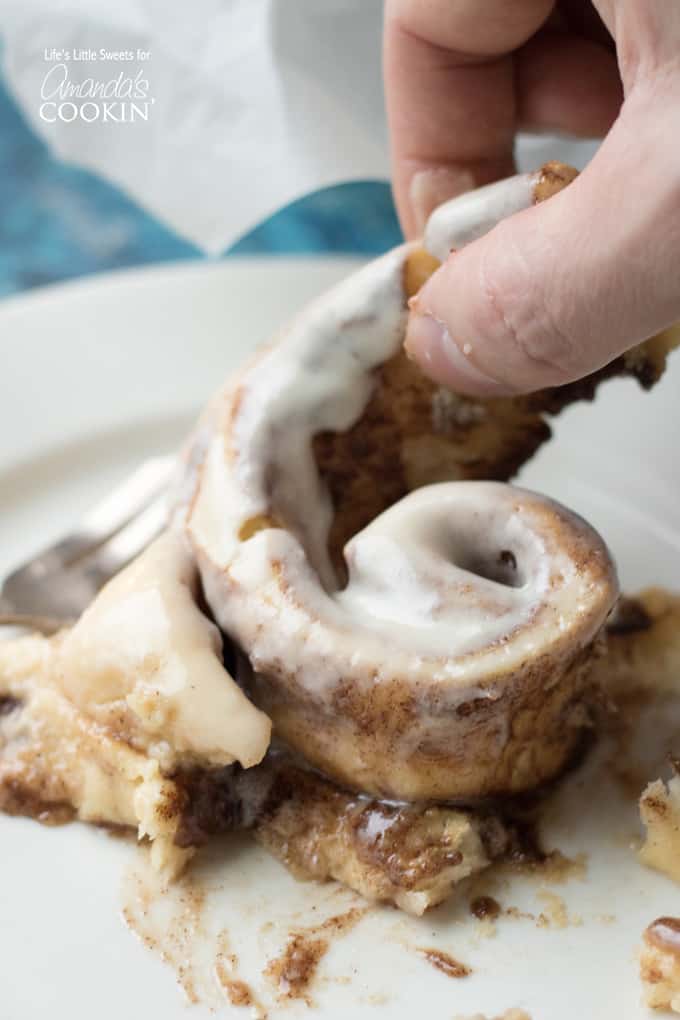 Helpful Kitchen Tools for Homemade Cinnamon Rolls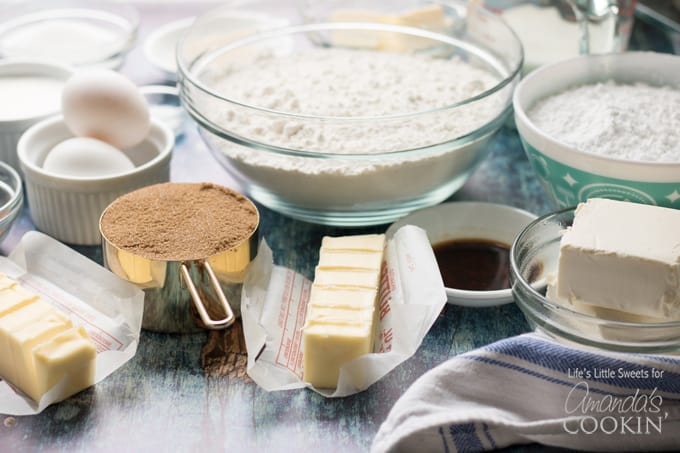 The amazing thing about these homemade cinnamon rolls is that they are so moist and gooey when they come out of the oven. They actually have cinnamon-sugar "juice" that you can spoon on top after you cut them out of the baking pan.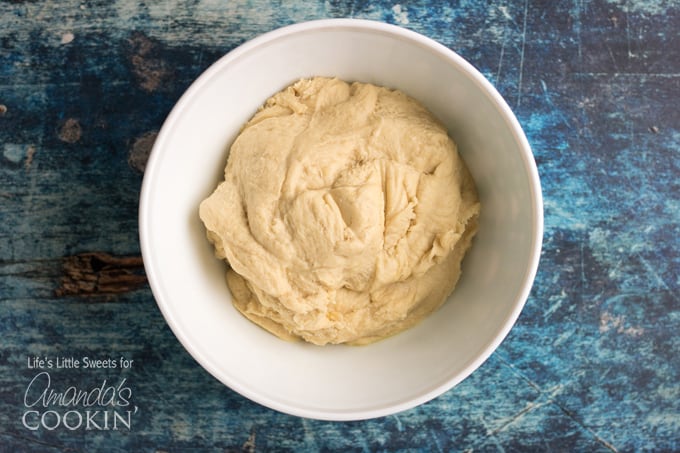 Dough for Cinnamon Rolls:
Spray a large mixing bowl with cooking spray and set aside.
In a stand mixer (set up with the paddle attachment), add the warm milk and yeast. Add eggs, unsalted butter, Kosher salt and granulated white sugar and mix until just combined.
Add the flour and mix until combined, scraping down the sides, if needed. Allow the dough to rest for a few minutes before the next step. Remove the paddle attachment and attach the dough hook.
On low speed, beat with the dough hook for 5 minutes. The dough will be sticky and will stick to the sides of the bowl.
Place the dough into the prepared large mixing bowl, using a rubber spatula to scrape out any dough sticking to the sides.
Cover and allow the dough to rest for 30 minutes or until it has doubled in size.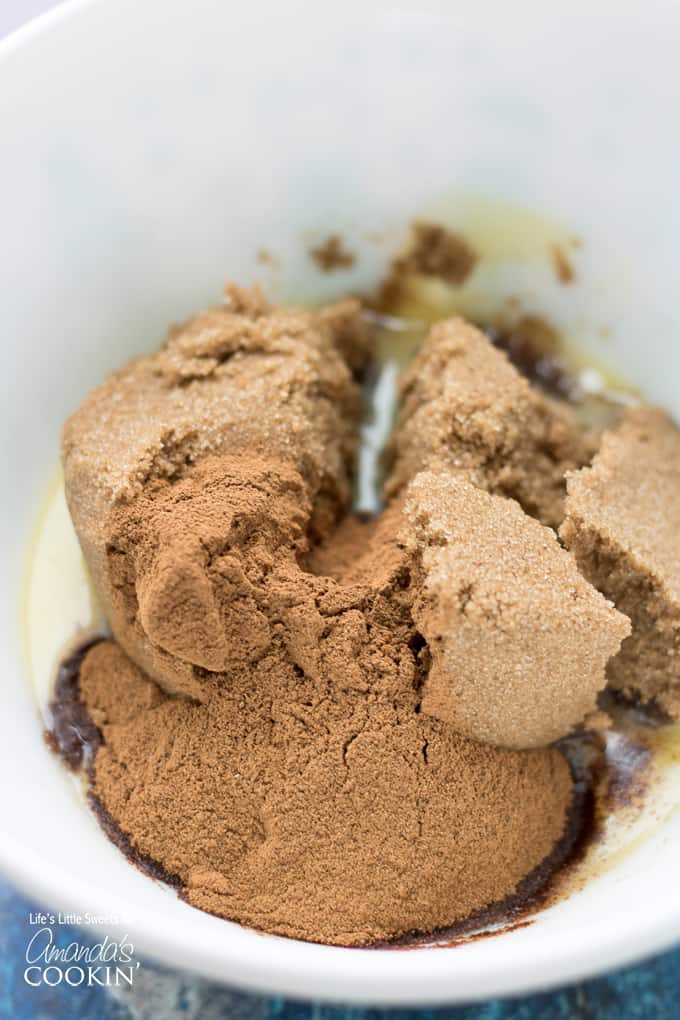 Cinnamon-Sugar Filling (You can make this while the dough is rising):
In a medium bowl, combine the softened butter, dark brown sugar, cinnamon until evenly combined and set aside.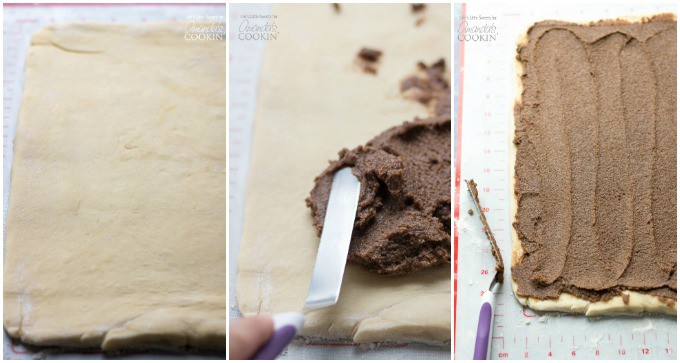 Assemble the Rolls:
Lightly sprinkle a floured surface or pastry mat, roll the dough out into a 12 x 15-inch rectangle.
Using an offset or baking spatula, spread the cinnamon-sugar mixture evenly over the dough.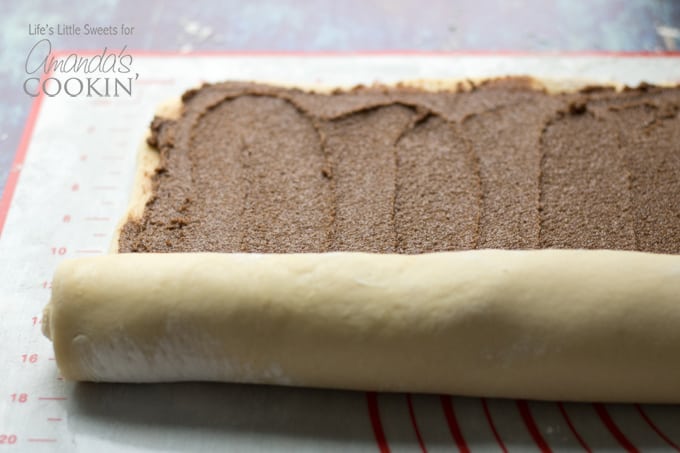 Roll the dough, lengthwise, into a roll.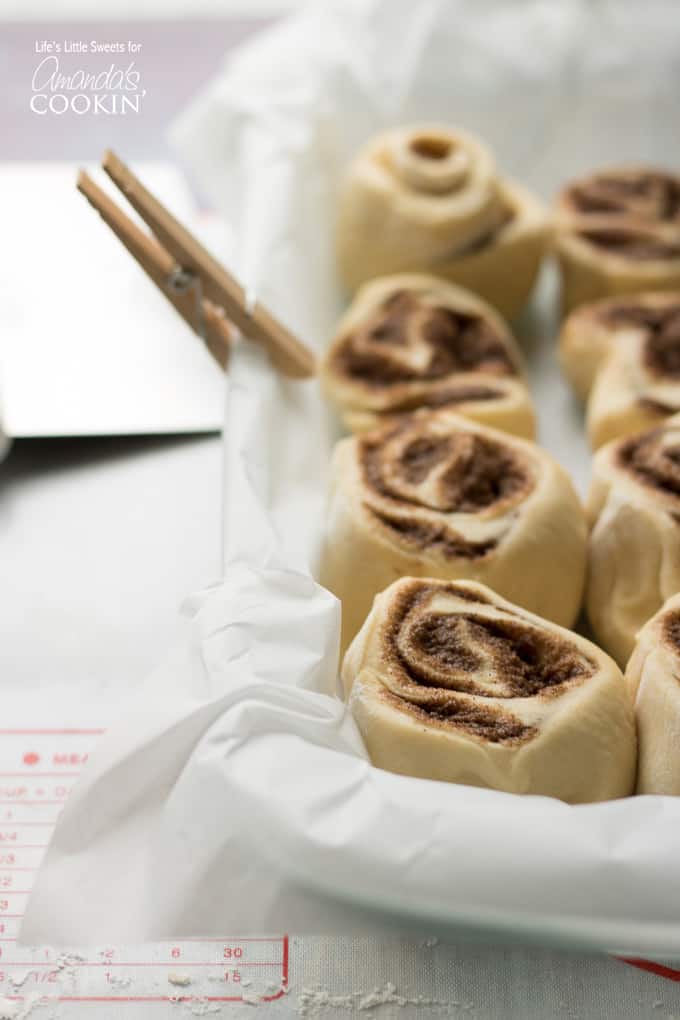 Cut into 12 even pieces and arrange in a greased 9 x 13 baking pan.
Cover with a towel until the rolls have doubled in size, approximately 20 minutes. Preheat oven to 375 degrees F.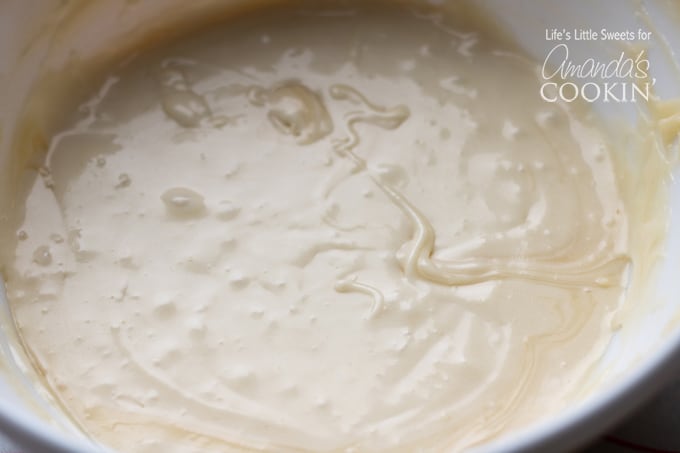 Heat the cream in the microwave for 50 seconds, stir and then 50 more seconds (or until it's not cold).
Pour the cream over the rolls so that they are covered and then the cream will soak to the bottom (this makes the rolls gooey and moist).
Bake for 17-19 minutes (19 minutes works best for me). While the rolls are baking you can make the cream cheese frosting.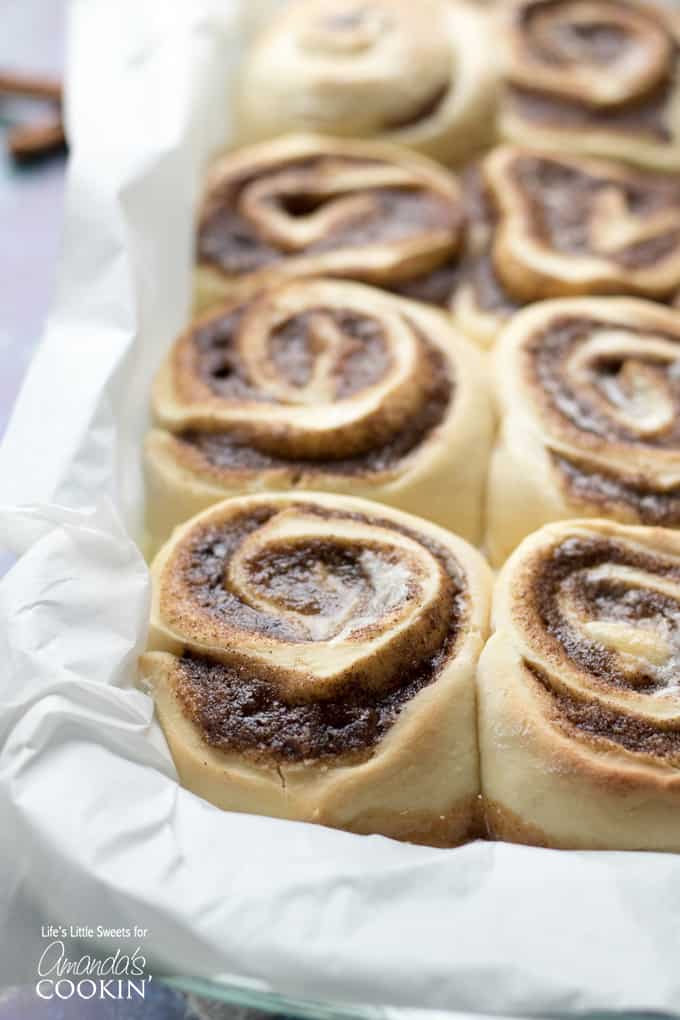 Cream Cheese Frosting:
In a large mixing bowl, using a handheld electric mixer (or your stand mixer and paddle attachment) mix the softened cream cheese, softened butter, 2 cups powdered sugar and 1/2 tablespoon pure vanilla extract until combined. (for storing the frosting, store in the refrigerator in an airtight container).
When the rolls are done, serve with the cream cheese frosting, enjoy!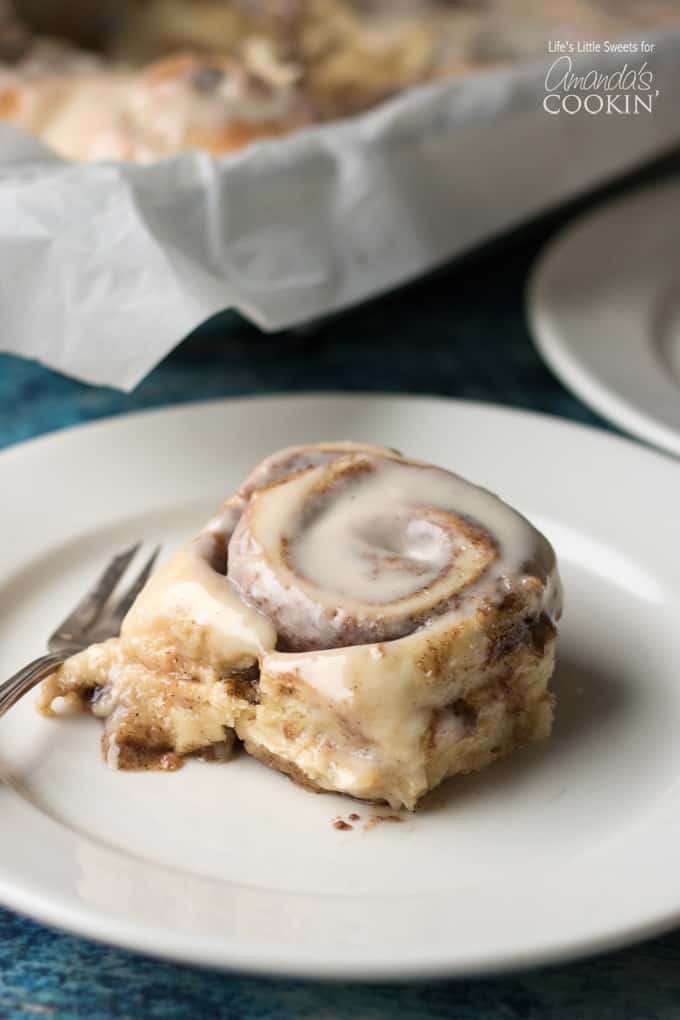 I have made cinnamon rolls before on my blog but I have to say, these Homemade Cinnamon Rolls are my new favorite.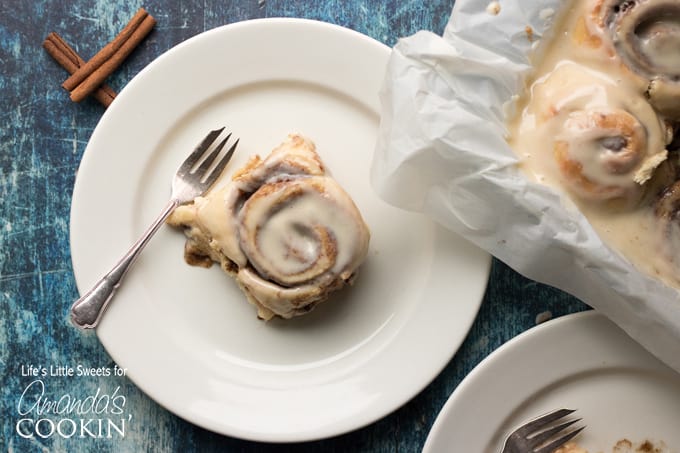 I know you will love this Homemade Cinnamon Rolls recipe!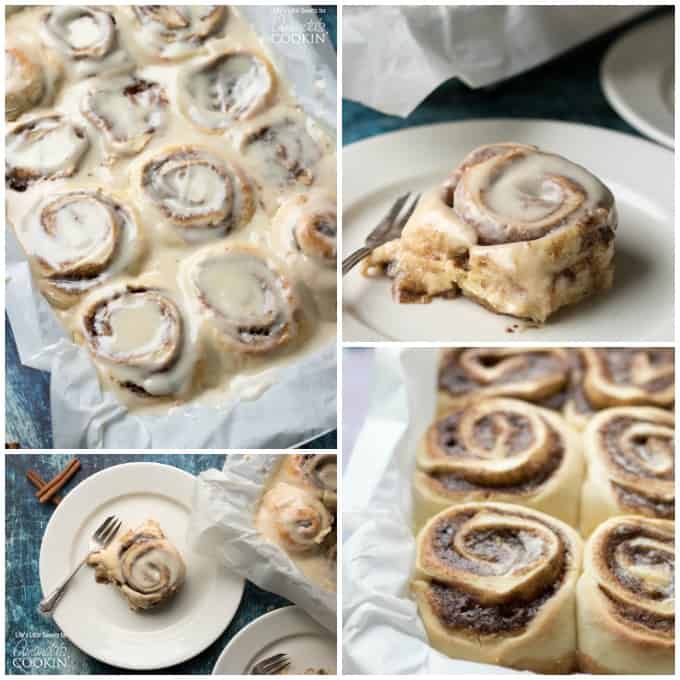 We have lots of cake, rolls, and bun recipes here on Amanda's Cookin'. Check out some of our most popular!
Recipe Attribution
This recipe was inspired by TastesofLizzyT.com