No need to turn on the oven for this No Bake Berry Cheesecake Trifle. Delicious layers of cheesecake, graham cracker crumbs and fresh blueberries & strawberries make up this delectable red, white and blue dessert. Served in 6 pint-sized mason jars, each trifle is big enough for 2 people to share. This is your new, "go-to" Summer dessert recipe. It's the perfect take along to summer barbecues, family dinners and or any kind of party!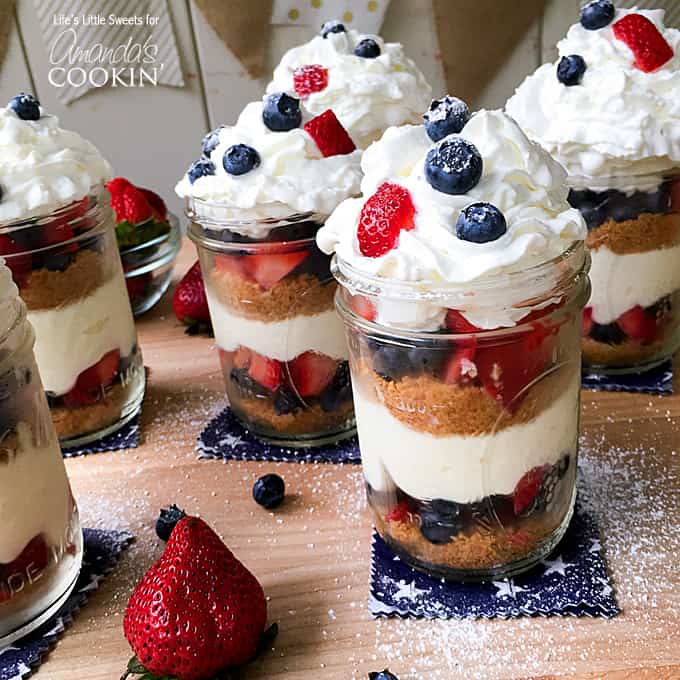 No Bake Berry Cheesecake Trifle in Mason Jars
Here's the caveat to what I said above:  Though 1 pint jar can easily feed two people, you probably won't want to share it with anyone else! I tried to share one trifle with my husband but we made it to the bottom of that jar so fast that we were digging for more creamy cheesecake! This no bake berry cheesecake trifle recipe has just the right amount of creamy cheesecake decadence coupled with crunchy graham cracker texture. The tart and sweet bursts of fruit flavor are complimented by the light, airy whipped cream. How can one simple trifle give so much?
Don't let those pretty layers fool you. Being a mom I have a practical side that I always consider.  Because this berry trifle is assembled and served in a mason jar, you can just pop a lid on and keep it in the refrigerator. Now you have dessert or a really nice snack for a few days (if they even last that long!).
Tip: Save the box that the mason jars came in, it's perfect for transport.
These individual berry trifles are fresh and fruity, the perfect summertime or 4th of July dessert. They are sure to impress with all those pretty, colorful layers. The freshly-squeezed lemon juice in the cheesecake layer is subtle yet bright and compliments the fresh berries so well. You can substitute different berries depending on what fruit is in season.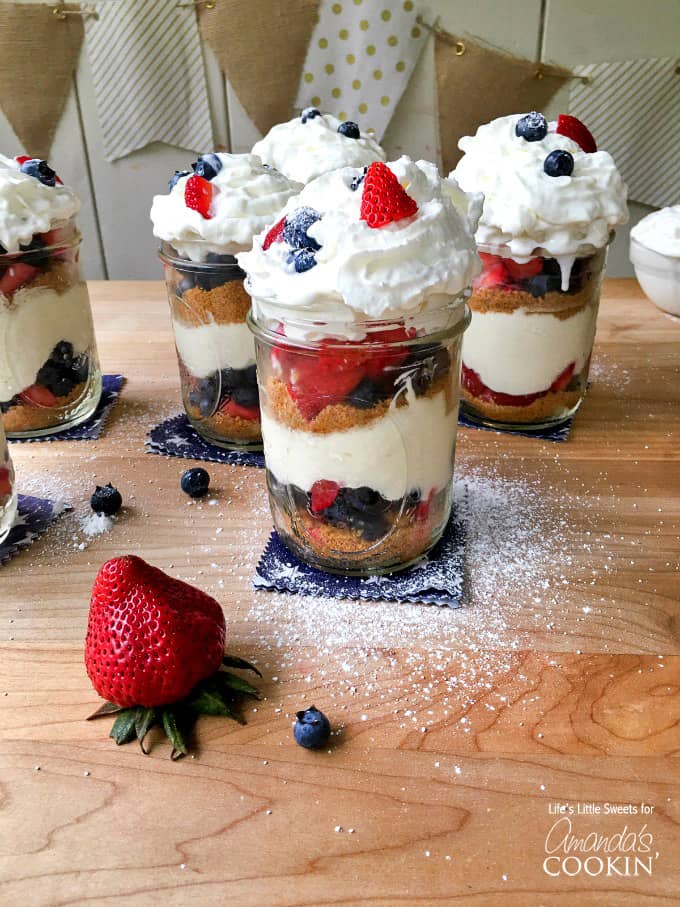 Ingredients For No Bake Berry Cheesecake Trifle
Graham Layer
2 packages (10 ounces) of plain graham crackers, processed into fine crumbs
5 tablespoons of melted and cooled coconut oil (or butter)
Berry Layer
2 lb. package of strawberries, cut into 1/2-3/4 bite-size pieces *reserve some for garnishing
18 ounce package of blueberries * reserve some for garnishing
Cheesecake Layer
1 teaspoon vanilla extract
2-8 ounce packages of plain cream cheese
1-14 ounce can of sweetened condensed milk
1/4 cup of fresh squeezed lemon juice
Vanilla Whipped Cream
1 teaspoon vanilla extract
1 pint whipping cream
2 teaspoons confectioner's sugar (sifted, if it is clumpy from storage)
1/4 teaspoon cream of tartar (helps stabilize the whipped cream)
Toppings Layer
Whipped cream
Extra blueberries
Whole and/or cut strawberries
2 tablespoons or more confectioner's sugar for dusting
Optional: To simplify the recipe you may use ready made whipped cream. However, I highly recommend trying my homemade option, it's so good!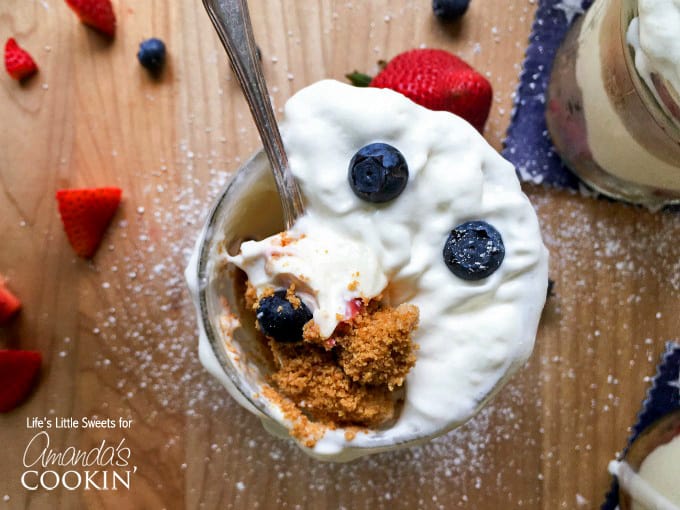 Tools You Will Need
6 pint-size, wide mouth glass mason jars with lids
A canning funnel *optional, this is helpful for keeping the sides clean when filling the jars
Electric hand mixer or stand mixer
3 large mixing bowls
Baking spatula(s)
1 small bowl
Sharp knife
Cutting board
A sifter *optional
A food processor *optional (You can always just put the graham crackers in a sealed bag and crush with a rolling pin)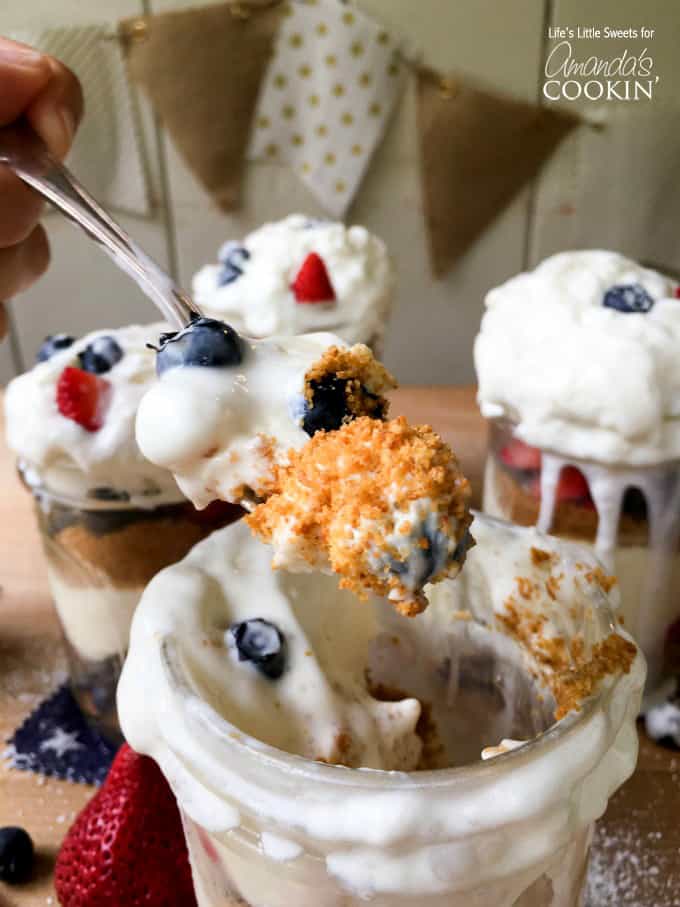 Tips for Preparation of Berries
Having super clean berries is a must for this trifle. You will want to make sure any pesticides and debris have been washed away. Here are the steps that I take when washing berries to ensure they are completely ready:
Wash & Cut
Soak berries in a bowl of cold water for 15 minutes
Rinse berries in cold water using a colander
Place berries on paper towels to dry completely
Cut strawberries into 1/2 to 3/4 inch, bite-size pieces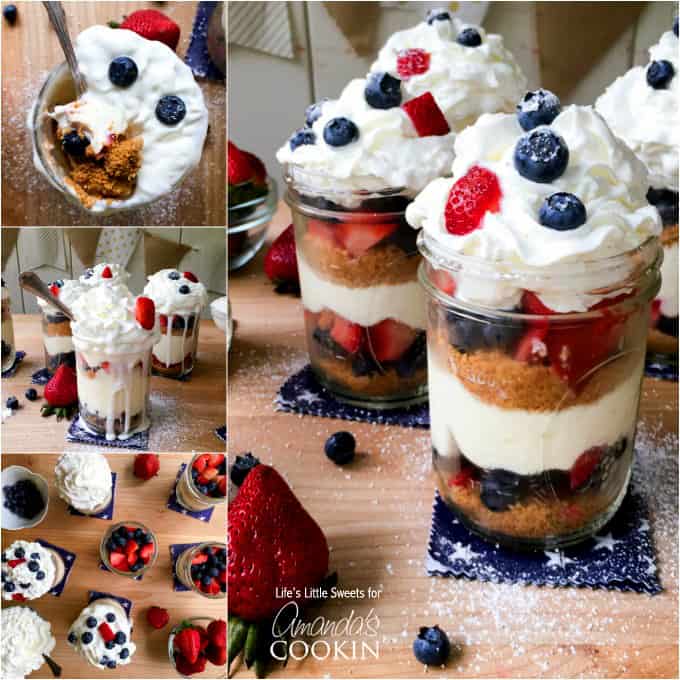 I hope you enjoy this No Bake Berry Cheesecake Trifle quaintly served in Mason Jars as much as we do!
Scroll down for the printable version of this recipe
More trifle desserts you will love:
This recipe for English Trifle has been in my family for years. Sherry soaked ladyfingers or cake layered with vanilla custard and jam, it's the best!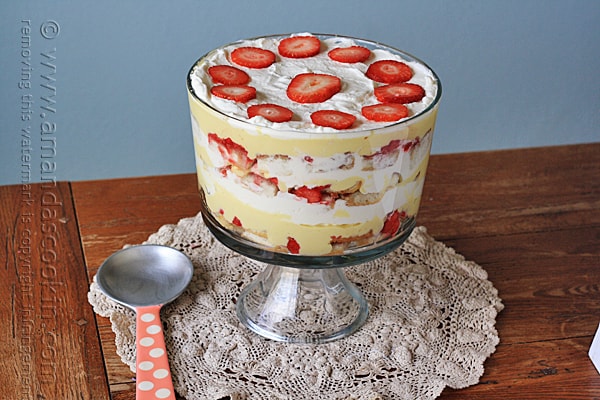 These Tiramisu Trifles are assembled in mason jars, just like the berry trifles above. If you love tiramisu these are a must try!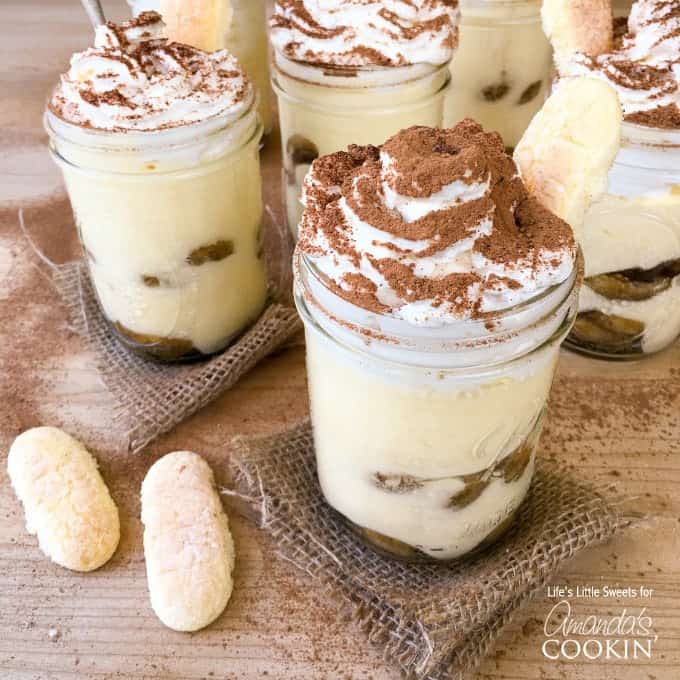 I made these Bailey's Tiramisu Trifles a few years ago and they were a huge hit!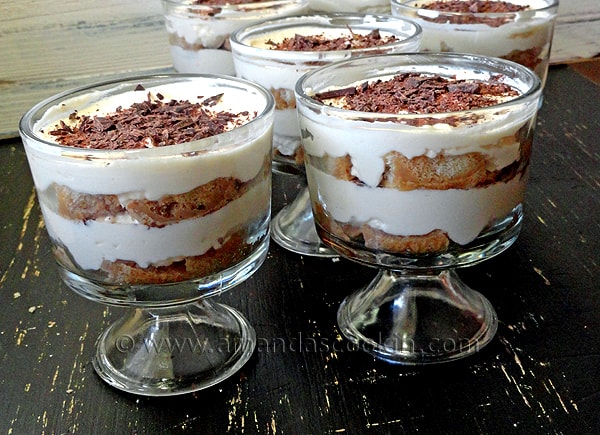 Be sure to subscribe to my newsletter for FREE recipes and craft ideas.

Recipe Attribution
I took inspiration from my Mixed Berry Cheesecake recipe on Life's Little Sweets and No-Bake Cheesecake recipe on Martha Stewart.com.