If you've ever had strawberry jello pretzel salad, then you'll love this mandarin orange jello salad version which is perfect for summer. It's like an orange dreamsicle with a twist! Three layers of pretzels, cream cheese, and jello make up this potluck favorite.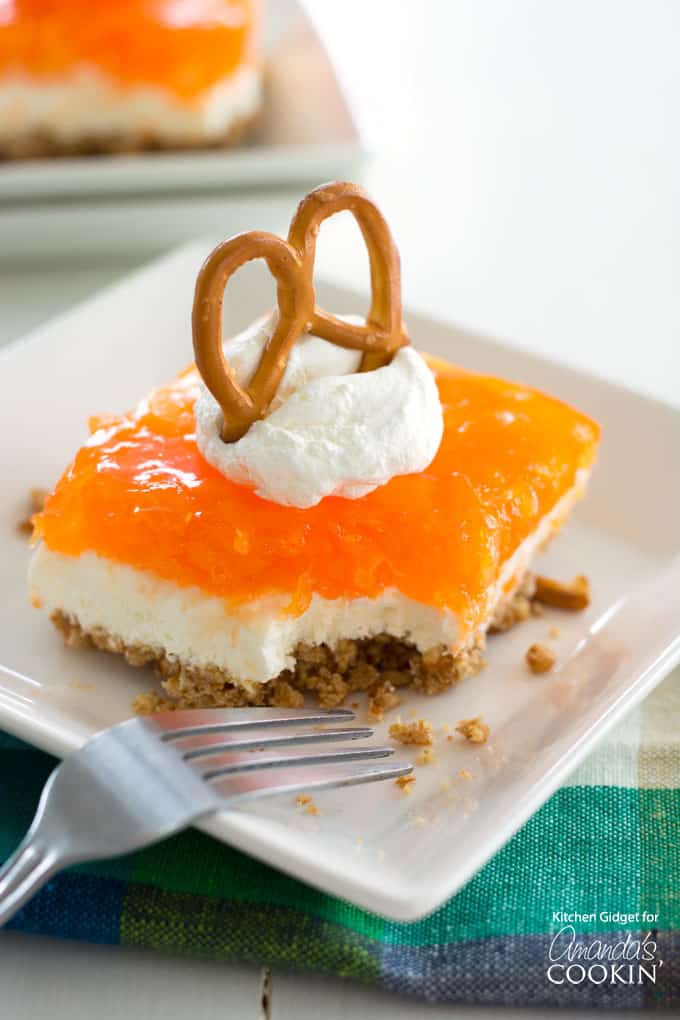 Mandarin Orange Jello Salad
If you've never had jello pretzel salad before, then you're in for a real treat! If you're thinking this is something like Tuna Salad then I should explain that it's not really a salad, it's more like a dessert…a very distant cousin to fruit salad, we'll say. It's refreshing after a filling dinner like Beef and Cheese Manicotti.
Making Mandarin Orange Jello Salad
First, a salty crust made from pretzels. Yes, pretzels! Totally surprising, but the crunchy, toasty flavor is so good. I like to crush mine finely in the food processor. If the pretzels are too chunky, the crust will fall apart when you try to serve it.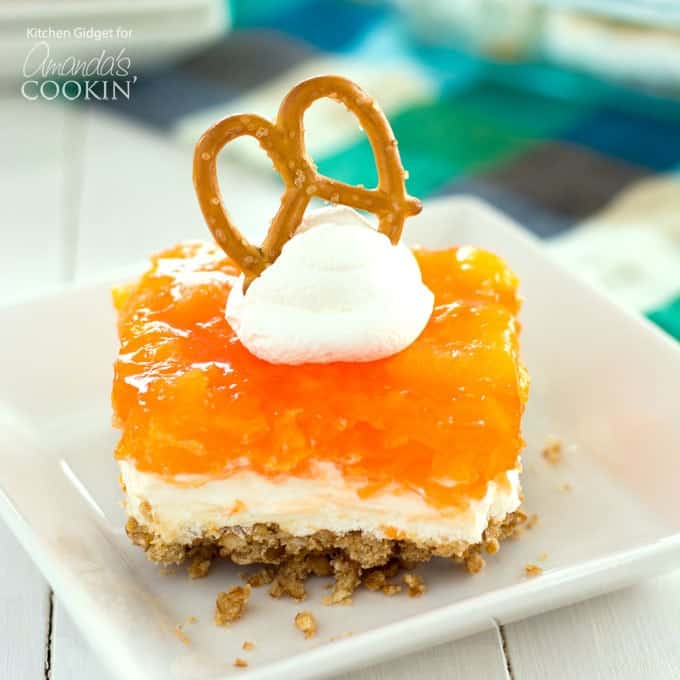 Next, we have a tangy cream cheese layer. It's almost like cheesecake, but light and tart to balance the other flavors. The cream cheese is blended with whipped topping, but if you prefer to use homemade whipped cream it's an easy substitute.
Topping off this jello salad with mandarin oranges is an orange and pineapple gelatin layer. Now the strawberry version is good, but just wait until you taste a bite of mandarin. It's a little citrus explosion that will make you smile as you eat. You can even substitute all mandarin oranges instead of the pineapple if you're team orange. Pineapple is one of my favorite fruits so I love the combination. Note: do not substitute fresh pineapple for the canned fruit or the jello will not set.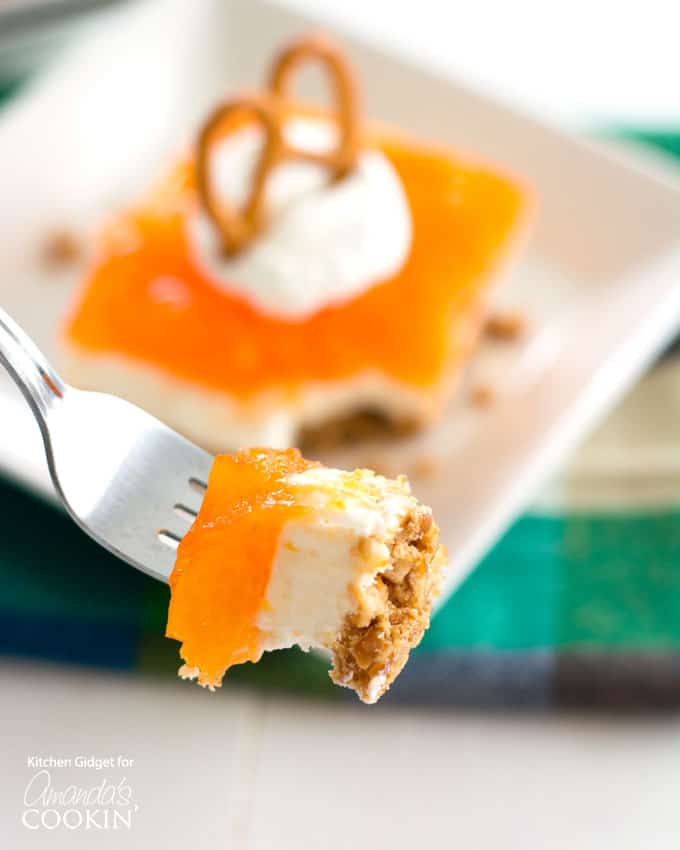 FIND THE FULL PRINTABLE VERSION AT THE END OF THIS POST.
Ingredients for Mandarin Orange Jello Salad:
For the crust:
2 cups finely crushed pretzels
3/4 cup butter, melted
3 tablespoons sugar
For the filling:
1 box (8 oz) cream cheese, softened
2 cups whipped topping
1/2 cup sugar
For the jello:
1 large can (16 oz) crushed pineapple with juice
1 can (11 oz) mandarin oranges, drained
2 boxes (3.4 oz) orange gelatin
1 cup boiling water
Helpful kitchen tools: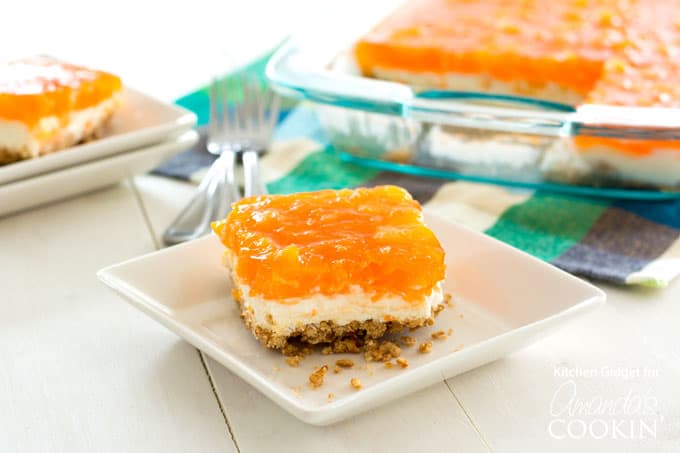 You'll need to plan ahead when making this orange jello salad recipe since it needs time to chill and set. After I've made the crust and spread the cream cheese layer, I like to pop it in the fridge while I prepare the jello. Additionally, the jello will need to chill slightly before pouring or you'll have a hot melty mess. It may seem like a lot, but it's not really much work. If you're making it for a potluck, there's plenty of time in between layers to prepare other dishes or clean up as you go (my kitchen constantly needs cleaning!).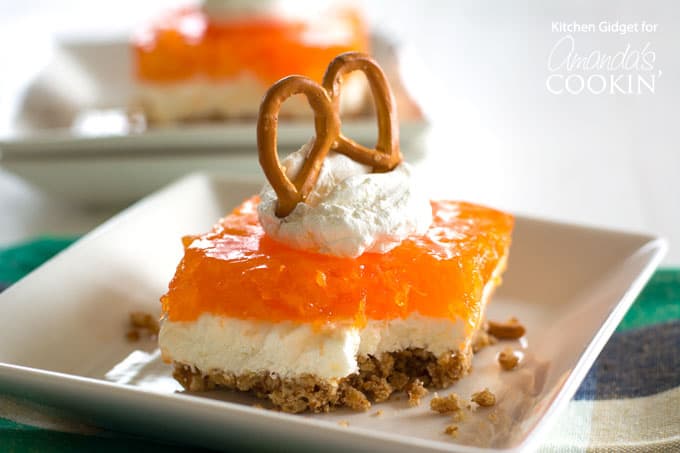 If you want it to be extra special, top each slice of the mandarin orange pretzel salad with a dollop of whipped cream and a pretzel twist before serving. They are so cute!
If you love this orange mandarin jello salad AND orange flavored desserts, don't miss Orange Fluff Jello Salad, or Mandarin Orange Cheesecake! You'll be floating away on creamsicle clouds! Another crowd favorite and potluck superstar is this Pineapple Fluff Dessert, it's a classic BBQ one-pan dessert staple around here! And while there's no orange in this chocolate lasagna recipe, it's still one of the most popular on this blog.