Have you ever wanted to make a homemade Green Bean Casserole for your holiday feast, but lacked a straightforward, easy recipe? Here's a beautiful, simple recipe for a lighter version of this Thanksgiving favorite. It may be healthier than the traditional style casserole, but it's just as creamy, delicious, and easy to make! Be sure to add this sweet potato casserole with oatmeal cookie crust or this one-pan roasted broccoli to this year's feast as well!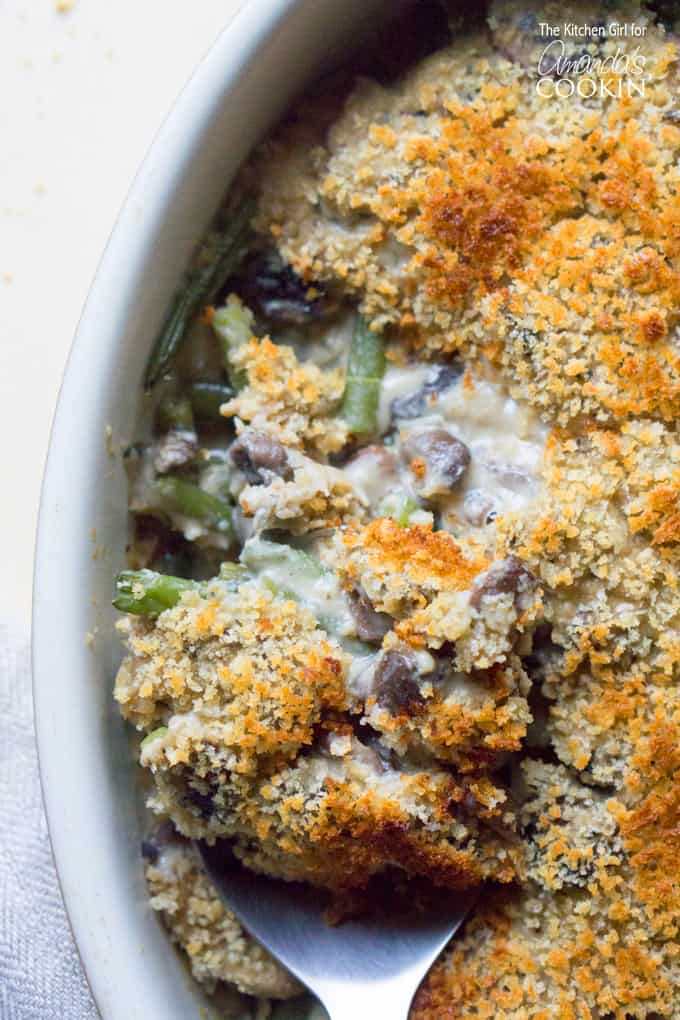 Homemade Green Bean Casserole
I've been making this side dish recipe for several years and it's always a hit at the holiday table. There are so many things to love about this number. For starters, you're omitting the typical, canned, cream of mushroom soup, and all the salt that comes with it, and you're making your own. But, don't be afraid of this "from scratch" idea. This recipe offers an uncomplicated, traditional white sauce that starts with a simple roux. And don't worry if that's not familiar either…it's basically flour and oil combined in a saucepan and heated for a minute. Then liquids are added and the thickening magic happens. Don't worry, you'll have it down after this recipe.
Another healthier improvement I've made to the traditional green bean casserole…kick the fried onions to the curb and substitute with panko bread crumbs. Yeah, I love those yummy onions too, but…I love toasted panko, and all its crispiness…even better!
There are affiliate links in this post. That means if you buy something from that link, I will earn a small commission, but it won't cost you anything additional.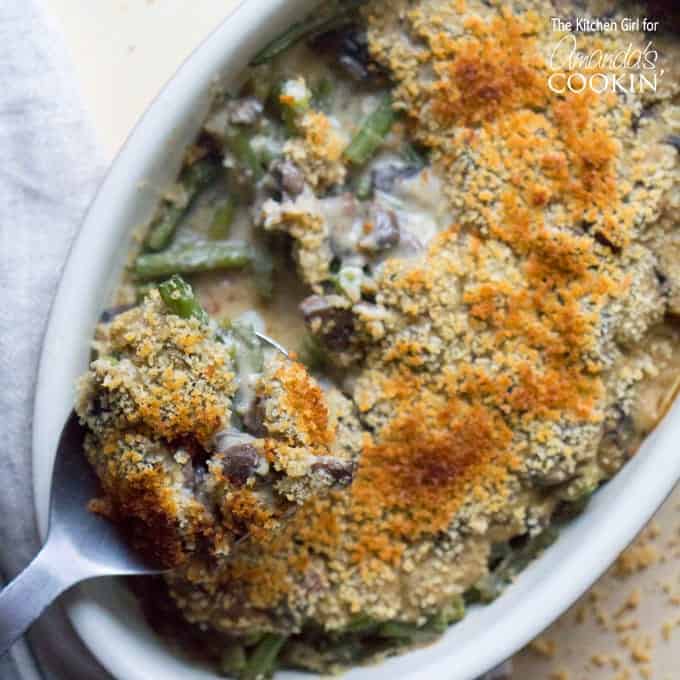 You will need these ingredients for Homemade Green Bean Casserole:
1 lb. or 4 cups green beans (trimmed, cut into pieces)
2-3 tbsp olive oil
1/2 yellow onion (minced)
3 cloves garlic (finely grated)
1/2 lb. mushrooms (chopped)
1/4 cup all purpose flour
1 cup 1% milk
1 cup reduced-sodium vegetable stock
pinch nutmeg
pinch dried thyme
1 tsp salt
1/8 tsp black pepper
1/2 cup Panko bread crumbs
1 tbsp olive oil (melted)
Kitchen tools you may find helpful:
3-quart sauce pot
stainless tongs
large nonstick skillet
silicone spatula
10″ x 7″ casserole dish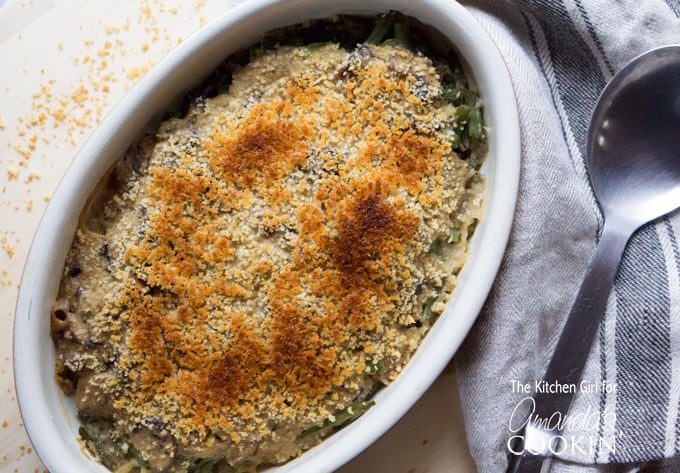 If you'd like more healthy, holiday dishes, check out my Brussels Sprout Slaw. It's my unique twist on a Waldorf salad, made with raw, shredded Brussels Sprouts, apples, dried cranberries, and almonds, tossed in a light, apple cider vinaigrette. Or check out my Cranberry Crack holiday condiment…perfect over warm, brie cheese. Only 3 ingredients…and pomegranate seeds are one of them! Both dishes are virtually stress-free, perfect for your holiday meal.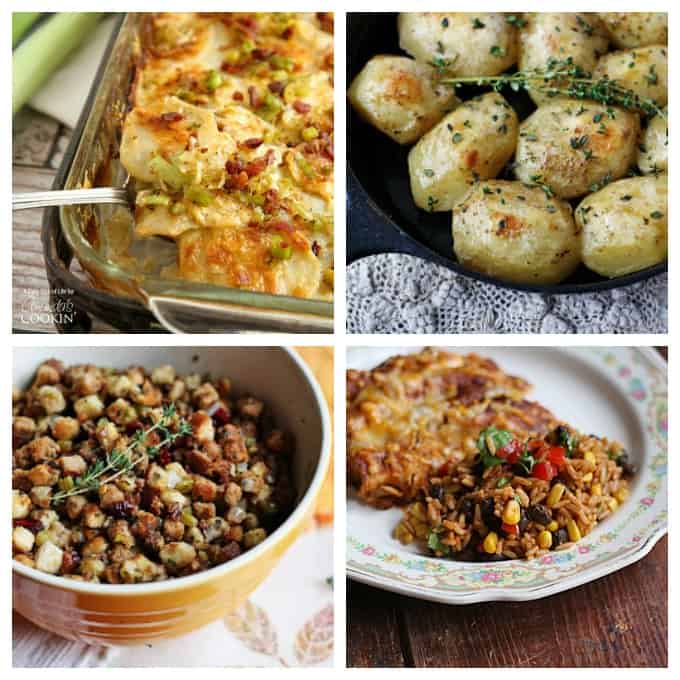 MORE SIDE DISHES YOU MIGHT LIKE: