A tried and true family favorite, this Potatoes Au Gratin is packed with cheesy bacon goodness. The perfect comfort food casserole, au gratin potatoes are a wonderful side dish for a special occasion.
It's hard to decide which to make, these amazing au grating potatoes or our garlic & rosemary roasted potatoes!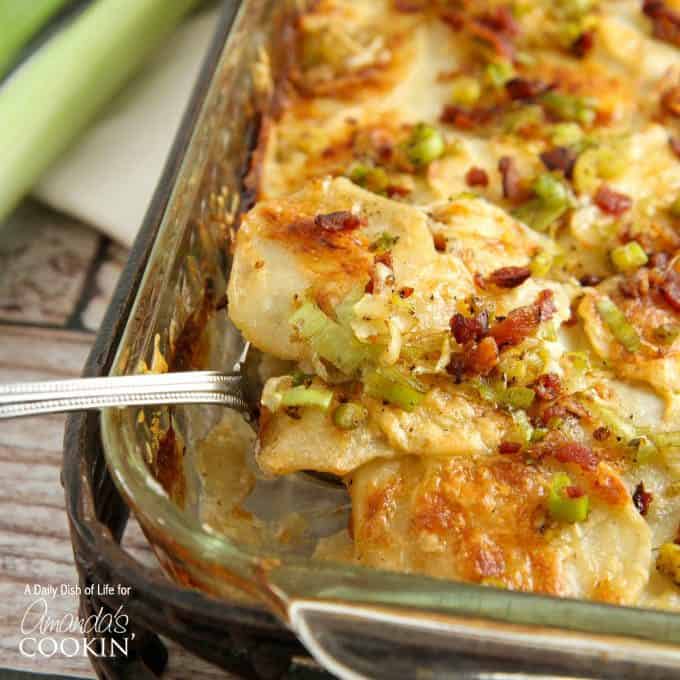 Potatoes Au Gratin with Bacon and Leeks
If you're looking for comfort food, Potatoes Au Gratin is it. My late father in law made a version of these potatoes at every holiday dinner as far back as I can remember. It is one of my kids' favorite recipes, and there are seldom any leftovers, no matter what else is on the menu. Because I am always playing around with recipes, I've updated them to use two kind of cheeses that complement each other and added a topping of delicious bacon and sautéed leeks.
This side dish casserole recipe looks more complex than it actually is. You are going to love the flavoring that the horseradish and Dijon mustard gives the sauce. The key though is using a wire mesh strainer to strain the horseradish from the light cream and chicken broth mixture. Afterwards you'll discard the strained horseradish. By mixing it with the light cream and chicken broth, it gives it a nice flavor without being too strong. If you use a strainer with bigger holes, the horseradish flavor can be a bit overpowering.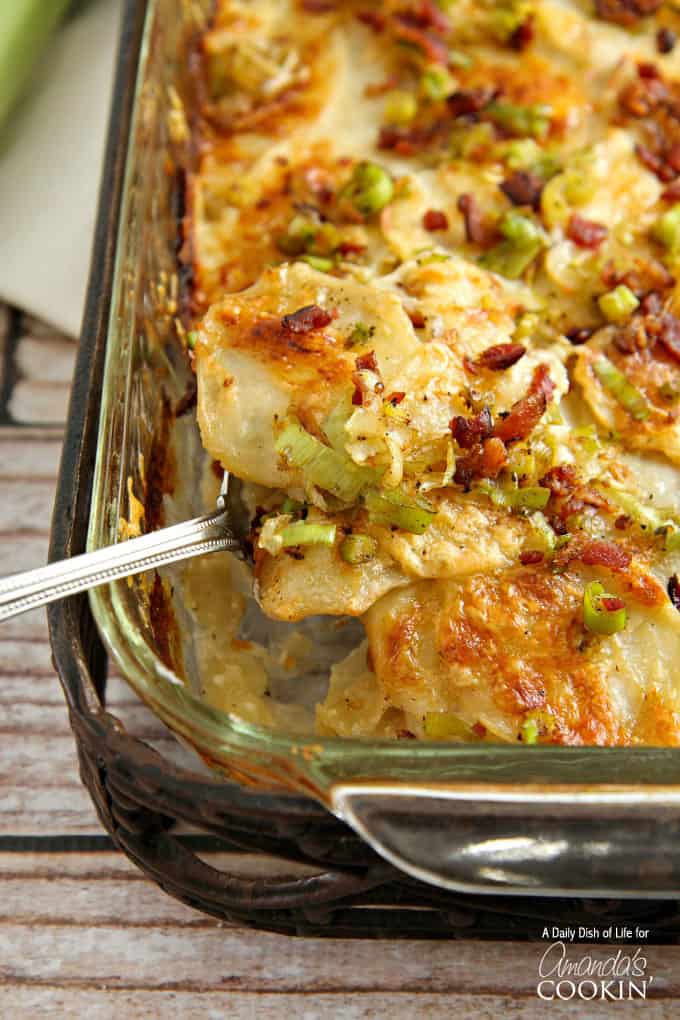 There are affiliate links in this post. That means if you buy something from that link, I will earn a small commission, but it won't cost you anything additional.
To make Potatoes Au Gratin with Bacon and Leeks, you will need:
(full printable recipe below)
Butter or non stick cooking spray
3 lbs of russet potatoes
1 cup of light cream
1 cup of chicken broth
1/4 cup of horseradish
2 teaspoons Dijon mustard
3/4 cup Gruyere cheese
3/4 cup Fontina cheese
3 slices of bacon, cooked and crumbled
1 leek, sliced into skinny rounds, sautéed
Things you may find helpful: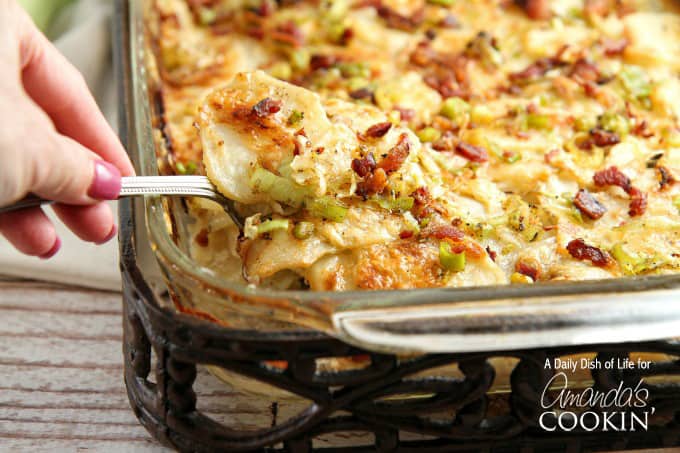 If you're planning a special meal, this Potato Au Gratin recipe pairs well with my Orange Marmalade Ginger Glazed Ham and my Spinach Salad with Pomegranate Balsamic Vinaigrette Dressing!
SCROLL DOWN FOR THE PRINTABLE VERSION OF THIS RECIPE
More side dishes that you will love:
These Cheesy Bacon & Chive Twice Baked Potatoes make a fabulous side dish. They can even pass as an appetizer, similar to potato skins!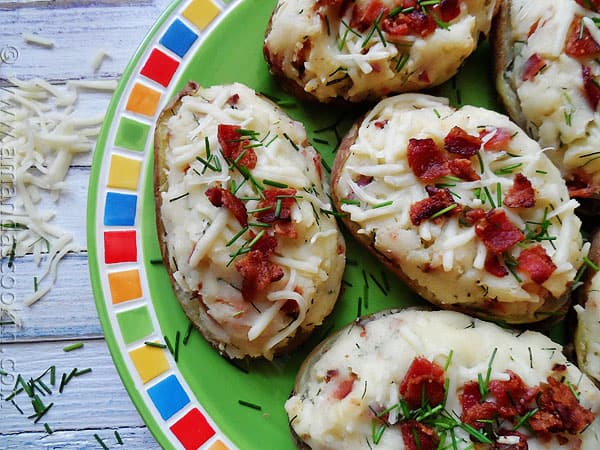 I guarantee you will love these Roast Potatoes in a Cast Iron Skillet. They are tender on the inside, full of flavor from the chicken broth and perfectly browned on the outside.
Bacon Topped Three Cheese Potato Casserole is a real show stopper for those that love cheese! Sprinkle with chopped green onions to add a third color for a beautiful presentation.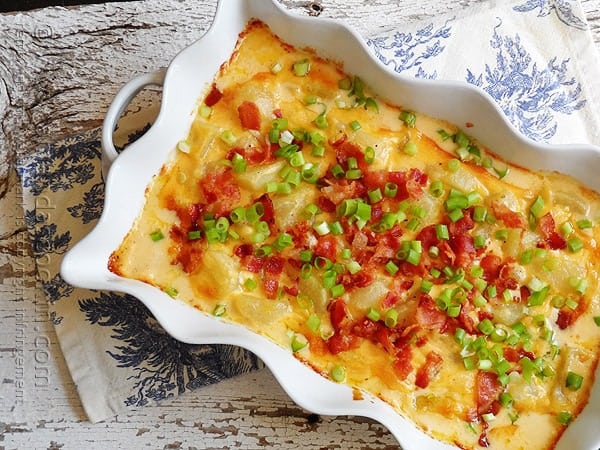 And even more recipe ideas.
Want even more free recipes? Be sure to subscribe to my newsletter for FREE recipes and craft ideas sent to your inbox every week.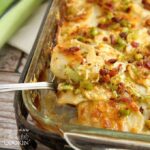 Potatoes Au Gratin with Bacon and Leeks
A tried and true family favorite, this Potatoes Au Gratin recipe is packed with cheesy bacon goodness...the perfect comfort food and a wonderful side dish for a special occasion!
Print
Ingredients
Butter or nonstick cooking spray

3

pounds

russet potatoes

1

cup

light cream

1

cup

chicken broth

1/4

cup

horseradish

2

teaspoons

Dijon mustard

3/4

cup

Gruyere cheese

3/4

cup

Fontina cheese

3

slices

of bacon

cooked and crumbled

1

leek

including part of the green section, sliced into skinny rounds, sautéed

Salt and pepper
Instructions
Preheat your oven to 400 degrees. Prepare a 9" x 13" baking dish by spraying with cooking spray or greasing with butter.

Combine light cream, chicken broth, Dijon mustard and horseradish. Whisk to combine; set aside.

Grate cheeses; set aside.

Peel potatoes and slice with food processor into thin slices. (You will need a special attachment for this).

Strain your light cream / chicken broth mixture through wire mesh strainer into another bowl. The horseradish will be left behind in the strainer, and you will not be using it.

Layer 1/3 of your potatoes in your prepared baking dish. Sprinkle with salt and pepper. Top with 1/3 of the cheese mixture, and then pour approximately 1/3 of the light cream / chicken broth mixture over the top of the potatoes.

Repeat the layering process two additional times.

Bake for approximately 1 hour, until potatoes are fork tender, and the top is golden brown and little crusty.

While potatoes are baking, cook 3 slices of bacon, drain and crumble. Reserve about 1 tablespoon of bacon grease to sauté leek rounds. Once softened, drain on paper towels.

When potatoes have about 5 minutes left to cook, top with bacon and leeks.

Cool for 10 minutes or so before serving. If you don't plan to serve right away, cover with aluminum foil until ready to serve.
Recipe Notes
When you slice your potatoes, you may find that they turn pink. To avoid making your dish with pink potatoes, simply place the potato slices in a bowl of cold water and drain them when you are ready to use them. The water will turn pink, and the potatoes will return to normal color.
Michelle is a food blogger, avid photographer, runner, and of course Mom! Her blog, A Dish of Daily Life is a lifestyle blog where you'll find healthy recipes (most of the time!), helpful how-to's, her best travel adventures and tips, and a little bit of her daily life as well.
Latest posts by Michelle Nahom (see all)