This Oatmeal Cookie Sweet Potato Casserole has all the Fall flavors in a one-pan dish including cranberries, raisins, cinnamon, pecans and sweet potato.  It's the perfect sweet side dish to accompany all those savory Thanksgiving dishes!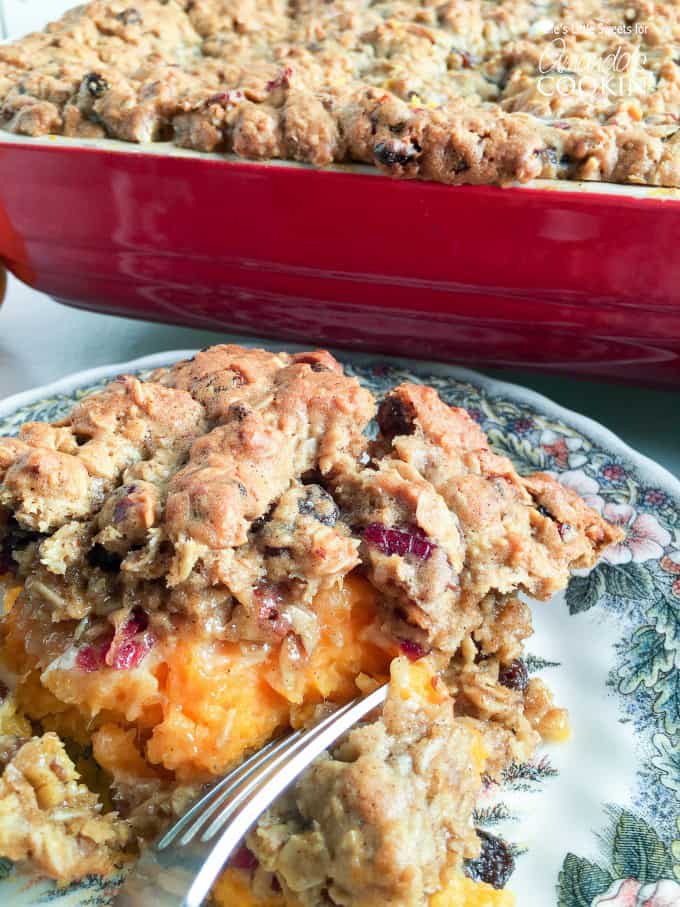 Oatmeal Cookie Sweet Potato Casserole
This Sweet Potato Casserole is the dish that everyone is going to look forward to because it's like having a dessert during dinner!  It has a classic sweet potato casserole, with a layer of marshmallows and then topped with oatmeal raisin cranberry cookie crust!
This recipe is partly inspired by my Oatmeal Raisin Cranberry Cookies recipe.  I added 1/4 cup chopped pecans which goes perfectly with the oatmeal cookie crust and sweet potato.  If you prefer, you can substitute the same amount in walnuts or skip the nuts altogether.  I found that the addition of pecans added a nice, subtle, nutty crunch to the casserole.
There are affiliate links in this post. That means if you buy something from that link, I will earn a small commission, but it won't cost you anything additional.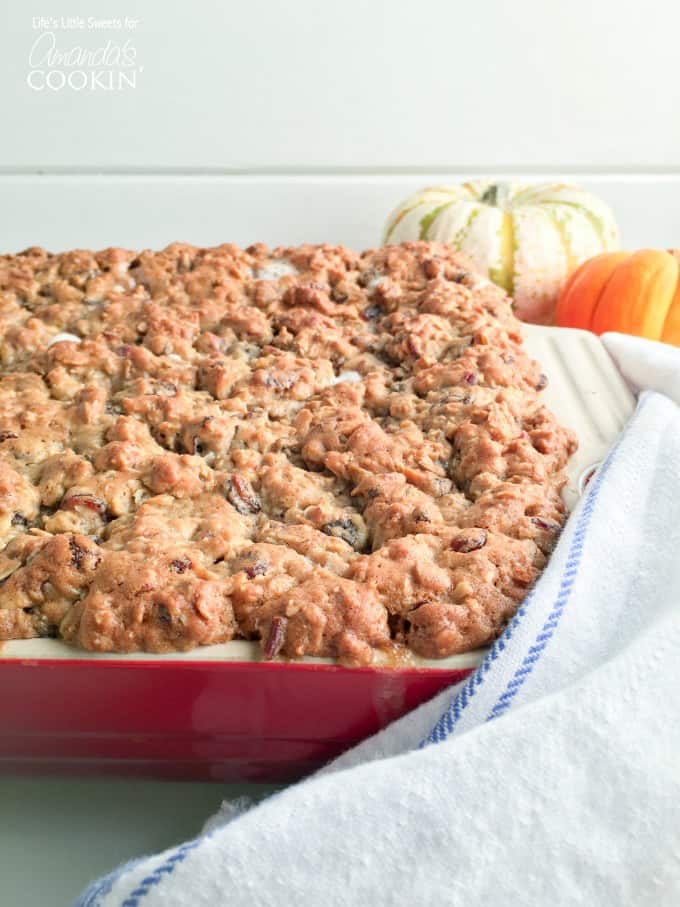 Ingredients for Oatmeal Cookie Sweet Potato Casserole
Oatmeal Raisin Cranberry Cookie and Marshmallow Topping
½ cup (1 stick) PLUS 6 tablespoons butter, softened, I prefer really soft, room temperature butter
¾ cup brown sugar
½ cup granulated sugar
2 large eggs
1 teaspoon vanilla
1-1/2 cups all-purpose flour
1 teaspoon baking soda
1 teaspoon ground cinnamon
½ teaspoon kosher salt
3 cups old-fashioned whole oats
1/4 cup pecans, chopped
1 (10 ounce) bag mini-marshmallows (if you only have regular-size marshmallows on hand, cut them down to mini-marshmallow size)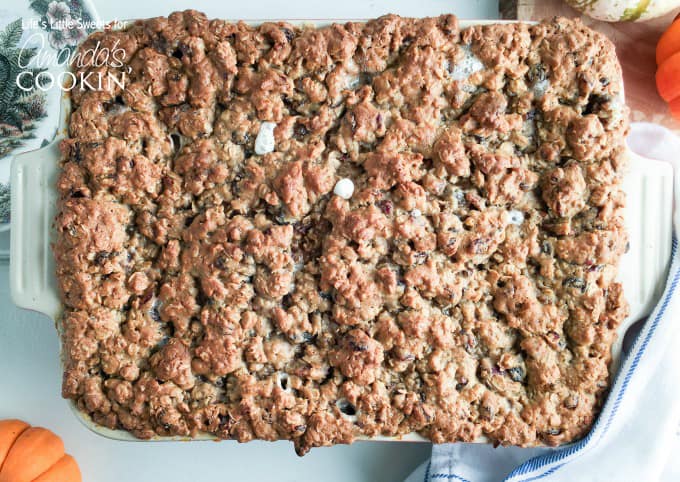 Sweet Potato Casserole Filling
5 cups (about 6 large) cooked sweet potatoes
butter for greasing 13" x 9" x 2" oven-safe baking pan
2 large eggs
1 teaspoon vanilla extract
½ milk (can substitute cream or half and half)
4 tablespoons (½ stick) butter
Optional: up to 1 cup of sugar *depending on sweetness of sweet potatoes, if the sweet potatoes are really sweet, then I usually skip the sugar.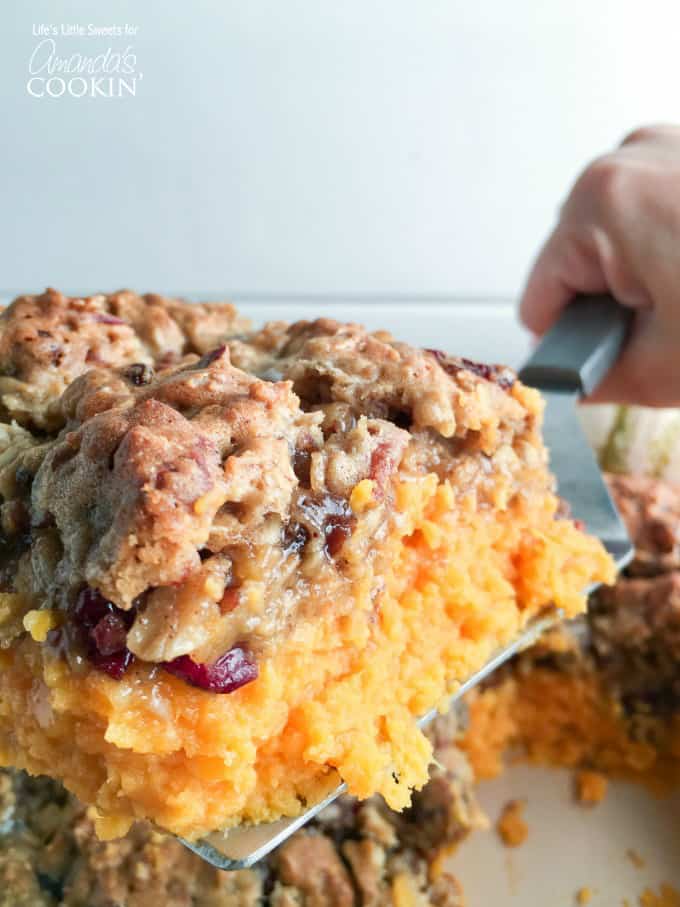 Tips for Success for Oatmeal Cookie Sweet Potato Casserole
To save time, you can make the oatmeal cookie topping and the mashed sweet potatoes ahead of time the day before.
When you are baking the sweet potatoes you can just bake them on the wire rack or on a foil-lined baking sheet if you don't want any drips in the oven. Make sure you wash and stab the sweet potatoes with a fork before baking.
The baking time can really vary for the sweet potatoes because the varying size of sweet potatoes.  I usually set the timer for 1 hour (at 350 degrees F) and poke a fork in them to test.  The fork should go in and come out easily and if there's any resistance they need more time.  You might have some smaller ones that are done and larger ones that need more time, so just leave the ones that need more time in and check periodically until fully cooked.
Make sure you measure the 5 cups of sweet potatoes and the other ingredients exactly because you will need the entire volume of the pan for this recipe.  You can bake the casserole over a cookie sheet if you are concerned about drips.
The casserole's total baking time is 40 minutes but it's possible that it will be done at 30 minutes depending on preference.  I add an extra 10 minutes, with an optional foil tent to get a really crispy oatmeal cookie crust you you might prefer something different.  Make sure all the ingredients at every layer are evenly distributed to ensure even baking.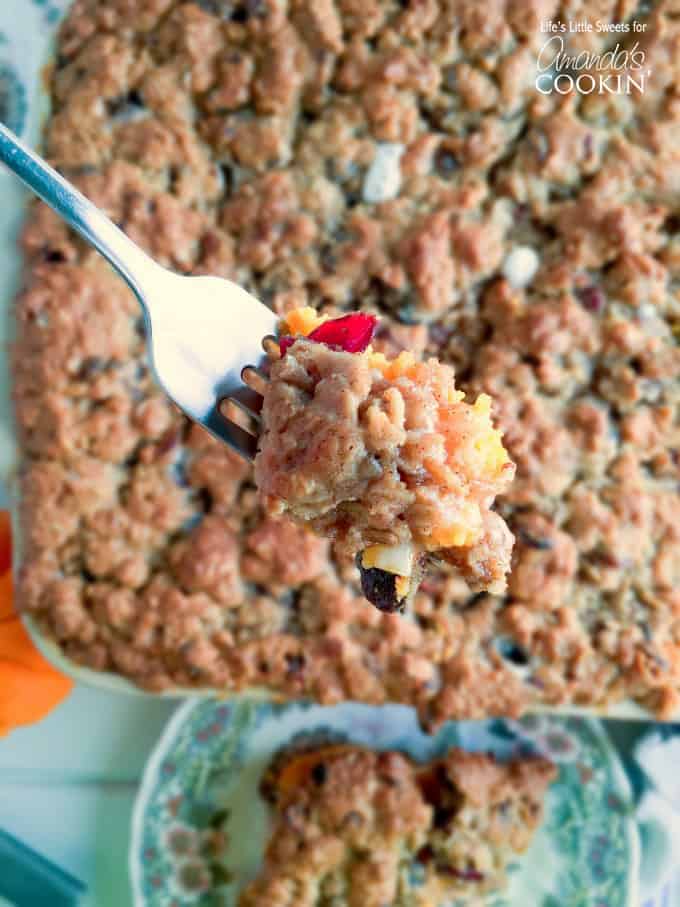 Kitchen Tools Needed for Oatmeal Cookie Sweet Potato Casserole
13″ x 9″ x 2″ oven safe baking pan or better a 13″ x 9″ x 3″ baking pan – I have a 13″ x 9″ x 2″ pan and with all the ingredients it does get a little overfilled above the upper edge but as long as all the ingredients have been measured properly and evenly spread, everything should fit.  You can always put a cookie sheet under the baking pan if you are concerned about drips.
Electric hand mixer or stand mixer – I used my hand mixer and that had sufficient power for mixing both the oatmeal cookie crust and the sweet potato casserole filling.
large mixing bowl
baking spatula
The aroma in your house is amazing while this Oatmeal Cookie Sweet Potato Casserole is baking in the oven :)
I hope you enjoy this sweet and delicious casserole as much as my family and I do!  Enjoy!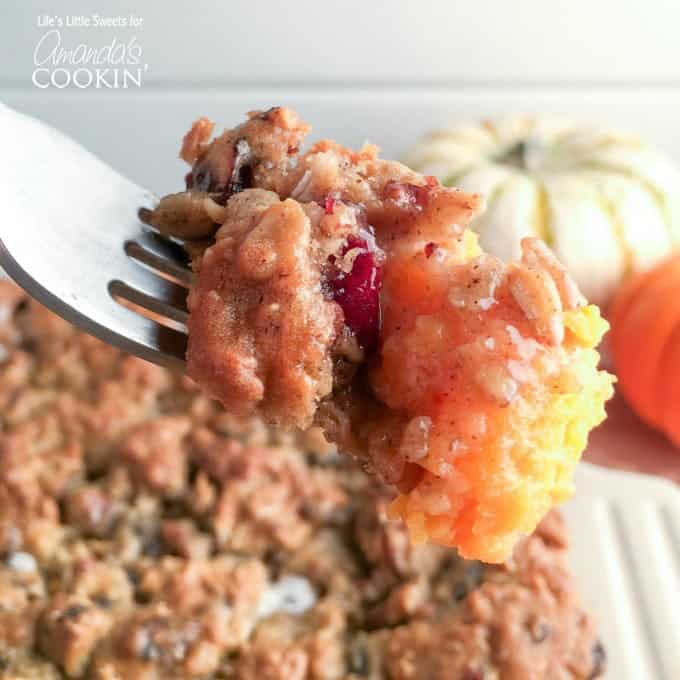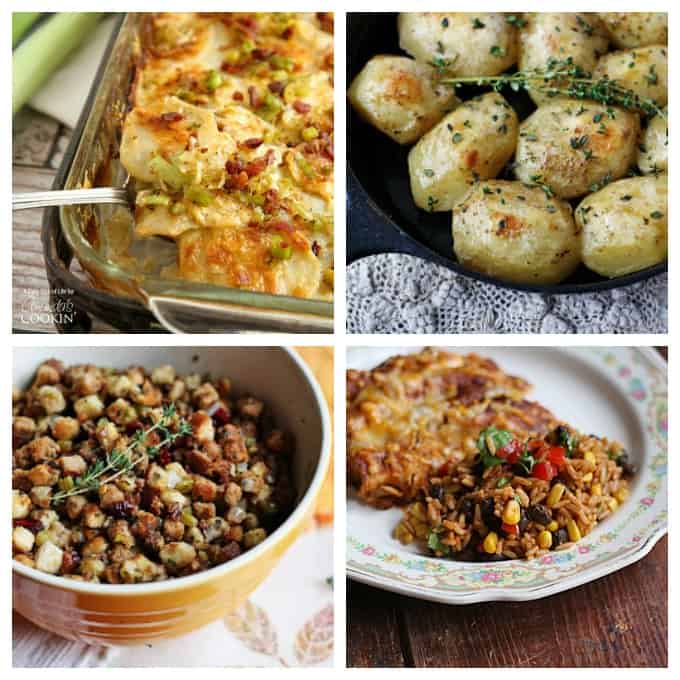 MORE SIDE DISHES YOU MIGHT LIKE:
Recipe Attribution
This recipe is partly inspired by Add a Pinch and Oatmeal Raisin Cranberry Cookies by Life's Little Sweets