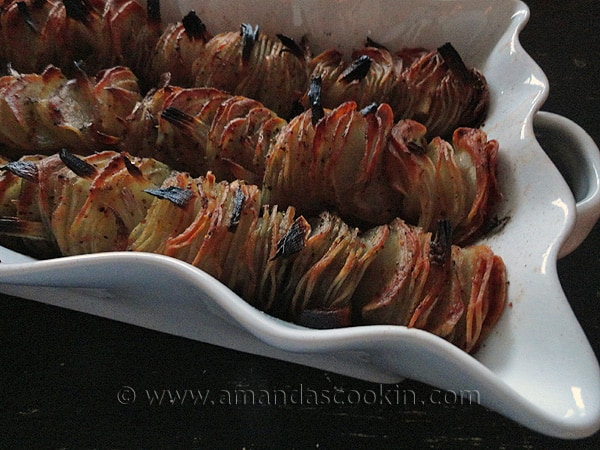 I am always looking for tasty potato recipes. Russets, Yukon Gold, baby reds, really doesn't matter. If it's a potato, I love it. So often the potato, or any side dish for that matter, is underrated and overlooked. Well this lovely dish, while it might take a few more minutes to prepare, is definitely impressive and will not go unnoticed.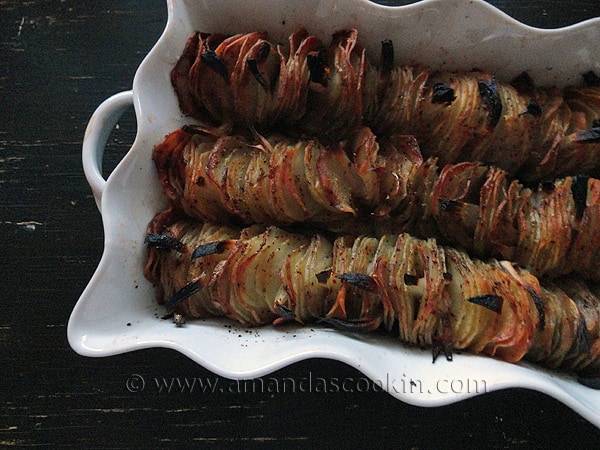 It's time again for The Secret Recipe Club. My assignment this month was Susan's blog, Eat Little, Eat Big. I am so jealous! Susan lives in Maui, Hawaii, a paradise I would love to visit one day! She has quite a few recipes I'd like to try, including this Greek Chicken with Tzatziki, these Light Pumpkin Cheesecake Parfaits and the Crunchy Oven Baked Fish Sticks. The recipe I chose what this Crispy Potato Roast and I'm so glad I did!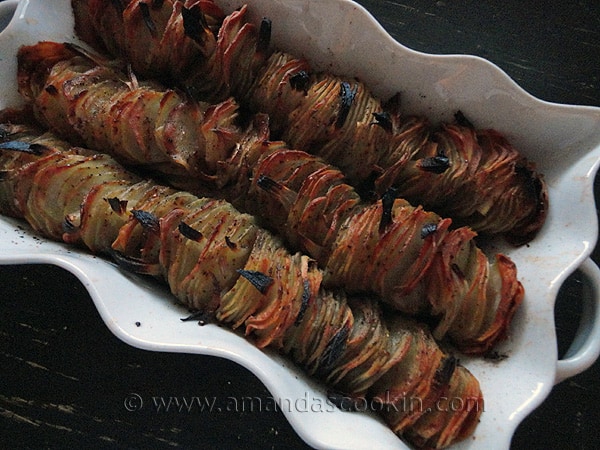 When I made this dish I had an urgent matter I had to attend to and had to call someone at home to turn off the oven while I was gone. So the shallots burnt a bit, but that's not the fault of the recipe itself. I wasn't able to be there myself to watch it. So the shallots were a bit overdone and the potatoes a bit crispier than I intended. Totally my fault! That's also the reason that my pictures are a little dark as I ran out of daylight!
This was a great recipe to show off my new pretty white dish with! I bought it a few weeks ago and just love all of its sexy curves. :)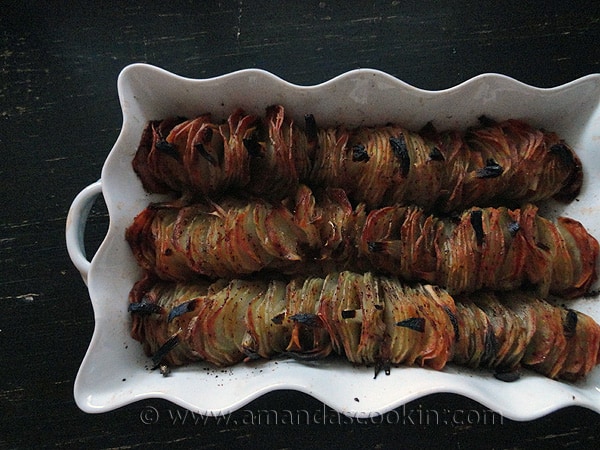 Dark pictures or not, these taste marvelous! They are even awesome the next day. Pop some in the microwave for 30 seconds of so and enjoy. Totally delicious and tender. I only made minor changes. I had a little bit of homemade garlic butter left in the fridge, so I worked that in. I also changed the seasoning. Other than that, the recipe is the same. :)

You can use just plain butter, I mixed in some garlic butter I had. Then I sliced the potatoes using a mandoline.

I kept the potato slices together by placing them in a bowl until I was done with all of them. Brush the bottom of the casserole with a little of the melted butter.

I took the ends of the potatoes and lined the bottom. Because my dish was very deep, I chose to stack some of the potato slices to raise the height a bit.

Then arrange the slices on top, insert the shallots, brush with remaining butter and season.

I will be making these again! Thanks for the great recipe Susan. Be sure to check out all the recipes in today's reveal below!

Amanda Formaro
Crispy Roast Potatoes
20 mins Prep Time
90 mins Cook Time
Ingredients
1 tablespoon garlic butter, melted
2 tablespoons unsalted butter, melted
3 tablespoons extra-virgin olive oil
4 pounds russet potatoes, peeled
4 shallots, thickly sliced lengthwise
Kosher salt
Seasoning of choice
Instructions
Preheat oven to 375 degrees.
In a small bowl, combine melted butter and oil. Brush bottom of a casserole dish with some butter mixture.
Cut the ends off the potatoes and set aside. With a sharp knife or mandoline, slice potatoes very thinly crosswise.
Fill bottom of casserole with the cut ends, then arrange potato slices vertically on top. Wedge the shallots throughout the potatoes.
Sprinkle with seasoning of choice and brush with remaining butter mixture.
Bake 1 1/4 hours. If potatoes an shallots are getting too brown, tent with foil and bake another 15-20 minutes more, or until tender.
6.8
https://amandascookin.com/crispy-roast-potatoes/
Amanda Formaro, AmandasCookin.com
Nutrition
Amanda Formaro is the crafty, entrepreneurial mother of four children. She loves to bake, cook, make kid's crafts and create decorative items for her home. She is a crafting expert and guru in the kitchen and has appeared online and in print publications many times over the years. She is also a craft book author five times over and product developer as well as the owner of
FunFamilyCrafts.com
. You can find her on social media by using the buttons to the left!
Latest posts by Amanda Formaro (see all)