Have you ever tried Hasselback potatoes? I love them and so do my kids. I love getting to spend the holidays with my kids – they are starting to get busier living their own lives so the Thanksgiving and Christmas are a nice time to slow down and catch up on everything that they've been doing.
This post is sponsored by Jennie-O, but the content and opinions expressed here are my own.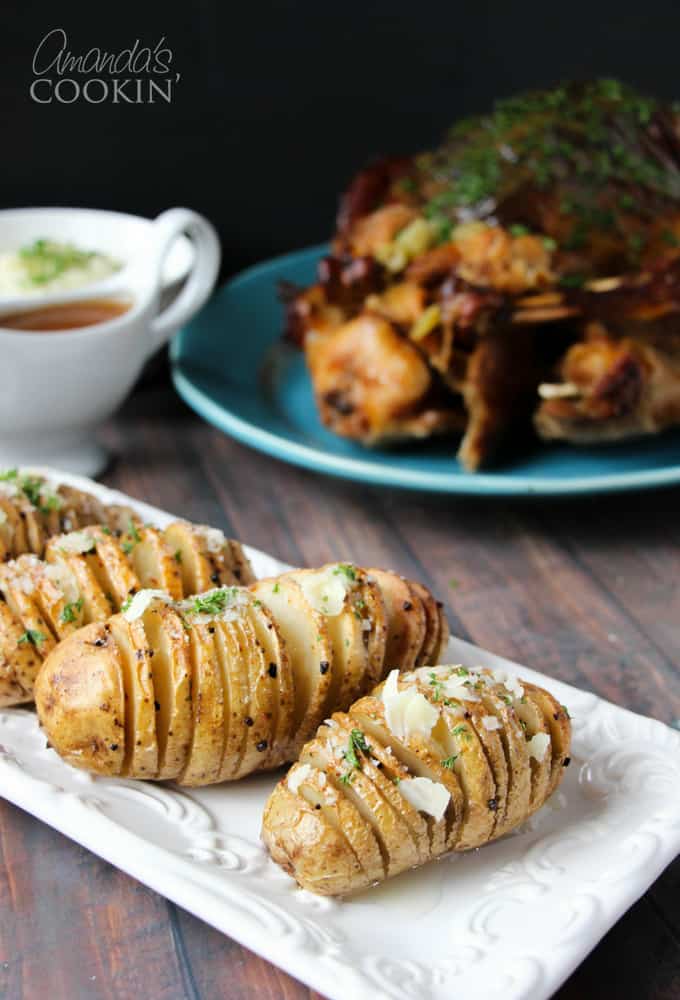 I don't want to spend the whole time that they are home in the kitchen cooking – I want to be spending my time with them, while still providing that home-cooked, traditional meal that they came home for!
I purchased a JENNIE-O® OVEN READY™ Cajun Style Whole Turkey to streamline things a bit – no thawing, basting, or worrying about seasoning. Just cook it right in the bag and pull it out when the temperature gauge pops (and an inserted meat thermometer reads 165F).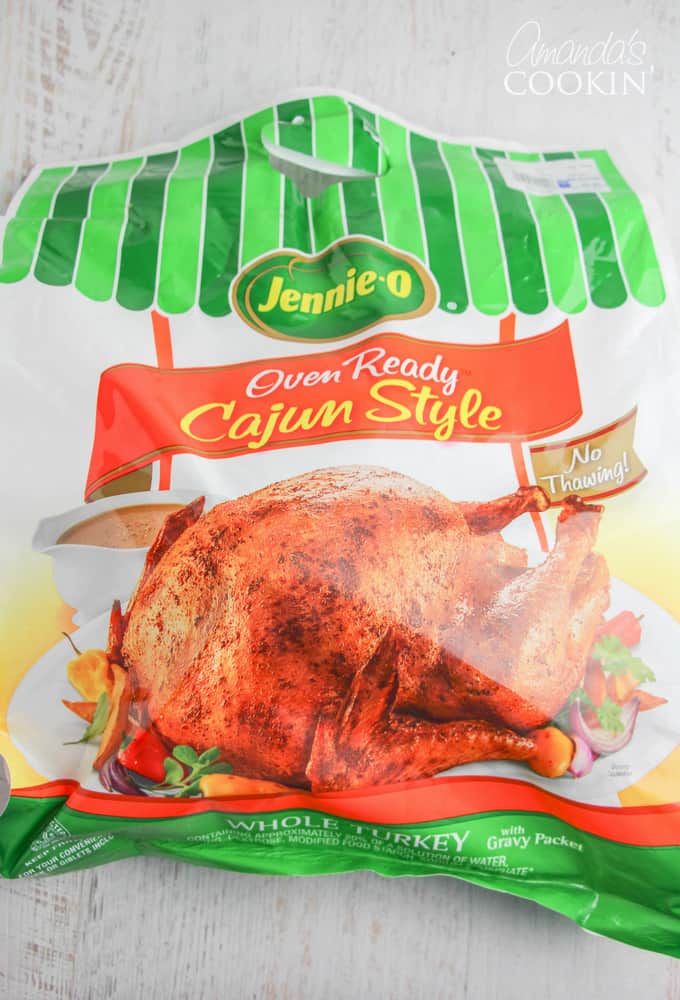 Since the turkey should rest for 15-20 minutes after cooking, I prepped two of my kids' favorite recipes while it was cooking: Hasselback potatoes and croissant stuffing.
Something fun came out of this dinner too. My kids are in their early twenties, aren't married yet and have no children. So cooking a great big turkey for Thanksgiving is not something they are ready to do yet. But this Oven Ready turkey is a great size for them and a few friends to enjoy a "Friendsgiving" together! We browsed the holidays & events section of their website too to get more ideas!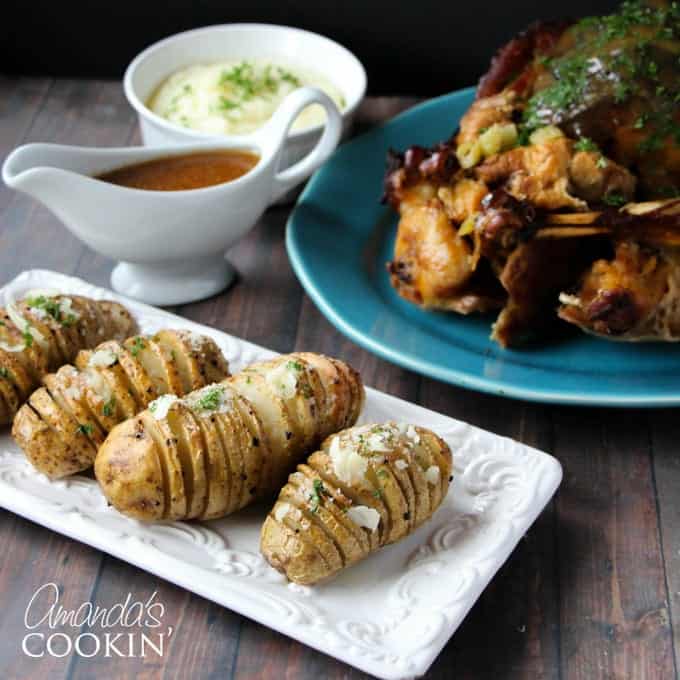 Both of these recipes come together in no time at all but deliver big flavor. They should be prepped about half an hour before the turkey is done cooking and will be baked to perfection while the turkey is resting.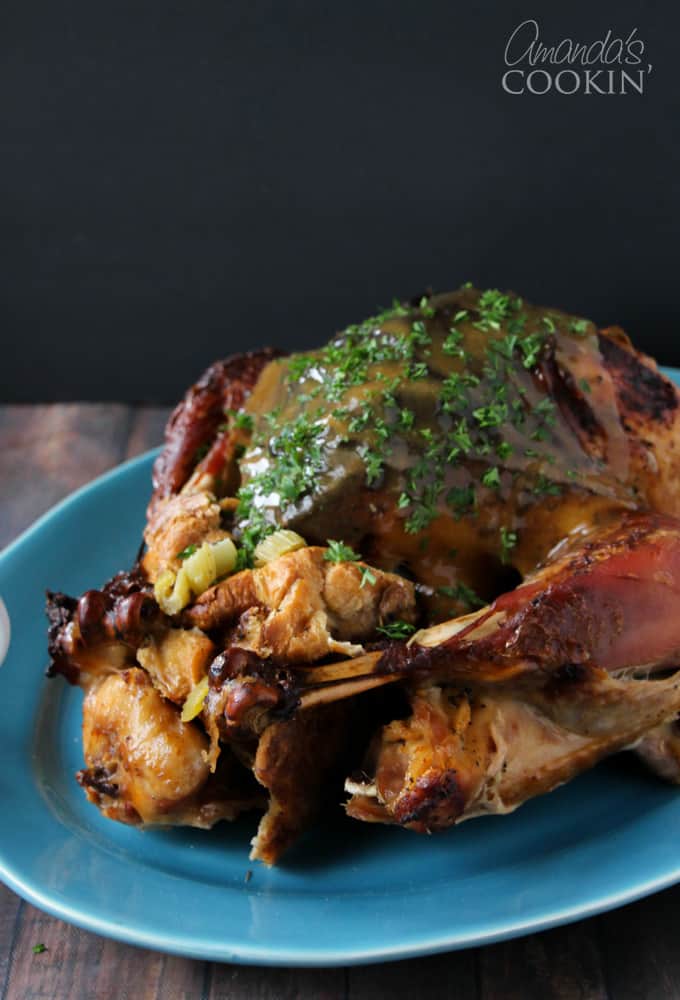 (And while they're in the oven, you're going to whip up gravy using the packet that comes with the turkey.)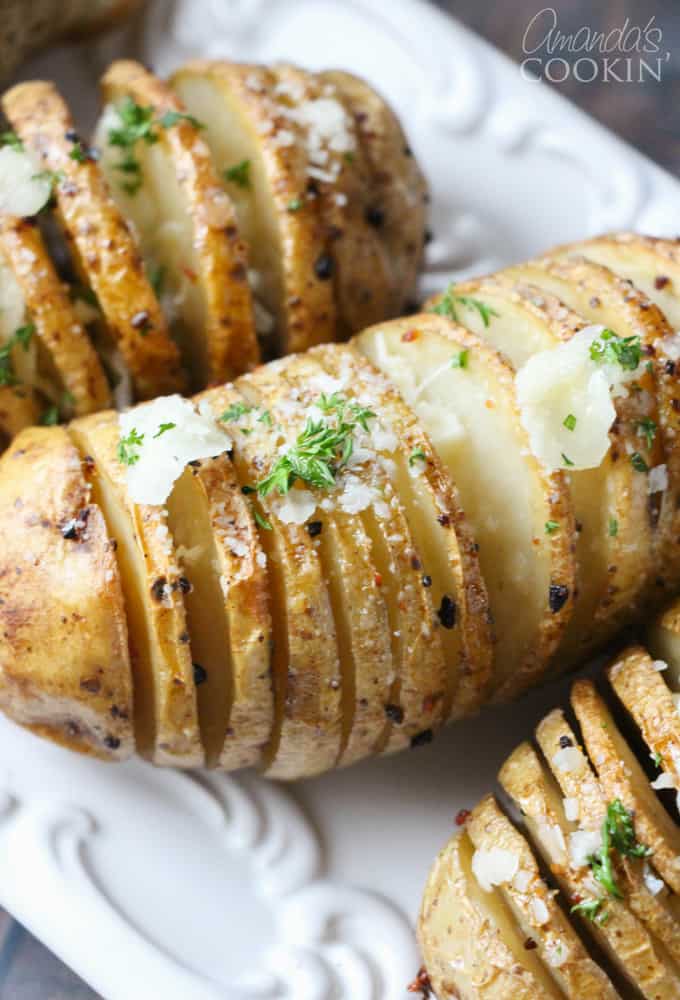 Ingredients to Make Hasselback Potatoes
6 russet potatoes
2 Tablespoons garlic, minced
1/2 cup butter
1/2 cup olive oil
3 sprigs thyme
Salt and pepper, to taste
Parsley, optional garnish
1/2 cup fresh Parmesan cheese, optional garnish
You can garnish your Hasselback potatoes however you like – and you can switch that thyme out for a complimentary spice to your other side dishes, but I think this simple recipe is perfection the way it is.
How to Make Hasselback Potatoes
Preheat oven to 450F
Scrub your potatoes well since you will be leaving the skin on for this recipe.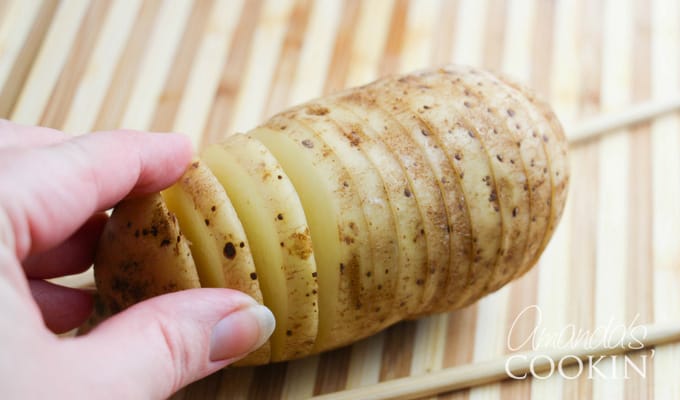 Position two chopsticks on either side of your potato – this helps you avoid cutting through the potato, creating that "accordion effect."
Using a sharp knife, place deep cuts in the potato every 1/4″ stopping when your blade hits the chopsticks.
Repeat for all potatoes and then place the potatoes on a lined cookie sheet.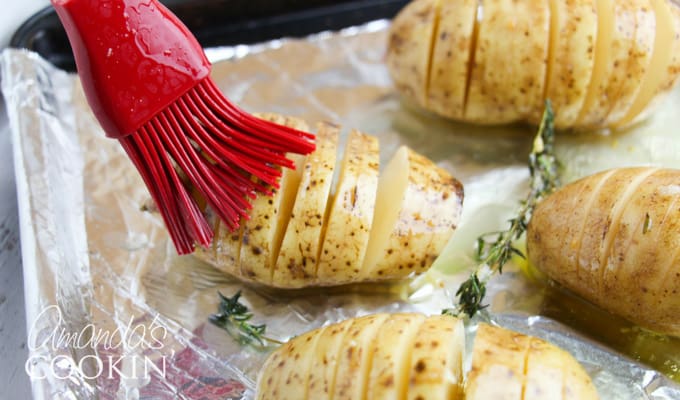 Melt 1/4 cup butter and 1/4 cup olive oil in a saucepan with the minced garlic and thyme.
Brush the melted oil-butter over the potatoes, ensuring you get in as many of those cuts as possible.
Bake the potatoes for 30-45 minutes, until golden and crispy.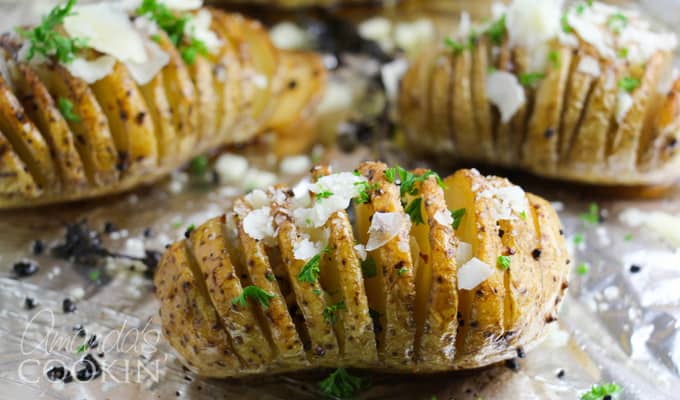 Melt the remaining butter and olive oil with the garlic and thyme.
Brush the melted butter-oil mixture on top of the crispy potatoes. Season with salt and pepper and garnish with Parmesan and parsley.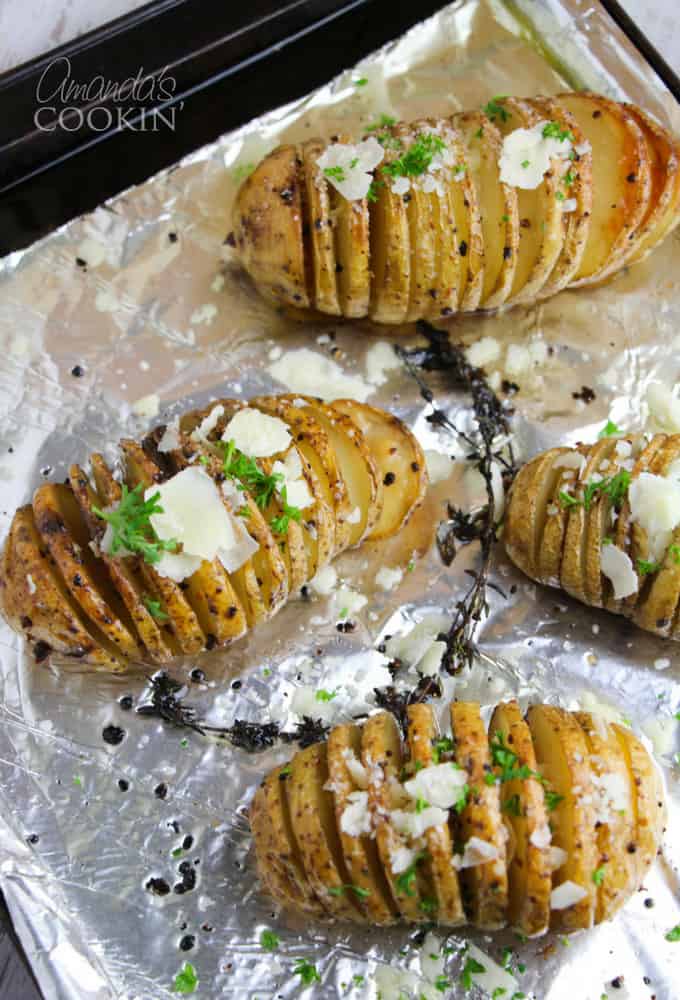 Ingredients to Make Croissant Stuffing
4 Croissants
1 cup broth
1/2 cup turkey drippings
1 Tablespoon butter
2 stalks celery
1/2 onion
2 teaspoons Italian seasoning
Salt and pepper, to taste
The croissant stuffing is a crunchy and light take on traditional stuffing – delivering even better flavor thanks to the all of that butter in the croissants.
How to Make Croissant Stuffing
In a frying pan over medium heat, melt the butter and then sauté the celery and onions, about 3-5 minutes.
Meanwhile, dice the croissants into bite-sized pieces.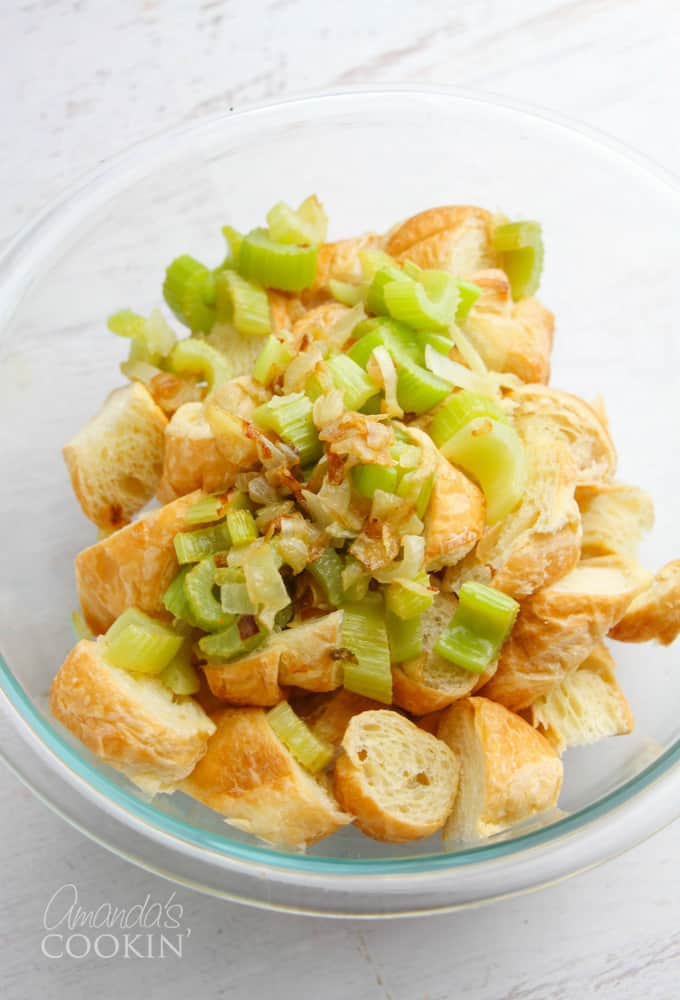 Toss the celery and onions with the croissants.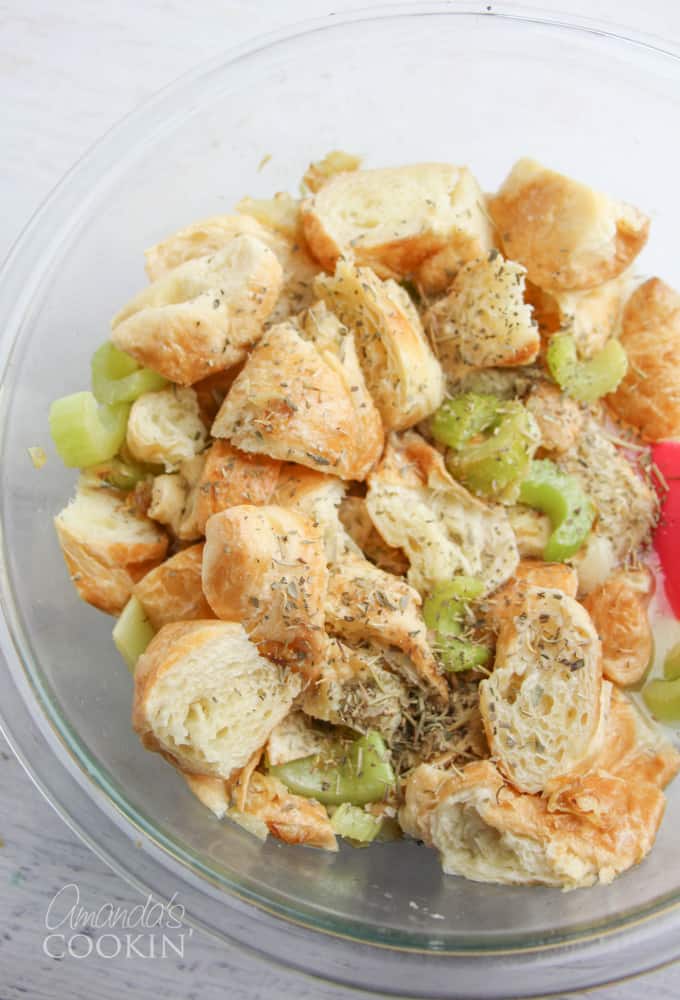 Season with Italian seasoning, salt and pepper.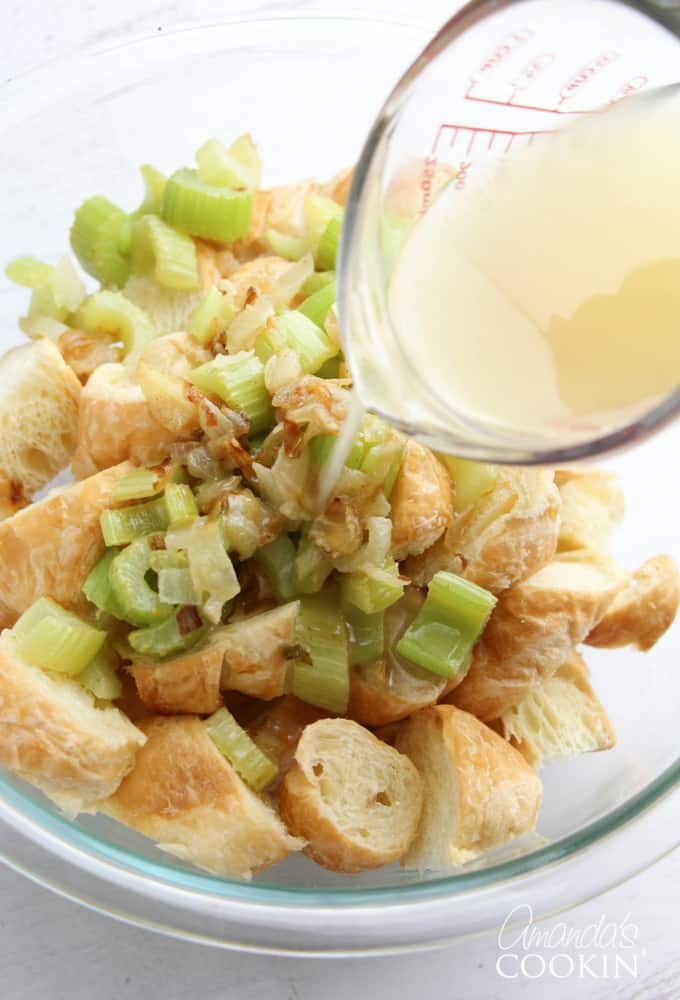 Mix the turkey drippings into the broth and pour over the bread mixture.
Place in a baking dish and cook for 15-20 minutes, alongside the Hasselback Potatoes.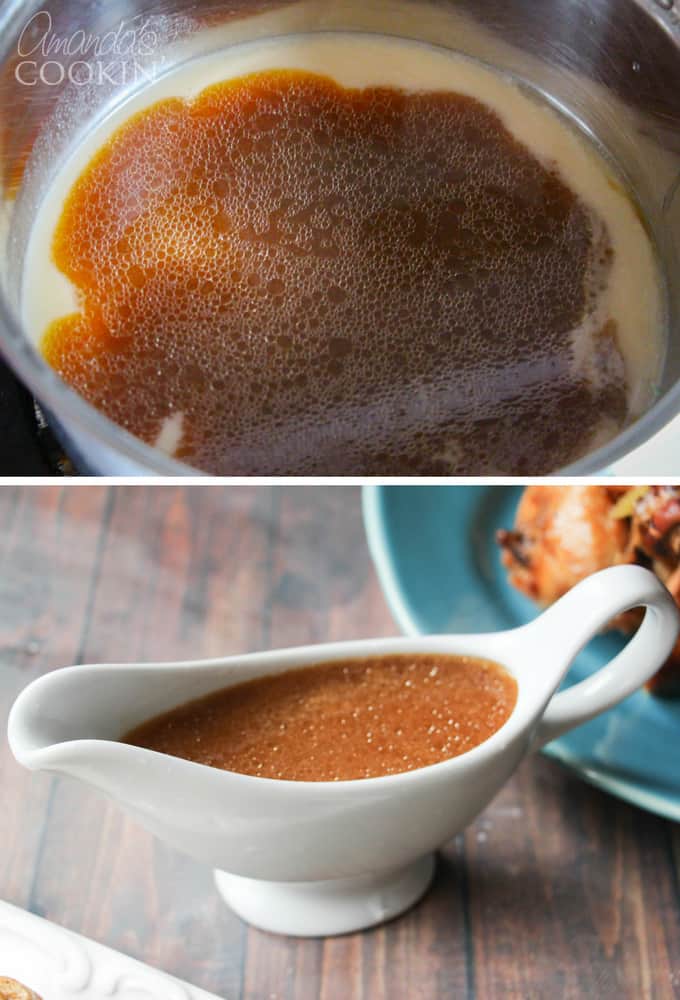 While the potatoes and stuffing are in the oven, grab 1 1/4 cups of those delicious turkey drippings and whip up the gravy packet that is included with your turkey.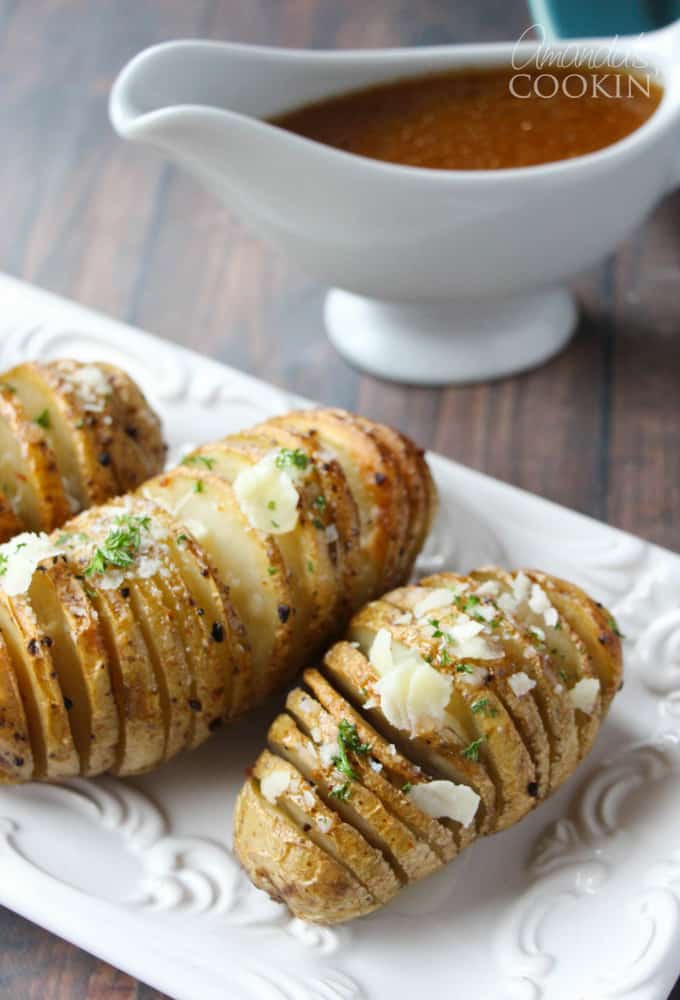 (If you prefer a thicker consistency, whisk in 1 Tablespoon flour or cornstarch.)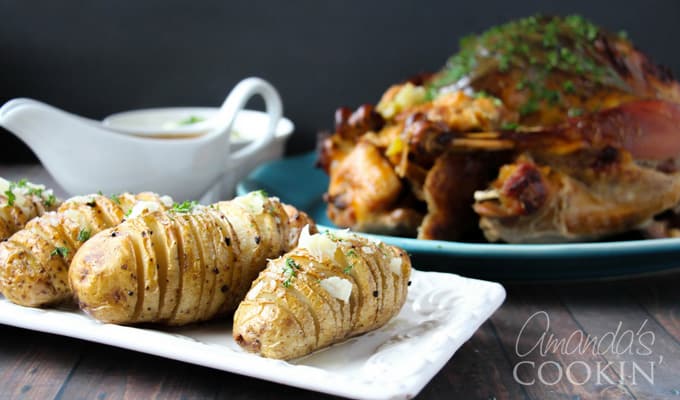 Having the kids home was special enough, but being able to celebrate the holidays together with some delicious homemade food with zero food-prep related stress was incredible.
What are your families favorite holiday recipes? For more inspiration check out the Jennie-O collection of Holiday favorites.
A Giveaway!
Simply leave a comment on this post to enter to win 1 of 4 Jennie-O coupons each valued at $5 off Jennie-O products. U.S only. Giveaway ends Thanksgiving night at midnight (November 24, 2016).