Casseroles. It's taken me years to get over that word. There's something about the word "casserole" that completely turned me off. Now though, I embrace the casserole. Especially ones with bacon and cheese, and oh yes, potatoes! Three of my all-time favorite ingredients. So whether you call this three cheese potatoes a casserole or a baked dish, it's delicious and I urge you to give it a try!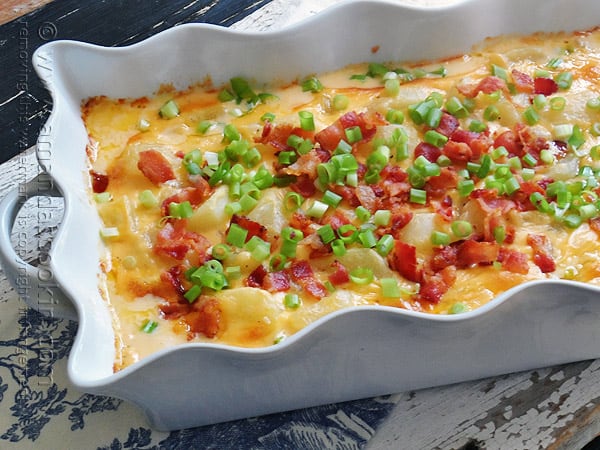 Bacon Topped Three Cheese Potatoes
I use cheddar, Monterey jack and smoked mozzarella in this three cheese potatoes dish. You could play around with different cheese combinations. Gouda would be an awesome choice, or pepper jack if you want a little kick. This three cheese potatoes casserole is perfect to serve a crowd or to bring to a pot-luck.
I got this recipe from a book called 300 Best Casserole Recipes. They have some awesome casserole recipes in here! I'll be trying quite a few more now that I have one under my belt!
There are affiliate links in this post. That means if you buy something from that link, I will earn a small commission, but it won't cost you anything additional.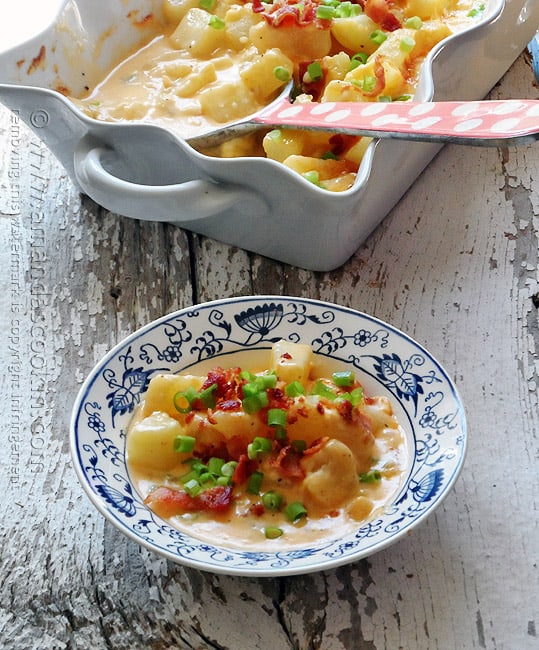 FIND THE PRINTABLE VERSION BELOW
Ingredients for Three Cheese Potatoes
4 pounds Russet potatoes, peeled and cut into 1-inch pieces
6 ounces medium Cheddar cheese
3 ounces Monterey Jack cheese
3 ounces Smoked Mozzarella cheese
1 cup milk
1/2 cup heavy whipping cream
1 teaspoon salt
1 teaspoon dry mustard
1/8 teaspoon paprika
1/8 teaspoon freshly ground black pepper
4 slices bacon, cooked crisp and chopped
5 scallions, chopped
Helpful Kitchen Tools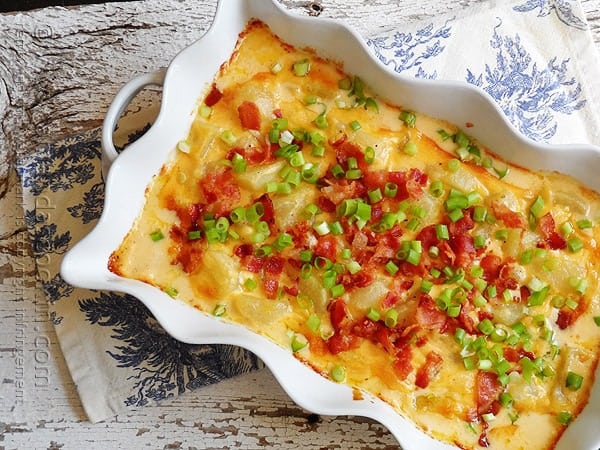 This is a fabulous side dish when serving a crowd or if you have a big family. It's great as leftovers too, so don't fret about making too much!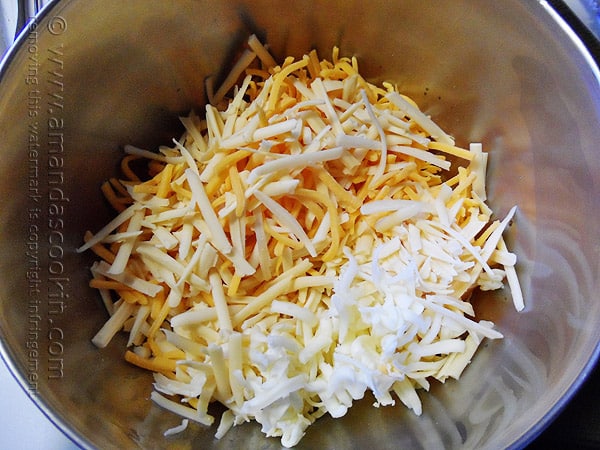 Full printable instructions are below. Shred your three cheeses and set aside.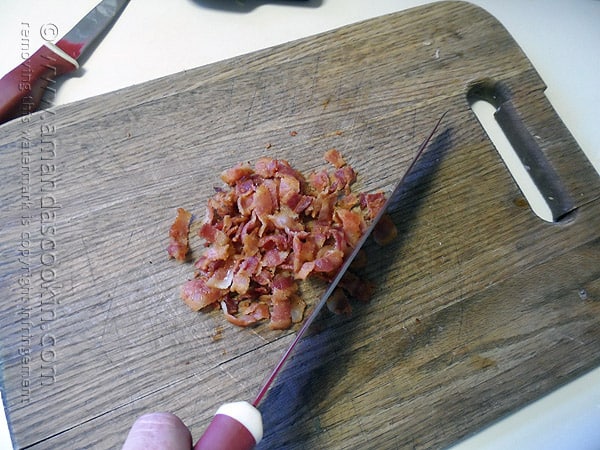 Cook bacon and chop it up.
You'll want to parboil your potatoes in a saucepan over high heat for about 6-8 minutes. Potatoes will still hold their shape and only be partially cooked. Drain and rinse in cold water. Drain well after rinse then place potatoes into the casserole dish.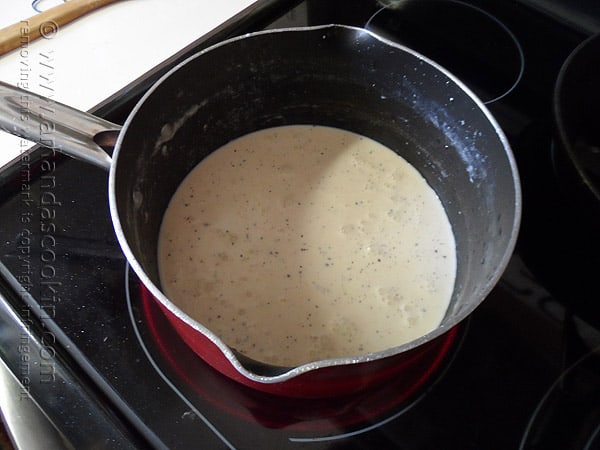 Whisk together milk, heavy cream, salt, dry mustard, paprika and pepper. In a saucepan over medium-high heat, bring milk mixture to a gentle boil.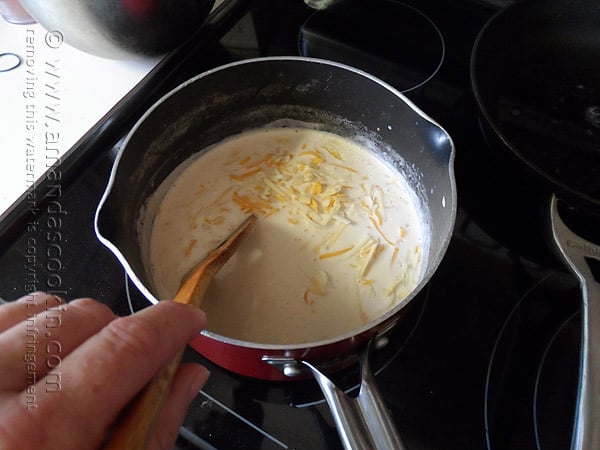 Reduce heat to low and add the shredded cheeses. Stir gently and frequently until cheese is melted.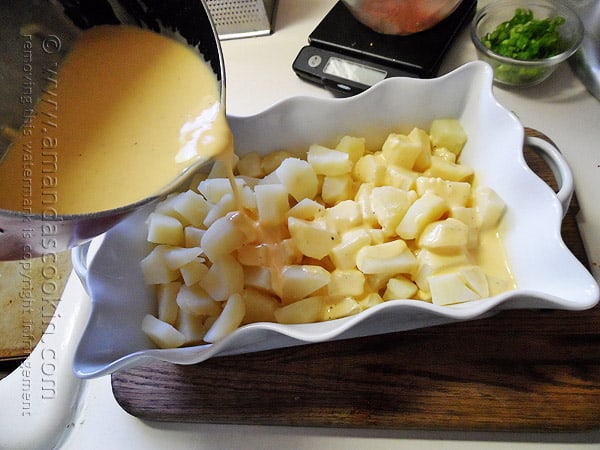 Pour melted cheese mixture over the potatoes in the casserole dish. All that's left to do is bake, garnish with chopped scallions and bacon then enjoy your three cheese potatoes! For more delicious casseroles recipes check out Macaroni and Cheese Casserole with Ham and Peas or Homemade Green Bean Casserole!