Looking for a side dish recipe that's as tasty as it is healthy? These asparagus fries are breaded with parmesan-y almond crumbs and baked for a few minutes to make crispy on the outside, tender on the inside veggie fries!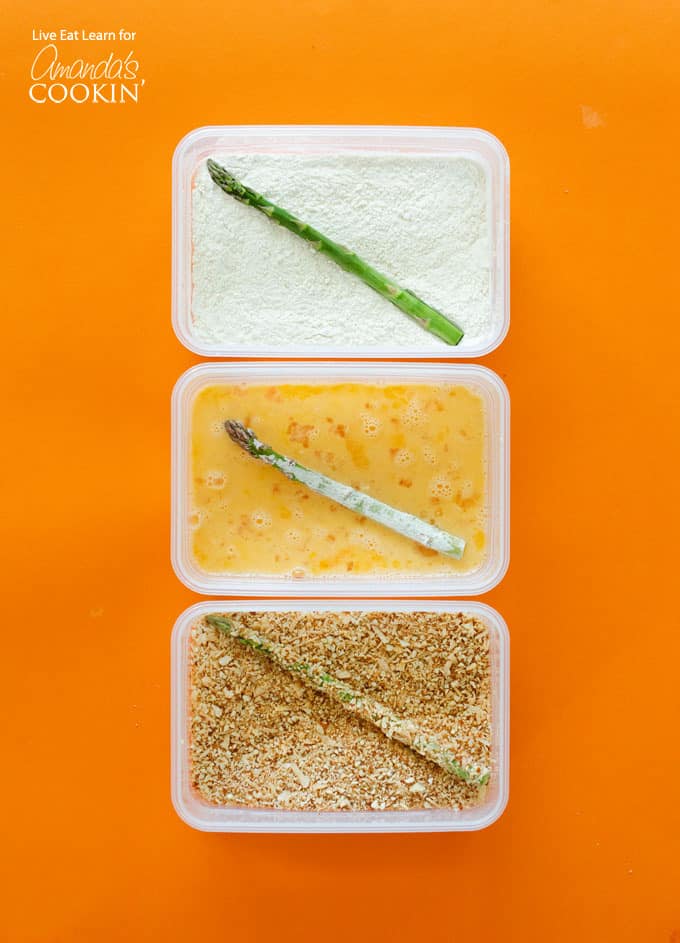 Almond and Parmesan Crusted  Asparagus Fries
The fun things about exploring a new ingredient every other week is that I can really figure out funky, out of the ordinary ways of using foods. And one of my favorite discoveries was that of using almonds as a breading in the form of these crispy Almond Tofu Nuggets. You basically just grind almonds into a coarse crumb using a food processor, then mix them with some spices (like smoked paprika, salt, and pepper!) Then you'll just use them in place of bread crumbs when breading things for a low carb yet way delicious alternative.
You can use this breading on anything, like chicken nuggets or pork chops, but today we're making asparagus fries! First, you'll dredge the asparagus in all-purpose flour to help everything stick nicely to the stalks. Then you'll dip them in whisked eggs, followed by a dunk in your almond crumb mixture. Then they just need a quick bake to turn into delicious, crispy asparagus fries! While they're in the oven, we'll whip up a simple creamy sauce (because what are fries without a good dip to go with them?)
There are affiliate links in this post. That means if you buy something from that link, I will earn a small commission, but it won't cost you anything additional.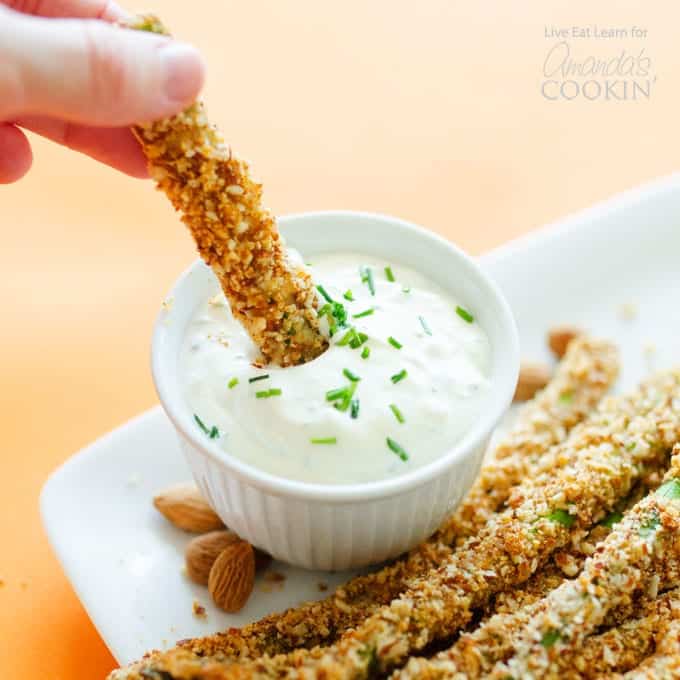 FIND THE PRINTABLE VERSION OF THIS RECIPE AT THE END OF THE POST
To make these asparagus fries you'll need:
1 cup almonds
½ cup grated parmesan cheese
½ tsp salt
½ tsp paprika
¼ tsp black pepper
½ cup flour
2 eggs, whisked
1 lb asparagus
¼ cup Greek yogurt
¼ cup cream cheese
1 clove garlic, minced
1 Tbsp chopped chives
½ tsp lemon
Pinch of salt
Kitchen tools you may find useful: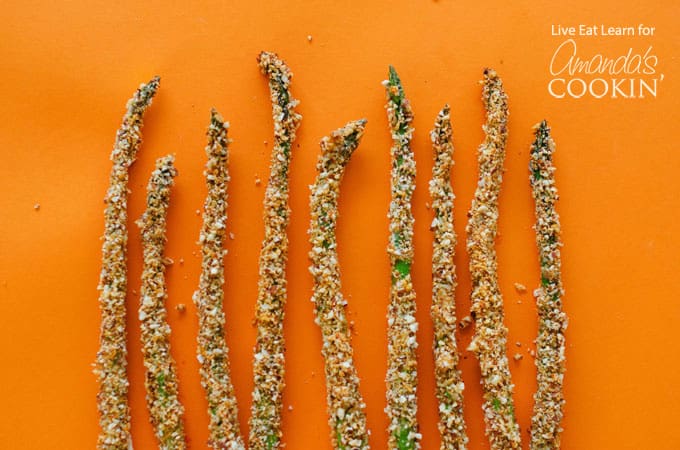 We hope you enjoy these crispy Asparagus Fries! This is a great way to bring your veggies a new life, plus you can feel less guilty about eating fries! Another delicious veggie fry option is these Crispy Zucchini Fries, we know you'll love them. For more ways to use asparagus check out this Roasted Asparagus with Smoky Romesco Sauce or Cream of Asparagus Soup!